Designing and furnishing a small apartment can be a challenge—but when done right, a small space can feel homey, warm, and expansive. Follow these 6 simple tips to make your tiny apartment look absolutely chic and fabulous. And don't forget to think big!
1. Mind the color palette.
Some people say the only acceptable colors for small apartments are white and other neutrals. While it's true that lighter tones tend to make a room look more spacious, that doesn't mean you can't incorporate bolder hues, too. Introducing an orange accent wall or a few fiery red accessories help to break up monotony and create some dimension (and extravagance) in your small space. Plus, contrasting couplings like black and white can instantly enhance the style of your small apartment and create a unique flow in the design.
2. Opt for foldable furniture.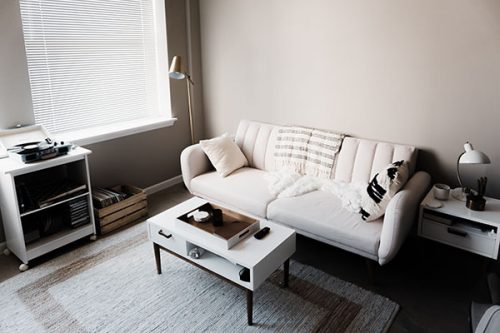 If making a big lounge of your living room takes up the majority of space in your already-cramped apartment, well, it might be time to consider a few foldable pieces of furniture. Consider a Murphy bed for your bedroom and guest room (if you're blessed with one of those). Additionally, if your kitchen or dining room is too small for a big family table, try out a folding table you can easily remove when you're not using it. And yes, it is possible to find a chic-looking folding table—just take your time researching all the different designs and options. Finally, don't forget about the amazing multi-purpose possibilities of coffee tables and ottomans with hidden storage space inside.
3. Invest in quality lighting.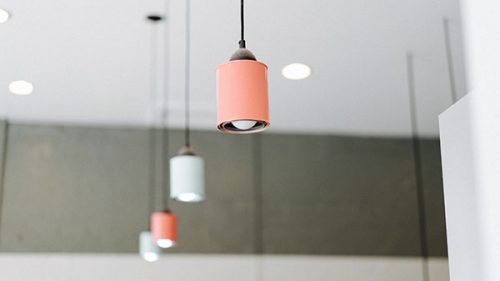 Natural light is a, well, natural, way to make your apartment seem lively and larger. But when daylight isn't enough to keep your house bright, quality electrical goods are essential (not to mention eye-catching). Replace old light fixtures with attractive sconces and chandeliers, and add a few more fixtures to kitchen countertops and bathroom mirrors to make those smaller spaces more well-lit.
4. Maximize mirrors.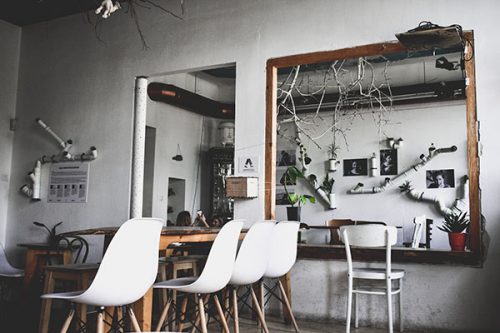 Mirrors aren't just nice home accessories. They're an extremely practical way to turn a small apartment into a chic, seemingly larger space. Plus, there are tons of innovative ways to incorporate them into your home, like placing a mirror behind your bedside lamp to maximize the light's reach, or hanging mirrors opposite windows to reflect the sun's bright rays. For a more dramatic effect, opt for an entire mirrored wall—you can achieve this with either one (very) large mirror or with a collection of smaller mirrors in distinctive vintage frames to add depth and dimension to a room.
5. Keep it minimal.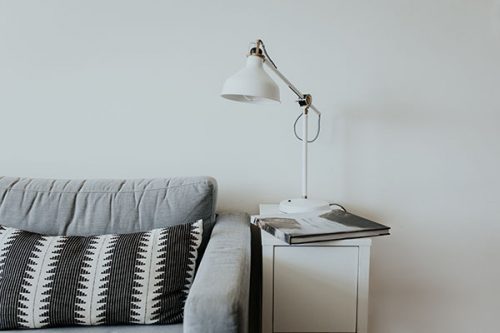 Want to keep your small apartment trendy and sophisticated? Stick to a "less is more" approach and keep it simple. Opt for all-black accessories for an elegant, composed aesthetic—or if you prefer brighter shades, let a statement piece like a tall, colorful antique vase be the center of attention. After all, filling your shelves with too many knick knacks will only add clutter to your small space.
6. Make good use of vertical space.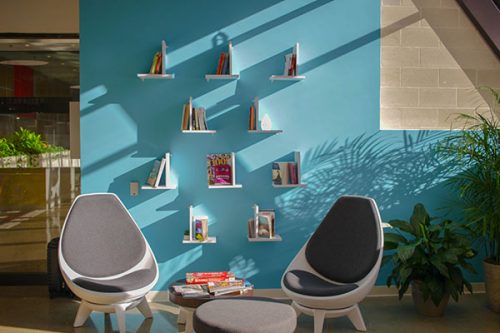 To optimize space in a small apartment, think vertical. This helps shift the focus upwards and creates the illusion of expansive space. If you're blessed with high ceilings, consider floor-to-ceiling curtains to draw attention to your high walls. Lacking space for storage? Floating shelves are a great way to utilize wall space, while making an aesthetic of items you don't use everyday.
To sum it up, just because your apartment isn't big or luxurious, that doesn't mean you can't style it to look super chic and inviting. You just need to make the best use of the available space, provide enough light, choose the appropriate color palette, and be careful when accessorizing.
AUTHOR: COOPER KLEIN
 Cooper Klein is an interior designer from Sydney. He's a regular contributor to SmoothDecorator and several online magazines. You can find him on Twitter.