If you've lived comfortably in a 1,500 square foot lower flat in Washburn, WI for $895.00 per month, it might be a shock to move to Chicago, IL, where your square footage shrinks to 895 while your rent price raises to one of the largest in the country.
Now your apartment seems tiny and depressing. Was moving to such an exciting city worth the trade off for space?
Of course it was.
There are simple tweaks  you can make to your apartment that will have it looking and feeling more spacious without the need to book it back to the 'burbs. Watch your apartment grow with these nine tips:
1. Lighten Up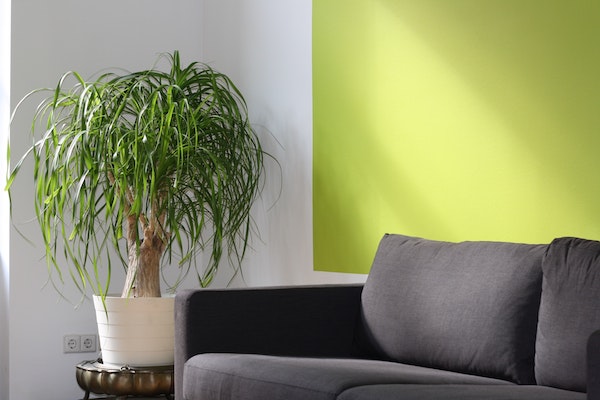 You may like the drama of black walls, but your tiny place will look less like a dungeon if you use more cheerful colors.
Try painting all walls vibrant colors like sky blue or daring yellow and enjoy the enlightening difference. Even bright white can add some refreshing pizzazz, and as an added bonus, it reflects sunlight to create a more open feeling overall.
2. Drop it down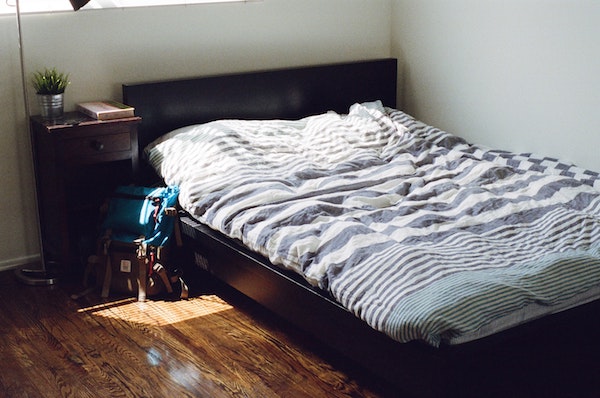 Your giant platform bed towering three feet off the floor has you sleeping like The Princess and the Pea, but royal vibes notwithstanding, it's using up valuable space.
Instead, choose a style that drops it low and hugs the floor. With your bedroom more opened up, every night can be crowned a restful night's sleep.
3. Mirrors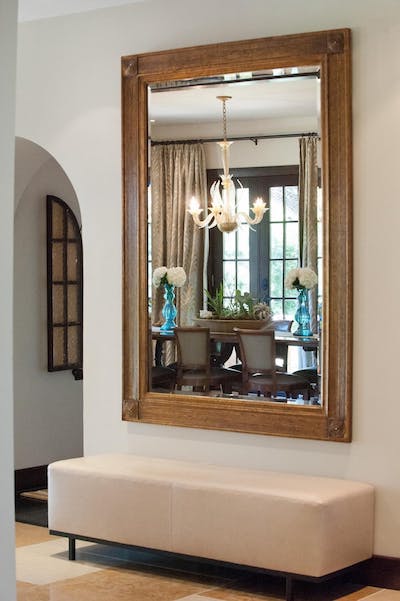 Ever go into someone's house and see a wall completely covered in a mirror? They're not just extremely vain. By strategically placing a mirror across from a large light source like a window or chandelier, a depth effect is created that makes the whole room appear twice as big.
Great lighting + huge mirror = ultimate selfie station.
4. Fold it up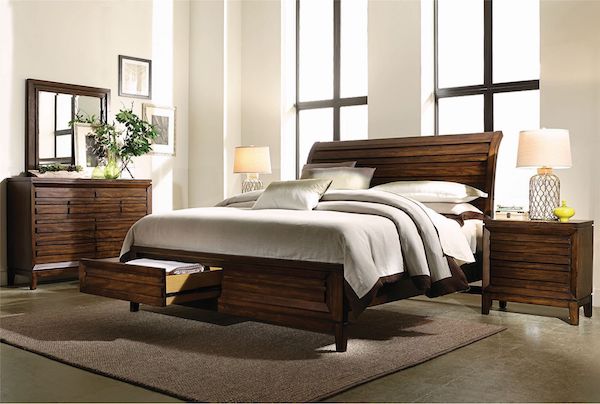 Remember your mom's ironing board that folded up into a closet door? Borrow from the same principle when creating some extra space in your own apartment.
Foldable chairs, hidden storage behind artwork, and footboard drawers are all great ways to have your stuff available when you need it, and tucked away when you don't.
5. Multi-functional pieces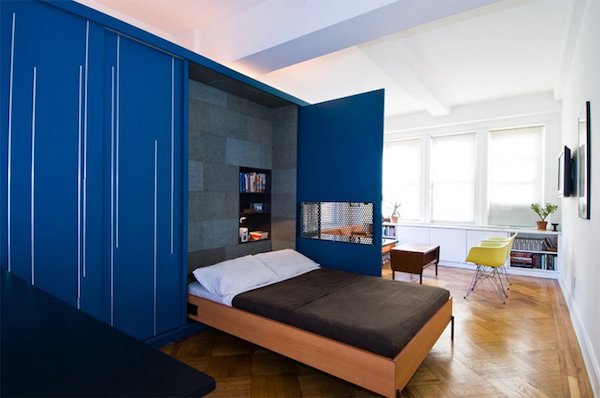 Seek out furniture that pulls double duty. An old-fashioned Murphy bed or a coffee table that doubles as a desk are two helpful possibilities that let you make the most of your space. Now if only they could clean the place.
6. Pop out those ceilings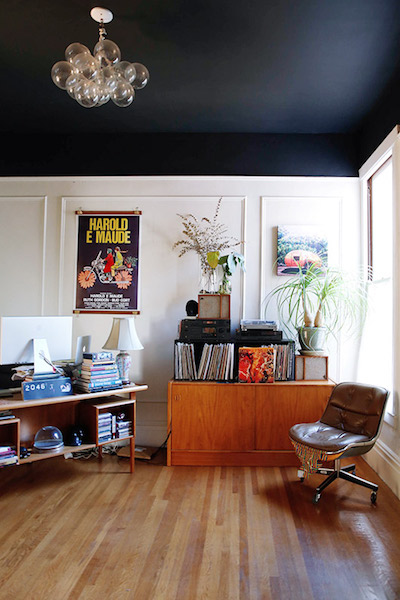 Yes, we told you to paint walls white, but to create the illusion of taller ceilings, go dark up top. A ceiling painted black, dark grey, or navy suggests height and will make your your eight-foot ceiling take on twelve-foot penthouse vibes.
7. Move it out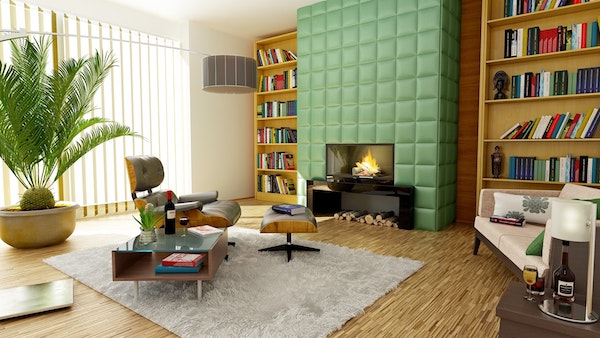 This one is a little counter-intuitive, but stay with us: If you move furniture a little bit away from the walls it can create a feeling of spaciousness. A sofa and chairs butted against walls tend to look very confining, whereas providing a little wiggle room gives the appearance of more room to breathe. Your living room will look larger, and your furniture won't be left holding its breath.
8. Leave the windows alone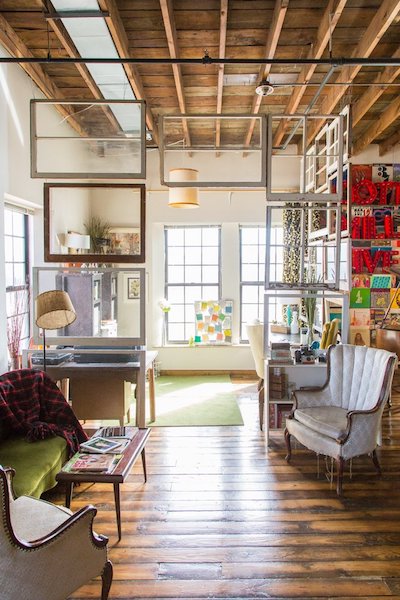 Overcrowding a room with excess furniture is already a small-space no-no. Covering a window to allow more stuff to fit? Unforgivable.
If windows are blocked, everything quickly looks smaller and cramped, and the lack of light will give the room an eerie cave-like feeling. Resist the urge to squish lots of furniture pieces in one room, instead opting for a few solid pieces that balance the area while showcasing the natural light.
9. Declutter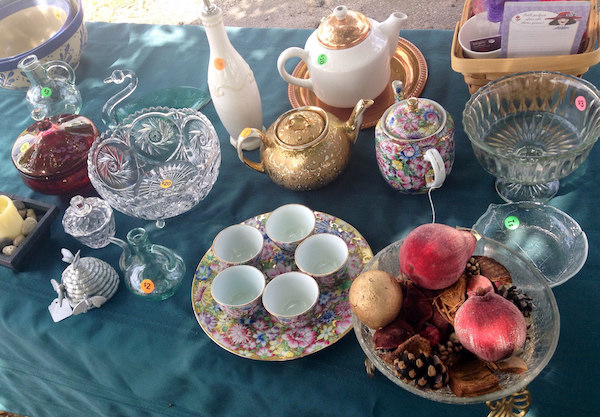 When making the move to a smaller apartment, it's inevitable that you're going to have more stuff than can fit in your new space.
Consider a yard sale to help you get rid of unneeded things. Starting with an almost-clean slate will make it easier to visualize where to place your favorite things, rather than wasting time and energy packing up stuff that you simply no longer need.
Still have too much? Schedule an appointment with MakeSpace. They'll pick up your stuff, transport it to their secure storage facility, and deliver it back whenever you decide that, yeah, actually, the foosball table will fit.
It may be challenging to get that big apartment feel you're used to in a smaller place, adjusting doesn't have to be difficult. Give these simple tricks a try and embrace life in the city, with room to spare.
Sam Radbil is an author at ABODO Apartments, an apartment marketplace website that makes apartment hunting easier for people all across the country. Check out their available apartments in Chicago, IL and follow along on Twitter at @ABODOapts.
Feature image by UrbanSpan