Space is limited in an urban setting. That goes double for your kitchen. To find and create more space in kitchen cabinets for everything, from the sous vide and waffle maker to your bowls and plates, can be a challenge. At some point, you might get tired playing Tetris with your cutting boards. It's time for a new approach.
1. Install cabinet organization tools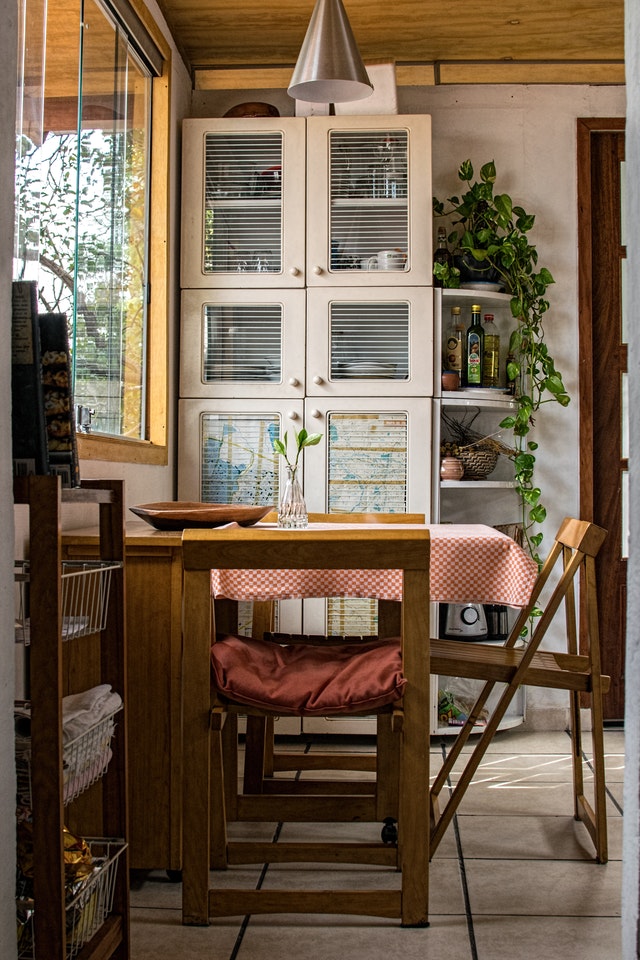 SOURCE: PEXELS
Use better organization to vastly improve the amount of space available. These pullout cabinet organizers can transform your kitchen cabinets, making them far more practical and expanding. Something as simple as an under shelf basket can provide all the space needed to store lids of pots and pans.
By far, the most effective cabinet organizer is the pullout shelf. These organizers make it possible to store heavier items—like your dutch oven or cast iron skillet. They help in utilizing space at the back of the cabinet, without  having to move everything in front .
2. Make use of vertical space
Cabinets come with a scarcity of shelves. It may seem like they'll help you store larger appliances, but it often results in wasted vertical space. 
The best way to expand into this vertical space is by adding more shelves. This can nearly double your total storage space, making it easier to sort and store pots, pans, and their lids. Shelves have their downsides, however: they sacrifice all the vertical space in the cabinet, making it difficult to store tall kitchen appliances like blenders, stand mixers, and food processors.
One less-expensive alternative are pan organizers. These metal storage racks allow you to stack frying pans and their lids vertically, while still making it easy to grab one from the bottom.
3. Rethink the corner pocket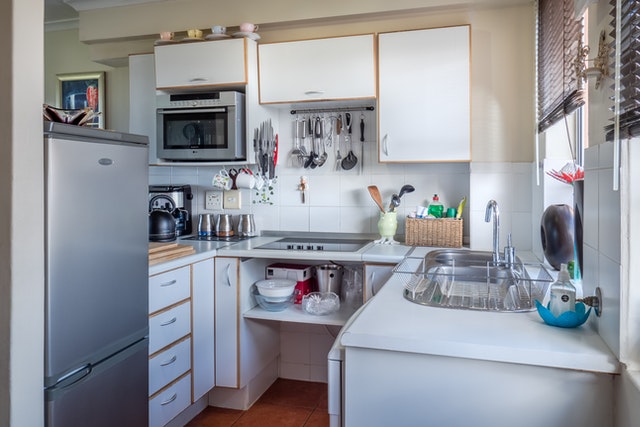 SOURCE: PEXELS
If your kitchen has corner cabinets with endlessly deep pockets, you've probably already discovered how limiting they are. Anything pushed into the corner is difficult to access. And, you have to move whatever's in front to even get at it.
This is where cabinet organization really shines. By installing a swinging pullout, you can turn this frustrating, virtually unusable space into highly functional and accessible storage. Also, another alternative is a Lazy Susan, which allows you to rotate the interior of the cabinet and access everything in the back.
If you're not ready to install new features, you can still make the best of your existing corner cabinets by being strategic. So, put heavy, rarely-used appliances in the very back: if you only use that stand mixer twice every year, it's easier to stomach the trouble you'll have to go through to get it out.
4. Keep all your tools together
It's easy for your sliding kitchen drawers to become disorganized as time goes on. Make the best use of this space, to avoid running out of space to keep silverware, food prep tools, and knives. Measure your drawers and then buy inserts to help sort and store everything. For example, a plastic silverware organizer is useful for more than cutlery—use one to sort out measuring cups and spoons.
5. Don't forget to declutter
The path to better kitchen organization also includes cutting back. You may have duplicate tools, such as multiple bottle openers, slotted spoons, or thermometers. Pack up all your duplicates and little-used items and donate them. This will free up space in your drawers and cabinets for what's truly needed.