If you read our blog, you already know we're fans of taking cheap and plain furniture from IKEA and turning it into masterpieces.
We're also fans of kicking things up a notch. So we've compiled a list of the most stylish and best IKEA hacks and ideas we could find, categorized by room. You'll find you don't need to spend hundreds or even thousands of dollars to have chic furniture pieces like the ones you can find at Williams & Sonoma or other high-end stores.
Nope, you just need a little time to plan, some power tools, gold paint, and a way to get furniture from IKEA to your home.
Even better, you may already have some of the IKEA furniture and materials floating around your home, saving you even more of your hard-earned money.
Click any of the below links to jump to IKEA hacks and ideas for a specific room:
IKEA Bedroom Hacks
IKEA Living Room Hacks
IKEA Kitchen Hacks
IKEA Bathroom Hacks
IKEA Bedroom Hacks
1. MALM Bed Frame Hack: Stikwood Headboard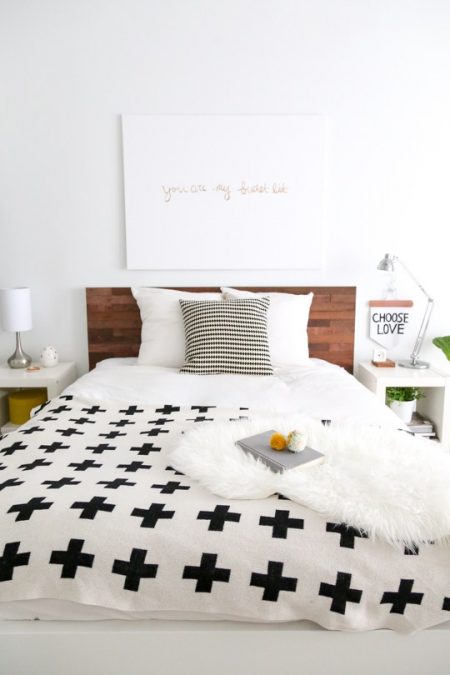 It's very likely that you, dear reader, are the owner of a MALM bed frame, like I am. Want to take it to the next level?
Add some reclaimed wood, like Ashley from Sugar and Cloth did with their bedframe and a case of Stikwood. She measured everything out, then stuck the strips of reclaimed wood onto the headboard, covered it with a coat of polyurethane, and that was that.
It's a simple way to add more dimension to a classic piece of furniture.
IKEA Living Room Hacks
2. SIGNE Rug Hack: Floor Pouf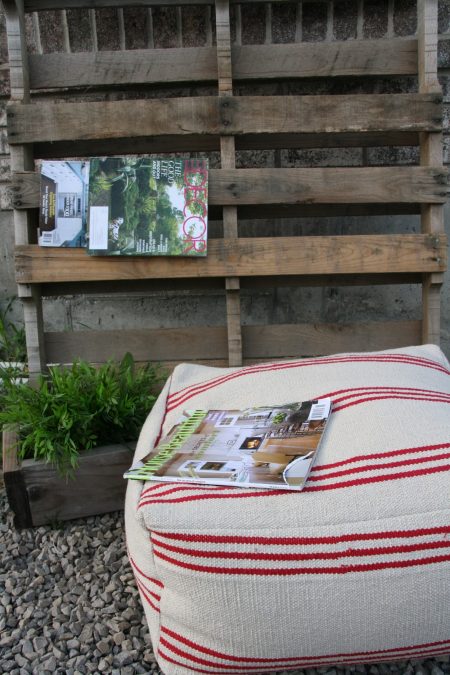 Erika from Retropolitan created her own poufs out of rugs from IKEA and we think it's genius. They look like some expensive ones you might get at West Elm or a similar furniture store, except these only cost around $3 to make.
You just need a few SIGNE rugs, a sewing machine, basic sewing skills, and something to stuff inside, like cotton or beans.
3. EKBY BJÄRNUM Bracket Hack: Gold Accent Wall Shelves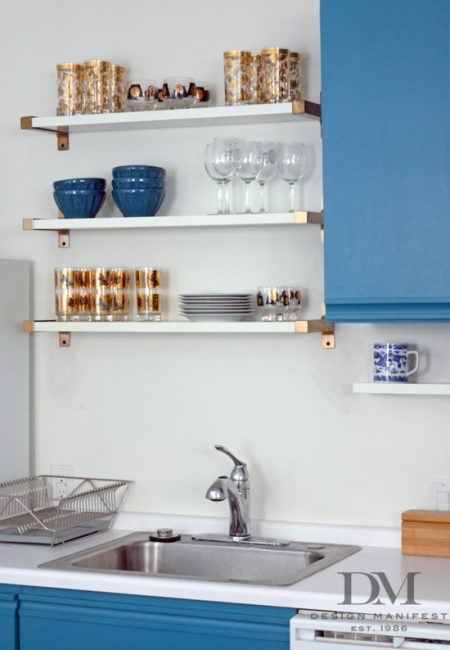 This is probably one of the easiest IKEA hacks you'll come across, and it can make a huge difference in the look of your home. Spray EKBY BJÄRNUM brackets with gold spray paint for a pop of class.
Why stop there?
Go crazy and add gold accents to a bunch of different things in your living room. Just not everything.
4. HEMNES Coffee Table Hack: Farmhouse Coffee Table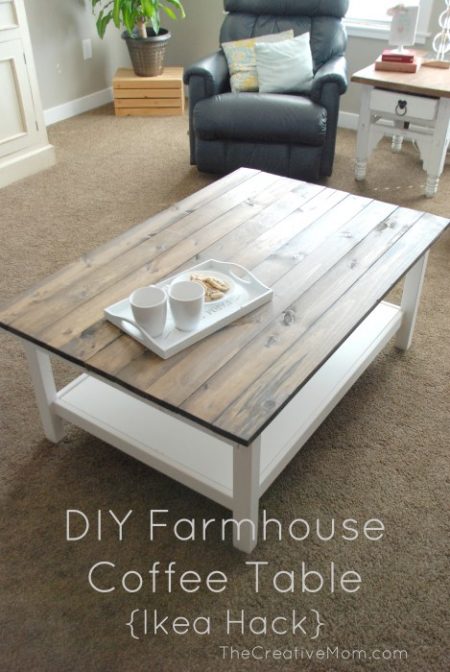 This IKEA HEMNES coffee table hack is elegant yet easy, and the included shelf will increase storage space too. Just stain 2x4s, cut them to size, glue them onto your coffee table, and there you have it.
That's The Creative Mom's DIY farmhouse coffee table tutorial in a nutshell. So grab a HEMNES coffee table, take a trip to Home Depot, and get to DIY-ing.
IKEA Kitchen Hacks
5. KALLAX Shelving Unit Hack: Kitchen Island/Dining Table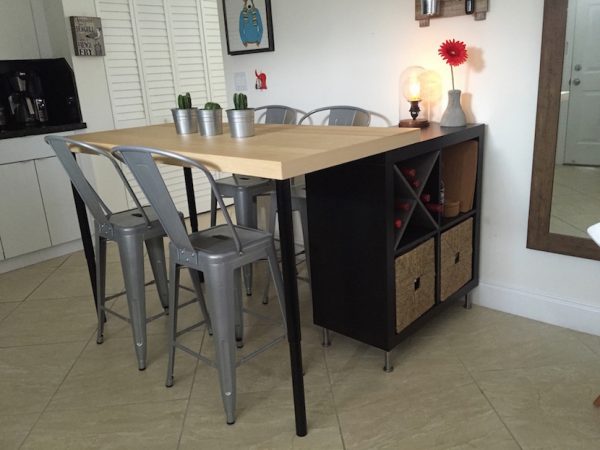 This one is less of a hack and more of a good idea to make the most of a small space. Read this tutorial over on IKEA Hackers. You pretty much combine a small KALLAX shelf unit, add a tall LACK table to the side, and voilà.
You've just created your new favorite space to prepare food, read a book, or entertain friends with Chipotle … because to us, this dining setup resembles Chipotle's decor. And thanks to the added storage area, you're able to store pots, pans, cookbooks, and more.
6. FINNVARD Trestle Hack: Kitchen Island/Dining Table/Wine Racks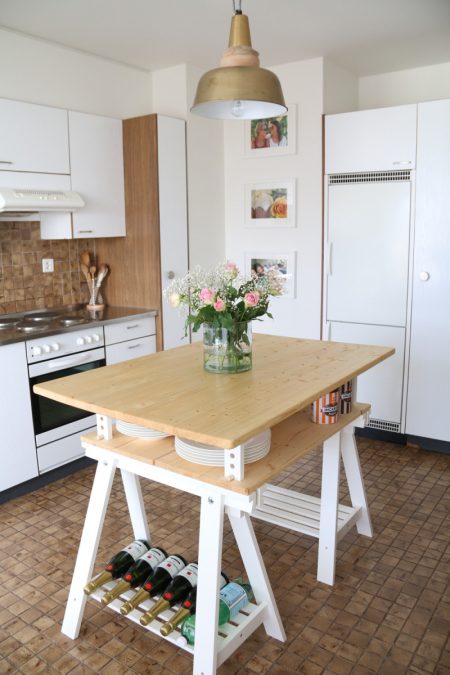 IKEA Hackers, once again, have come up with a great IKEA furniture hack. Surprise, surprise. This one takes two FINNVARD trestles with shelves, two slabs of wood, and a wood sealant that's food-safe.
By cutting a few holes and situating the slabs of wood properly, you'll create a kitchen island that has plenty of storage for plates, towels, produce, and wine bottles. Plus a work surface for chopping food or enjoying a glass of wine.
7. BEKVÄM Kitchen Cart Hack: Faux $695 Kitchen Cart With Marble Top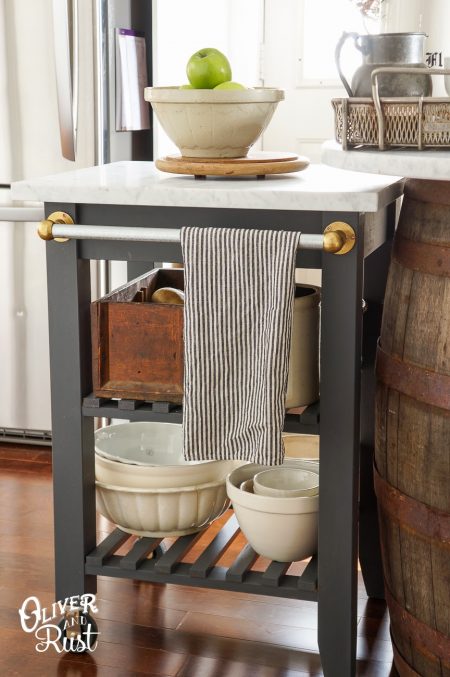 Want an island in your kitchen that looks like this $695 one from Williams and Sonoma, but doesn't cost half your rent?
Then check out Oliver and Rust's tutorial on how to make your own out of a BEKVÄM kitchen cart (only $59), some pipe, a few fancy accents, and a fresh coat of paint.
Oh, and a beautiful slab of marble for the top. Not only does that kitchen cart/island look amazing, but you can use it to store fruit, veggies, pots, and pans underneath, too.
8. GRUNDTAL Towel Rail Hack: Wine Rack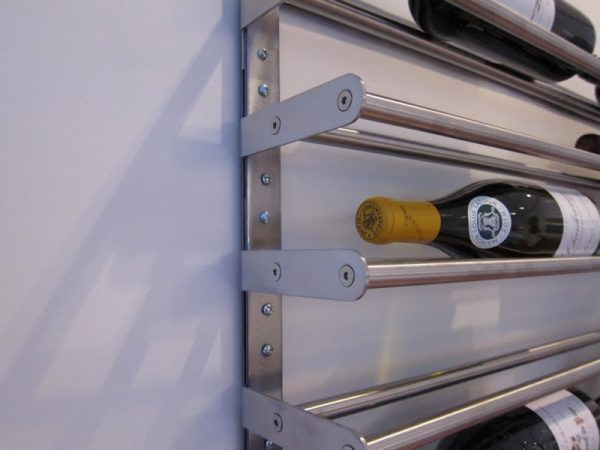 Jules from IKEA Hackers came up with this great idea for a DIY wine rack. Simply stack up a bunch of these GRUNDTAL towel rails. Use as many or as little as you need, depending on the vastness of your wine collection.
9. TARVA Dresser Hack: Kitchen Sideboard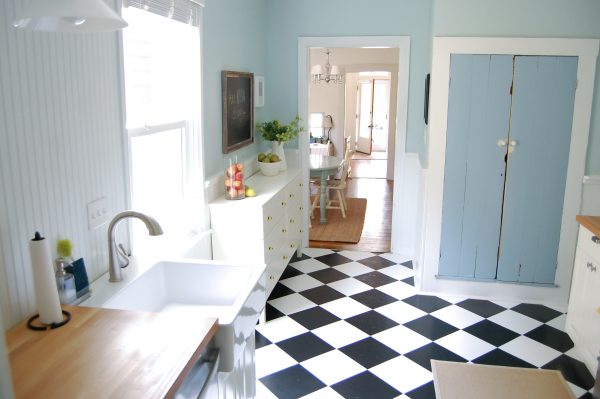 Okay, we know it's kind of weird to put a dresser in your kitchen, but your guests probably won't even be able to tell. Lucy Jane has a great DIY tutorial on how to spruce up a 6-drawer TARVA.
All you have to do is slap on a nice coat of white paint and add some decorative knobs.  No one will ever have to know your greatest storage secret.
IKEA Bathroom Hacks
10. LACK Wall Shelf Hack: Industrial Floating Bathroom Shelves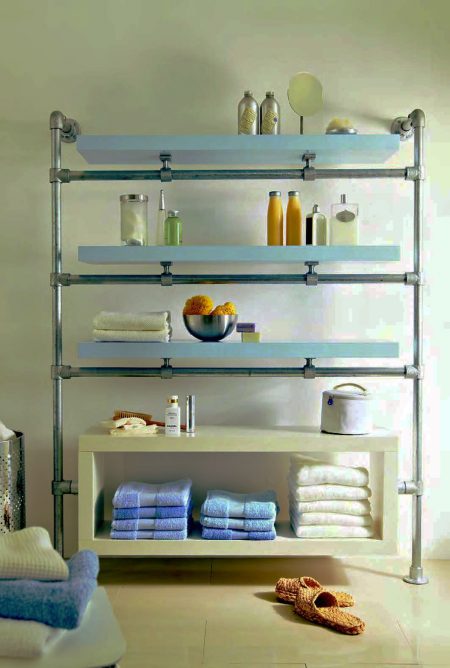 This floating industrial bathroom shelf from Simplified Building is pretty dope. It's a little involved, and the instructions are in German, but it's pretty easy to get the jist of the project by looking at the pictures.
You'll need a good amount of pipe, different pipe elbows, and five 43 1/4″ x 10 1/4″ LACK wall shelves and two 11 3/4″ x 10 1/4″ LACK wall shelves. Once you're done putting everything together, you'll have a minimal, rustic modern shelving unit for your bathroom that pretty much no one else will have.
11. SNIGLAR Crib Hack: Retractable Drying Rack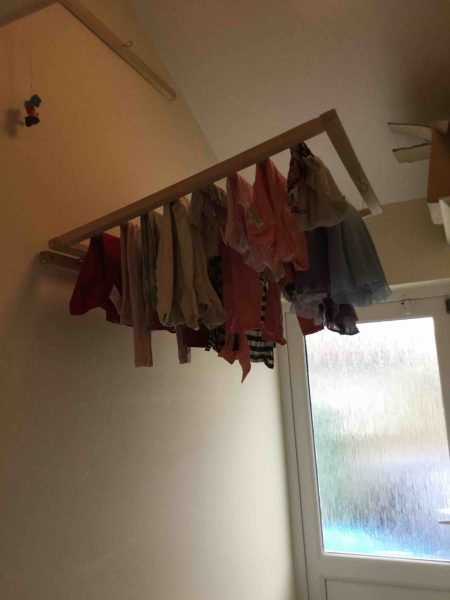 If you've got delicates that you can't put in the dryer, but also can't spare space to hang around, IKEA Hackers have just the thing:
Use a SNIGLAR crib to create a Murphy-style drying rack that swings up to dry clothes and stows away against the wall when it's not in use.
What you'll need: a few extra hinges, hooks, and a cord.
What you won't need: a few extra breaks because this tutorial isn't too labor intensive.
12. RUNNEN Floor Decking Hack: Spa Bath Mat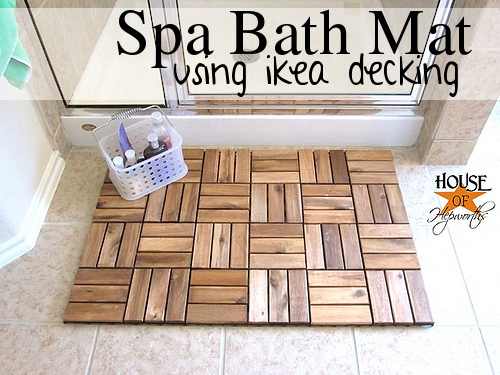 Have a less-than-attractive linoleum floor in your bathroom?
Cover it up with this outdoor RUNNEN floor decking. It's available in three different colors and comes with zero disappointment.
Craving more creative IKEA hacks for your home?
Check out Poppytalk's ravishing roundup of 20 live/workspace ideas for all types of creatives.
This article was written by Hannah Van Arsdale, a freelance writer and dog person based in Portland, OR.