Sometimes there's nothing better than kicking back in your living room with the air conditioning blasting and nary a mosquito in sight.
But you can't spend the entire summer indoors.
If you create a space outside that's perfect for relaxing, soaking up a few rays, or enjoying a nice breeze in the shade, you won't miss the hum of the AC at all.
We asked 26 top interior designers, decorators, and landscaping specialists to give their best outdoor decor ideas, tips, and tricks. Create the ultimate space on your balcony, patio, deck, or backyard for some sensational summer fun. Don't forget the sunscreen!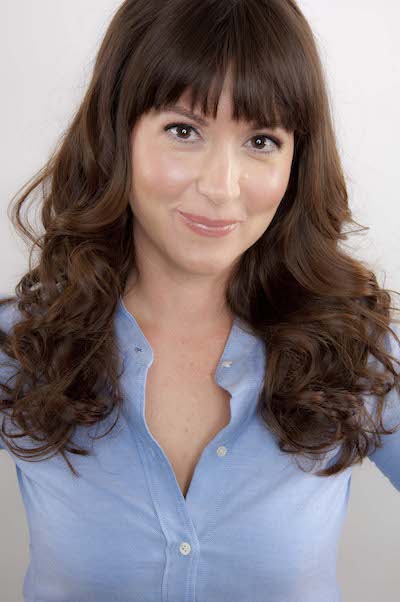 1. Focus on the pretty
Contemplate what your important focal points should be. A beautiful tree? A softly trickling fountain? An impressive outdoor kitchen?
The elements that you choose to dominate the space physically and visually influence its overall feeling/mood.
2. Throw some shade
The best outdoor spaces have a combination of sun and shade. Consider retractable Roman shades or awnings in combination with shade provided by natural plantings to provide some versatility. This also allows you to enjoy the space in any weather.
3. Keep it functional
I recently completed a home remodeling project for a beach-loving bachelor. His tri-level townhouse is fabulously located; alas, the outdoor space is limited to a few balconies and a roof deck.
We focused on beautifying the small spaces and maximizing their function. Using natural wood tiles over the existing concrete deck helped to create a natural look that will patina over time.
A combination of powder coated metal lounge furniture, natural rustic wood tables, and lightweight concrete pottery created a richly toned, masculine, minimalist space.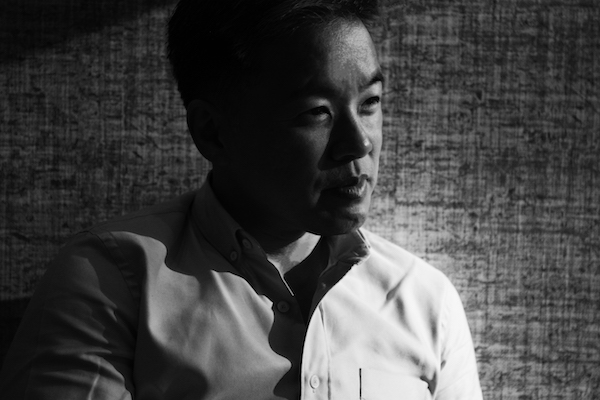 4. Maintain consistency throughout the home
My basic philosophy for outdoor decorating is to make your yard a continuation of your indoor space. Whether you are in New York City, a smaller city area, or a spacious suburban or country location, your yard can become an extension of your home.
5. Choose fashion and function
Choosing furniture that is both beautiful and durable is a must. Depending on the climate you live in (and considering spatial factors), stackable or foldable pieces can make for ease of storage during the harsher weather months. This would also ring true for any BBQ equipment you may have.
6. Compost
Composting is a great way of lessening our burden on landfills while making great soil as well. Whether you use a compost pile or a bin, it is easy, economical, does not attract annoying insects or smell, and makes for very happy worms and a happy Mother Earth.
It also makes for a wonderfully rich soil to feed the plants. Our backyard grapevine went from just a few feet long after years of neglect to spreading along the entire fence line. It makes for a wonderful, color filled fence — all because of composting.
7. Use eco-friendly decking material
Make the correct choices for your decking and patio material. By using recycled plastic decking material, you can not only find a wide variety of colors and finishes but also help the environment by using recycled material. These materials also last longer and need next to no maintenance.
8. A Brooklyn backyard update
My favorite outdoor project that I have worked on is my very own backyard in Bedford-Stuyvesant, Brooklyn. After purchasing our 100 plus-year-old brownstone, we had a lot of work ahead of us, both inside and out.
The backyard was, for lack of a better term, an overgrown mess. The ground was riddled with broken glass, metal, and any and everything that years of neglect can add.
We built a sifter from 2x4s and chicken wire and sifted the soil 10" down, removing bags upon bags of waste. We reclaimed much of the original slate that was there and made for borders and walkways.
A raised bed in the back, ground level beds on the sides made for side planting areas. We got rid of the concrete slab patio and found original slate underneath. We had the slate taken up, a new area raised and graded, and the slate put back in.
We enriched the existing soil with a peat moss and manure mix and then seeded for a center lawn. There were some existing plants that we saved and mixed in our own perennials and annuals.
Next: the compost pile. We maintain one in the back corner and use this to feed the soil each and every year.
We have created the "outdoor rooms" by placing reclaimed architectural pieces (two old wooden fence posts that now offer climbing space for morning glory) in the back corners. They separate the back patio and raised bed from the lawn and front patio.
Our backyard is now a greenspace and refuge for us in the middle of busy Brooklyn.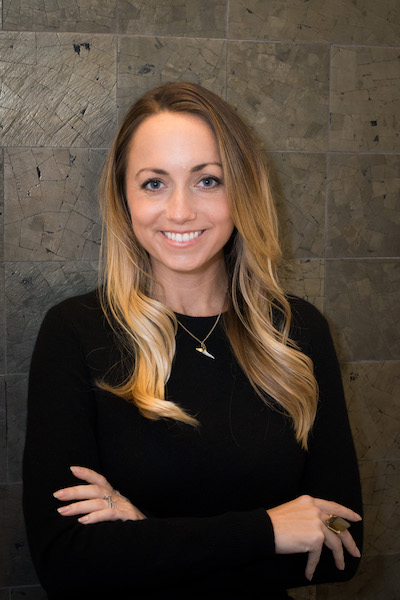 9. Spend money where it counts
Be aware of the elements and take this into consideration with your investment. I always encourage clients to invest in more long-term pieces, such as fiberglass planters, built-in kitchens, and metal furniture. Save on the pieces that could be more disposable, such as cushions, rugs, and candles, as they take the most abuse.
10. Savor every season
Every project here in Chicago has a fire table; it extends our summer season that much longer!
11. Diversify the space
We recently completed a large rooftop for a luxury rental building in West Town, Chicago (called Luxe on Chicago), and it was a fun challenge because of not only the size, but also the amount of function we wanted to achieve.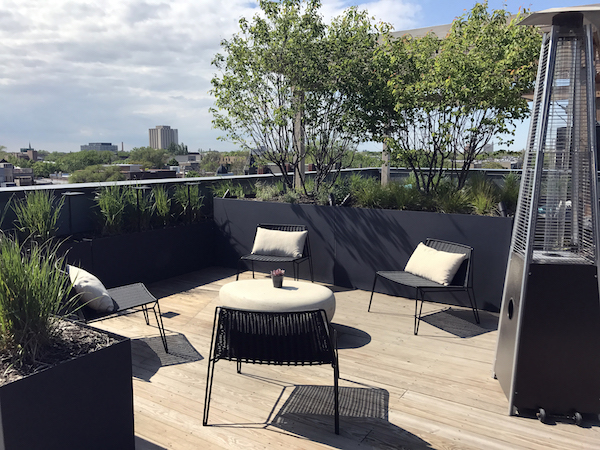 We created little vignettes for enjoying a coffee and newspaper, and a large sectional seating arrangement outfitted with a TV, to hang out and barbecue with friends. It was a tight budget, yet we were able to achieve style and comfort while remaining edgy, just like the neighborhood.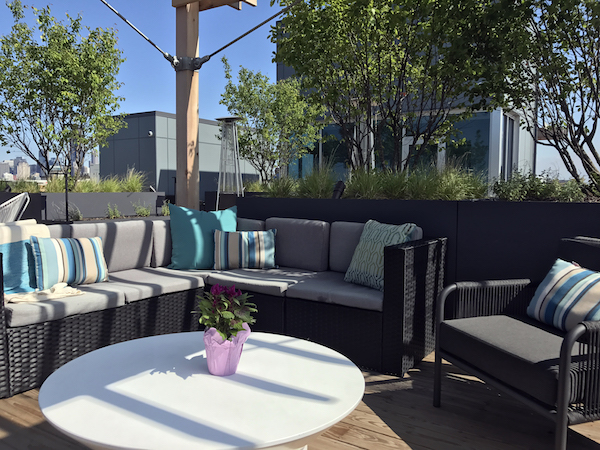 12. Change it up with color
Like my interiors, I like to keep outdoor furniture and fixtures neutral and allow the accent pillows and plants to be the pop of color. This also allows you to change your scheme every season if you wish. I have done everything from black and white flowers to hot pink and lime green!
Also, understand that furniture pieces in the elements will not have the longevity of your interior furnishings, so embrace the patina that will inevitably happen.
Just like the philosophy of wabi-sabi — wear and tear can be just as beautiful!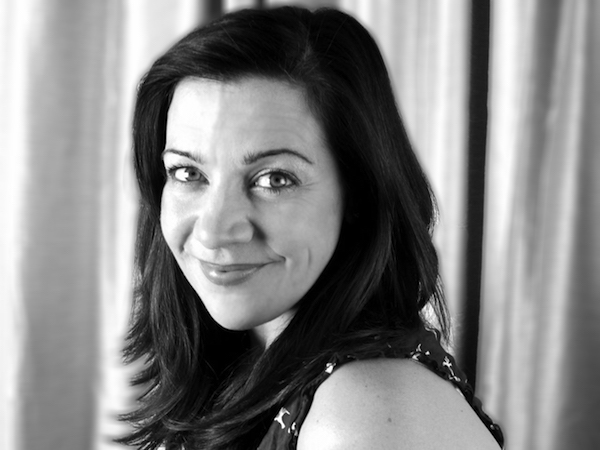 13. Find flexible furniture
When it comes to furnishing, focus on flexibility. The oversized woven sectionals that are prevalent today are wonderful (and comfy!), but they can be cumbersome and difficult to shift out of focus if you need to accommodate a bigger crowd.
14. Make it easy to expand your circle
Imagine how your outdoor space will function for a quiet night at home and then what adjustments will help you entertain a bigger crowd. Occasional tables that can double as ottomans allow you to seat more people for a party but keep your space feeling intimate for smaller groups.
15. Accommodate your guests
Another outdoor furnishing tip: If regular visitors are older, be sure to have a chair or two that has arms and isn't too low — sectionals and oversized lounges can be difficult for older guests to sit in.
16. Easy to clean
Spaces that are exposed to the elements collect pollen, dust, leaves, and snow. Thus, they require more cleaning. Keep decorative objects to a minimum so you can quickly sweep or wipe down surfaces for an impromptu gathering.
17. Adios mosquitoes
If you are in mosquito country, a fan is imperative. A ceiling fan can be mounted to a pergola or other overhead structure. Or you can use weatherproof oscillating fans, which should be easy to set up.
Moving air, in my experience, is one of the only foolproof ways to keep mosquitoes at bay.
18. Set the mood with … mood lighting
For parties, rely less on electrical light fixtures and create an intimate space with hurricane lamps and candles. Twinkle lights are always a crowd-pleaser — look for commercial-grade products that can be set on a dimmer.
19. Divide and decorate
We recently completed a city garden in Kalorama, DC. The garden space was very shallow, and the detached garage was omnipresent from the breakfast room.
We lessened its impact by adding a raised fountain between these structures. The fountain provides a foreground object to focus on, making the garage feel more distant.
20. Give any space a purpose
I always start by asking what do I want to do in the space? Dine, lounge, read? That helps determine what needs to be in the space to make it functional for those needs.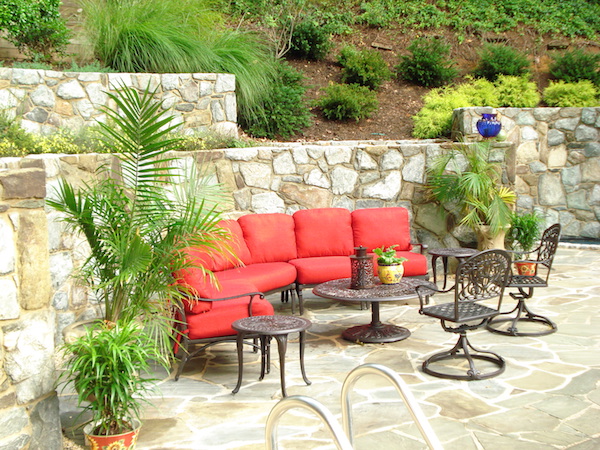 It doesn't have to be a huge space, either. For example, you can make a small balcony an inviting space by adding a couple of small chairs, a carpet, and a few plants to it.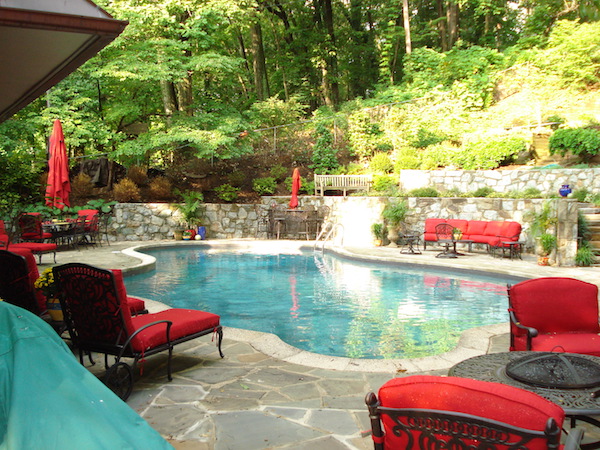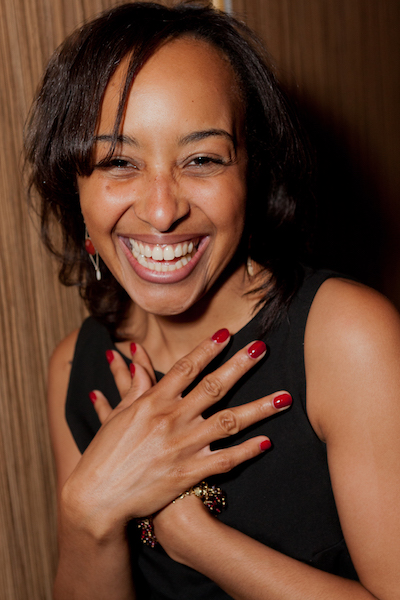 21. Your environment affects your emotions
I am from the beautiful island of Martinique, where I experienced the color and elements of nature in the Caribbean. The energy of what surrounds you delights all your senses. I truly believe that your environment has a huge influence on your emotions and ultimately, on achievements and happiness.
22. Feng Shui your space
My approach to creating spaces integrates the Feng Shui philosophy. I focus on balance, harmony, the use of natural elements, and the Yin and Yang forces.
These elements are all present in the spaces I design in the form of a color, texture, or shape. It's all about creating a space that looks beautiful and feels right.
23. Winding walkways
Create a gently curving pathway for energy to flow in smoothly.
24. Let the decor entice you
Choose relaxing, flowing shapes when it comes to furniture and decor. The garden should be nice to look at through the windows when the weather is compromised and should be inviting when it is sunny.
25. Apply the elements
Integrating the five Feng Shui elements (wood, fire, earth, metal, and water) in your garden is important — especially water because of its powerful and soothing presence.
26. Make it a clutter-free zone
Don't use your outdoor space as a storage place! Your home should harmoniously blend with its surroundings. A cluttered outdoor area will drain the energy from you.
27. Pick plants for every season
Don't forget to use plants that look great during winter. Mediterranean plants, like lavender and rosemary, are very scented, pretty, and often evergreen.
28. Let mother nature make music
A must-have outdoor decor element is wind chimes because they're a great way to increase the flow of good Chí (positive energy). Place them in the corners of the yard to add balance and establish comfort.
29. Feed the birds
Bird feeders are amazing energy attractors, and the birds themselves carry many qualities we want in and around our homes.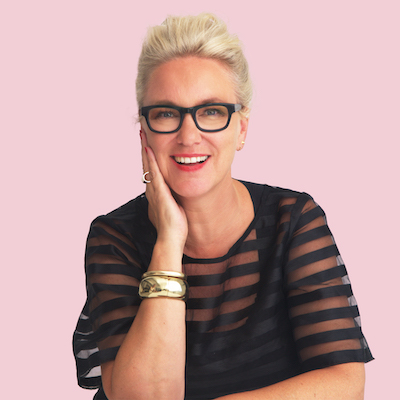 30. Keep inside in mind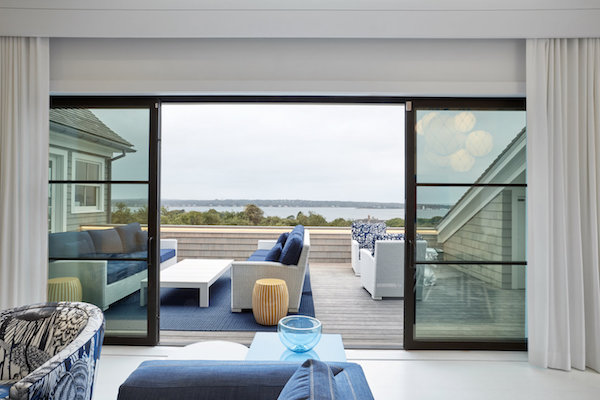 When you're selecting colors and furniture for your outdoor patio, keep in mind that they need to work with your interiors. See it as an extension of the indoor space, especially if there are glass doors allowing you to see both at the same time.
31. Remix your style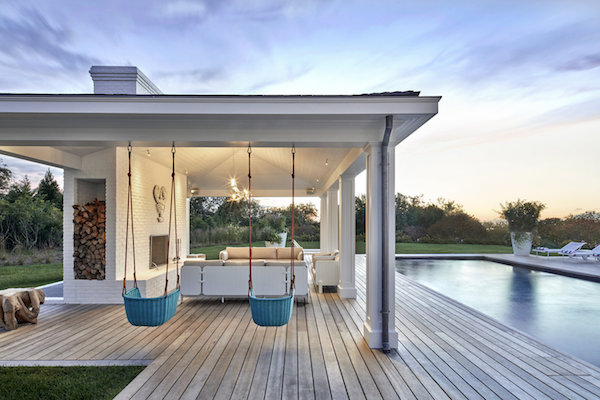 It's easy to fall into getting a set of furniture that's all the same style, but it's fine to do a sofa in one style and two chairs in a different style — especially because there are so many amazing furniture collections now.
32. Root the room with a rug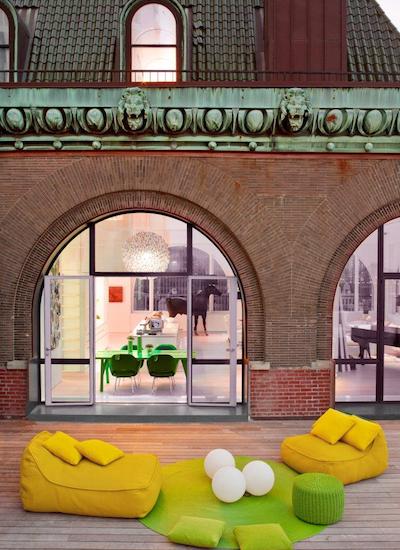 As is true with interior spaces, rugs really help to ground a furniture setting and there are many rugs now available in tons of fun colors and patterns that are specially-made for outdoors.
33. Beware of the glare
Be aware that in very sunny spots, white tables can be ultra reflective and actually make it hard to sit and enjoy. Consider opting for matte finishes.
34. Spray it all down
Keep a power washer handy (especially in the city) to wash down outdoor furniture from time to time.

35. A room outside
Creating an outdoor space is just like creating a room indoors, except with different walls! The sky or tree canopies are your ceiling, and beautiful views are your walls.
36. Show off your exterior style
Gone are the days of wicker and wrought iron sets. You can get entire sofas that look like they belong indoors for outdoor settings, truly making it a comfortable room outside.
Arranging the furniture outside is the same as arranging it inside: You want people to feel welcome and at ease with plenty of weatherproof seating, pillows, and throws for all, plus tables to put snacks and drinks on.
37. Light it up
If you are lucky enough to have trees or overhead structures, twinkle lights and a chandelier are great ways to set the mood. Of course, candles are always a welcome addition. The newest candles can be bug repellent and smell beautiful without the noxious fumes.
38. Don't forget the flora
Who could forget adding in natural elements? Lots of potted flowers, plants, and herbs not only look beautiful, but can also add to the aroma of the evening. Adding a fountain or small water feature also helps to make the space feel special.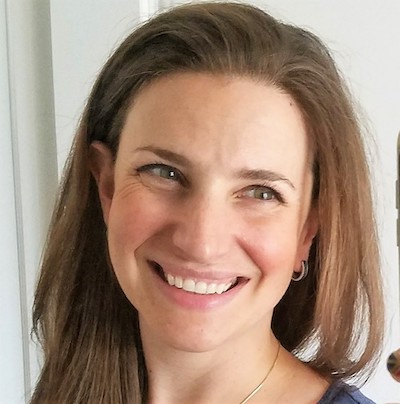 39. Use this infallible design formula
Whether your taste is ultra-contemporary or more traditional, a foolproof outdoor approach is to stick with one neutral (or white) main color and one bold accent color for your seating.
If your seat cushions are white, accent with throw pillows in a bold hue that resonates with you. This simple color scheme reads as upscale and deliberate rather than piecemeal.
40. Seated in style
A matching painted wood bench in a bold color can lend a dash of sculptural interest.
41. Add some pizzazz with pattern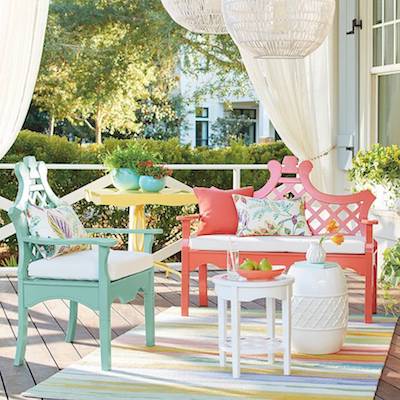 To punch things up, mix in pattern with a striped umbrella that echoes your accent color, a patterned pillow, or even your pool towels. Everything in your space offers a chance to tie into your design vision.
42. Step outside your color comfort zone
Outdoor furnishings are the perfect opportunity to experiment with color that might be intimidating indoors. A super-bright orange or yellow won't stand out as strongly in the great outdoors where it's surrounded by bushes, trees, and a bright blue sky.
So, go big and bold outside even if it scares you inside. Completely neutral furnishings can't compete with nature and can sometimes seem boring or washed out in the bright sunlight.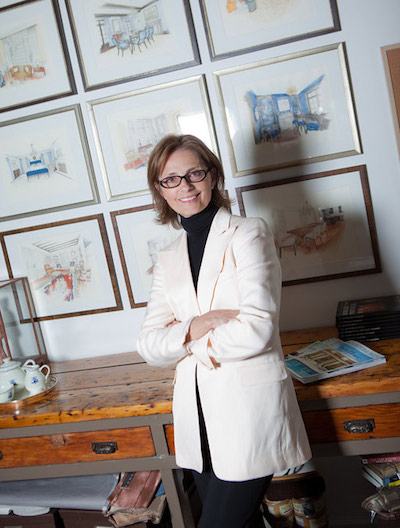 43. Determine the space's identity
Consider how the space will be used. Is it used for dining, relaxation, or will it be used for entertaining? Your furniture choices should facilitate the intended use of your outdoor room.
44. Plan ahead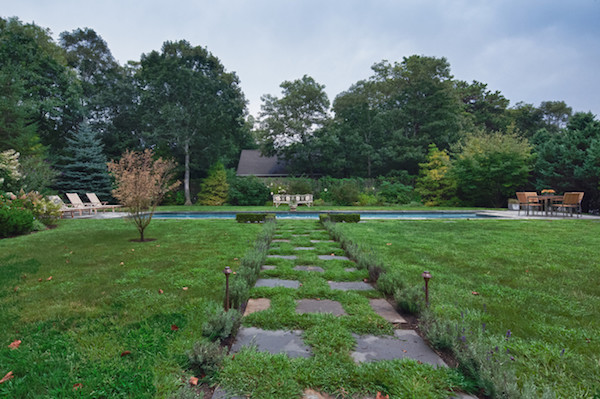 Start by creating a floorplan. Approach designing your outdoor room just as you would any other room. Plan the arrangement of your space so that you know how the furnishings will fit.
45. Don't skimp on the accessories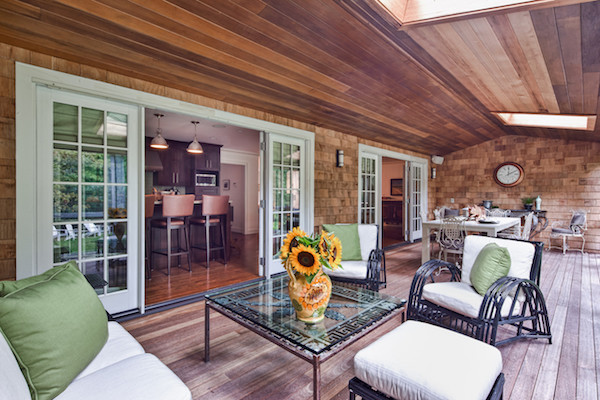 Accessories give the finishing touches to the space. Include throw pillows, lanterns, blankets, or anything that is appropriate for the use of your outdoor room. If you have a fireplace, a stylish set of fireplace tools is essential.

46. Design around your needs
I really try to find out what my clients will truly use the space for by asking the following questions:
Will you entertain there?
Do you want to be able to have a sitdown dinner outside?
Will it be for lounging by the pool?
Do you need play space for kids and dogs?
47. Ensure everything is top notch
Good landscaping is key in creating the desired space. Make sure your furnishings enhance it, not detract from it.
Invest in a good quality seating area and lounge chairs so you don't have to replace them often.
Also, pay the extra money for seat covers. Even in areas that are warm year round, smog and pollution build up on cushions and need a gentle rinse.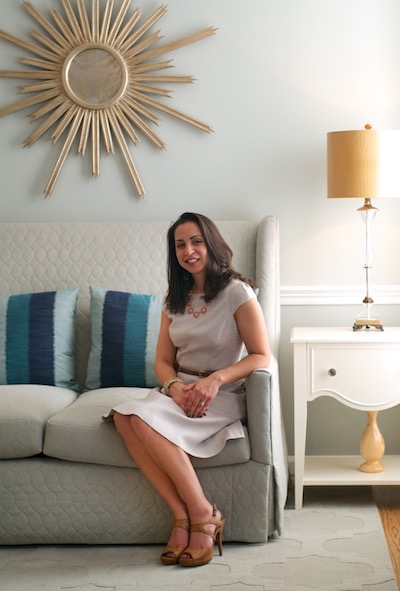 48. Get comfy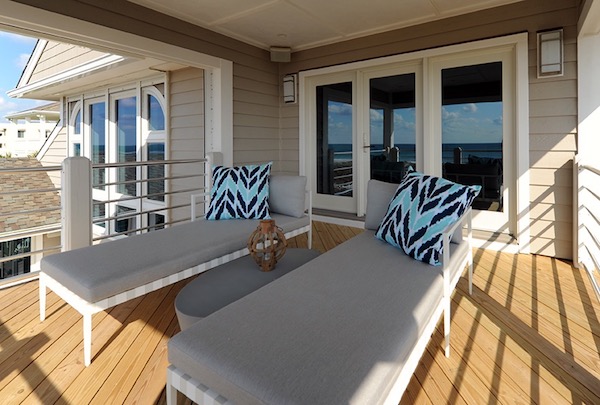 Add soft elements like colorful and cushy outdoor pillows, cushions, even throws. And don't ignore what's underfoot: an indoor/outdoor rug can add color and texture, and it feels great over a hard surface like a patio or deck.
49. Show off your artsy side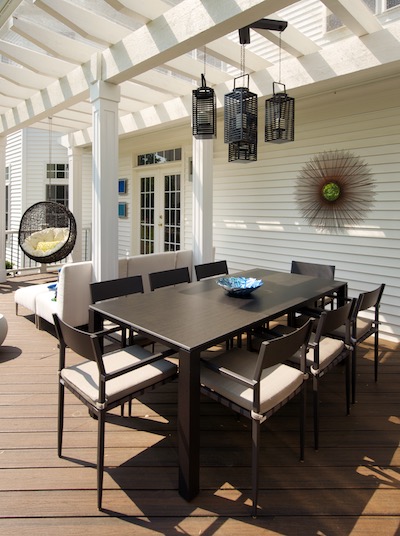 Many manufacturers are now offering outdoor-safe art that looks like it could be the centerpiece in your living room.
Add color, texture, style, pattern, and a conversation piece by adding outdoor art to your exterior walls.
Weather-safe metal sculptures can also help create an indoor feeling outdoors.
50. Paint on outdoor protection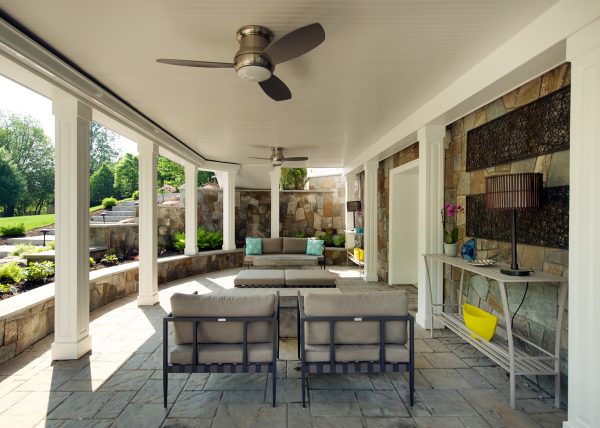 Don't be afraid to pick up inexpensive furniture pieces that could be converted into outdoor pieces with some heavy duty weather-resistant paint.
Buffets, credenzas, accent tables, and mirrors could help create unique, indoor-esque settings. It is suggested that you store them inside in the off-season, and expect that they may not last more than a couple of seasons before needing to be replaced.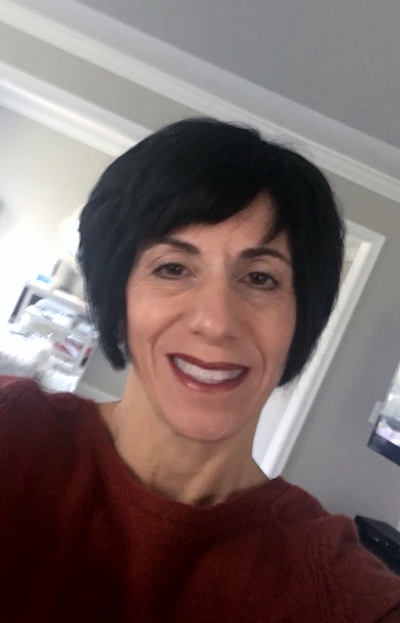 51. Pop some color on a pouf
Generally, I keep upholstery to a neutral white or light gray and then add in accent colors around it. I love to use poufs to add seating and color that can just be thrown anywhere.
Usually, we pick two or three colors that the client likes and then use varying shades of those colors throughout the space.
52. Mix and match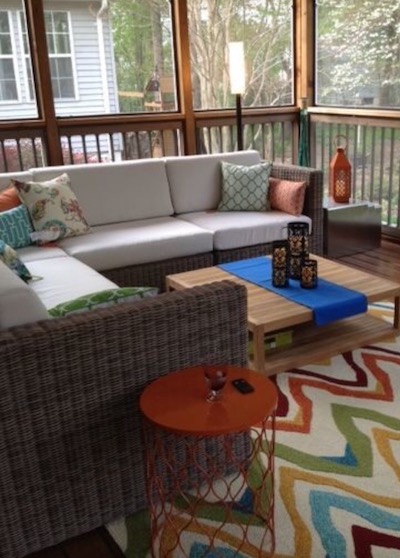 To add texture, use a combo of wood, metal, and upholstery for tables or chairs. Most of the wood I use is a weathered teak with a lot of gray undertones or anything more gray than brown.
The neutral colors for the patio tend to be white and gray with color added in. Shades of blue seem to be the most popular accent color these days.

53. Clear the clutter
A small space will feel larger the less clutter there is. Having lots of individual, freestanding planters that don't match can make the space feel smaller, chaotic, and hodgepodge.
Free Infographic: 12 Surprising Ways Clutter Is Ruining Your Life
54. Cluster your planters
Consider having groups of planters that match or complement each other in some way. Clusters of three or five usually look nice for round shapes, or arrange a row of three square or rectangular ones.
Planters with staggered heights also look more interesting in a group than planters of all the same height.
55. Divide large spaces into smaller areas
Long spaces can be broken up into separate outdoor "rooms" to help create a cozier, more intimate feeling. Patios and decks can easily be divided by having part of the space used for one task, like dining, and another part for something else, like comfortable lounge seating.
A long outdoor space might have a cozy conversational seating area with a sofa, lounge chairs, and a coffee table, and a separate area for curling up on your own with a good book using a daybed or chaise lounge.
Furniture, planters, and rugs can separate the different spaces to create multiple areas connected through passageways between planters, for instance.
56. Pick a color, any color
It's generally helpful to design an outdoor space with one dominant color in mind, along with one secondary color and a third accent color. Avoid color combinations that clash or seem out of place in the context — orange and black, for instance, reminds people too much of Halloween.
If there is any existing furniture, choose colors that already exist in the largest patterns of the furniture and reinforce those colors throughout the garden, even in the flower colors you choose.
57. Be different
Contrast is one of the most important features of good design. Square and rectangular shapes often look more interesting when paired with one or two round shapes.
Contrast can also be created by pairing high contrast colors together (blue and white, for instance), or by using textures that are quite different (like planting an informal, graceful ornamental grass in a more structured looking square planter).
58. Include a wow factor
Every well-designed space should have something that draws the eye to it right away. It might be a fireplace, a piece of art, a paint color, an exquisite deck or planter, a great view, or a piece of furniture.
Whatever it is, it has star power and people can't help but gaze at it. The focal point will also set the mood of the room as playful, formal, traditional, contemporary, artsy, rustic, etc.
59. Keep your environment in mind
My philosophy for outdoor decor is to make sure the design is in keeping with the environment; decorating the exterior of a Hamptons home looks different than a NYC terrace.
I always try to respect the surroundings so the design fits in rather than fights with the natural setting.
60. Choose the right materials
Not all outdoor furniture is suitable for all environments. For example, if your home is near the ocean, be sure to use marine-grade materials.
61. Serenity and fun in Southampton
My favorite outdoor project to date is a house I just completed in Southampton. We used neutral tones, creamy whites, and shades of charcoal to create a serene and sophisticated look.
The client wanted his home to accommodate his grown children and tons of their friends, so we made sure to have many seating areas and lots of comfortable lounge seating.
We added whimsical elements like a giant yellow ducky sculpture and hand stools that double as towel holders. Outdoor foosball and ping pong tables make this house the perfect funhouse!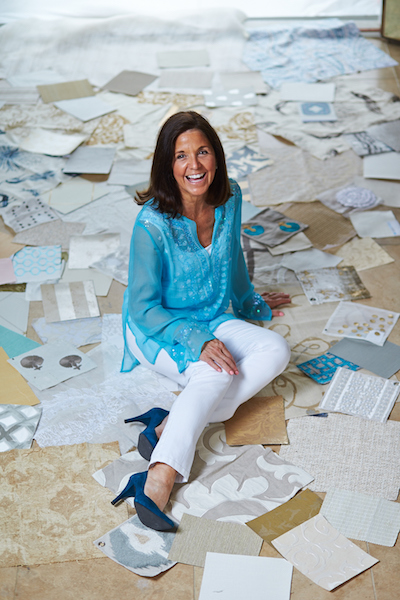 62. Show your personality
My philosophy for outdoor living is that your pool, patio, or deck should feel like an extension of the indoor spaces of your home. The same degree of personality that you've expressed inside can also be used in an outdoor room.
63. Have fun with fabric
One of the easiest ways I know to liven up your outdoor space is with fabric.
Performance fabric, which used to be known as "indoor/outdoor" fabric, has come a long way. It's now available in bright colors and crisp patterns, and it can take intense sunlight, extreme heat, rain, and even a wet, chlorine water-soaked bathing suit in stride.
Update your cushions or add new throw pillows to make your furniture comfortable, durable, and more inviting.
Outdoor curtains hung on weatherproof rods can also create an outdoor room effect. Fabric awnings are great for sun protection and cooling shade.
Imagine the stylish addition of a poolside cabana in cheerful wide stripes and a floral umbrella with scallops or ruffles!

64. Give each space a different feel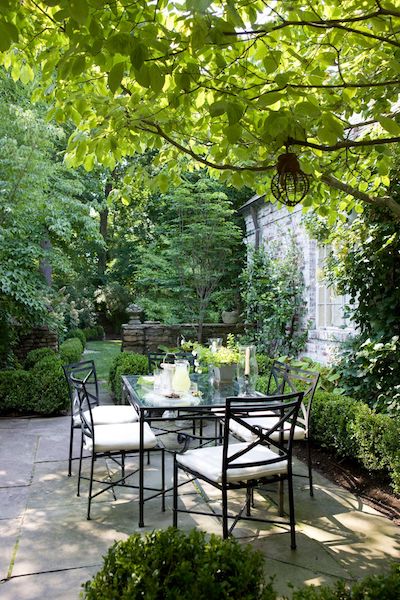 Establish different "feels" in different outdoor spaces. For instance, I have two back patios, a sunken garden, and a side patio. We accomplished something unique in each one by using different types of materials and furniture.
It is a great idea to "mix" styles and materials. We have wrought iron and an iron/glass table and chairs in one area.
In the second back patio, I have outdoor club chairs and a stone/glass table.
On the side patio, I have a stone console table used for serving drinks and a glass/aluminum Brown Jordan table and chairs.
65. Throw some pillows around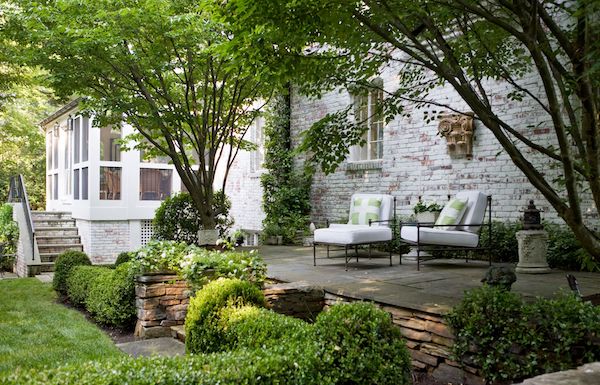 Different colors/styles of accent pillows can make a big impact. These accent pillows are stored near the exits of the house to have easy access to them.
Although indoor/outdoor fabrics are resilient, I still bring them indoors after use. (On a covered patio or porch, however, the pillows do not need such care.)
66. Don't neglect the vertical spaces
Another way to bring style to your outdoor space is to use walls or fences as places on which to hang decorative items.
I have a trio of architectural remnants hung on my back patio brick wall.
On the side fence, I've hung a mirror and a pair of candleholders that are made to go onto a wall.
67. Nothing will hold a candle to your space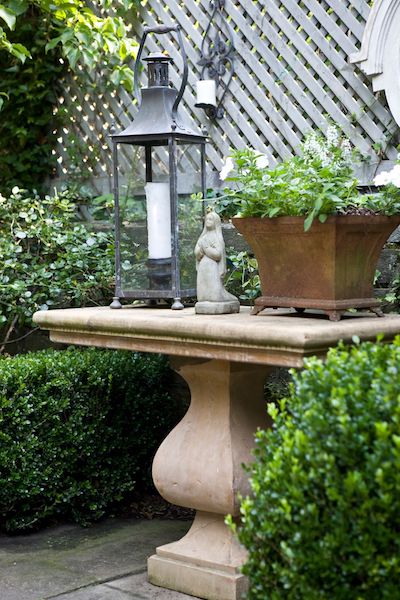 Incorporating different types of candleholders is a way in which to add style to outdoor spaces. They may be regular candlesticks with glass hurricanes or some style of lantern.
With the battery operated candles now available, you no longer need to worry about wind or fire!

68. Add a rug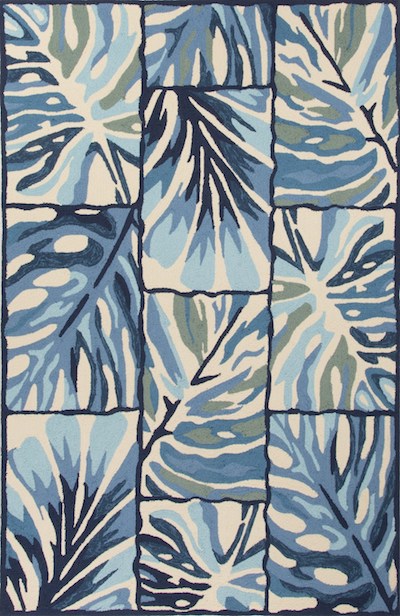 Outdoor rugs that are super durable are a great way to tie a patio space together and a fun way to add a pop of color.
69. All of the lights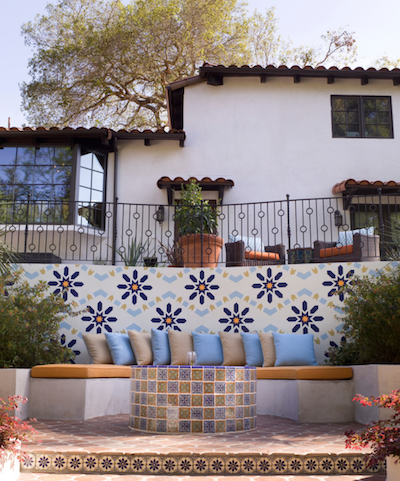 String lights strung above the patio might seem cliché at this point, but they are classic for a reason!
70. Channel earth, wind, and fire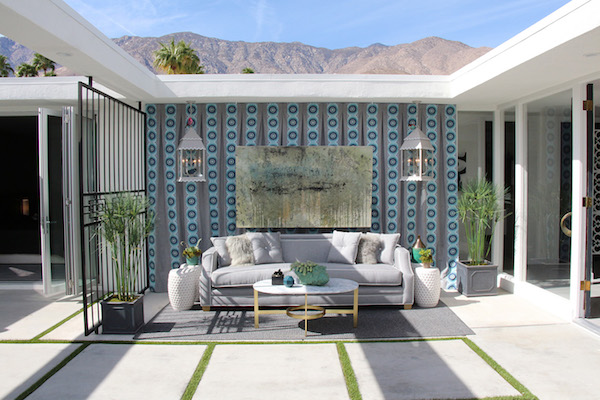 Water features, like fountains or waterfalls, or fire features, like candles and fire pits, create great ambiance when entertaining in an outdoor space.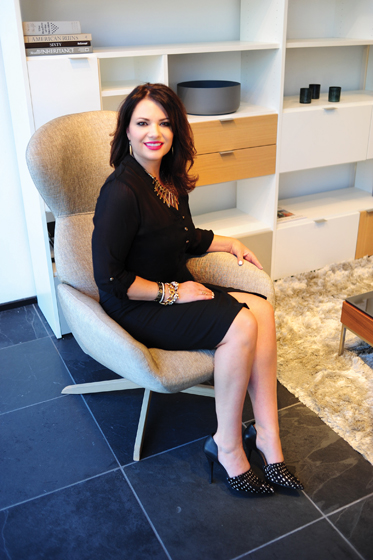 71. Paint a "rug"
Add interest to your wood decking by painting it! You can achieve a simple stripe by alternating paints, like a cream and muted gray, between planks.
If you're looking for something even more unique, use a stencil. This eliminates the need for an area rug, giving you a fun and unique way to use your space.
72. The sleeping spot
Need a nap-worthy space? Try creating a swing bed on a covered porch by taking a sturdy support system and tying it up using thick, natural roping.
Top it off with lots of decorative pillows and voilà! Turn your daydreaming into real dreaming.
73. Turn on the romance
Add romantic ambiance by hanging different sized solar powered/electric lanterns on tree branches. Get cozy and watch the night come alive!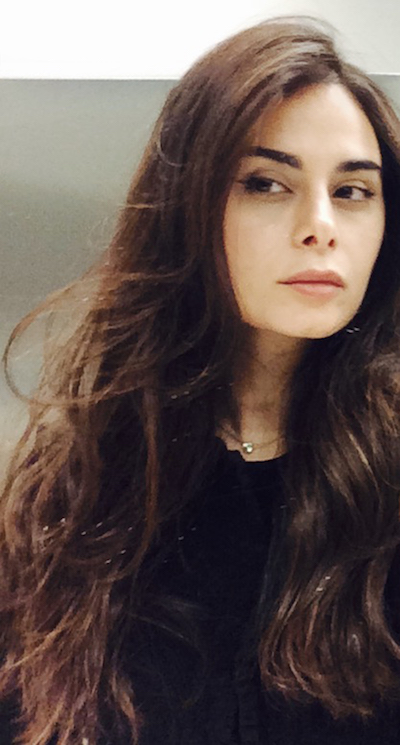 74. Satisfy your senses
An outdoor space should always act as a reward and an escape from this everyday existence. The key to achieving this is to satisfy and entice all the senses in your designs.
75. Herbs are the word
Fill your outdoor space with the pleasing aromas of budding flower plants and herbs, including lavender, roses, jasmine, mint, and basil.
Herbs not only indulge the sense of smell, they also play to the sense of taste. Nothing is more satisfying than cutting fresh herbs from your own backyard to cook with and enjoy.
76. Right in the feels
Sense of touch is equally important and can be utilized by supplying soft and comfortable seating. Using sand or gravel for the ground material adds a tactile and a sonic element that feels good on your feet as you walk across it.
77. Water works
Be sure to include a water feature in your outdoor space. It adds a soothing and cooling effect and is pleasing to the eye.
However, if you cannot afford a substantial and desirable water feature, do not compromise. It's always better to exclude something rather than to try to fake it.
78. Eat outside
Dining al fresco is a great way to enliven a beautiful outdoor space for your guests during parties and gatherings. So, try to include a grill and a dining area in your outdoor space.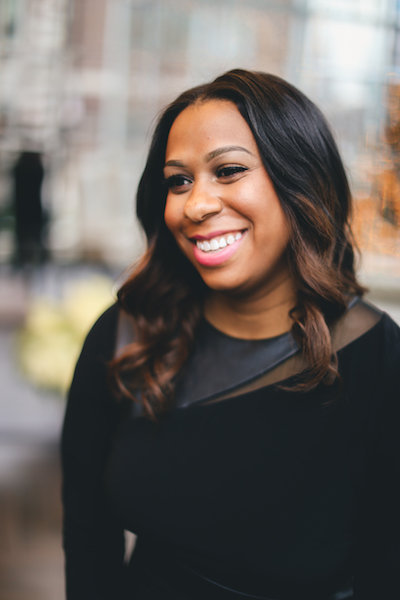 79. Make city life lush
City living often means living in a multi-unit building, with your balcony overlooking the busy streets. Adding some greenery to your balcony will bring the concrete jungle to life.
Having a green thumb may not come naturally to everyone, but doing a little research up front can save lots of money and headaches.
First, determine which direction your balcony faces — North, South, East or West. This is important when selecting a plant species, so you can ensure it will grow in direct or indirect lighting!
Be creative with your plant placements. Hang planter boxes on the balcony railing. Create a cluster of planters on pedestals of varying heights. Start an herb garden in the window sill.
80. Find multifunctional furniture
Just like your living room, the outdoor space often has many uses during the summer, so you want your furniture to be multifunctional.
First, seating should be able to transition depending on your needs. Higher, metal bistro-style seating is comfortable for working on a laptop during the day.
At night, you may want to have lower seating, perhaps in wood Adirondack chairs, that are preferable for lounging.

81. Sit this one out
Some must-have outdoor decor elements are sectional sofas or big, cushy chairs. Hammocks are also a great way to find solitude but still be part of all the activities!
82. When being shady is a good thing
Dappled shade helps reduce the ambient temperature by up to 10 degrees on hot summer days. The shade also helps slow down runoff so water has more time to enter into the groundwater system.
The cooler the outdoor space, the more likely you will be to use it.
83. Awesome entertainment space
A young couple living on 11 acres in Aldie, Virginia, wanted to give themselves and their three children a place to play and entertain throughout the year.
They asked us to create a versatile backyard space that could be used year-round; the place where all the neighborhood children would want to gather.
The toughest challenge was incorporating one of the couple's last-minute requests: a slide.
Most slides are blue plastic eyesores, but they don't need to be. We engineered a tubular slide that goes from the pool house rooftop down through the pool house, then shoots out into the pool.
84. Always down for a good time
No matter what your style, keep it warm, cozy, and comfortable for any time of day or any type of event.

85. All-natural entertainment in PA
One of my favorite outdoor projects was my porch in Pennsylvania. The furniture was grouped for large or small gatherings, and I used chaise lounges for afternoon reading and naps.
A wonderful all-wood outdoor coffee table was in the center of my porch. My guests and I gathered around it in the evenings and listened to the owls and frogs make music.
The cushions were a soft pale green to match the shingle siding of the house and the lichen in the surrounding woods. Throw pillows featured a wonderful fern motif to mimic the natural ferns that grew outside.
86. Take it easy
My outdoor decorating philosophy is to keep it simple so that maintenance is not a burden. Most of all, make sure it is comfortable for entertaining, and bring in special elements that make it unique to the natural surroundings.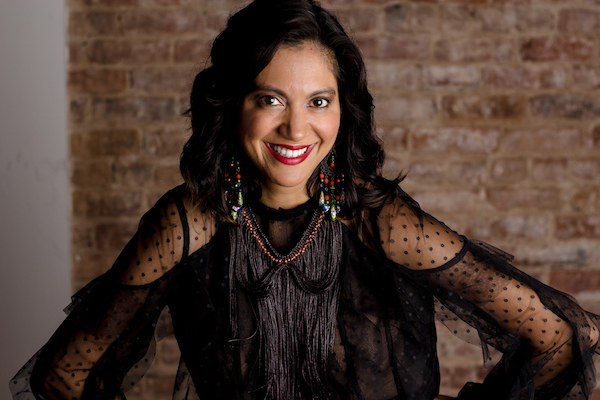 87. Built-in brilliance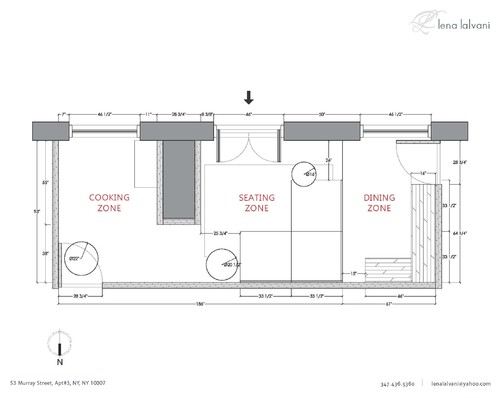 For a recent outdoor deck project, I suggested to the owner to build in benches around her dining table to really maximize her enclosed deck space.
Her contractor built benches with seats that lift up for storage underneath. I think it's a brilliant way to store your cushions in the winter (when you are not using your deck as much) as well as a way to maximize seating.
It makes every inch of your outdoor space usable (which is a big deal in Tribeca — it's a luxury to have any sort of outdoor space!).

88. Revamp an existing outdoor space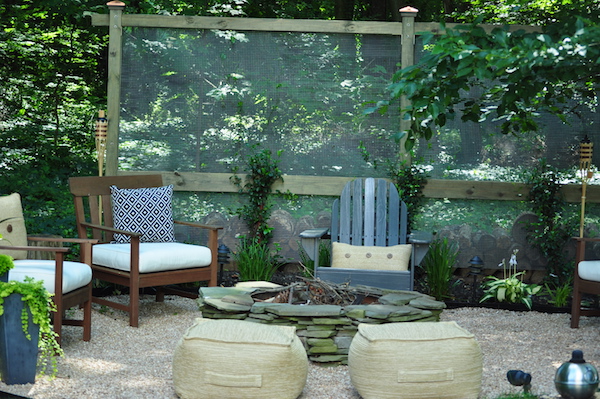 We recently expanded on a backyard project, turning a fire pit area we put in a couple of years ago into more of an outdoor "room." We set out to build a garden screen that would act as a physical barrier to the forest that borders our property (pretty and private, but full of poison ivy!).
We didn't want to forgo ambiance, so we used lumber and rabbit wire for the screen and planted jasmine vine along the front. Soon, the screen will be covered with jasmine, and when the vine blooms, the fragrant screen will contribute to an overall environmental and sensory experience.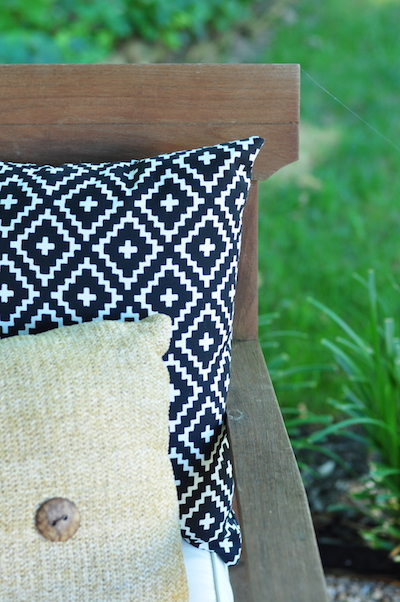 Our home decor consists mainly of neutral colors, with natural and textural elements, so we carried that into the exterior design with the style of furniture and outdoor pillows. The overall vibe is slightly tailored, but totally unpretentious!

89. Food and drinks come first
Make sure you have lots of surfaces to put a drink down or place trays of chips or food on. This can be a coffee table or lots of little side tables. Easy access to food is always appreciated!
90. Protect yourself from the sun
If you are lucky enough to have an expansive outdoor area, provide some sun cover like an umbrella or awning, and always keep a little basket of various types of sunscreen and bug spray.
91. Unexpected elements in Ontario
One of my favorite outdoor spaces we did was in Ontario. We harvested fallen redwood trees from Big Sur, which gives a rich, never-been-seen color to the exterior.
We added a wood burning pizza oven and a wood burning hot tub, complete with a shower — perfect for most of the year when it is cold! We layered the deck with steps to have various areas to hang out in, culminating down on the patio with a dining area under a pergola.
---
Having some extra space outside is clutch in the summertime. But just like pitchers of sangria and an ooh-and-ahh-inspiring fireworks display, all good things must come to an end.
When the citronella candles have burned out and you no longer need shade from an umbrella, don't cramp your indoor style with a pile of outdoor decor.
Schedule a Clutter Pickup
We'll pick up your patio furniture, extra cushions, lawn ornaments, and outdoor art (no grills, though. Sorry!).
Then, we'll transport your items to our secure temperature-controlled storage facility. We'll even create an online photo catalog of your stuff so you never forget what you have in storage.
Next summer, when you're ready for another season of luxe outdoor living, simply log into your MakeSpace account, select the items' photos, and we'll deliver them to you.
The great outdoors are even greater with Clutter!
Top image via Ghislaine Viñas