Like any recipe, designing the perfect pantry requires a balance.
It should efficiently use its horizontal limits, vertical space, and depth. Similar types of food should be clearly designated into categories.
There shouldn't be any sneaky corners where items can spoil or go missing. And there should be room for growth.
Your pantry should make cooking easier, not harder. Creating an organized pantry is all about setting yourself up for success in the kitchen.
Follow these five tips for a pantry that's not only organized, but sustainably so as well:
1. Always use glass when decanting food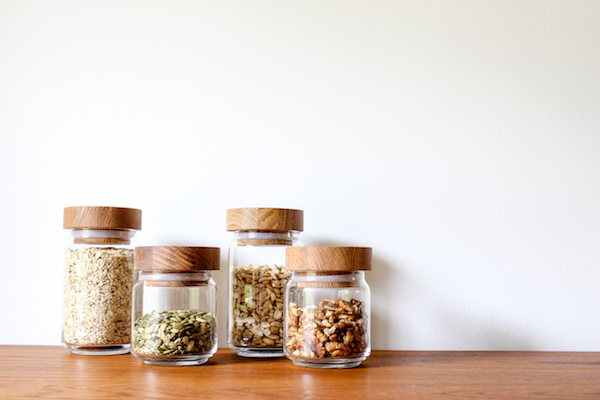 Choosing glass over plastic is one of the Clutter Healing® cardinal rules of food storage.
Anchor Hocking Montana glass jars are a much safer choice for both personal and environmental health. The reason is twofold:
Plastic is a non-renewable resource that directly contributes to an increase in greenhouse gases and trash.
It leaches harmful chemicals when it comes into contact with food. For safer plastic usage, avoid heating it.
Although BPA-free plastic has been marketed as a healthier alternative, a UCLA study shows that many of these alternatives actually share, and sometimes even exceed, the same potentially harmful qualities.
In addition to being the safest choice, artisan glass containers with oak lids can be used and reused endlessly … unless of course you drop and break them.
Don't have a budget for decanting your dry pantry foods?
Many staples from the grocery store are sold in glass jars that can be washed and reused for your organization needs. Things like pasta sauce jars, nut butter jars, pickle jars, to name a few.
Give these jars new life by using them to store dry goods, such as nuts, seeds, oats, and dried fruit. Glass also extends the life of your pantry staples by keeping foods fresher, longer.
Wins all across the board.
2. Labels, labels, labels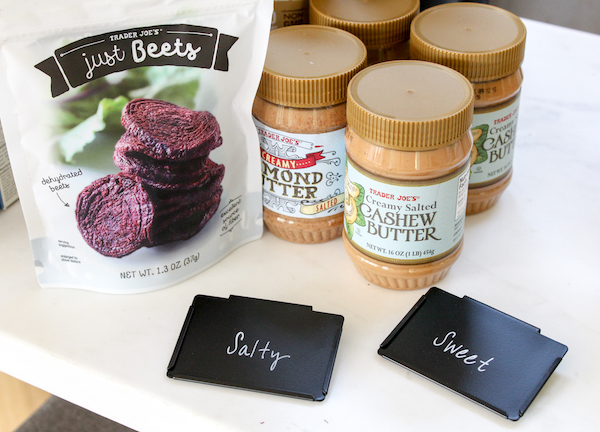 I cannot stress enough how much having a labeled space makes a difference.
Here's how to use labels to save yourself time, money, and a headache:
Sort your food into categories, like "On The Go Snacks" and "Fresh Fruits" (more on that below)
Keep those categories in designated baskets, like the Blackwash Rattan Storage Bin
Add a label, like the Black Bin Clip Labels, to each bin
Labels allow you to see all of your categories instantly. This prevents overbuying since you can easily identify and track what you already have on hand.
In addition to saving you money, labeling will contribute to maintaining the organized space after every trip to the market.
When categorizing your pantry, it's a good idea to keep labels broad, such as "salty" and "sweet," especially in the snack section.
Categories that are too specific may result in new additions not having a designated home. Popcorn may not fit within a "cracker" or "chip" section, but it would certainly blend in with "snacks" or "carbs."
3. Use Risers to Sort and Separate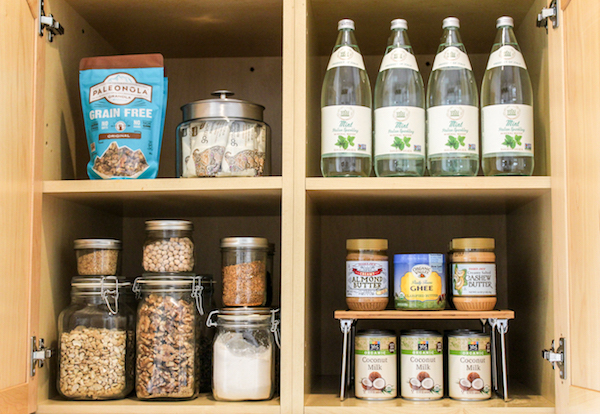 Many pantries that we overhaul share common challenges, such as how to create more space.
Even walk-in pantries without adjustable shelves don't use the vertical space efficiently.
While tall spaces are perfect for cereal boxes, large jars of flour, and bottles of oil,  smaller items like canned foods and sauces are swallowed up.
Eco-friendly and stackable bamboo shelves to the rescue!
Risers allow you to create more separation between the smaller items so that you don't stack too many things on top of one another.
They're also great for creating "stations." Store your mugs above or below the coffee and tea station, and your bread above or below the nut butters and jams.
These stations create excellent energy flow when navigating any kitchen.
4. Create a snack station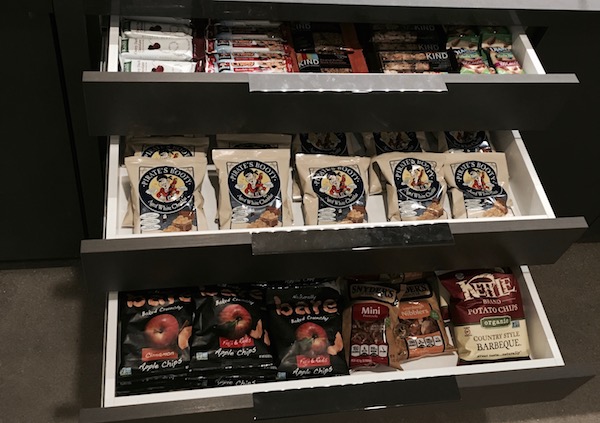 One of the most frequently dismantled areas of a pantry is that which contains snacks.
Kids and adults are equally guilty of rummaging through boxes of granola bars and single-serve popcorn when in a hurry. Grab-and-go snacks are a hot commodity and most likely to be rifled through multiple times a day.
The solution:
Corral all of your snacks into a low drawer or shelf for easy access. Contain them in Spectrum Scoop baskets or bins. Or use stackable bamboo drawer organizers to create separation between categories.
Take individually-wrapped snacks out of their cardboard boxes and plastic wrap. Then file them into their new bin or basket.
Whoever comes hunting for a quick bite won't have the opportunity to mess with your expertly organized space.
5. Properly store food to avoid waste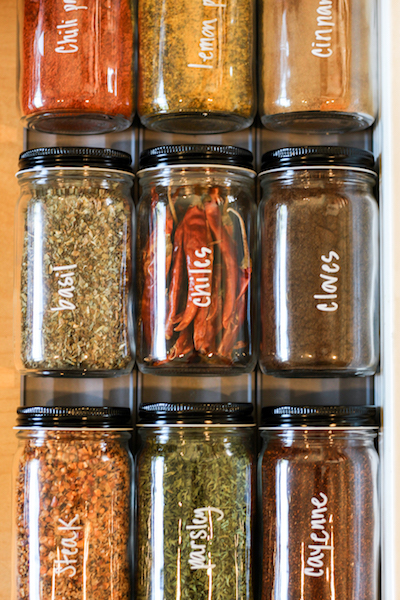 What good is an organized pantry if the food ends up spoiling?
It's like getting all dressed up with nowhere to go.
To avoid food waste, proper storage is crucial.
When decanting foods with foreseeable expiration, we suggest writing the expiration date on the back of the jar with a wine glass writer. This pen washes off easily and looks pretty. I've even written down basic cooking instructions for things like my pancake mix.
If you are decanting super seeds (e.g., chia seeds, hemp seeds, or flax seeds), refrigerate them after opening to extend the life of their nutrients.
Make sure you check labels on nut butters and sauces as many of these items require refrigeration after opening.
Pro Tip: MakeSpace doesn't store food, but they can store almost everything else! If you need to get some extra items out of your pantry to free up space for your favorite natural ingredients, schedule a pickup today.
As far as produce goes, follow these four rules to thwart spoilage:
Never store onions with potatoes.
Store tomatoes at room temperature. Refrigerating them can cause their texture to be unappetizing.
Avoid storing fruits and vegetables together. Fruits give off ethylene, a ripening agent that will cause surrounding produce to spoil faster.
Store sensitive fruits, like bananas and avocados, on the countertop until they're ripe. Then transfer the fruits to the fridge to extend their life for another few days.
One final important note:
We always recommend looking around your home first for any organizing supplies that you may have on hand.
There's no need to run out and purchase a ton of new stuff in order to make your pantry work for you.
Remember: Storing your food in places that fit your lifestyle is the best place to start. Everything else is a bonus.
Here's to creating a refreshed pantry organically.
This article was written by professional organizer and Clutter Healing®, Inc. founder, Lili Pettit. With more than 10 years of organizing experience, Lili helps people get rid of their physical and emotional clutter. The result: increased energy and feelings of clarity and purpose.