"Wine fridge" was totally on your must-have list the last time you went apartment hunting. But after seeing approximately 52 units in various states (dilapidated) and sizes (small), you were just happy you ended up with a functioning sink.
You might not have gotten that wine fridge or cellar of your dreams, but you can still store your vino in an artful, thoughtful way.
We show you the best way to store wine at home with some of the coolest wine racks, cabinets, holders, tables, and other wine storage solutions on the market.
There's a lot of information here, so be sure to savor it slowly, like a burgundy from 1978.
Click any of the links below to jump to a specific section:
Wine Storage 101
Wine Racks
Wine Cabinets
Wine Bottle Holders
Wine Tables, Furniture, And More
Wine Storage 101
1. Adjust your thermostat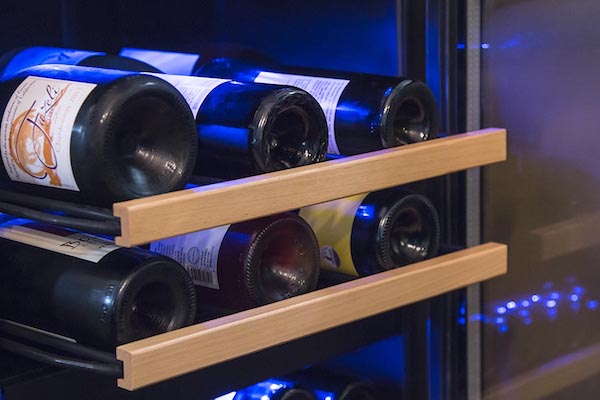 What's the best temperature to store wine?
According to Wine Spectator, never crack 70°F. Too much heat will age your wine faster than you'd like. But you also shouldn't bury your bottles in the fridge (at least not long-term). That chilly environment can dry out corks, allowing air to sneak into the bottles and ruin your wine.
Somewhere between 45°F and 65°F is the sweet spot. And if you're wondering what temperature you should serve your chardonnay at, here's a handy chart from Vinotemp.
2. Keep temperature steady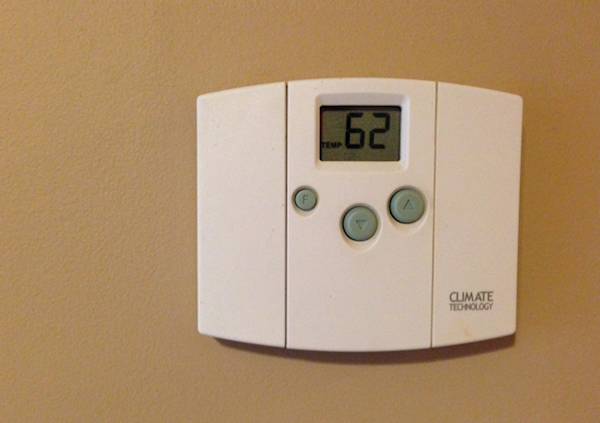 One more thing about temperature: It's important to maintain consistency.
Just as wildly fluctuating temps can ruin your hair, they can also mess with your adult beverages. Possible side effects of temperature swings include tainted taste and spontaneously bursting corks.
Now, that doesn't mean you need to obsessively monitor the thermostat for the slightest changes. Just make sure the area you choose for your wine collection is generally stable, temperature-wise.
3. Lay wine bottles on their side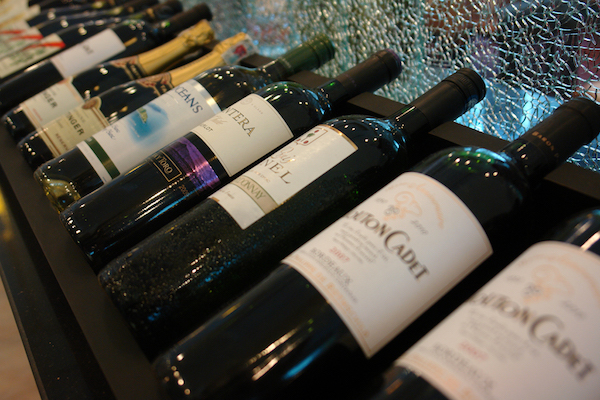 Sideways isn't just the name of a movie about wine enthusiasts. It's also the way you should position your wine bottles. The pros recommend this because it forces your wine to brush up against the cork. That keeps the cork moist, so it won't dry out and let all that pesky air in.
You also definitely don't want to leave bottles upside down in their packing cases. As Real Simple explains, that'll cause sediment to collect on the corks.
The one exception is bottles with screw tops. Screw caps keep out more air than cork screws do, so you can store wine bottles with screw caps upright if you want to. As long as it's in a dark place…
4. Dim the lights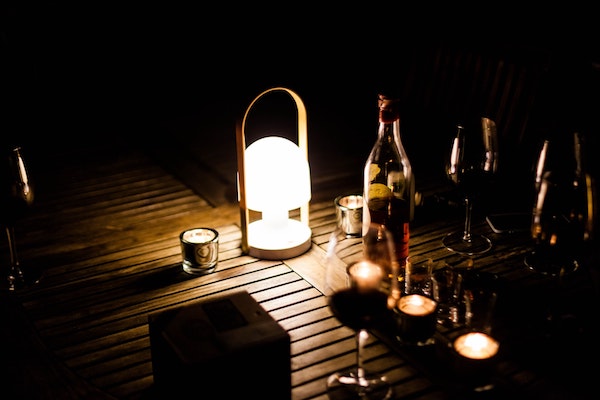 Wines that have been exposed to light (from the sun or just a fluorescent bulb) for long periods of time become "lightstruck," and that's a bad thing to be.
Lightstruck wines take on weird tastes and funky aromas. One winemaker describes the smell as "kind of like plastic or styrene." Yum.
Since we assume you'd rather smell berries and wood than plastic, store your wine in a shaded area.
Wine Racks
The RackPack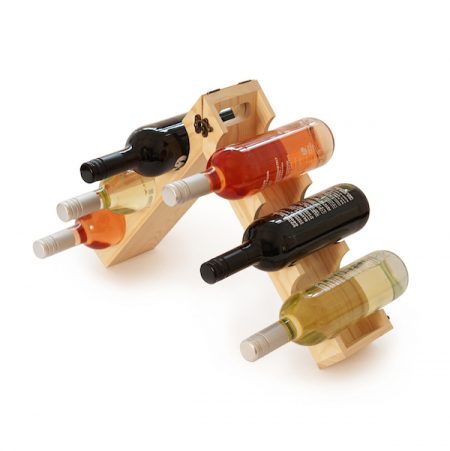 Sometimes, you just need to store three wine bottles. Other times, you want to prep for a holiday party with 12. Get you a rack that can do both.
The RackPack at UncommonGoods transforms to accommodate your wine storage needs. When it's all locked up, it holds three bottles or just one upright.
Once unhinged, it transforms into an upside down V shape with slots for six bottles. But if you lay it flat, there's suddenly space for two pyramids of six bottles, bringing you to a grand total of 12 bottles. Not bad for a $25 pine box.
Metal Hanging Wine Glass Rack
Who needs a chandelier when you've got a dangling wine rack?
This heavy-gauge metal piece hangs 24 pieces of stemware and still leaves space for eight bottles of wine up top. Make sure to mount it in studs or beams, unless you want your rosé to come crashing down.
Black Hexagonal Wine Rack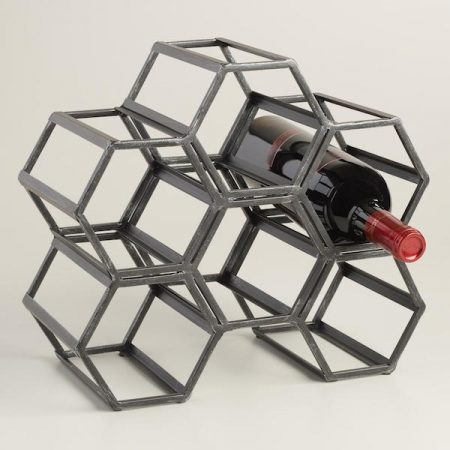 Think of it as building blocks for your pinot. World Market's geometric rack stacks six metallic hexagons together, giving you space for six bottles of your choosing.
But as one enthusiastic customer notes, you can hack that quota. Simply place three more bottles at the top. Provided you "lock the shoulders of the bottles into the gaps," of course.
Wall Hanging Wine Rack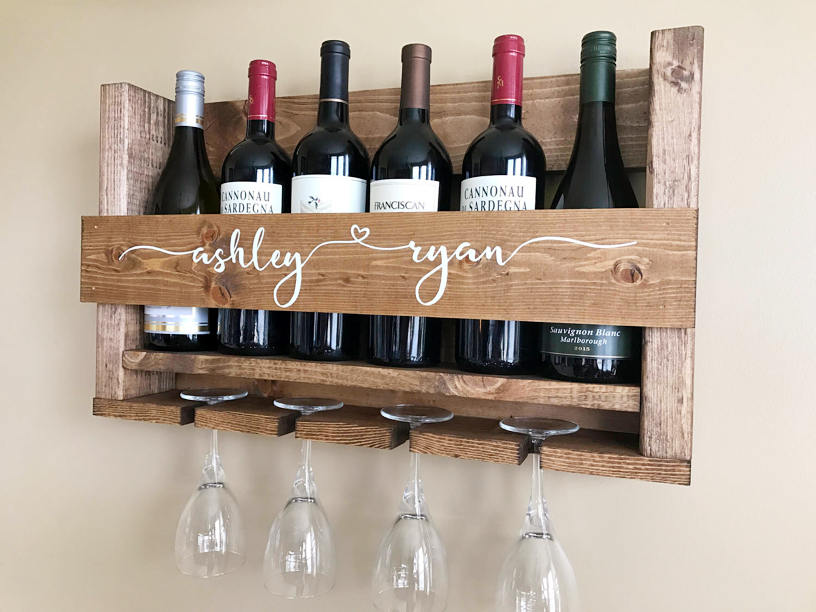 An all-inclusive wine storage solution is finally yours in this personalized wooden hanging wine rack. It also holds six wine bottles, with stemware space below.
The downside: It can only accommodate four glasses.
The upside: You can personalize it by adding your name to the wood panels.
Better act fast: It's currently 10% off.
Film Reel Wine Rack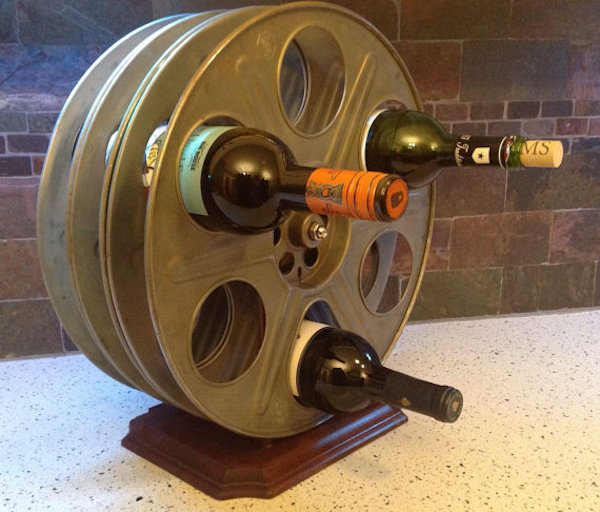 If you prefer to pair your wine with movies, this is the rack for you. It's made from three vintage 35mm film tins, which lend a cinematic quality to your collection. Toast Hollywood every time you uncork.
Horseshoe Wine Rack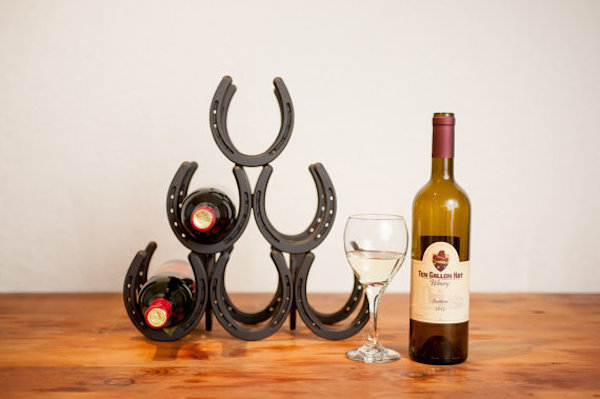 If the mere mention of Wine Night sends you off to the races, this horseshoe wine rack will make it even harder to control your excitement.
Fortunately, spots for six of your favorite Tempranillos, Sangioveses, and Syrahs mean that, if nothing else is contained, at least your stash will be.
DIY Wine Rack
If you'd rather build your own wine storage rack, follow this guide from Nuts & Bolts.
In just an hour, you'll have a wooden lattice wine rack capable of storing 36 bottles. Stock up on your drills, glue, and screws before you get going.
Wine Cabinets
Baxter Studio Dry Bar and Wine Cabinet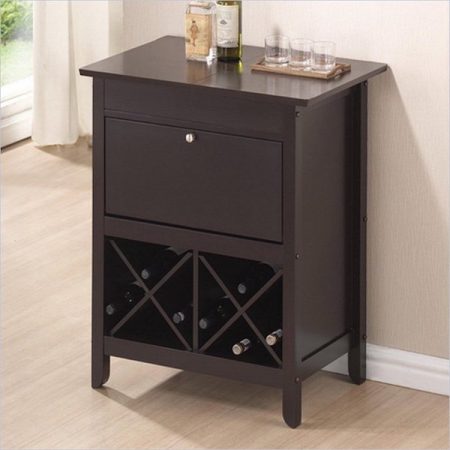 You'll feel like a boozy spy with this unit from Overstock. Slide back the tabletop and you'll discover hidden storage for corkscrews, linens, cheese knives, and more.
Tug on the tiny silver knob and the door will drop down to reveal racks for 10 wine glasses. The only thing that's not secretive is where the actual wine goes — that would be in the cubbies at the bottom.
Pulaski Alannis Wine Cabinet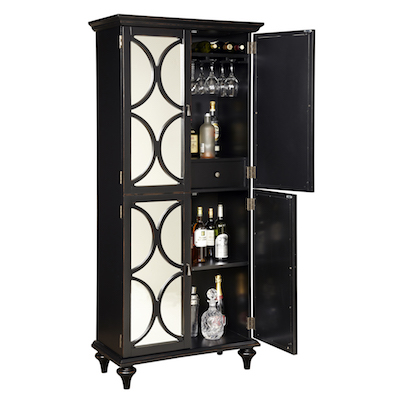 To the untrained eye, this appears to be a stylish armoire. But swing open the doors and you won't find sweaters. You'll see shelf after shelf of varietals.
This cabinet is meant to house everything you require for wine time. There are drawers for corkscrews and aerators, and stemware racks for glasses up top. That leaves the tall shelves entirely free for your robust private wine collection. With space like this, you can even hide a Franzia in the back. We won't tell.
Lawana Wine Armoire
Want a more old-school European cabinet to house your collection of Italian vintages?
Safeguard your coveted Montepulciano d'Abruzzo in this gorgeous mango wood and wrought iron armoire.
The top half features spacious shelves and space for 20 glasses, while the bottom half displays your bottles on five rows of racks. You can fit 35 bottles comfortably, if you can resist indulging long enough to let them accumulate.
Renfroe 12 Bottle Floor Wine Cabinet
This wine tower might be skinny, but it packs a mean storage punch.
Up to 12 bottles and 16 glasses all have a home here. And at less than two feet wide, it won't take up precious wall space in your actual home.
Adams Phone Booth Wine Cabinet
Still miss your semester abroad in London?
Give yourself a taste of Britain with this Adams Phone Booth wine cabinet that's shaped just like an iconic red telephone box. It comes with stemware racks so you never have to phone it in when it comes to hosting a fun wine night.
Wine Bottle Holders
Wine-O-Saur Wine Bottle Holder
This guy roars for Rioja. The Wine-O-Saur comes with a stegosaurus-shaped frame made of maple wood with a dark walnut stain. He can't swing his spiked tail at you, but he can store your favorite bottle on his haunches.
Elephant Wine Holder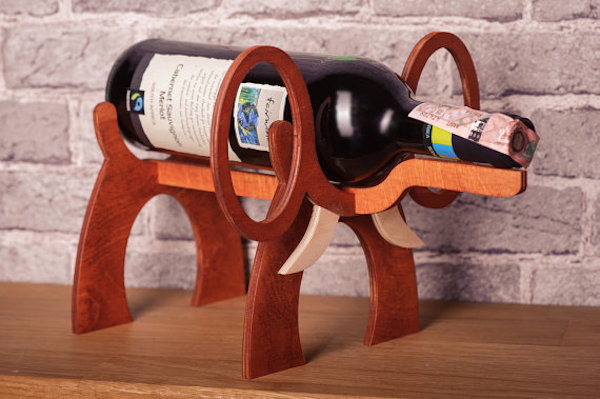 Not a big fan of the Jurassic period?
Then go with a modern mammal. This wooden elephant wine holder on Etsy has ears as big as Dumbo's and tusks to boot.
But don't worry: It won't spray your wine out of its trunk.
Antler Wine Bottle Holder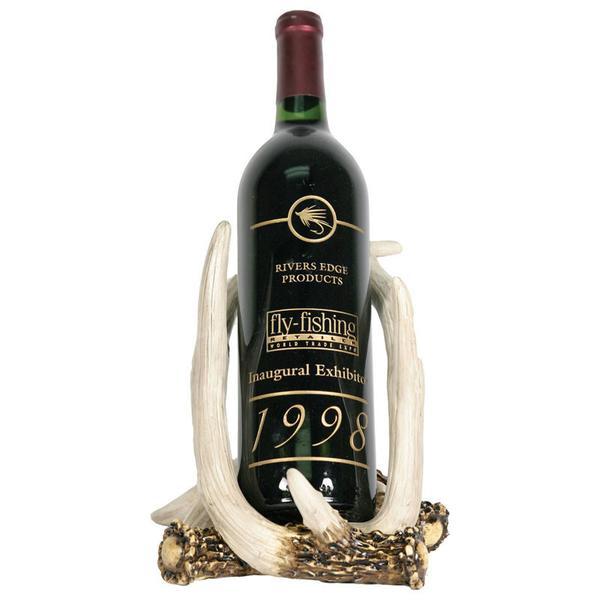 No animals were harmed in the making of this wine holder. It's just hand-painted resin. Still, you'll get serious hunting lodge vibes from the majestic deer antler-inspired bottle holder.
The twisting, tinted antlers support your most prized bottle, no hunting required.
Stiletto Wine Bottle Holder
Carrie Bradshaw would go nuts for this high-heel bottle holder. It may not be a Jimmy Choo, but it does have leopard print, a cheeky peep toe, and a sky-high stiletto for your preferred Port.
Bike Wine Bottle Holder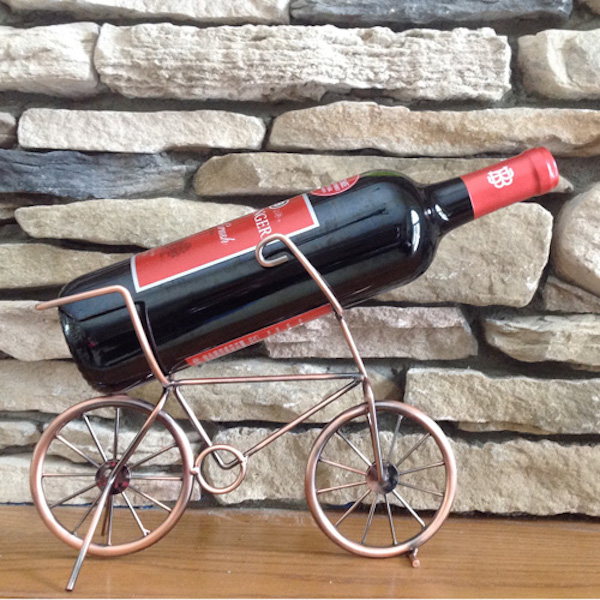 For the cyclist who also loves a good Chablis, there's this bicycle wine bottle holder. The antique bronze metal frame supports a bottle of just about any shape on its seat.
Do your own Tour de France with wine tastings from the Alsace, Bordeaux, and Côtes du Rhone regions.
Lighthouse Wine Bottle Holder
While most lighthouses are beacons for stray ships, this one is a beacon for wine lovers. This metal lighthouse wine bottle holder comes with its own windows and railings, and goes for $19.95 at Potpourri Gift.
Wine Tables, Furniture, And More
ZEbag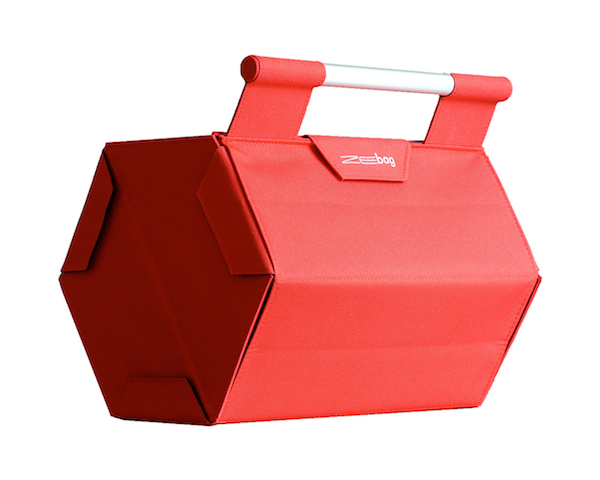 Leave it to the wine pros in France to design this wine storage transformer. You can roll the ZEbag up into a hexagon and carry six bottles inside.
Or you can unfurl it on your countertop for staggered storage.
Or you can hang it up like an over-the-door shoe rack.
It's the Megatron of wine storage, minus the risk of it robotically coming to life and taking over your city.
Vintage Oak Wine Barrel Bistro Table
A lot of wine gets fermented in oak barrels. So it's only fitting that this oak barrel bistro table from Wine Enthusiast stores wine bottles inside.
Swing open the door and you'll find plenty of room for your reds, whites, and rosés. Heck, you can even throw in a decanter or two.
And when it's time to entertain, your guests can rest their glasses — and complementary cheese plates — on the tabletop secured to the barrel.
Renaissance Wrought Iron Wine Jail
"Wine jail" sounds like where you go when you act up in a vineyard. But it's actually a beautiful home for 45 of your best vintages.
The wine jail's door boasts intricate scrollwork with an antique bronze finish that takes you back to the time of Michelangelo and Raphael. Just like regular jail, the wine jail has a lock. Unlike regular jail, you can easily open the lock.
Walk-In Wine Vault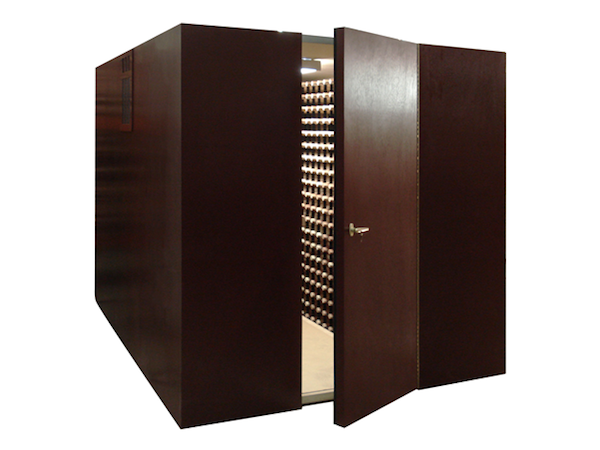 Serious wine geeks only need apply. Like Scrooge McDuck's money bin but for wine, this walk-in wine vault houses an insane 2,500 bottles of wine, because why not. It's so spacious you can literally walk inside it to peruse the redwood racks and/or just hang out with your tannin-filled best friends.
Another bonus: It includes a cooling system so you can control the temperature and humidity.
Obviously, you need significant space in your home to make this vault work. You'll also need serious cash: The vault goes for $19,995.
Need to clear some room in your home for your wine collection?
Simply schedule a MakeSpace pickup (your first pickup is free!) and pack your displaced furniture or oversized kitchen appliances.
We'll pick up everything and store it in our secure temperature-regulated storage facility. We'll also create an online photo catalog of your stuff so you never forget what you have in storage.
It gets better:
When you want something back, log into your MakeSpace account, select the item's photo, and we'll deliver it to you. It's really that easy.
So sit back, relax, and uncork one of your favorite reds knowing that MakeSpace has your storage needs covered.