Folding bikes are incredible. Their compact, lightweight, and collapsible form make them perfect for transporting on public transportation, carrying into an office, and storing inside a cramped apartment. (Basically every apartment in NYC.)
Not so incredible is spending hours searching for a folding bike. The good news: you can find comfort in this list of our five favorite folding bikes for every price range.
But what if you're fiending for a folding bike that's freakishly compact, like fits-in-a-backpack freakishly compact? And electric, and … pedal-less? Sounds impossible?
Meet Impossible — a folding, electric wonder that finally makes fitting a bike inside a backpack possible.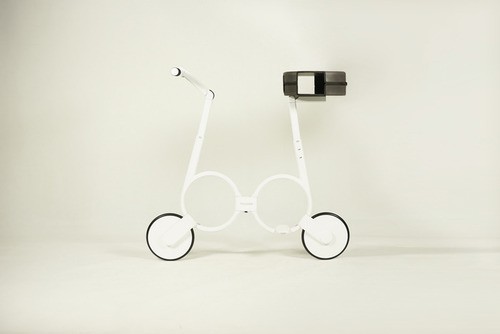 At first glance, the bike resembles a pair of headphones. But what Impossible lacks in size, it packs in portability and utility. Its creative circular design lets you fold the bike to stand only 17 inches tall, leaving room in your backpack for your laptop and favorite books.
It weighs a mere 11 pounds, yet carries up to 180. Its brushless electric motor and ten 2,900 mAh batteries propel you up to 12.4 mph for 45 minutes in turbo mode. Or up to 15.6 miles in normal mode, longer than most urban commutes. All this without requiring a single pedal or bead of sweat. Just point the front wheel in the direction you want to go and you're ready to roll.
When you're ready to slow your roll, simply press the break button on the handlebars. Handlebars that are at the same height as the seat so your weight is evenly distributed across the bike's frame.
Low on battery? Charging Impossible is easy and complete in 1 hour and 30 minutes. Plug it into a regular wall outlet, such as the one in your office or local coffee shop, and ride home on full battery.
When you're done riding Impossible, you can fold and store it inside the NeverWet-coated carrying case, which also happens to double as the bike's seat. Even better, you can fold and unfold the Impossible in only four steps: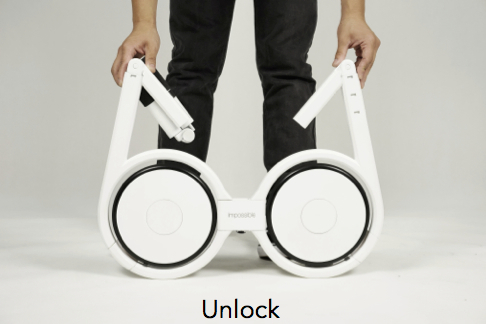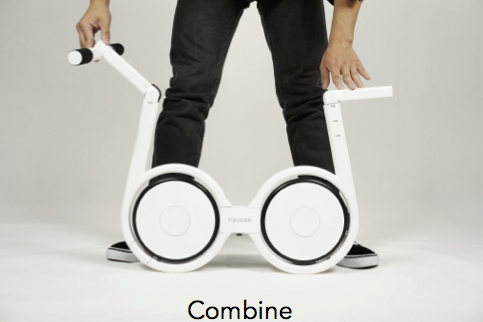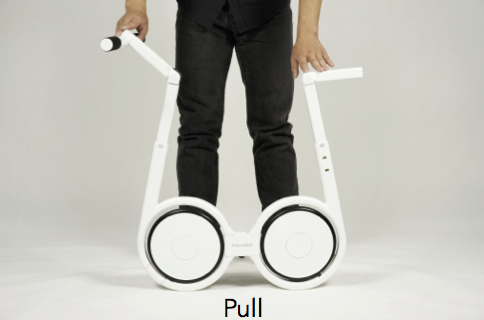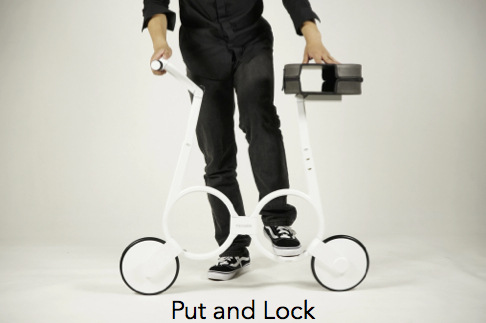 Amazing.
See the Impossible in action below. And if carbon fiber is more your color, be sure to back the project on Kickstarter where the color is offered as a site-exclusive option.
We're amped to see this battery-powered beauty debut in August 2015.