A messy bedroom can quickly pile up with dirty laundry, unpacked bags, and under-bed clutter. People often neglect to tidy and declutter their bedroom because visitors usually don't see it. However, it's certainly the last place you should let stuff like nightstand clutter, unread magazines, and old pillows accumulate. That's because we spend more time in the bedroom than in other rooms. Read on for some quick and easy ways to declutter your bedroom.
Tip #1: Sort out everything in your closet
Closet cleaning
This is one of the most common areas in the bedroom that need decluttering. Remove all items from your closet, then sort them into groups. That includes items to keep, donate, or throw away. This task will likely take a while, so make sure to reserve enough time for it. A recent study showed that over half of the participants admitted they had closet clutter, according to ClosetMaid.  
Tip #2: Do frequent declutter sweeps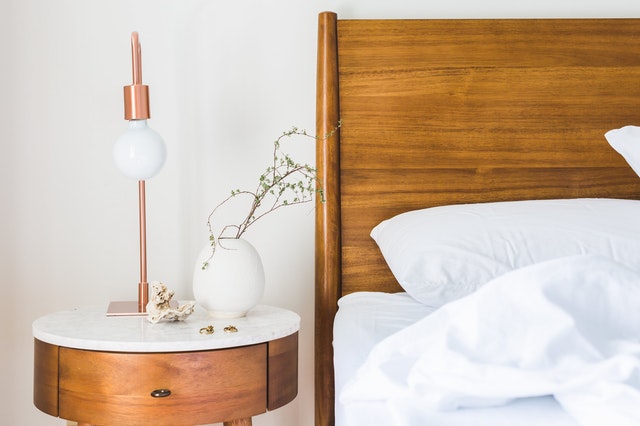 SOURCE: PEXELS
Spend a total of 30 minutes to declutter your bedroom every week. Prepare a laundry hamper, recycling bin and then:
+ Clear the surfaces of nightstands, dressers, etc.
+Place dirty linens and clothes in the hamper
+Return clean clothes to closet or dresser drawers
+Put out-of-place items in the catch-all bin.
+Return items from the filled catch-all bin to correct places.
Tip #3: Remove under-bed clutter
This is especially the first step to take when following Feng Shui. Based on the ancient Chinese system, the arrangement and location of items affect the flow of energy (qi). Start by removing everything that you're "storing" under your bed. Sweep and vacuum thoroughly to remove any dust, dander, and bacteria that have built up there. Then it's time to sift through the storage boxes and bins. Take the time to sort and organize the contents, deciding what to keep, donate, or send to storage.  
Tip #4: Buy furniture with built-in storage
If your bedroom's closets and cabinets are full, then consider furniture that doubles as storage. For example, a bench at the foot of the bed can be used to store extra linens, towels, clothes, and shoes. Here are some other ideas to try out:
 +Bed-frame with drawers
+DIY Platform storage bed
+Bookshelves as a headboard
+Drawer organizers for storage drawers
+Storage ottoman
+Stack cabinets
+Convert dresser drawers into bookcases
+Customized bed with storage
+Fold-down desk
Step #5: Clean or replace your mattress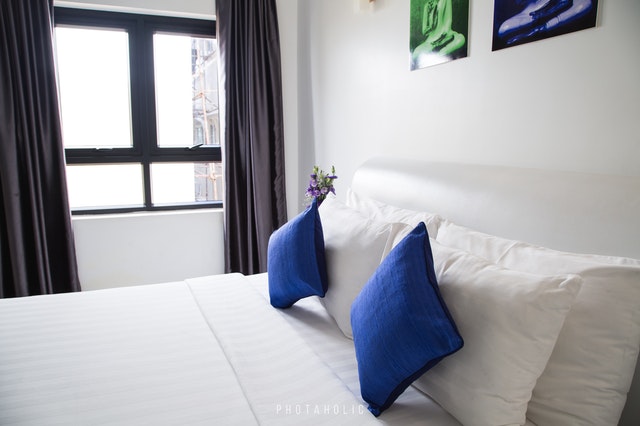 SOURCE: PEXELS
Besides selecting an ideal mattress for your sleep that provides enough support and comfort, it's also important to tidy up dirty mattresses and generally replace old mattresses that are 10 years old. 
Airing out
Over years bacteria and mold spores can build up on bed pads. Make sure to regularly vacuum the mattress and flip it over from time to time. You should also let it air out outdoors for one or two hours on a sunny day. New mattresses will need a full 24 hours for "off-gassing". When getting rid of old mattresses, some alternatives to ditching them include selling, donating, and recycling. 
Step #6: Reduce accessories and shoes
De-accessorize
Keeping stuff that we don't or can't use anymore can cause clutter buildup. When picking linens and furnishings, make sure to choose wisely. If you invest in too many, it's likely extra throw pillows and similar items will end up on the floor.
Sorting shoes  
You should also consider getting rid of extra shoes that are worn out or don't fit. Consider donating, recycling, or tossing them. 
Conclusion
Declutter your bedroom to create a calm and peaceful sleeping space. The entire process won't be quick and easy, but it's certainly time well spent on better health and wellbeing.