The best get-togethers are those that seem to never end. Sleeper sofas make watching movies, playing games, or just catching up over a glass of wine an easy overnight affair. Host holiday visitors right in your living room with pull-out sectionals, or set up sleepovers for multiples in the guest room with loveseat sleepers.
When adding a piece of furniture that can dramatically expand and contract, it's key to consider the room's layout and decor. Here are our best tips for easy, functional designing around a pull-out sofa.
Choose the best size and shape for your space
With the range of sofa sizes and shapes available today, you can easily add a sleeper to nearly any room in your home—the living room or family room, the home office, or even a large guest bedroom. In most cases, these pieces will function first and foremost as couches and secondly as beds.
With that in mind, first consider how the piece will fit into the designated area as a sofa. For large rooms, get optimal seating with a full sectional arrangement. For a tighter space, a small loveseat pushed up against the way may be all you need.
Also, evaluate the mattress size that would be most appropriate for both your daytime couch-sitters and your overnight guests. A twin mattress is the perfect sleeping spot for a single person, but they're typically only available within daybeds or two-cushion couches. If you can swing it space-wise, choose a queen-sized pull-out bed—it's the most useful and versatile, providing enough room for one to two guests without overwhelming the space.
Keep comfort in mind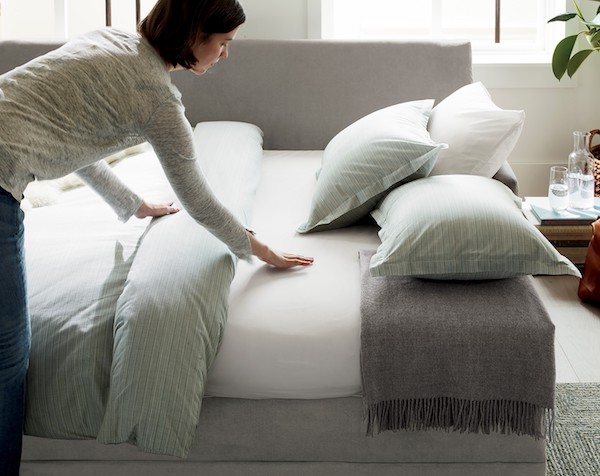 Just as important as sofa size and shape, the comfort level of your couch is integral to the perfect sleeping setup. The sofa cushions should be plush enough that guests sitting on them would never know that beneath them is an entire pull-out contraption. The thicker the cushions, the better. A firm fabric such as a tight-weave linen-like upholstery or slick natural leather also helps protect guests from the metal bars inside the furniture.
Next, think about the mattress itself. While you should look for sleepers with thick, comfortable mattresses, remember that you can always add a super-plush mattress topper to any bed for cloud-like coziness.
Place a thick and textured throw blanket in complementary colors over the arm of the couch—it can double as extra warmth for sleepover guests.
Use storage furniture to hold bed linens
Store extra pillows, sheets, and blankets in the guest room in attractive storage furniture that doubles as decor. Place linens in decorative baskets and bins in the corners of the room, or tuck them away in hidden media center drawers or cabinets. Choose a storage space that's extra-roomy, and swap out bedding with sofa pillows and blankets until morning to keep the space clutter-free. You'll save space in your linen closets, and you'll make everything easy to access for your guests.
Too many blankets, not enough storage furniture? Schedule a MakeSpace pickup. We'll pick up and store the extras until you need them delivered back again.
Add versatile furniture
If your sofa-sleeper just so happens to be the main seat in the living room, it will serve primarily as a seating area. You'll likely need a coffee table and at least one end or sofa table, depending on the size of the piece. But to make the sitting area functional as both a lounge space and a makeshift bedroom, you'll want furniture that's easy to rearrange. For example, a lightweight acrylic or rattan coffee table is much easier to push aside than a solid stone or concrete drum table.
If you still want to incorporate a hefty natural material into the room, look for tables with marble, stone, or thick-cut glass tops and airy, open bases. The same advice applies to side tables. Or, if you still want to add a solid, sculptural metal or wood table with some weight to it, let that one act as a nightstand when the pull-out bed is in use.
Accent chairs, lounge chairs and armchairs should all be arranged clear of the pull-out space. To allow the overnight guest room to breathe and to avoid boxing the bed in with auxiliary furniture, arrange these spare seats so that they are flanking the sofa area. Angle the chairs out and away from the sofa to create a layout that feels open.
Illuminate with all-purpose lighting
As with furniture, you don't want the hassle of rearranging the lighting when it's time to pull out the couch for the night. Arc floor lamps are the perfect all-purpose option for sleeper sectionals, sofas, and loveseats alike. Specifically designed to fit behind a couch or chair, the arched neck of these lights maximizes the area the illumination covers, and the overhead design allows it to easily convert to a nighttime reading lamp for those tucked into the pull-out.
Another option that works for the entire space is a chandelier or overhead flush mount (use multiple flush mounts, if the space requires a little extra brightness) paired with a table lamp or two. Keep one table lamp on an adjacent side table that can do double duty as a bedside light for overnight guests.
Style decorative objects in the name of simplicity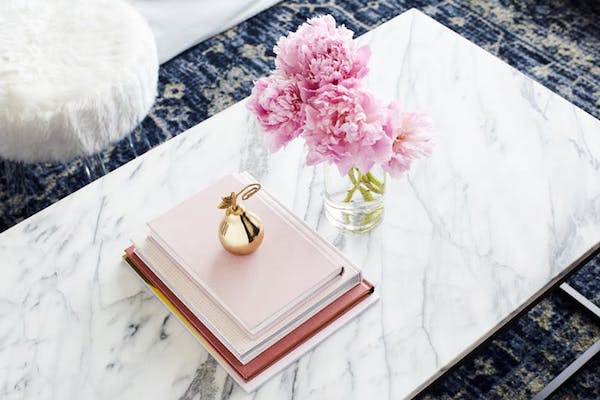 Carefully consider the décor that sits atop the furniture pieces you'll need to move when you pull out the bed. For example, think about the coffee table or ottoman in front of the couch. Instead of creating an elaborate tablescape of candles, hardcover books, vases, and other decorative objects, keep it simple and choose just a couple of items to display. You can still decorate with all the accessories you originally wanted—just spread them throughout the entire room, placing on console tables, wall shelves, and display pedestals instead of clustering most on the main surface.
If you plan to host overnight guests often, consider taking a minimalist approach to the decor in that particular room. As a DIY bedroom, it should be zen and welcoming, and a color palette of soft, neutral hues is visually comforting in a bedroom.
Pull-out sofas help you make the most of the space in your home. Try to make the most of the sleeper itself by surrounding it with accommodating furniture in a functional layout. Your future couch crashers will love you for it. Happy hosting!
Hannah Bollman writes inspirational and actionable content around home design and entertaining for Crate and Barrel, where you can find sleeper sofas to meet your hosting needs. When she's not providing guidance on interior style, Hannah enjoys performing stand-up comedy and working to improve her 5K time.