Living in small spaces is no 20th century phenomenon. Humans have made do with less room since we first climbed down from trees and built primitive shelters. We're an economical species, adept at efficiency and thrifty living in big cities, and the open water.
Sailors and everyone living in offshore homes have pioneered many advancements in small-space living. Bobbing beside a dock or anchored in a marina, sailboats, houseboats, and small yachts use clever design to make the most of a few square feet.
If you live in a small apartment or tiny home and crave some space, consider these space-saving, furnishing, and storage tips developed by sea-dwellers.
Mount plates, cups, paper towel, and spices to the wall.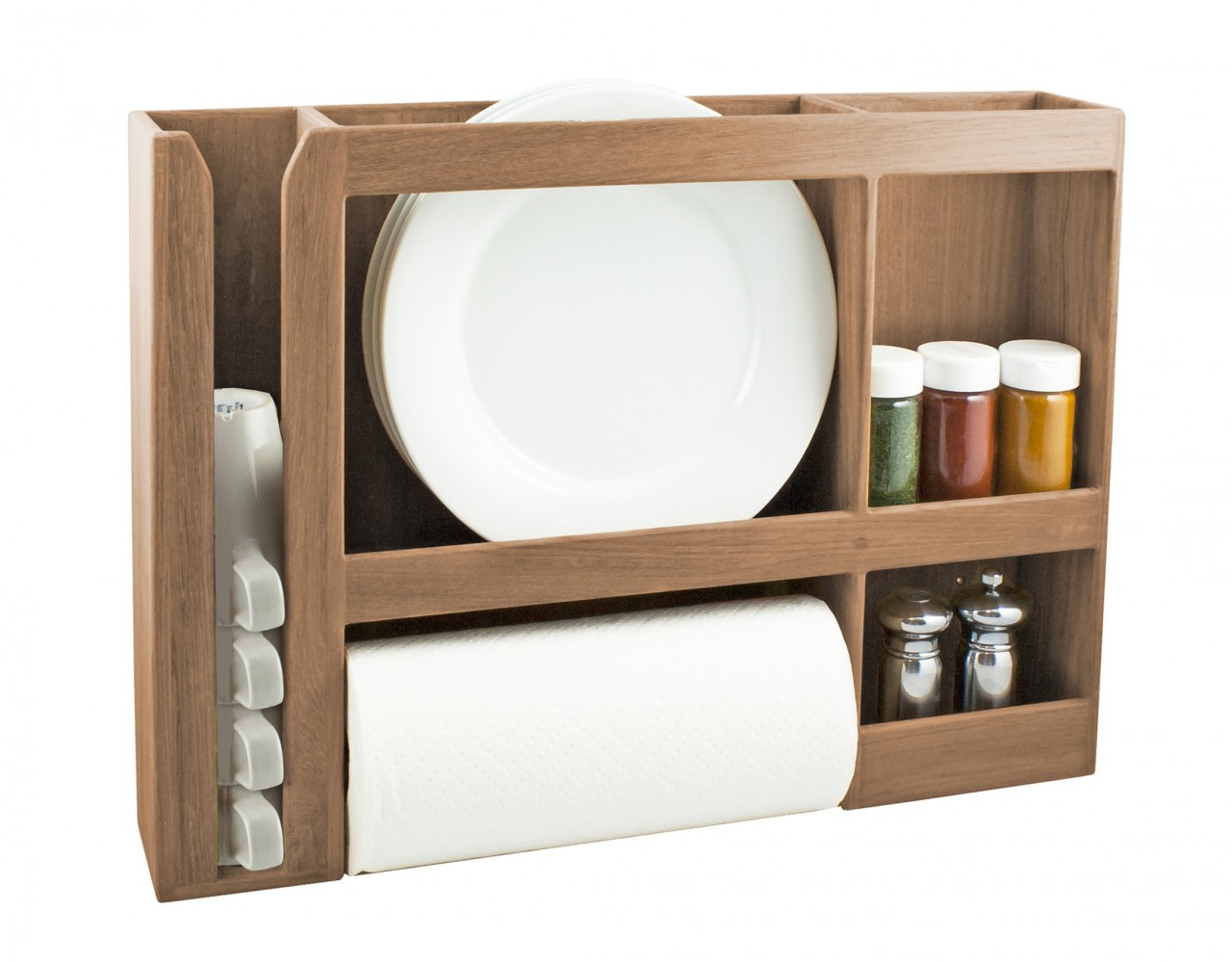 Like a lot of tiny apartments, few ship galleys have the space for cabinets. Ceramic dishes wouldn't last too long sliding around in a sailboat buffeted by waves anyway. Enter SeaTeak, a company devoted to beautiful, practical storage products that can be mounted to the wall of any home, land or sea.
The dish/cup/spice/towel rack seen above is one of many home storage solutions they make that free up counter space and keep your belongings secure. From knife blocks to book racks, their marine-inspired designs will enhance any home by looking beautiful while saving space.
Think cozy, not cramped.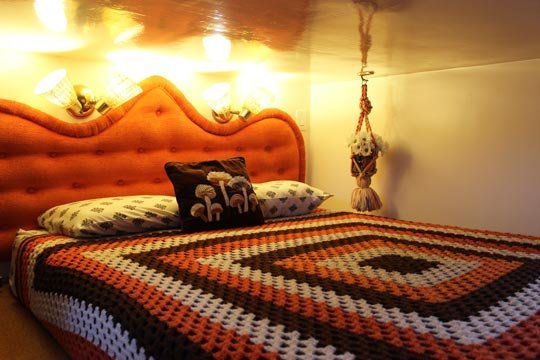 Sure, most of us would love to sleep under a 12-foot ceiling with a huge window overhead or, better yet, a skylight, but that's not feasible in most small apartments. For centuries sailors have slept in cramped beds with low ceilings, and many modern marine dwellers do too, except they make the spaces cozier.
If you have a loft bed or an apartment with less headroom than you'd prefer, use lights, colors, and textures to make it warmer, and more pleasant. While the headboard in the houseboat pictured above nearly touches the ceiling, its cushion material adds comfort to the small space. The lights pointed upward and outward, and the basket hanging from the ceiling also create more dimensions, making it less of a cave and more like a cozy den.
Hide your counter.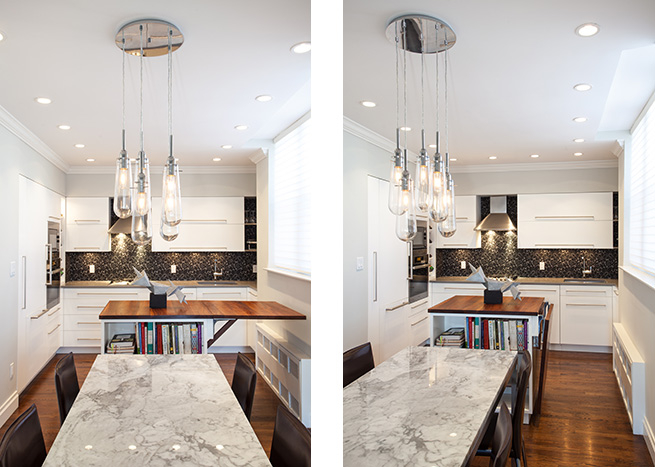 A New York City architect looked at sailboats for inspiration when designing a Prospect Heights apartment, pictured above. He built the foldable prep station with a table bracket used in many boats and yachts. It locks firmly and holds up to 330 pounds, then drops out of sight whenever you don't need the extra counter space.
Oh, and the stainless steel bracket only costs $16 on Amazon, which makes it economical in every sense of the word. If you need more prep room, or if you're just looking to save space in your small kitchen, this is among the cheapest and simplest tricks you can find.
Cargo nets are your storage buddies.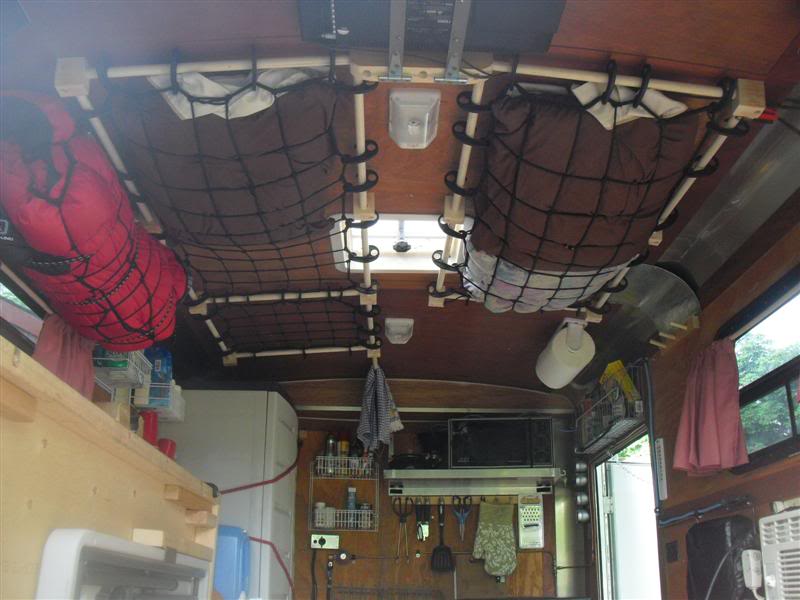 Already a common sight in the trunks of most cars, cargo nets can be found in nooks and corners on boats of every size. You can adapt them to apartment storage as well. Their elasticity makes them ideal for compressing bulky items like spare duvets and pillows. When you're done storing your stuff in them, they hug the wall, ceiling, or base of your bed, taking up little to no space.
Just like on boats, cargo netting comes in every shape and size for your small home, so you have a lot of options to maximize storage space with these stretchy tools.
Collapsible canvas baskets are your space-saving superheroes.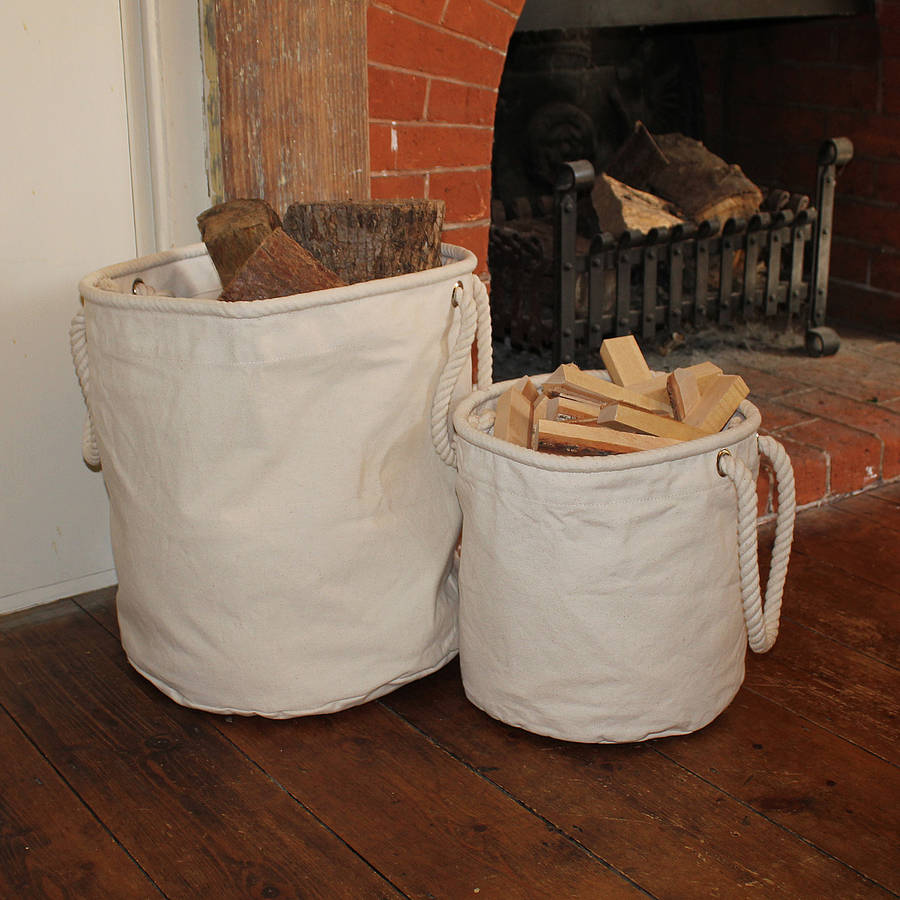 We're fans of our durable plastic storage bins, but when it comes to storing things in your studio apartment, canvas baskets are the way to go.
Seafarers rely on them to store everything from food and toiletries to jackets and linens for two good reasons:
They're durable.
They're soft and moldable, which lets you compress them when they're empty to save space.
You can also store your possessions in canvas laundry hampers or canvas wastebaskets, and then tuck them into nooks and corners where rigid storage containers like a box or trunk might not fit.
Abandon
ship

 clutter.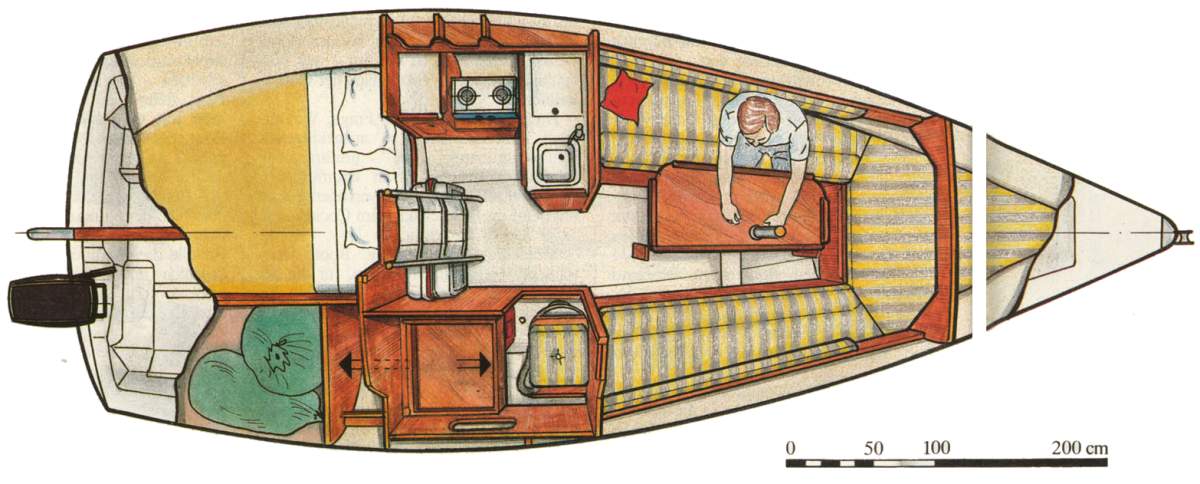 Every time sailors take to the sea, they bring only the most basic tools, provisions, and cherished belongings with them. The reason is simple: If there's no room for stuff, there's no reason to take it. It's a nice, simple philosophy for anyone who lives in a tiny house or tiny apartment to keep in mind.
Whether you live in an apartment, are about to move into a smaller home, or are planning to tidy up á la Marie Kondo, know that the space-saving solutions above can only go so far.
Think about everything you own and decide whether or not you really need certain objects taking up space in your home. Some items you might want to keep, others you might want to donate, gift, sell, or toss.
Either way, you don't have to make every decision permanent, or regret parting with an item forever. Simply store the stuff you love, but don't necessarily need in your home right now, in MakeSpace. And when you need something back, we'll deliver it to your house, apartment, office, or port.
This article was written by David Michael McFarlane, a writer from Texas and Oregon who lives in New York and loves smart design and organization.