Lighting can make or break a mood. Too dark, and things get spooky. Too bright, and things get plutonic. Keep things magical by grabbing a BULBING lamp.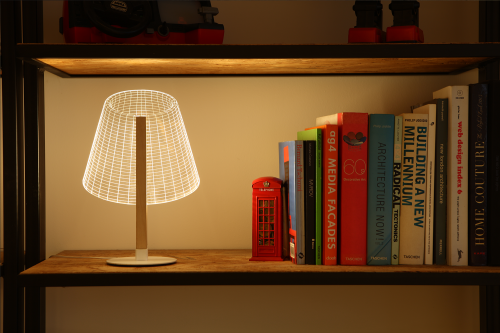 At first glance, you probably thought the above BULBING lamp is 3D. Right? But look at a BULBING lamp from the side and you'll see that it's actually flat.
How does a BULBING lamp pull off this insane space-saving magic trick that gives David Blaine a run for his Street Magic money?
BULBING's "lampshade" is made from a clear and strong sheet of acrylic glass that's etched with wireframe-esque lines. When you turn a BULBING lamp on, LED light travels through the etched lines and creates a glowing three-dimensional optical illusion. It's kind of like having dozens of baby lightsabers illuminate your room at once, except 0% menacing since BULBING lamps are heat-resistant and safe to touch.
Inspired by classic desk lamps and designed by Tel Aviv-based Studio Cheha, BULBING lamps come in three new styles that add a warm, Star Wars CGI touch to any room — perfect for reading, writing, relaxing, or romancing:
1. ZIGGi BULBING Lamp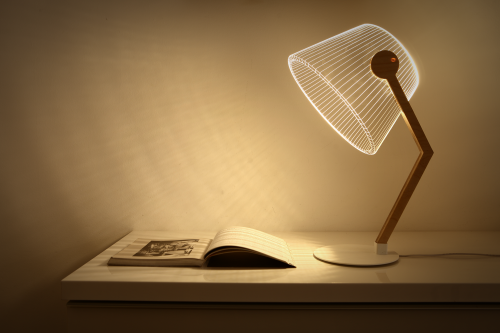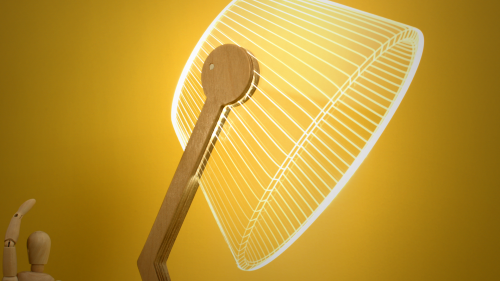 2. DESKi BULBING Lamp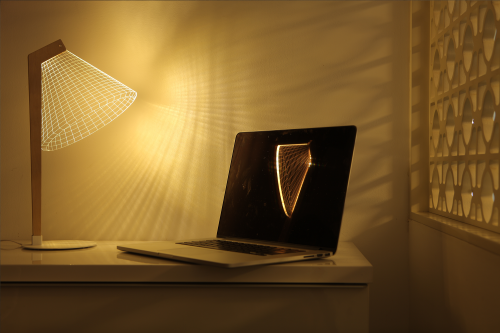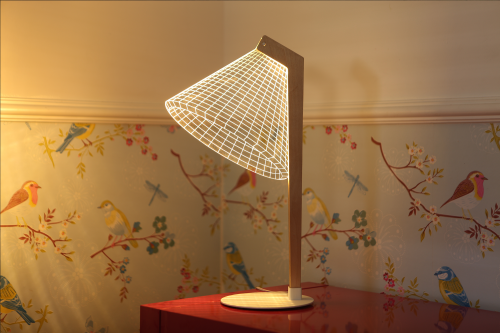 3. CLASSi BULBING Lamp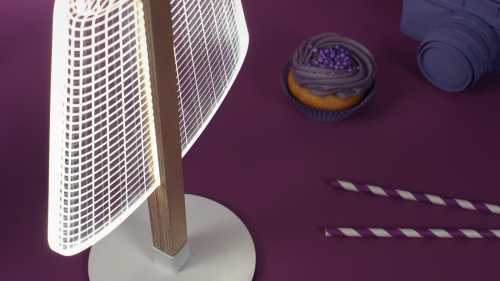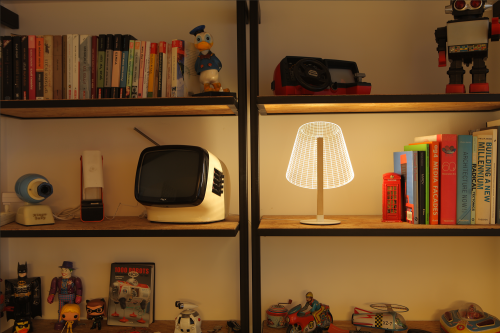 Each new BULBING lamp style comes with a dimmer to help you set the proper mood, a birchwood stand, and a sturdy steel base for when the going gets tough.
"I like to put a smile on people's faces," Studio Cheha's founder, Nir Chehanowski, told CoolHunting.
Based on the fact that Studio Cheha's BULBING lamp Kickstarter campaign has raised about 569% more than its $22,784 goal so far (with five days to go at the time of this writing), and the claim that its LEDs live for up to 50,000 hours, Nir's going to be putting tons of smiles on tons of bright faces.
Want a BULBING lamp, but can't wait until early next year for one of the new styles to be delivered to your door?
Pick up one of Studio Cheha's previous best-selling BULBING lamps — which come in fun forms like an Edison bulb, a galaxy, a skull, and a spiral — at bulbing-light.com.
BULBING lamps may not be 3D, but they're definitely dope, daring, and delightful.