With spring now well on its way, and with most of us spending considerably more time at home, spring cleaning and storage are on the agenda. There's a lot to be said for decluttering and giving your whole house a deep clean. However, an underrated way of giving your home a real spring makeover is to focus on clever storage techniques.
The bedroom
SOURCE: PEXELS
Clothing, accessories, shoes and make up are the most likely items to be found cluttering a bedroom. Try to scan the room for space that can be used as a storage area. Can you place boxes or bags under the bed? Ottoman at the foot of the bed are ideal for bed linens.
Even inexpensive shelves or boxes can instantly clear up a room and make it feel more organised. If you have some time during this lockdown, you might like to make a project of setting up a vanity corner, a table with compartments in the drawers for accessories. A nice idea is to hang your hairdryer on a cup hook concealed underneath the vanity table. It'll be accessible where you need it but largely out of sight.
The kitchen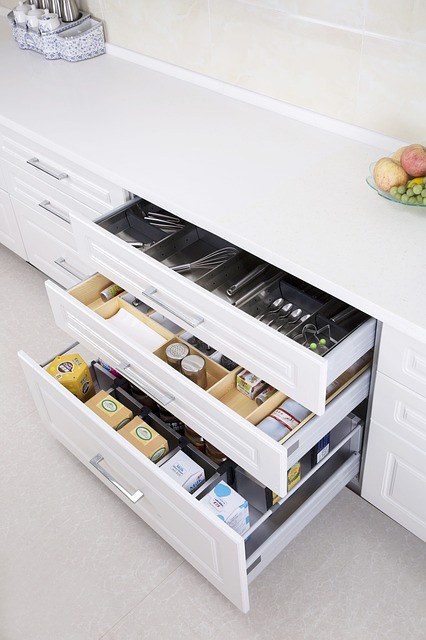 SOURCE: PIXABAY
The trouble with a kitchen is that you want to keep everything close at hand, but preferably out of sight—this is where smart storage comes in. According to Stonehouse Kitchens, "Short of carrying out major structural work in your home, however, the only real solution is to try to find ways to maximise the kitchen space that you do have."
A good idea is to invest in cupboard or drawer storage. Install open shelves to display your most attractive pieces and use the cupboards to stow away everything else. Beautiful glass jars for grains and pulses, concealed appliances or a few extra shelves in the fridge can instantly make a kitchen feel cleaner and more orderly. Try a set of hooks to hang pots or utensils on the wall so they don't clutter surfaces.
The garden, garage or conservatory
A popular storage option is converted shipping containers. These make affordable, practical and flexible mini storage rooms. This is the place to store those bulky items, seasonal clothing and workshop equipment. According to S Jones Containers, people are now able to design their own bespoke container solutions to perfectly fit their needs, whether that's including special windows, ramps, insulation, innovative storage racks, or electricity.
The bathroom
Truly effective bathroom spring cleaning requires you to address any storage problems. Unobtrusive cabinets and standing shelving units take up very little room but can be the perfect place to stash grooming products. 
Install a shower caddy and commit to having only one bottle of any product open at one time. Hooks on the back of the door or standing towel racks can serve to keep dressing gowns and clothes off the floor. There are plenty of great bathroom storage ideas, but the trick is to take an honest look at your unique needs. 
More storage solutions
If you live in an urban apartment or have already explored the above options, there are still more ways to stow away stuff. 
Some full-service storage solutions will come pick up your stuff, store it and bring it back when you need it. MakeSpace is one such storage without the struggle. 
With the current lockdown many of us are spending more time at home. Cleaning has become a great way to lift moods and feel fresh instantly albeit with a little effort.