Now that the imaginary deadline of December 31st for taking down your holiday decorations passed a while ago, it's time to store them if you haven't already done so. But then again, that deadline is imaginary, and so you can leave up your holiday decorations for as long you like.
Eventually, though, you're going to take your holiday decorations down. But where are you going to store them? Sure, you could toss them in a garbage bag or box, and then throw everything in your closet. That's if untangling Christmas lights and hanging broken ornaments next holiday season is your idea of fun.
We're guessing it's not, and so we highly recommend safely storing your holiday decorations in any of the below creative storage hacks. Especially if you want your decorations to not only stay in one piece, but also remain untangled so that you have another shot at being crowned The Best Decorations On The Block next holiday season.
1. Repurpose string lights into a table lamp you can use all year round.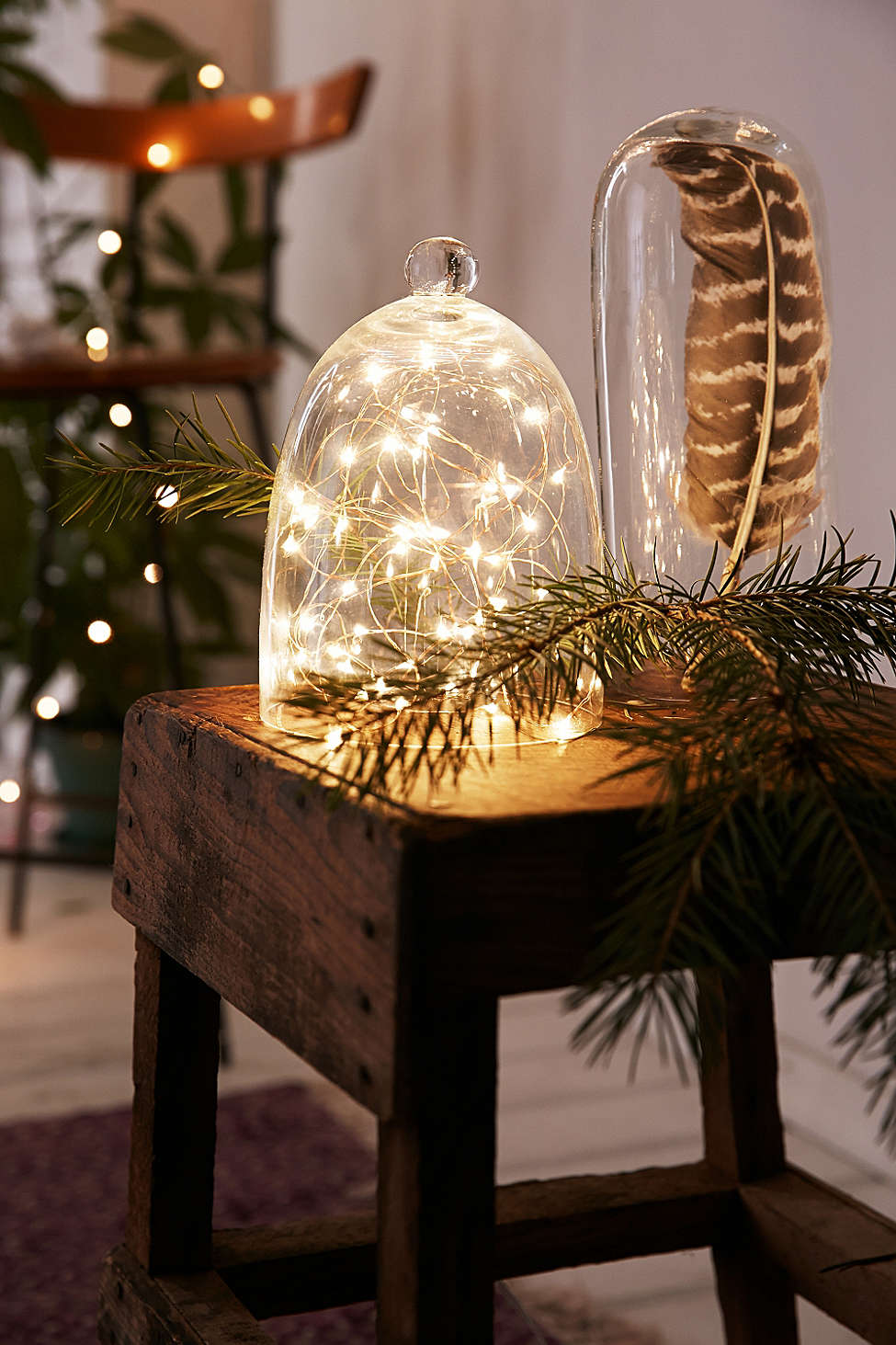 All you have to do is turn the string lights on, put a terrarium over it, and voilà, you have a new table lamp. Or use a Mason jar that you probably already have at home. The effect is equally as magical, except free.
2. Hang tissue paper on clothes hangers.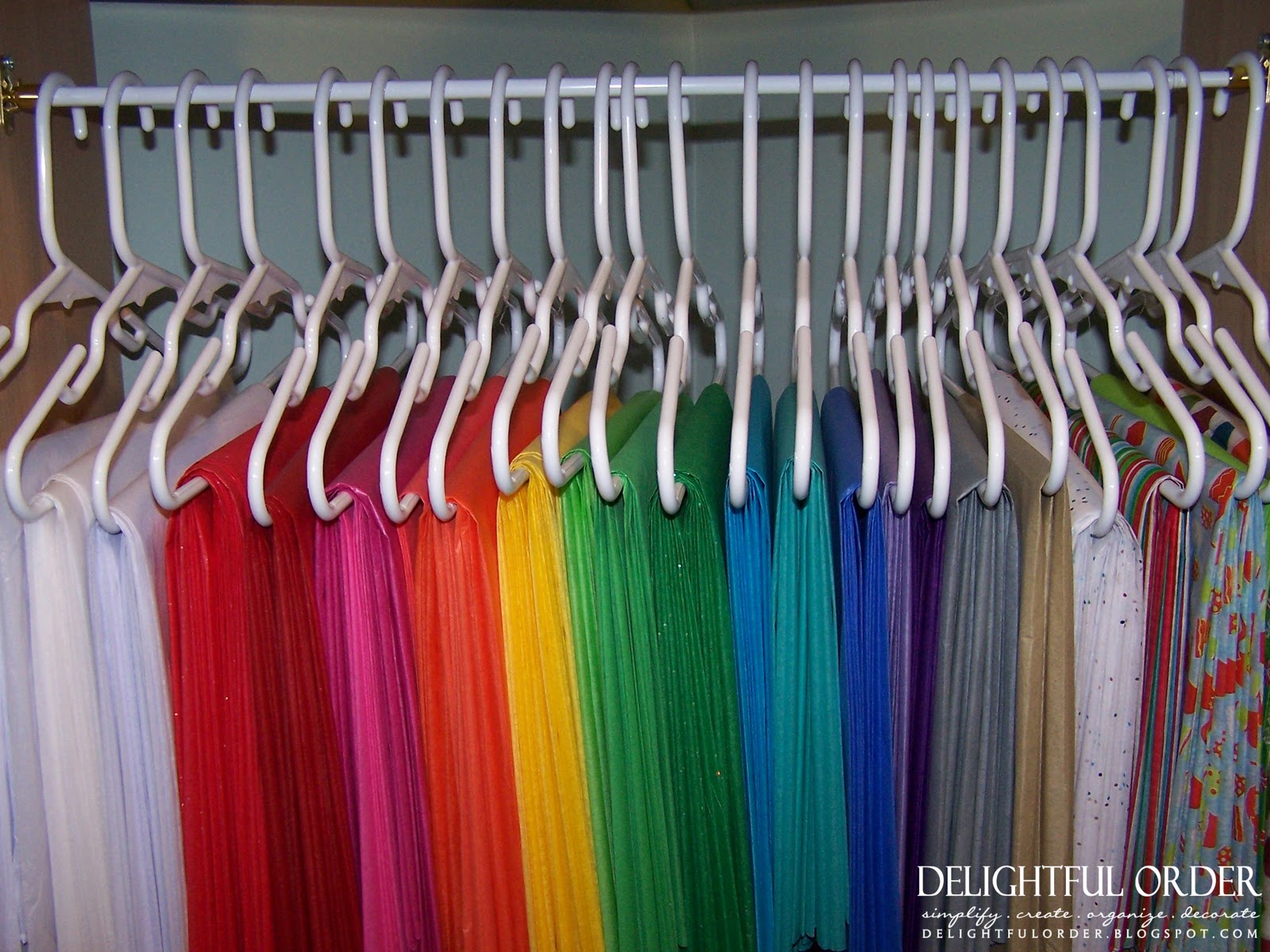 Chances are high that you're going to give someone a gift sometime between now and the end of this year. And nothing says "I put thought into wrapping this gift" quite like a gift bag lined with wrinkle-free tissue paper. Make that happen next holiday season by folding your leftover pieces of tissue paper, placing them on hangers, and hanging them on the rod in your closet.
3. Store ornaments in a wine box so they don't break.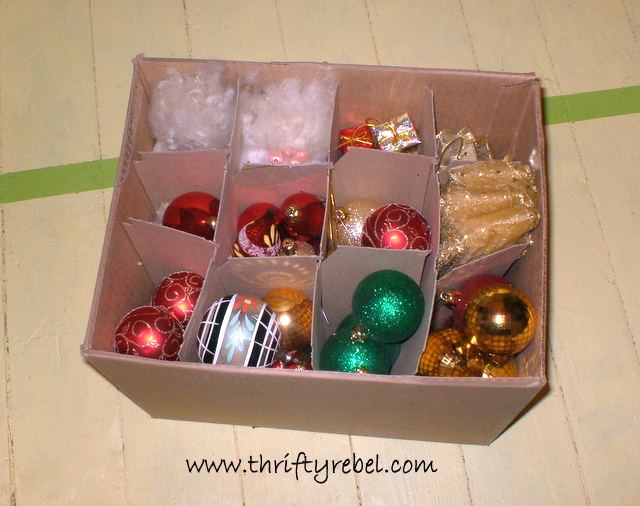 The dividers that make wine boxes great for carrying bottles of wine and liquor also makes them a smart storage solution for ornaments and wrapping paper. Just be sure to bubble wrap your ornaments and other fragile items for some extra protection.
4. Upcycle a plastic wrap box or aluminum foil box into a jolly cookie box.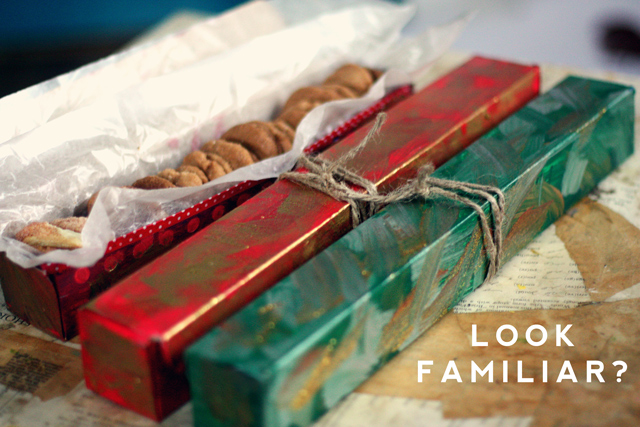 If for some reason Santa didn't eat all the cookies you left out for him on your coffee table, save a few for yourself and bring the rest to work. Simply paint an empty plastic wrap box or aluminum foil box to your liking, line it with wax paper, place the cookies inside, and tie the box shut with some twine for easy spill-free transport.
5. Wrap Christmas tree lights around cardboard.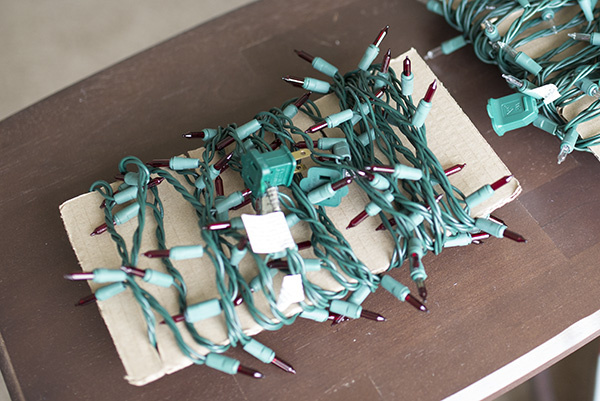 Just because your boxes no longer contain gifts doesn't mean they're worthless. In fact, they're quite the opposite. Cut notches into opposite ends of cardboard pieces, wrap your Christmas tree lights around them, and then store them in their own box or storage bin so you never have to waste time and energy untangling lights again.
6. Play horseshoes with spools of ribbon.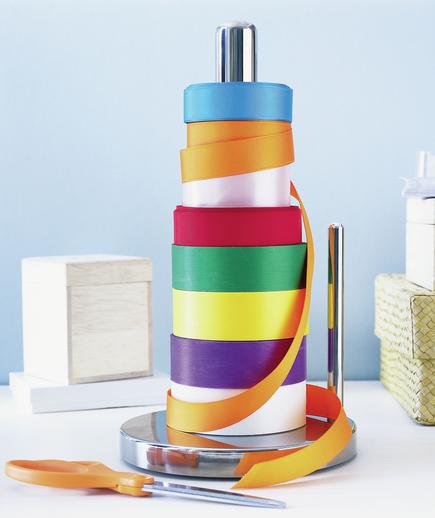 If you like playing horseshoes, then you're going to love this easy holiday decoration storage hack. Pick up your largest spool of leftover ribbon and toss it onto an empty paper towel holder. Repeat the process in order of largest spool to smallest spool, and then tape the ribbon ends to their spools to keep them tidy until your next gift-wrapping marathon.
7. Store gift wrapping supplies in a clear storage bin.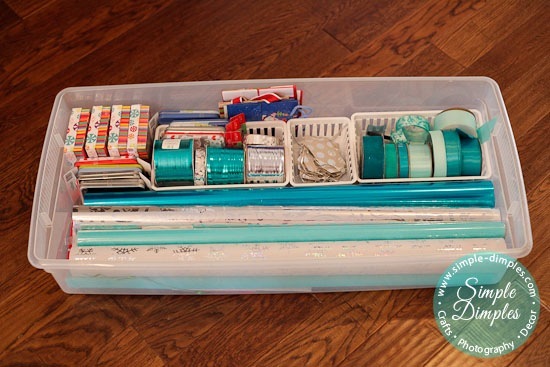 Not only does this smart storage solution keep all your gift wrapping supplies organized in one convenient place, but the fact that it's a clear storage bin lets you easily see its contents without having to open it. To save even more floor space, place the storage bin on a shelf in your closet. Out of sight, out of mind. Until later this year when you need to use them again.
8. Stash artificial Christmas wreaths and rolls of wrapping paper in separate clear garment bags.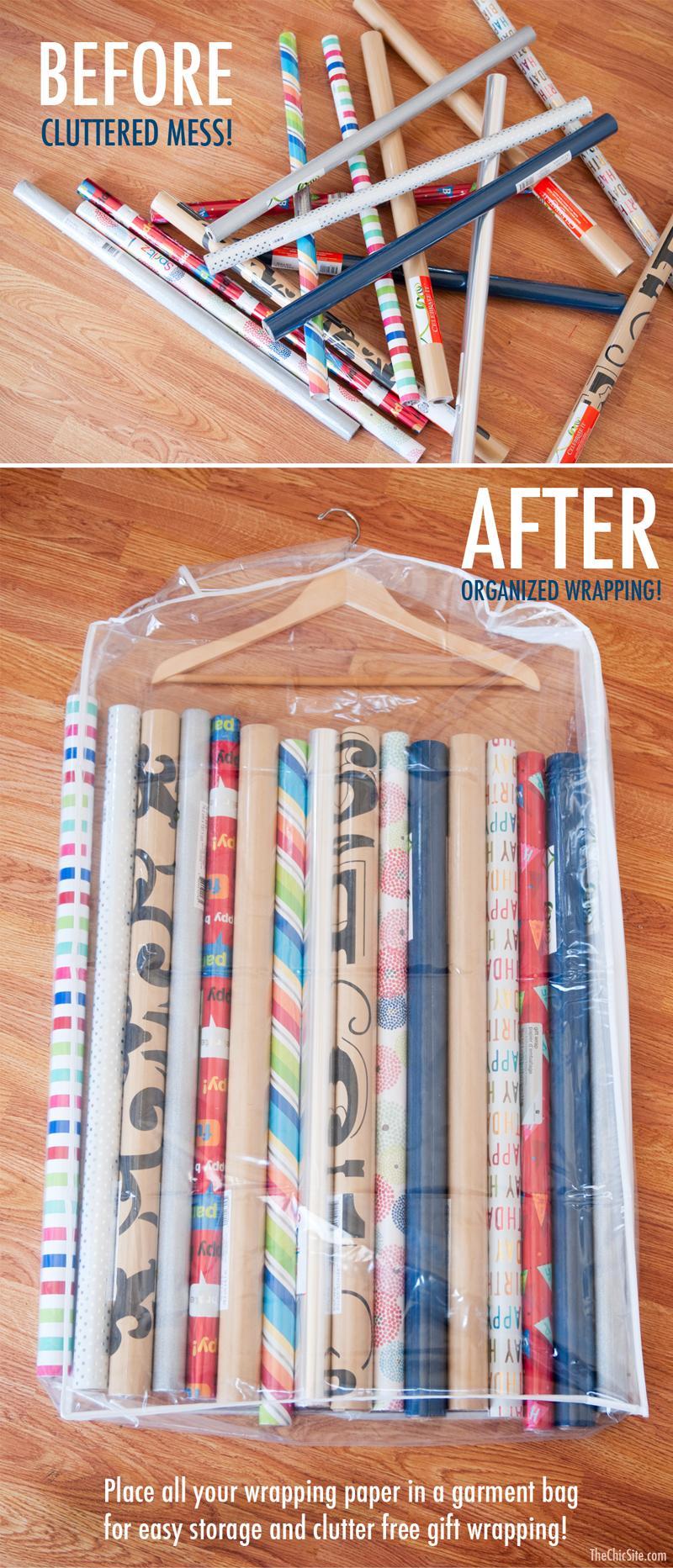 When you're done, hang the garment bags on the rod in your closet. And then walk away from your Christmas wreaths and rolls of wrapping paper without having to worry about them being bent or destroyed.
But wait, what's an easy way to store an artificial Christmas tree?
Do as Kelsey Bang does, and wrap it in plastic wrap.
9. Dangle jingle bells from your beard.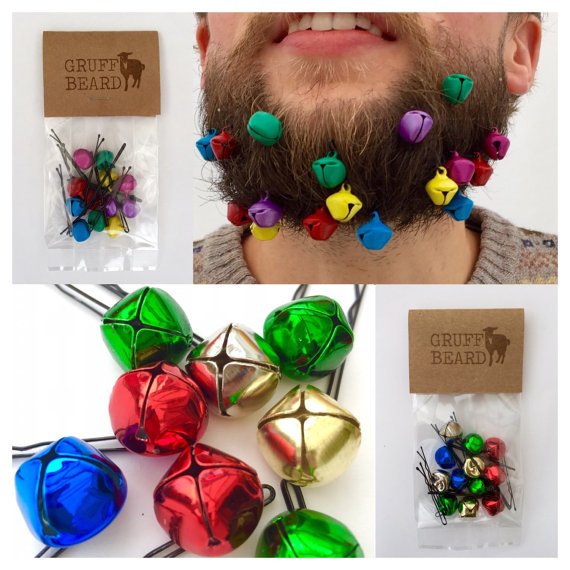 A full beard is handsome. A full beard with jingle bells hanging from it is hands down insane, but at least they won't risk getting crushed by everything else in your closet.
10. Or store it all in MakeSpace without lifting a finger.
Because we'll pick up, store, and bring your decorations back to you when you need them again next holiday season. Which leaves you with more space in your home and more free time to do whatever you want with. Sound good?
Schedule a MakeSpace pickup online, or through the MakeSpace app, and we'll take care of the rest. Oh, and while you're at it, toss in your A/C unit and bike that you definitely won't be using all winter long.