Skirts and dresses are often the most delicate items in your closet. Some of them — like the ones you wear to weddings — might also be the most expensive. That means they need some extra care.
To help you keep them in the best shape while maximizing space, we created this guide on the best ways to store, clean, and organize every skirt and dress you own. It'll keep everything from your jean skirts to your designer ball gowns in the best possible condition.
1. Edit your collection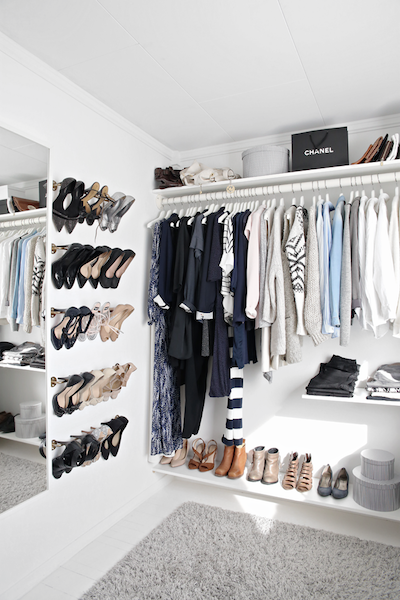 Experts agree: When organizing your clothes, you should always take an initial stock of which items you actually wear and which ones have been gathering dust. But it doesn't have to be quite as dramatic as "purging" your wardrobe.
"I like edit," says Laura Cattano, a professional organizer in New York. "Editing is a thoughtful process. If you're going to edit your clothes, you should know your style ahead of time. How do you want to look? What's your lifestyle? That's the step everyone skips, and they can't figure out why they can't get their closets organized."
Go through these questions as you look over your skirts and dresses. If you find something that doesn't fit your look or lifestyle, put it in a pile for Goodwill.
Ann Sullivan, another NYC professional organizer, recommends keeping a "donation bag" right in your closet so that when you spot something you don't wear, you can eliminate it immediately.
2. Sort skirts and dresses by season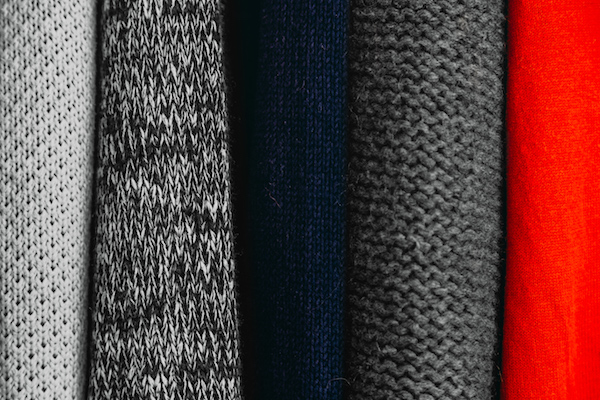 You won't be wearing heavy tweed skirts when it's a boiling hot summer day, or sundresses in the winter. Group all your clothing by season and rotate each cluster out as the temperatures change.
Nancy Heller of Goodbye Clutter offers one caveat:
"If you're a big traveler, the typical season rotation will be a little out of whack. So look at your upcoming trips and do your best to organize your closet accordingly."
3. Group them together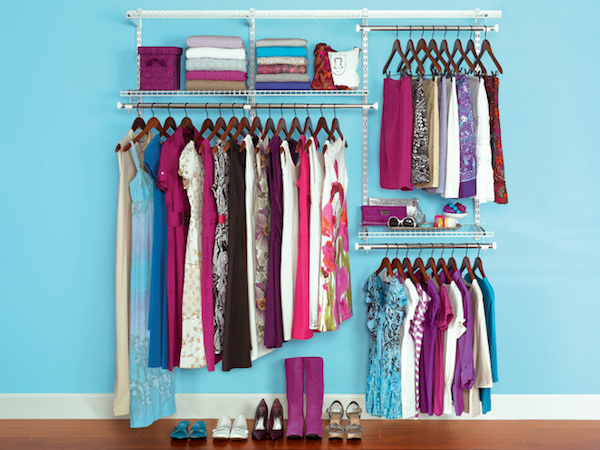 Now that only your in-season clothes are in your closet, single them out by type. "If the person has room, I like to keep all the skirts together," says Heller. "Then they're not too hard to find. Try to keep them together and it's a hodgepodge. It's important that people see what they have."
Sharon Lowenstein of Organizing Goddess concurs. "Sort similar items together," she says. "Dresses and blouses are wider than pants, so you won't see everything if they're all mixed together."
Clustering your dresses in one group and your skirts in another will help you sift through your outfit options each morning. And you can subdivide even further by pairing up work dresses, wedding dresses, and more.
4. Consider a color scheme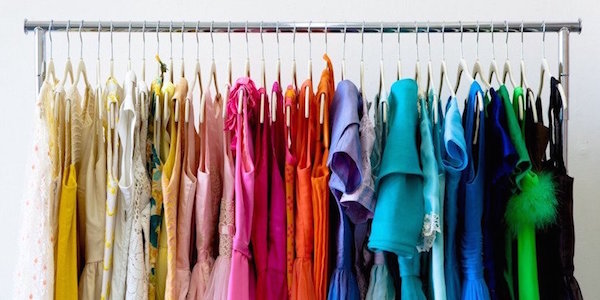 Color-coding your closet might seem like an aggressively type-A move, but as Lowenstein argues, it makes it much easier to see and locate items hanging on the curtain rod.
Putting an additional marker or divider between close colors, like navy blue and black, also helps you know what color dress you're putting on before you check it out in your mirror.
5. Each dress gets its own hanger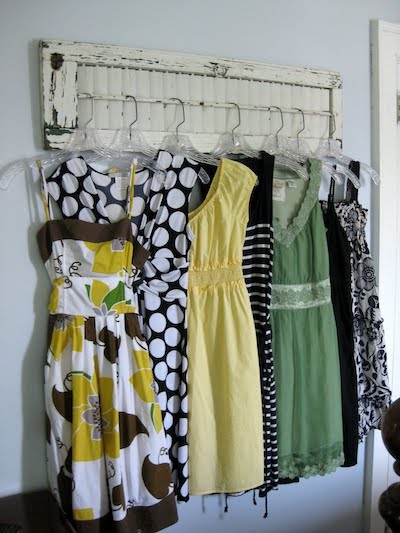 It's tempting to pile multiple dresses onto regular hangers or the multi-tiered versions. But that also makes it harder to see what you actually have in your closet.
"You need to keep clothing to one item per hanger," says Lowenstein. "A lot of people will keep two dresses on one hanger or get those hangers that swing out to hold five pairs of pants. Those multi-clothing hangers are great for off-season clothing, but not every day."
That might seem like a waste of space, but if you're using the same types of hangers — and not a chaotic mismatch of wooden hangers, plastic ones, and the flimsy wires you get from the dry cleaners — everything should fit in place.
6. And they should be nice hangers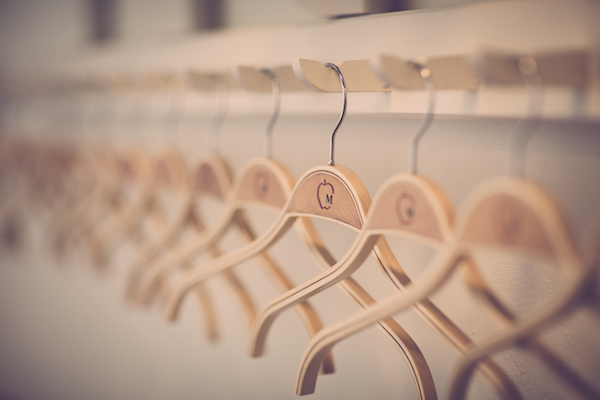 Hangers seem like a cheap, throwaway item you don't have to worry about. But they have a bigger impact on your clothes and your closet than you think.
"A lot of people don't invest in good hangers. They buy generic ones that aren't good for long-term use," says Sullivan. "You should invest in the best hangers you can afford."
She recommends looking beyond the "huggable" hangers you find at Bed Bath & Beyond and bearing in mind what kind of clothing will go on the hanger. An expensive silk dress needs a different type of hanger than a cotton maxi.
If you need some guidance pairing the right hangers with your dresses and skirts, consult this WikiHow tutorial on how to match hangers to clothing.
7. Use straps to make sure your dress is properly fitted
Many dresses come with thin straps sewn into the inside. They don't seem to serve any purpose — until you hold a hanger.
As stylist Kristie Hale demonstrates in the video above, you should be looping those straps around the neck of the hanger. This helps the dress hang perfectly in place, which prevents wrinkles you'll have to iron out later.
8. Clip skirts to their hangers inside out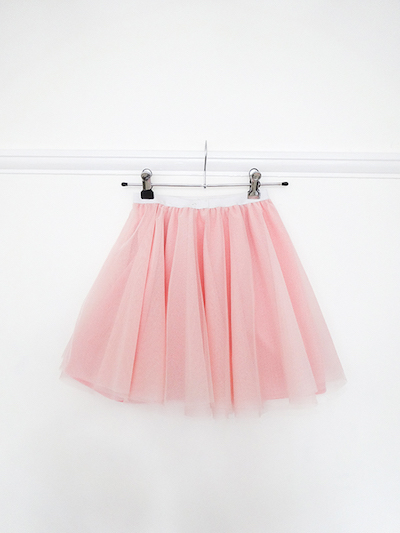 Storing skirts on hangers with adjustable clips is a smart idea. The sliding clips accommodate all sorts of sizes without stretching the fabric.
That way, you avoid the creases that come with folding a skirt over a traditional hanger bar. But those clips can leave marks, particularly on delicate skirts.
If you hang the skirt inside out, though, the marks are suddenly on the side of the garment that no one sees. As an added bonus, it keeps the skirt exterior from rubbing against other fabrics hanging next to it and accidentally knocking some beading or elaborate stitching loose.
9. Take stained dresses and skirts to the dry cleaners stat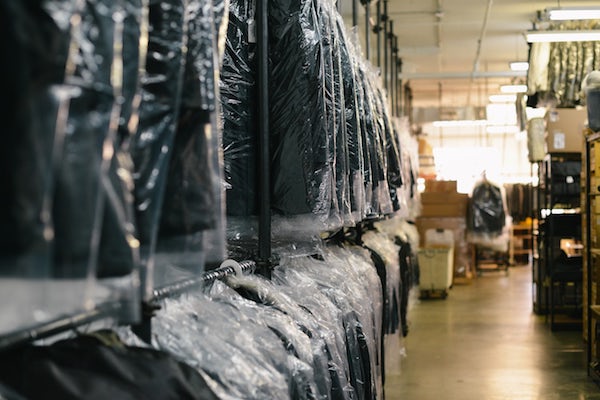 When you accidentally splash sauce on a "dry clean only" dress or skirt, it's important to act fast.
First, dab (don't rub) away as much of the liquid as you can. Then take the dress or skirt to the dry cleaners as soon as you can. Waiting on a trip to the dry cleaners gives the stain more time to set, so time is of the essence here.
Describe the stain stats (e.g., what you spilled and when you spilled it) to the person behind the counter in as much detail as you can. That way, they'll know the best way to treat the problem area. 
10. But don't leave anything in the dry cleaning bag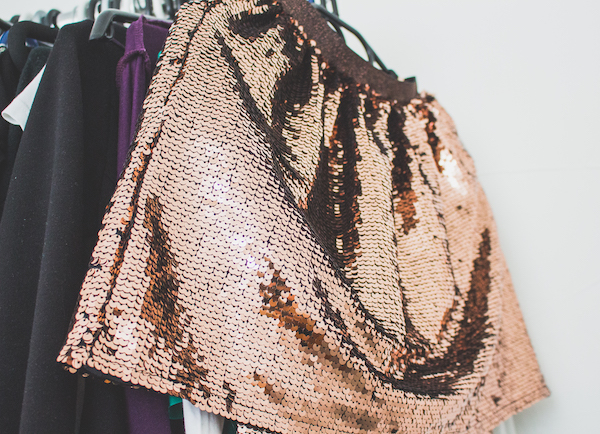 When you come back with a mountain of skirts, dresses, and suits from the dry cleaners, all you want to do is clump them on the closet rod and move on to more important things.
Fight that urge.
As Sullivan cautions, leaving clothes in the plastic dry cleaning bags is "definitely not a good idea." For one, the bag will trap in lingering moisture from the cleaning process, which can cause mildew.
Plastic bags also contain something called butylated hydroxytoluene (BHT). This antioxidant can discolor or yellow your clothes when it comes into contact with the wrong things in the air.
So don't chance it: Remove and recycle all the plastic bags from your dry cleaning the second you get home.
11. And don't clean them too much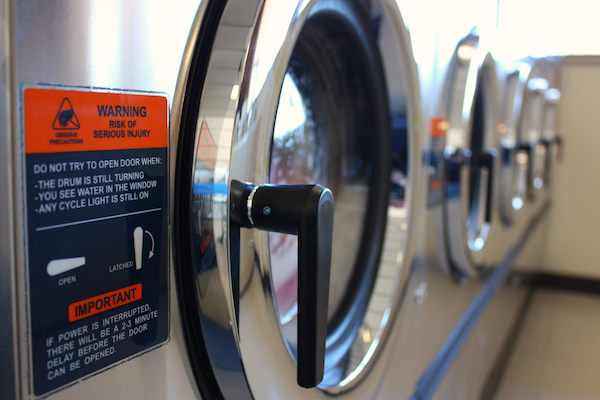 There is such a thing as being too clean, particularly when it comes to your clothes. Frequent dry cleaning visits can deteriorate the fabric on your dresses and skirts, not to mention break your bank account.
The big dirty secret:
You can wash a lot of "dry clean" clothes yourself.
As Cosmopolitan advises, check labels for "dry clean only" versus "dry clean" phrasing. If you see "dry clean only," stick with the pros. If you see "dry clean," it's applied to polyesters and nylons that you can usually hand-wash at home (just make sure to lay them flat to dry).
12. Seriously, cool it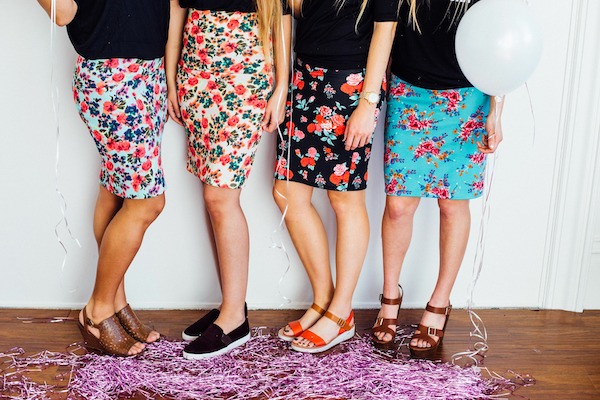 In addition to those delicate clothes we just discussed, you may be overcleaning the dresses and skirts that fit safely in your washing machine.
You can certainly wear your skirts, which are far away from your sweat glands, at least three times before cleaning. Unless you get marinara on them. Then wash them pronto.
13. Approach suede and leather skirts with caution
While it's important to attack any leather or suede skirts at the first sign of staining, be extra careful with how you handle cleaning these materials.
If it's just dirt, a brush can probably take care of the problem. A damp cloth or saddle soap can remove minor spots on leather, but don't try that on suede. Suede can become hardened and discolored when it's exposed to water.
For serious stains, consult a professional. Your dry cleaner can usually refer you to a leather specialist.
Want to avoid these issues in the first place?
Get a commercial waterproof protectant spray for all your leather and suede items.
14. Only keep fabulous skirts and dresses in your closet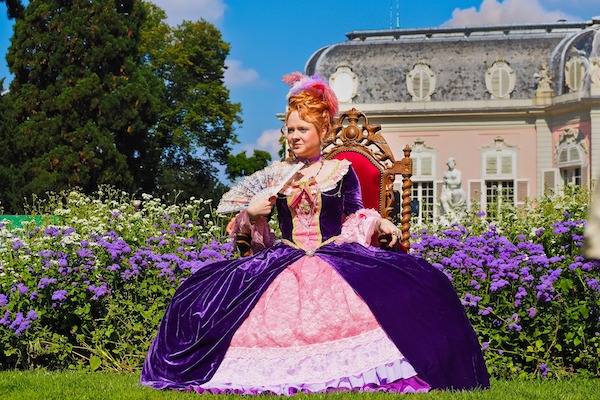 You already know to filter your clothes collection by season, style, and color.
But here's one not-so-obvious tip:
Only store and care for skirts and dresses that make you feel fantastic.
"Fill your closet with items that you love and feel great in," says Lowenheim. "Every time you get dressed, you should feel fabulous. I always say that you want to go out of your house and feel that if you ran into someone you haven't seen since high school, you won't feel bad about your outfit."
So if you have a jean skirt you'd hate for Heather Finley from ninth grade government class to see, pitch it and find something you love wholeheartedly.
If you'd rather dedicate your limited closet space to pants, let Clutter store your dresses, skirts, and other out-of-season clothes. Our free storage bins can fit every casual skirt and sundress you own, and our free wardrobe boxes can safely store your more formal frocks.
After you schedule a pickup and pack your stuff, we'll pick up everything, store it in our secure storage facility, and deliver it back once warm weather arrives. Except for maybe those lucky Los Angelenos who enjoy skirt season year round.