Living in a small space means being in constant pursuit of storage solutions. Book collectors and students often struggle with the space shortage in their apartments. Here are a few creative ways to store books in small homes:
Angles and corners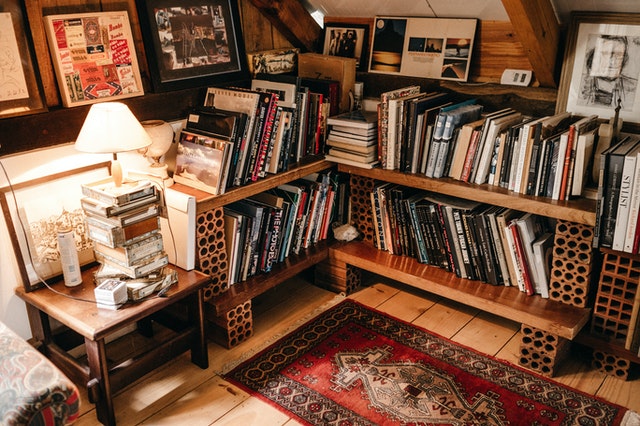 SOURCE: PEXELS
Most apartments have at least one odd corner, such as under stairs, that seems like a complete waste of space. Use the handsaw and shape the wooden crates to fit the place. Organize your precious books and style them with some faux greenery to create your piece of heaven.
Under-bed book storage
If there's space under your bed—use storage cubes or add shelves by using a few small vertical or horizontal panels. This extra storage can be used for anything, including books.
Book stacking
Due to a lack of space or because the tenancy agreement prohibits wall drilling, sometimes it's not possible to use common book storage solutions. Book stacking is the simplest and cheapest way. Find the most suitable part in the room, pile the books neatly, and combine them with some photos and wall art. Add a floor pillow and a lamp and you have your little library.
Creative tables
Create a desk from two cube storages and pieces of plywood, placed on the top. Order it online and it takes only a few hours  to assemble it. Now, you have a desk and plenty of storage for books. 
Floor-to-ceiling solution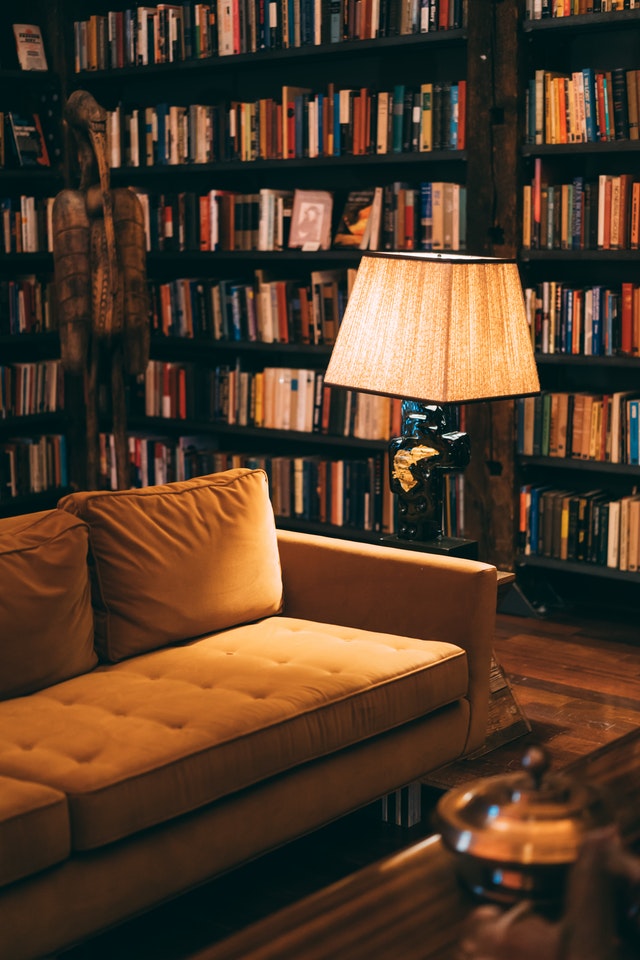 SOURCE: PEXELS
These bookshelves can bring the library vibes to your space. They not only save space while looking magnificent but also allow you to color-code the books, and mix them with décor pieces. With some effort and a very small budget, your floor-to-ceiling bookshelf can look like a professional designer's work.
Baskets
Baskets are perfect for college students who work on more than one project and need a solution for keeping books organized by subject. 
Old ladders
Use old ladders to make a one-of-a-kind book storage. Hand-send them and give them a fresh coat of stain. Lean it against the wall near the sofa or a chair add a small table and a lamp with an interesting lampshade, and your rustic reading nook is ready.
Wheeled carts
This is a perfect solution if you like to read but also like to change your reading spot. If you have a drink cart that you don't use, it can be easily converted into a book cart too.
Open shelving staircases
Stairs can be styled with many things, greenery, art, or books. Collect the books and other pieces you want to put on display and arrange them on each stair to create the most interesting stairway. Add some battery powered led lights and the magic is complete.
In conclusion
Stay creative and don't let the size of your apartment influence the size of your home library.
AUTHOR: SUSANA BALASHOVA
Susana is a creative magician in a world of Marketing. She turns dreary work things to be interesting and effective, as well as likes creating her world within some fanfic sketches. She also provides professional
college paper writing services
for customized academic papers and
projects
. Reach out to her on
Twitter
or
LinkedIn
.