All small apartments are born with an evil villain inside: sparse space that can squash your happiness. The good news is that all micro-apartments are born with a superhero inside: secret space-saving hacks that will increase your happiness.
And since you loved our "10 Space-Saving Tips And Storage Tricks You Should Steal From Tiny Homes" article so much, we decided to show you some more. Except this time, from six spacious micro-apartments in Chicago, DC, and NYC whose decorating, space-saving, and storage ideas are ripe for the taking. Dig in!
1. Gateway West Loop micro-apartments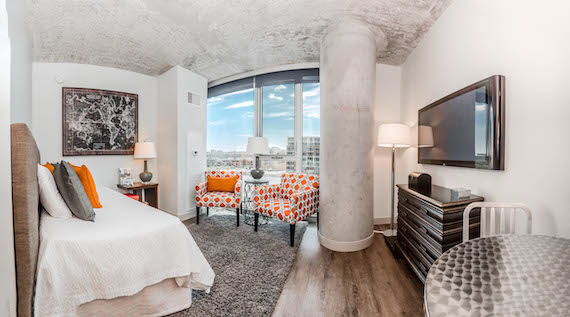 Location: Chicago, Illinois
Size: 399 square feet
The first few things you couldn't help but notice in the Gateway West Loop micro-apartment were the chairs with bursts of bright orange, followed by the orange pillow. Right? That's because your brain associates orange with friendliness, cheerfulness, and confidence. All three of which your apartment can exude if you add some orange accents to your decor like how interior designer Kay Douglass did to this house in Atlanta, Georgia.
Next up is the area rug on the floor that adds personality, comfort, and warmth to the room. Which you're going to need a lot of considering this winter is going to be "super cold."
Now look at the Chicago micro-apartment's left wall and you'll see a framed map that demonstrates art's ability to add unique style to any room. Shift your eyes to the right wall and you'll see a mounted TV that saves tons of floor and table space. Also, both the map and the TV are at eye level, which interior design expert Emily Henderson says "is important for a room to feel balanced."
2. Lake Street Studios micro-apartments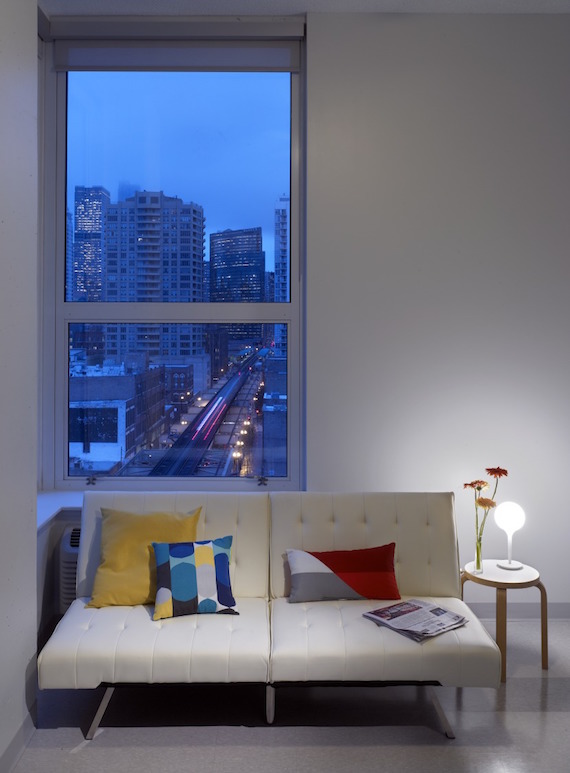 Location: Chicago, Illinois
Size: 300 square feet
If your living room tastes a little stale, spice up your sofa with throw pillows and create a cozy reading nook/sunbathing nook by moving your sofa in front of a window. If your sofa is too big for its own good, downsize to the retro Emily Futon above or to one of these stylish space-saving sofas.
Then add some flowers to the mix, which increase your happiness and productivity. If you don't have a small end table to set the flowers on, hang them in some HEAN Pot Cradles and call it a day. A day that's joyful, spacious, and full of life of course.
Oh, and don't forget to steal blue and white, the colors found on one of the throw pillows pictured above, and on the exterior of Lake Street Studios' building that's pictured below. Susan King from Harley Ellis Devereaux, the architecture and engineering firm that designed Lake Street Studios, told us that both colors "respond to the sky." Yep, the same sky that soothes you, a sensation that your apartment should always make you feel.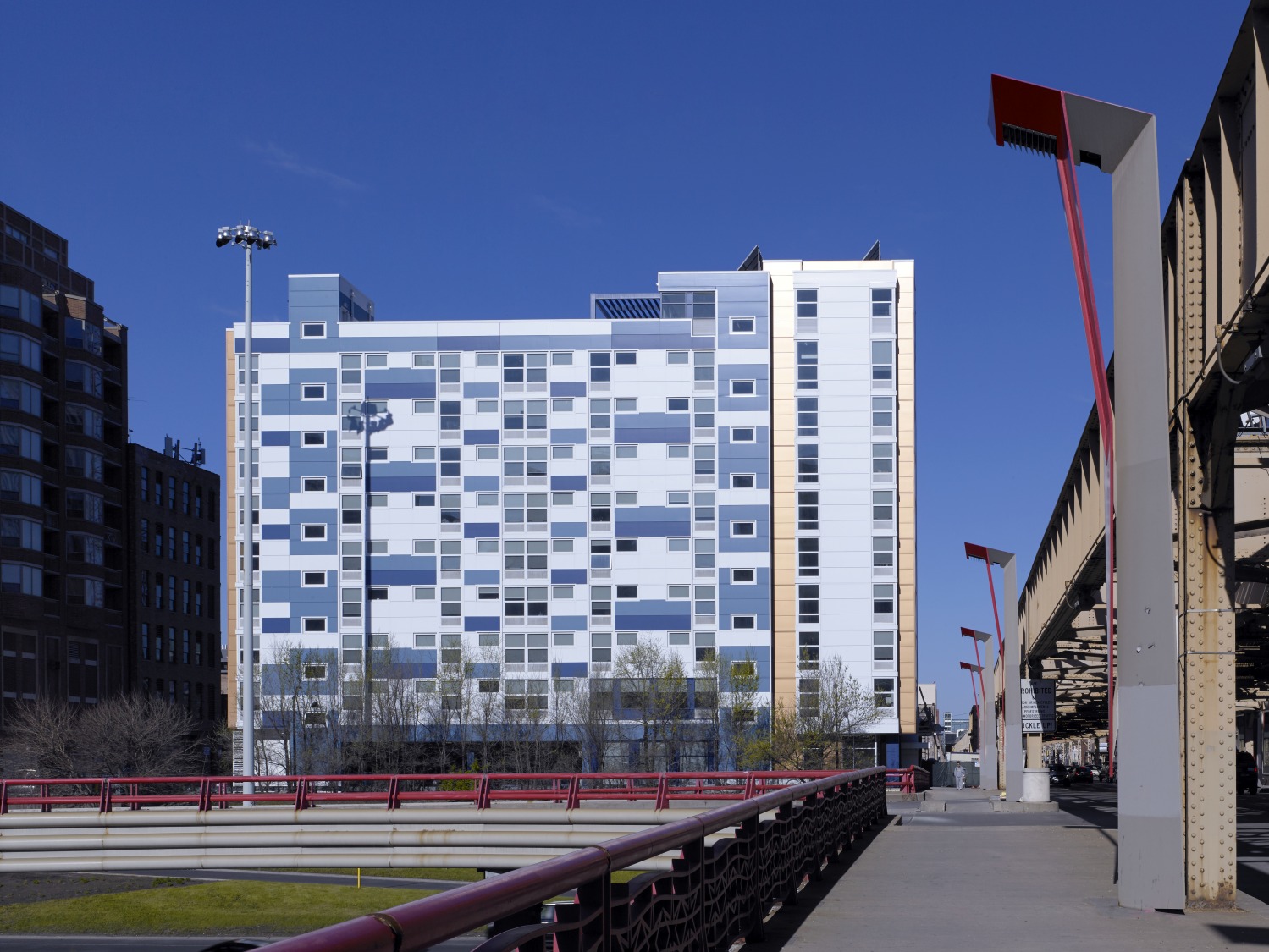 3. The Drake micro-apartments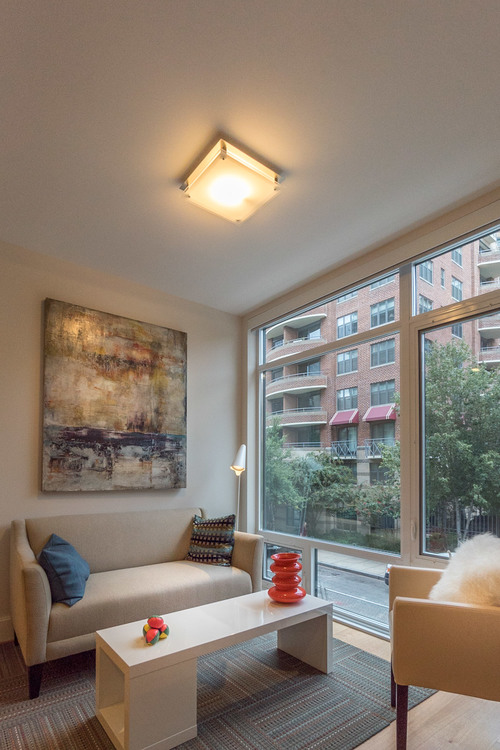 Location: Washington, DC
Size: 419 square feet
Not only does The Drake share 50% of its name with our favorite rapper/singer, it also rocks a ton of delightful decorating and storage tips that you can easily jack without being sued by October's Very Own.
For starters, we love the sleek white coffee table. It's small enough to not hog your space, yet big enough to rest your feet and some vibrant stress-relieving hacky sacks that double as art. Art that sits atop a cubby in which you can store a few magazines and books. Until you read them while petting the cozy white faux fur pillow on the right that reminds you of the cute dog your landlord forbids.
We also appreciate the DC micro-apartment's mammoth windows. Their absence of blinds and curtains help fill your pet void by letting sunlight flood your apartment with unconditional joy. Unconditional joy that if you can't contain, you can store on a floating shelf, or inside of a storage ottoman, a rolling desk with drawers, or a decorative vase like the ones featured in another one of The Drake's dope micro-apartments: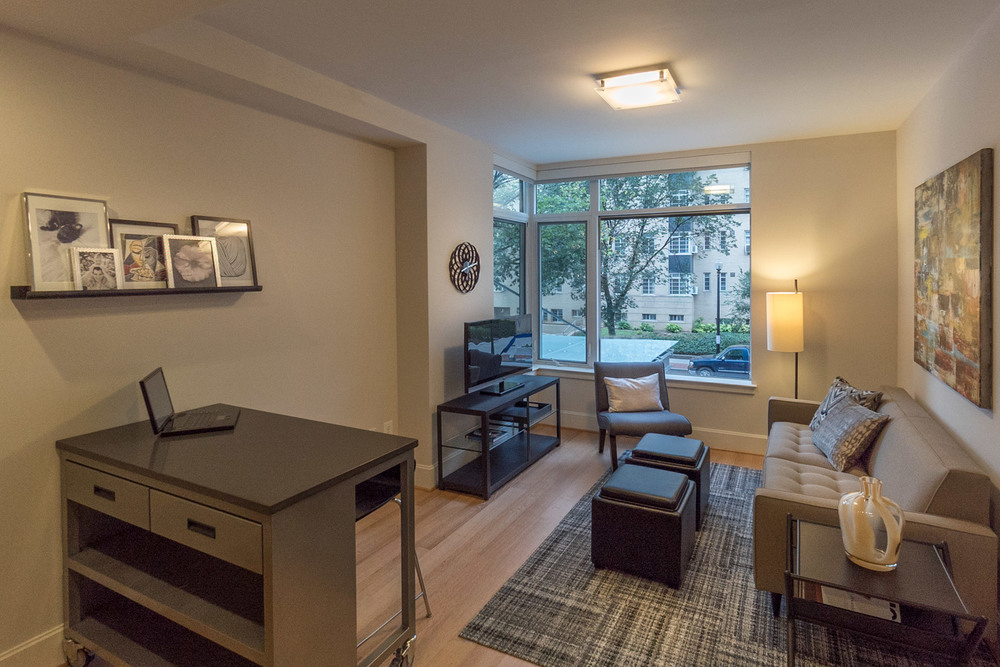 By the way, see the lamp with the shade that resembles rigatoni chilling in the back right? It looks delicious, but it'd be even more so if you installed a space-saving Twist LED lightbulb/speaker that can play music at the same time. Because…we know when that lightbulb blings, that can only mean one thing. And that's whatever song you want it to play.
via GQ
4. The Harper micro-apartments
Location: Washington, DC
Size: 300 to 500 square feet
See that space underneath The Harper micro-apartment's bed? If your bed has that space, leave it that way. If it doesn't, put your bed on bed risers. Then, store your summer clothes in underbed storage boxes and enjoy the extra space that you just made in your closet. Or do what certified feng shui consultant Anjie Cho recommends and leave the space underneath your bed empty so that good energy can flow through your home.
Renting a studio with another person and want more privacy?
You could build a divider wall like the one you saw above and anger your landlord. Or build a noninvasive divider wall using EverBlocks, the life-sized LEGOs you've always wanted, and anger no one: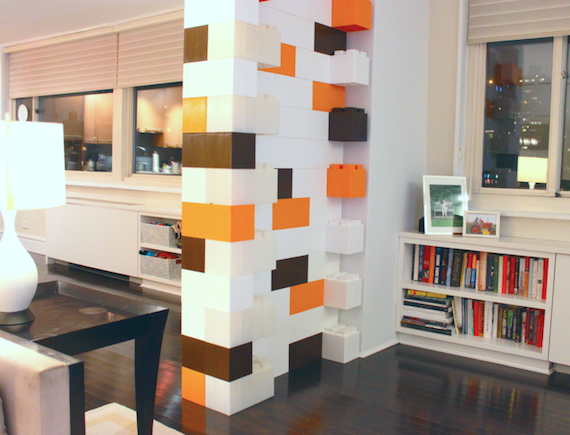 If "24/7 playful" isn't your aesthetic of choice, another option is to make every hour private-and-sophisticated happy hour with a modern Partywall:
5. The Lanes micro-apartments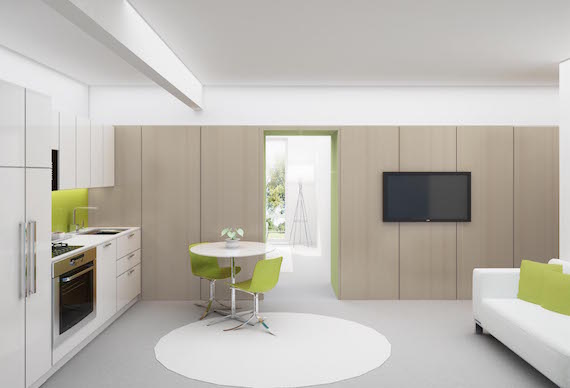 Location: Long Island City, Queens, New York
Size: 490 square feet
One glance at The Lanes micro-apartment and you're probably thinking, "Wow. That's a lot of white." White that makes you think of cleanliness. Cleanliness that reflects sunlight and visually expands your space. Cleanliness that's easy to maintain if you follow Marie Kondo's super-effective "KonMari" method of organizing and only keep the things that "spark joy."
If all white everything isn't your cup of tea though, remix your walls with some gorgeous artist-designed wallpaper from Feathr and have a blast staring at it for hours.
Last but not least, this NYC micro-apartment also has a tiny plant that's sitting on a tiny dining table, both of which you should consider investing in if you want to maximize your cute aggression-to-space-saving ratio.
6. Unfolding Apartment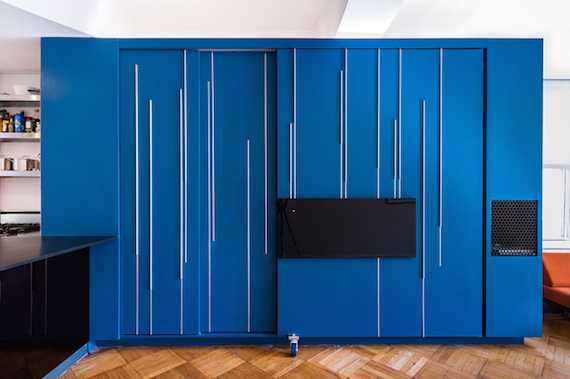 Location: Manhattan, New York
Size: 400 square feet
What do you get when you combine most of the decorating and storage ideas in this article with the genius architecture minds over at MKCA?
The magical multi-functional storage cabinet from Unfolding Apartment that morphs into a bedroom with a murphy bed and closet, an office/library, a bar, and kitchen storage. It's like having Xzibit pimp your apartment by installing a custom apartment inside your apartment for more space-saving fun for you and your friends inside your apartment. And who wouldn't want that?