We all love to Netflix binge, but we rarely gain anything from marathoning 13 episodes of 30 Rock, apart from insomnia and an insatiable craving for night cheese. If you pay close attention to the apartment scenes in your favorite sitcoms, though, you could walk away with some smart organizing tips and storage ideas usually reserved for HGTV.
To prove it, we gleaned the following organizing and storage tips from 10 NYC-set sitcoms both currently airing and long-since wrapped. Put them to use in your decidedly not sitcom-sized apartment.
Friends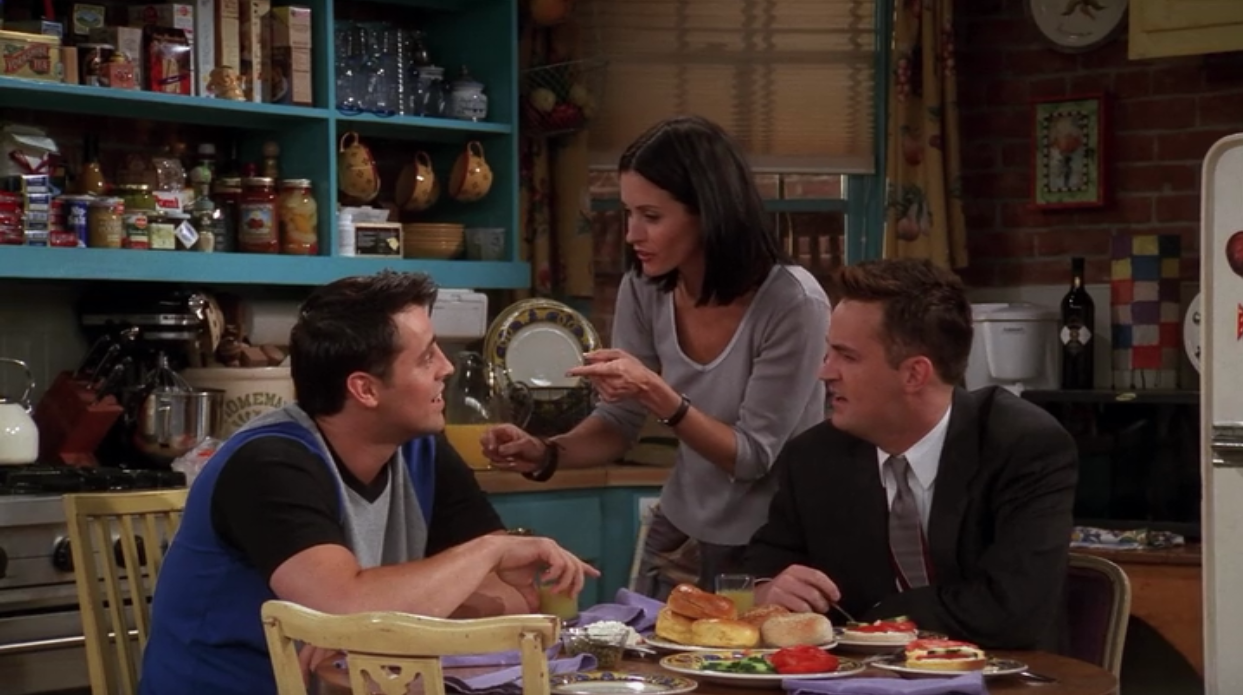 When you've lucked into the cavernous Manhattan apartment Monica and Rachel (and later, Monica and Chandler) share, you don't even have to be organized. But Monica is to a fault, and the kitchen features her most impressive work.
Take a closer look at her cabinets and you'll see the individual compartments have hooks to hang mugs, freeing up the bottom to store more dishes.
How I Met Your Mother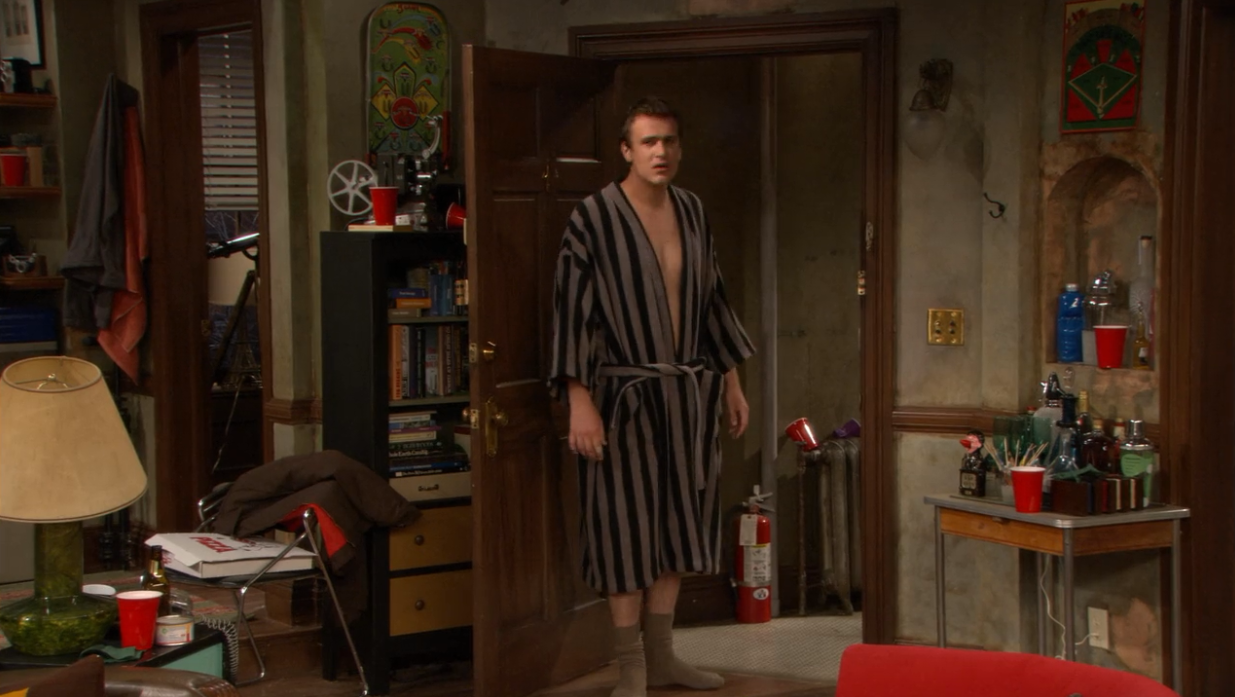 Bar carts are all the rage, but you shouldn't have to sacrifice a ton of space to store your collection of muddlers and vermouth. Aim for a skinny bar cart like the one Ted and Marshall own on How I Met Your Mother, and then store any excess bottles on the wall above.
If your broker jipped you out of a bar alcove like the one here, just mount an extra shelf.
Broad City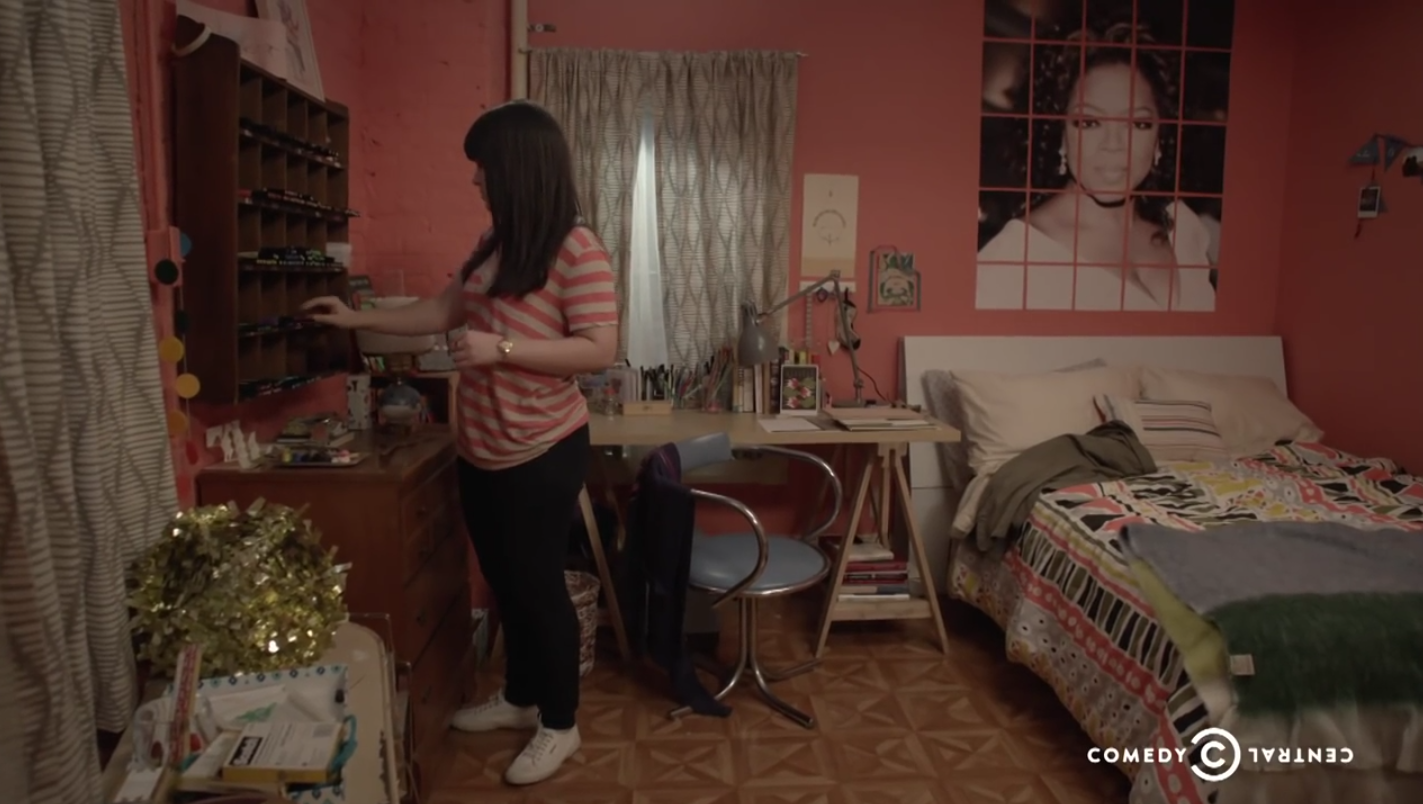 Abbi's bedroom is a virtual ode to organization (and Oprah?). Your two main takeaways:
1. Whenever possible, invest in furniture with additional storage (a Travelbox maybe?), like her desk that has book storage space in its legs.
2. Floating hutches aren't just for people with home offices. Abbi uses hers to store all her art supplies.
Seinfeld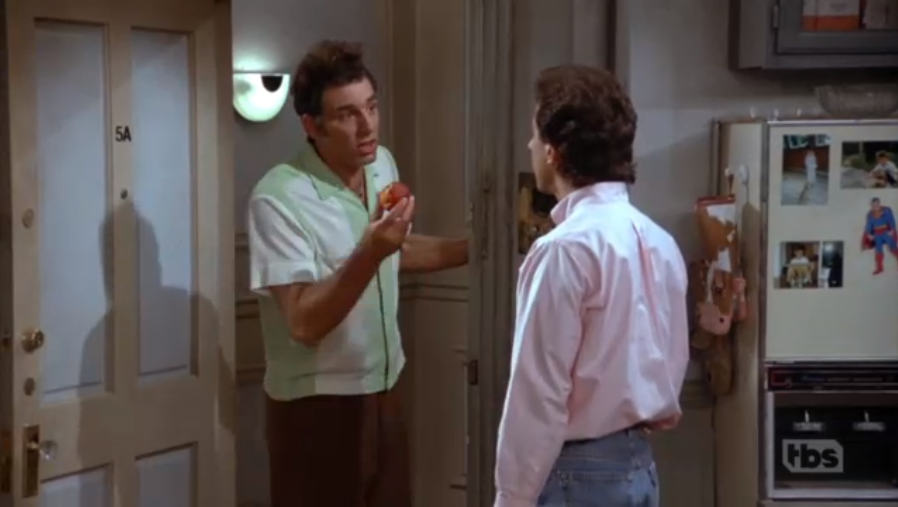 You're probably storing snacks on top of your fridge, but are you stashing anything on its sides?
Slap some hooks on there like Jerry for all your oven mitt and dish towel needs.
Unbreakable Kimmy Schmidt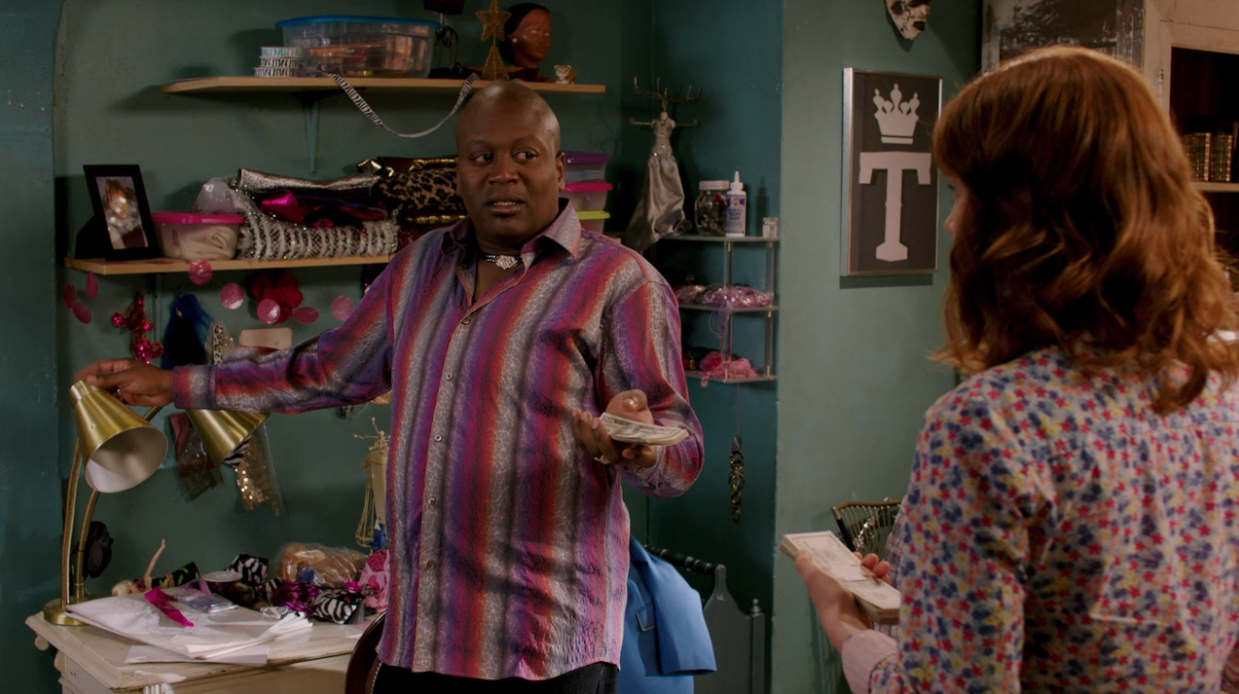 A whole sewing station might seem a bit extravagant when you're fighting cockroaches for every inch of apartment space, but Titus has a great controlled chaos scheme going here.
Not only has he loaded an impressive amount of shelves and hooks into the small corner, but he's also using Tupperware to store something other than leftover Chinese — in this case, ribbons and excess cloth.
Younger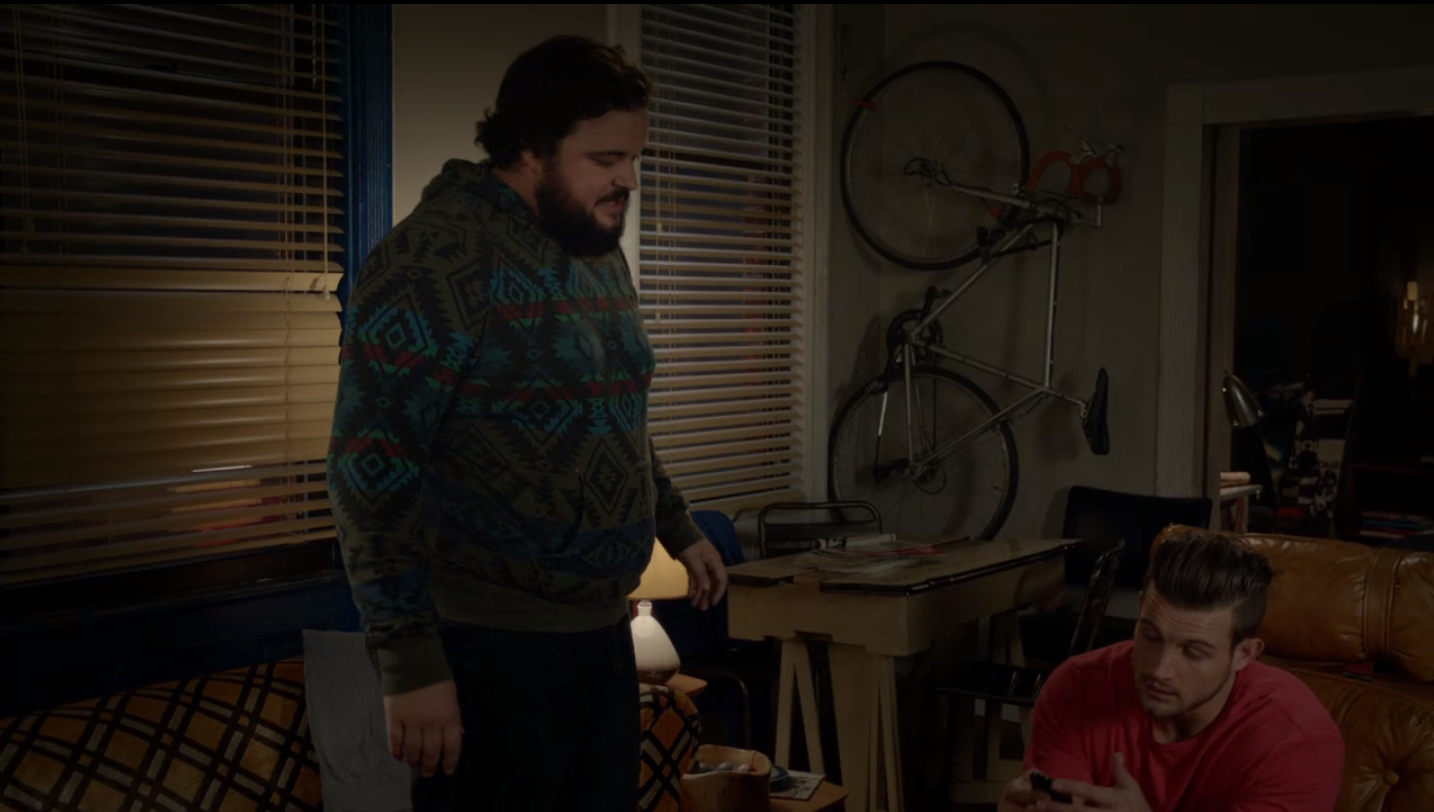 Liza's boyfriend Josh (pictured on the right) already wisely mounted a bike rack on the wall of his hip Williamsburg apartment. But he also chose to store it in an out-of-the-way corner of his living room behind the couch, where it's not taking up prime real estate or slapping unsuspecting houseguests in the face.
Don't Trust the B in Apartment 23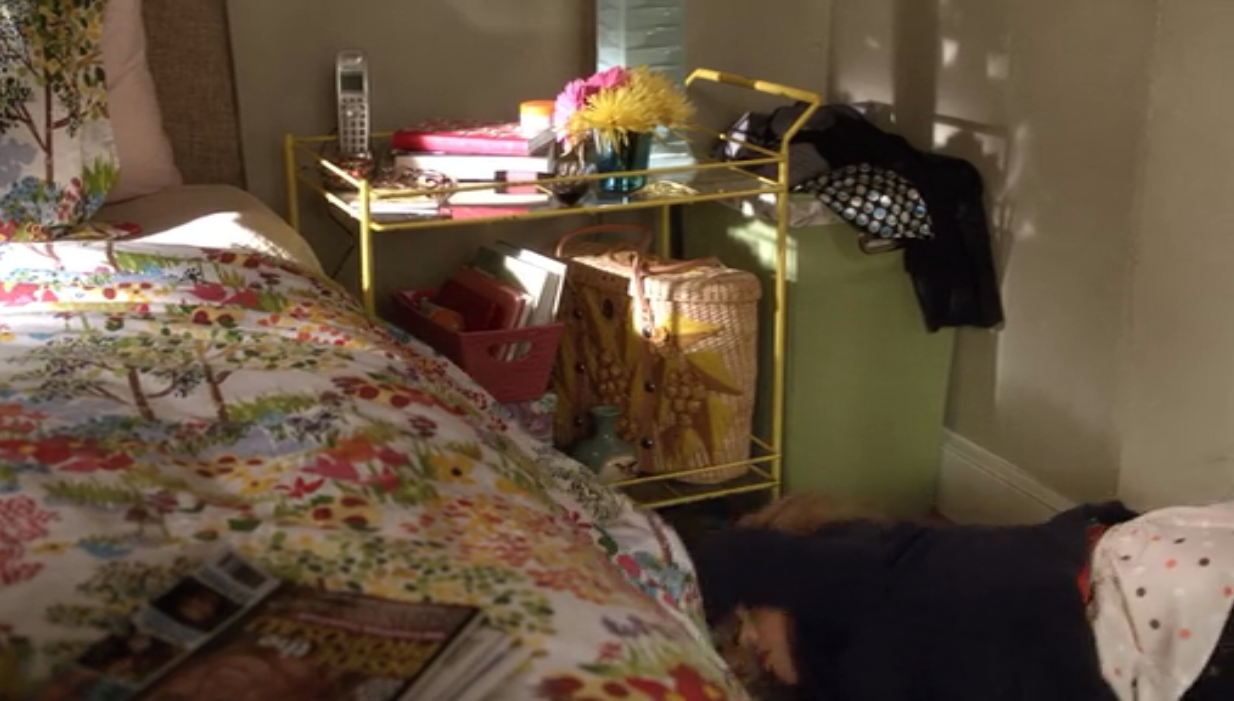 Bedside tables don't need to be cutesy stools that hold a max of two paperbacks and a pair of glasses. June opted for a cart that stores her books, flowers, highly questionable landline phone, and heaps of bins, bags, and boxes stowing even more clutter.
Plus it still leaves just enough space for a small hamper, which is barely even noticeable next to the sunny yellow piping on the cart's handles.
Master of None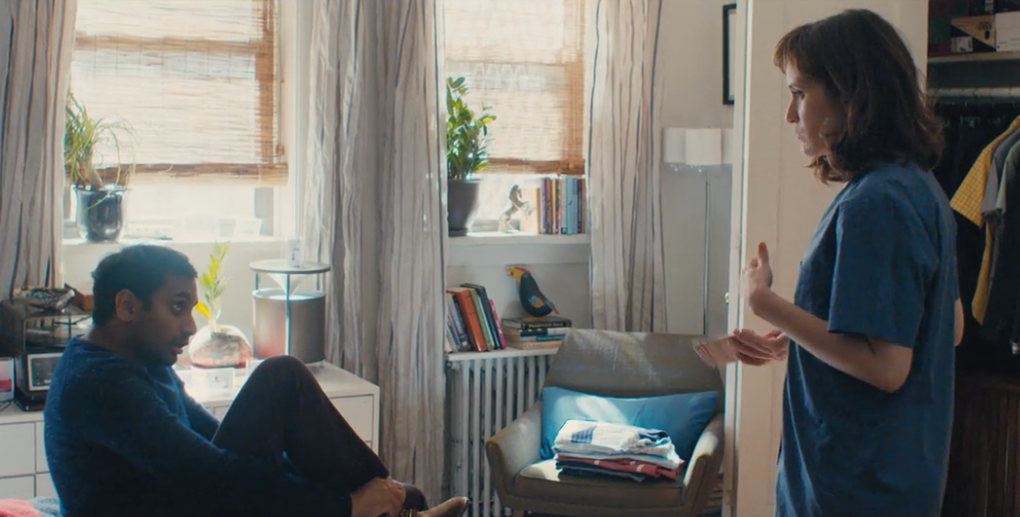 Can't squeeze a bookcase into your apartment?
You can still artfully display your James Patterson first editions on your windowsills and radiator shelf with some strategic animal bookends, like Aziz Ansari's Dev.
Not that he really has to be economical with his space. The man lives like a baron on a Gogurt commercial actor's salary.
Girls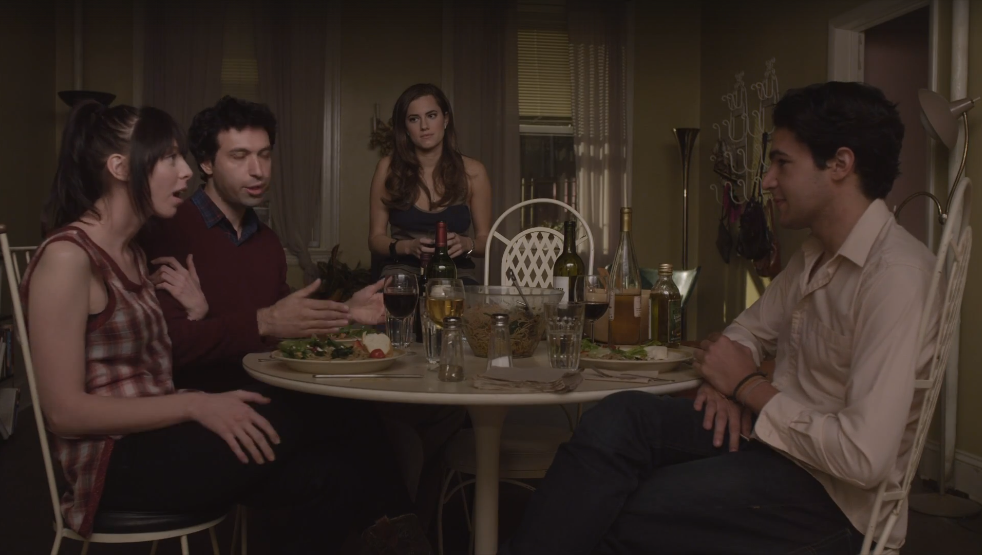 Purses and other accessories often get thrown on the floor of the closet, but you can free up that space by taking a page out of Marnie's playbook and hanging any bags, scarves, and hats on a living room wall.
Bonus props if you do so using an Eames Hang-It-All.
30 Rock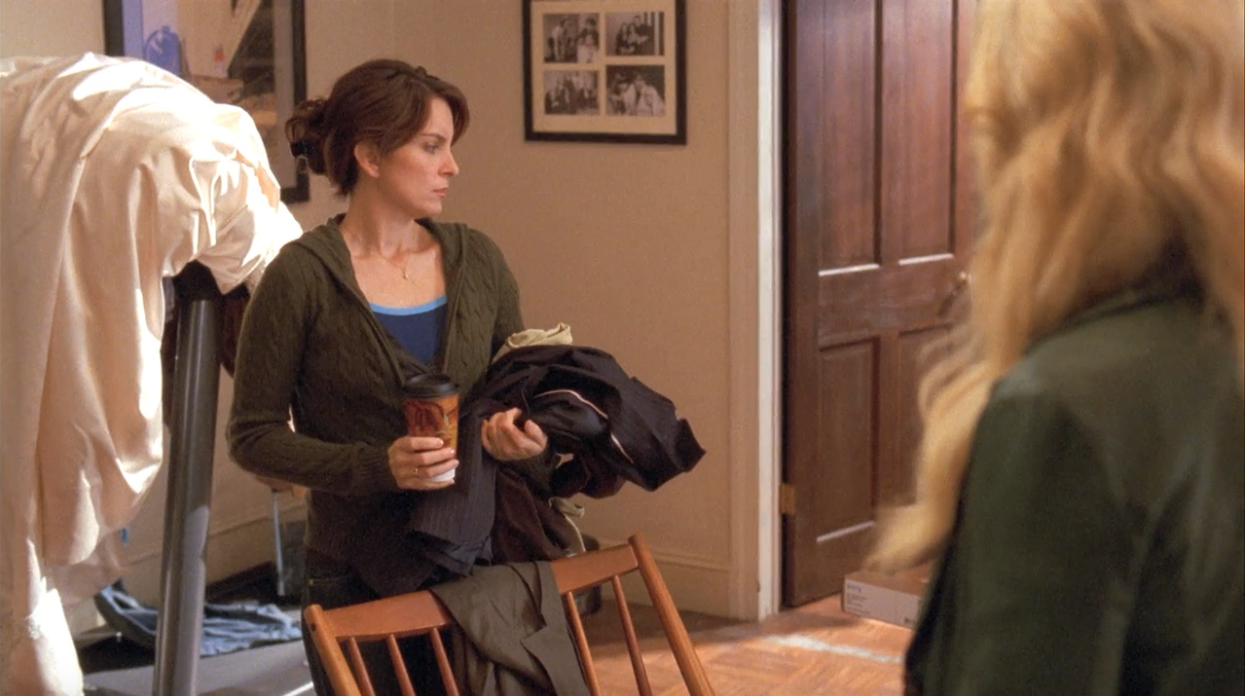 Exercise equipment is almost always bulky, but you can get a dual use out of it by hanging your wedding dress on your treadmill. Second closet!
Okay, we're just kidding on that last one. But if you're investing in exercise gear, at least aim for something that's easier to store in a small apartment, like Bret and Jemaine's old school stationary bike in Flight of the Conchords.