You're gorgeous, your bike is gorgeous, and the weather, well, was gorgeous. Which means you're going to ride your bike to work a lot less, if at all, and thus, you need a safe and convenient bike storage solution.
For many of you, your apartment might be that safe and convenient bike storage solution. Until it's not, and you trip over your bike on the way out the door. Here to keep your bike, and your face, off the floor are these gorgeous, space-saving bike racks and shelves that double as art. Because your reliable ride earned it after whisking you around the city and getting you home in one piece all sweet summer and fall long.
1. The Bike Valet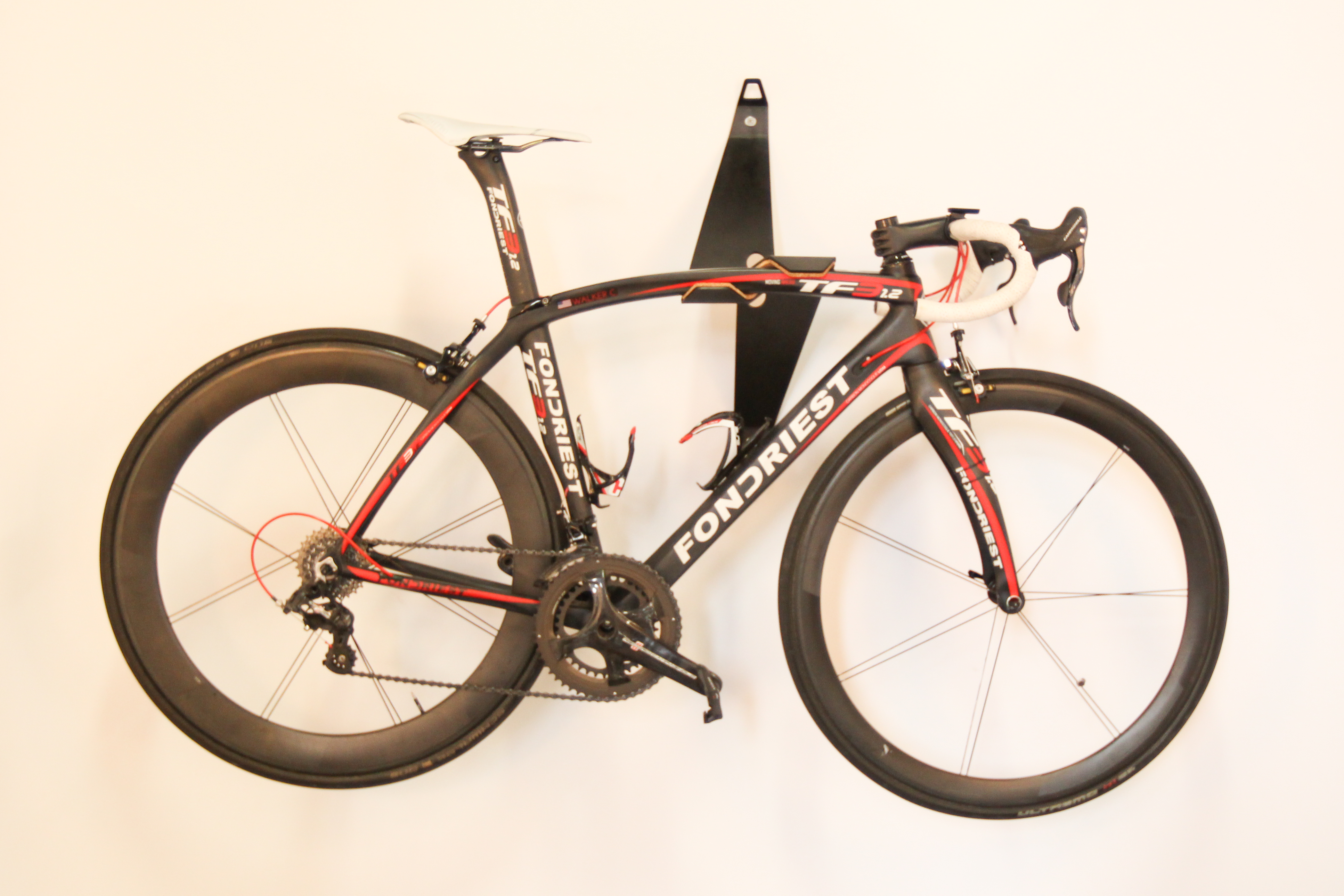 Not that you needed another reminder, but storing a bike indoors, especially against your wall, can look inelegant. Which is why The Bike Valet combines art, airplane-wing form, and function to bring you a graceful wall-mounted bike storage solution that's as attractive as it is utilitarian.
2. Iceberg Chestnut Bike Rack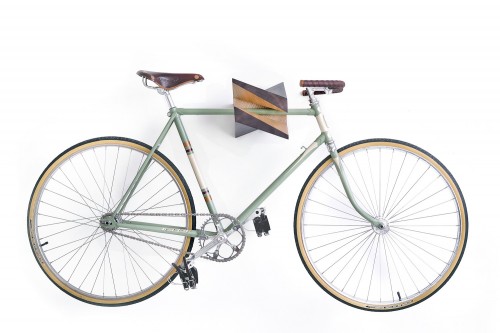 Like an X chromosome, but made from oak and birch, Iceberg Chestnut is one half of the bike-art-crafting equation. The other half: your stylish bike of course.
3. The (Original) Bike Shelf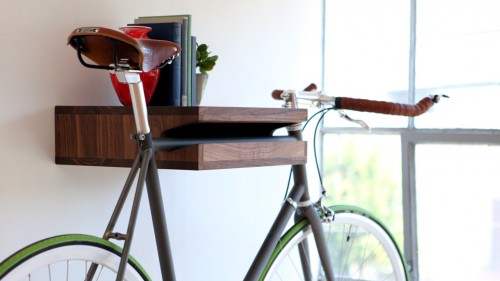 As the Frank Sinatra of bike racks, The Bike Shelf serenades your bike's beautiful soul by gently levitating it in the air with its strong, walnut mouth. Right before it kisses your bike goodnight with extra storage space on top for your cycling accessories, books, and tiny plants (which are scientifically proven to reduce your stress).
4. MAMA Bike Rack
Mama always seems to know what's best. Including storing your bike, bike lock, and bike light in one floating, easy-to-access spot. Need proof? MAMA Bike Rack is the only proof you need.
5. Pedal Pod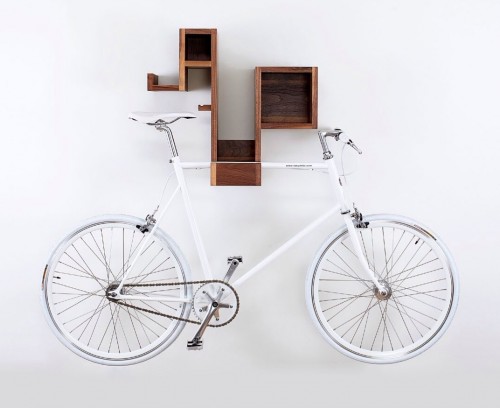 Available in walnut, oak, or veneer, the modern Pedal Pod is your stairway to bike storage heaven. Toss your keys, glasses, purse, and other small items into any of Pedal Pod's storage cubbies and you'll never leave home without your daily essentials again.
6. Wall Mount Bike Rack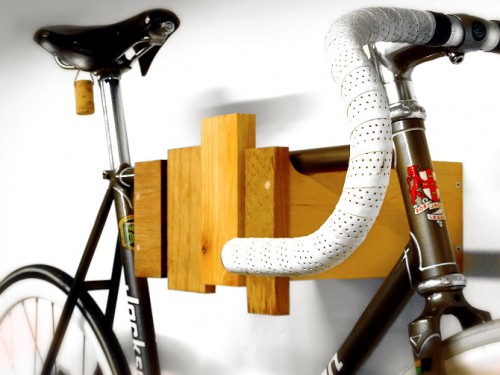 Not having your bike take up any floor or shady hallway space is probably music to your ears. What's also music to your ears is the Wall Mount Bike Rack that begs you to play Super Mario Xylophone.
7. Michelangelo Two Bike Gravity Stand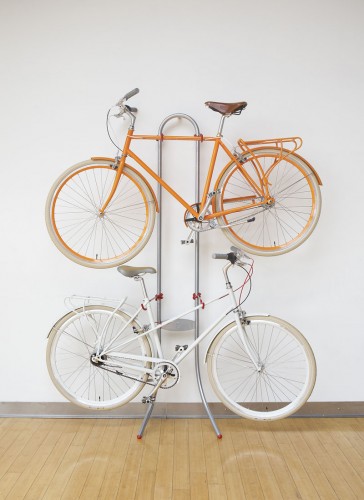 For the renters out there who aren't supposed to leave holes in the wall, the Michelangelo Two Bike Gravity Stand is the bike rack you didn't know you needed until now. Just lean it against the wall and let gravity do its thing. The best part: the assembly-free Michelangelo Two Bike Gravity Stand can hang your bike and your roommate's.
8. Bookbike
Like Albert Einstein, you too love riding your bike and reading tons of books. What if you could store your bike, and your entire book collection, in one appealing, space-saving piece of furniture? Well, wonder no more because Bookbike has graced our tiny apartment/book-and-bike-storage-needing shores.
9. Wooden Bike Hook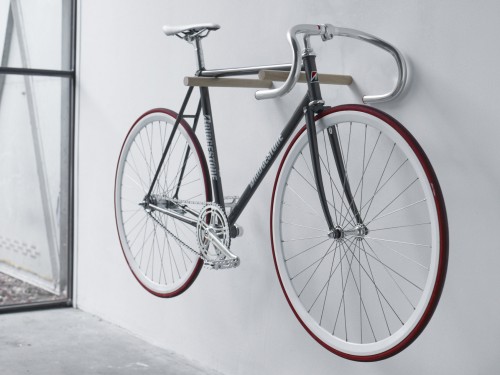 Perhaps the most minimal and nunchuck-resembling bike storage solution on this list, Wooden Bike Hook is suitable for cyclists and Bruce Lee fans alike who wish to unobtrusively store bikes that weigh less than 28 pounds.
10. Branchline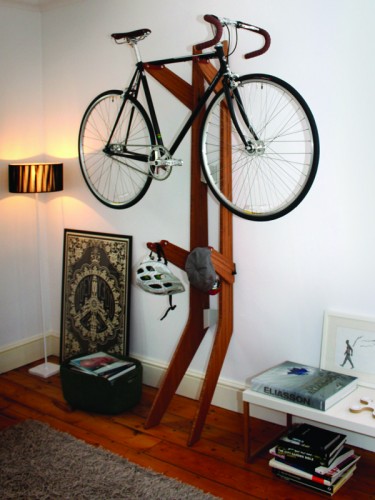 Speaking of Bruce Lee, Branchline is the smart Wing Chun wooden dummy of bike storage solutions. Its adjustable arms, which are made of bamboo and hand-finished in leather to comfort your bike's frame, masterfully train your bike(s) to hibernate during the upcoming cold months.
11. Bedford Ave Bike Rack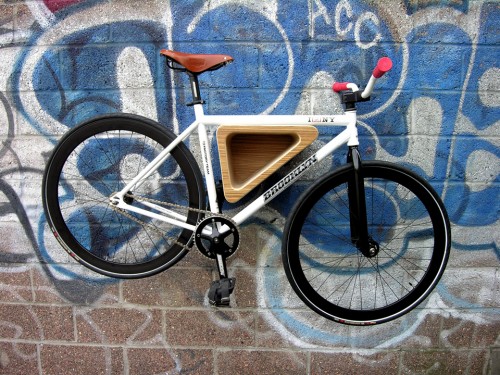 We don't suggest that you beg thieves to steal your bike like in the photo above, but the custom-made-to-fit-your-bike-frame Bedford Ave Bike Rack just might be the triangular work of art that squares away your bike storage needs. The Limited Edition 718 vs Brooklyn Machine Works Bicycle is (unfortunately) sold separately.
All 11 of these bike storage solutions are gorgeous and practical. In fact, we recommend them all. However, the one thing all of them have in common is that you still have to store your bike inside your apartment. What if you don't want to take up any of your apartment's already limited space?
Take up zero space in your apartment and store your bike in MakeSpace. We'll pick up your bike, store it in our secure storage facility, and bring it back to you when the weather is on your side again.