Very few people are satisfied with the state of their garage. Maybe yours is full of boxes from your last move or has become a dumping ground for unwanted household items that should have been discarded long ago.
Wouldn't it be lovely if you could use your garage for its intended purpose? Even if you can fit your car in your garage, you probably wish it was more organized. Imagine being able to open your garage door without embarrassment and having plenty of room to park your car, with storage space to spare.
There's no better time than now to reclaim your garage. The longer you wait, the more stuff will accumulate. So get started today with these seven clutter-busting strategies.
1. Organize a Cleanup Party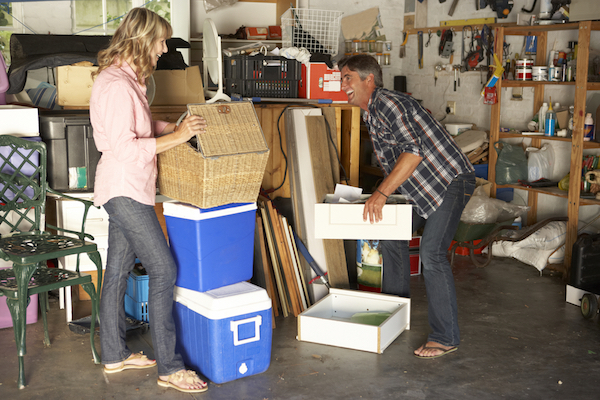 Cleaning out the garage is one of those jobs where you can use all the help you can get. Why not lighten the load and turn it into a party? It's the perfect way to finish that "someday" project on your calendar.
Invite people to help clean out your garage in return for helping them clean out their garage. Plan to play music and have refreshments and snacks on hand. You and your guests will work up an appetite moving boxes, sweeping, and cleaning. Set up a pastry and coffee bar for breakfast, have pizza delivered at lunchtime, and grill some hot dogs and hamburgers when the work is done.
Tell your guests to wear comfortable clothing and shoes and expect to get dirty. In the end, you'll probably have a blast. After all, you'll be spending time with some of your favorite people.
2. Give your clutter a second chance at life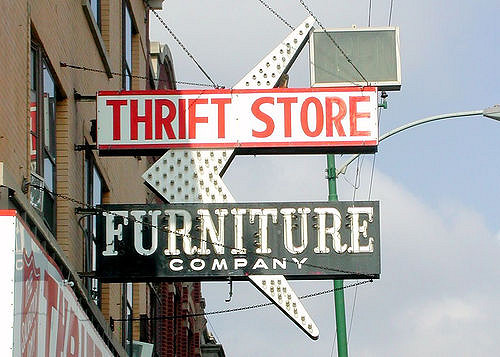 It may seem like the garage is a good place to store things you aren't using.
But think of it this way: If you aren't using something, why store it at all?
Two of the biggest reasons we hold onto things are because we think they still have value or we don't know what to do with them. But the longer you keep something, the less likely it will be worth anything to you.
Make a decision to donate your extra stuff and give it a second chance at life. You'll also be helping someone who could really use what's just taking up space in your garage – and that's something to feel good about.
As for the stuff that has outlived its usefulness? Consider hiring a junk hauling service or renting a dumpster to haul away broken appliances, construction debris, yard refuse, and other household junk.
3. Turn clutter into cash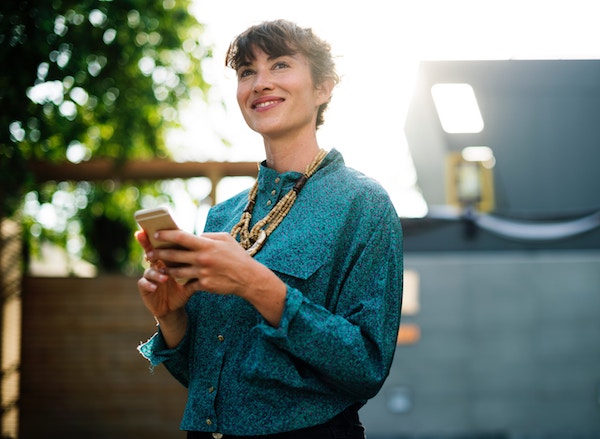 If you need a little extra incentive to clean out your garage, you may be able to turn some of that clutter into cash. In addition to having a yard sale, there are other fast and easy ways to sell items.
There are people on Craigslist looking for lawn and garden equipment, housewares, furniture, and more. List your items along with a detailed description and multiple photos. If you're not sure how much to ask for, search for offers on similar items.
Or use OfferUp to list your items with photos. Your listings will appear in the news feeds of other app users in your area.
Another way to sell stuff is to connect with potential buyers on Facebook.
Create an album and share it with friends in a post. Ask if they know anyone who might be interested in any of the things you're selling. You can also search Facebook groups by your city or area name + online yard sales (e.g., "Chicago online yard sales"), join the group, and post there.
4. Re-home items elsewhere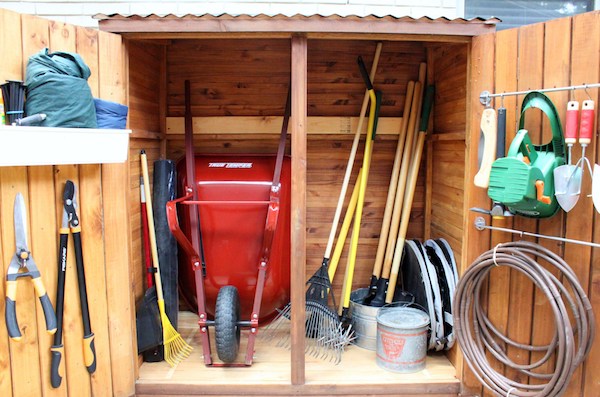 Easy accessibility makes the garage ideal for storing frequently used sporting goods and home improvement items, such as bicycles, automobile-related items, and lawn, garden, and snow removal equipment. One way to instantly create space in your garage is to store less frequently used or hazardous items elsewhere.
According to the U.S. Fire Administration, you should store oil, gasoline, paints, propane, and varnishes in a shed away from your house. To deter insects and rodents, store firewood outside and opt for plastic-lid bins versus cardboard boxes for storage and pet food.
While flammables aren't compliant with their storage rules, MakeSpace can pickup almost any of the other items that are just a little too cumbersome for your space.
Finally, carefully consider what you buy. Today's unplanned purchases become tomorrow's clutter. Ask yourself:
Do I really need this item?
Do I have something else that will do for now?
Where will I put this?
Am I willing to pay cash for this?
5. Organize the smart way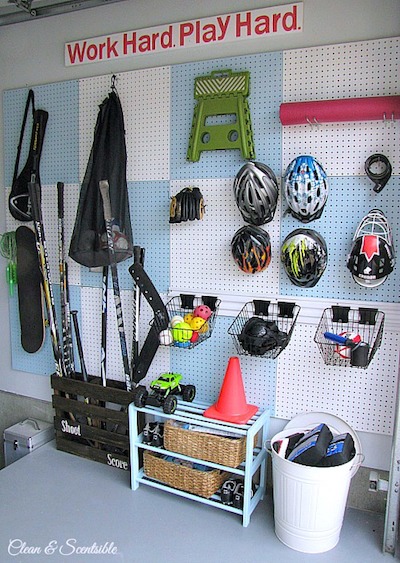 The best way to organize your garage is by zone and by category. Group automotive, lawn and garden, sporting, seasonal storage, and long-term storage items together to make it easier to find what you need, when you need it.
When determining zones, consider accessibility. Store items you need to access more frequently in the front and above waist height. For example, it makes sense to keep lawn and garden equipment and tools near the door so they're easier to move in and out. Store things you only use once a year in the back or higher up on the shelves in your storage area.
Store whatever you can off the floor. Hang bicycles from the rafters or on the wall. You can even mount storage racks from the ceiling for extra storage. Nail coffee cans to studs for storing hand tools and other small items such as paintbrushes. Nail furring strips between exposed studs for storing long-handled tools.
Free Bonus: 11 Gorgeous Bike Storage Solutions That Double As Art
6. Label, label, label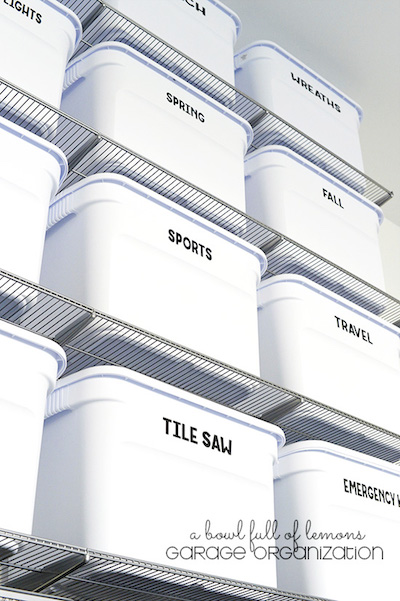 Label storage bins using wide felt tip markers on masking tape. Store boxes and bins with labels facing out so you can find what you're looking for without having to move heavy boxes. If you really want to get organized, tape an itemized list of the contents to the front of the box.
7. Consult a professional about built-in storage options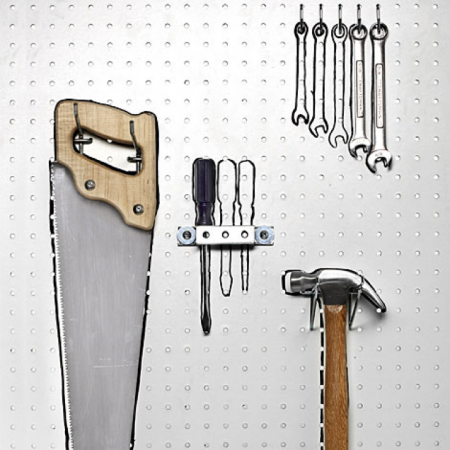 You may want to invest in some organization or storage solutions — perhaps even a custom installation. According to a report from the National Association of Home Builders, garage storage was rated as "desirable" or "essential/must have" by 81 percent of home buyers.
Get an in-home consultation and estimate (usually free from most contractors) for custom garage installations to accommodate all of your storage needs. The possibilities include everything from simple garage cabinets to entire tool storage systems with workbenches. The cost may be less than you think, and who knows? It might just make your garage your new favorite room.
IICRC-certified House Cleaning Technician, Donna Smallin Kuper, is the author of a dozen best-selling books on uncluttering, organizing, cleaning, and simplifying life that have sold nearly 1 million copies worldwide. She also writes about organizing for The Home Depot, who offers garage organization services you can learn more about here.