Renting an apartment in New York City poses its own unique set of challenges.
For starters, your upstairs neighbors seem to go bowling at 4 AM every single night.
Then there's the ambulance plowing down your avenue right when you're nodding off.
And should you investigate that weird smell coming from the building entryway?
We can't help you with the smells or noises. But we can help make your home a welcoming respite from all that outside chaos.
Here to show you how is Jamie Hord of Horderly, a professional organization company that serves the greater New York City area. Jamie shares her expert tips on organizing, decorating, and personalizing the types of apartments you're likely to find in New York City.
The best part:
None of these genius solutions will break the bank. (Trust, we know NYC is ridiculously expensive enough.)
Read on for Jamie's 20 NYC apartment decorating tips and ideas for turning your place into a home for crashing in the city that never sleeps.
Click any of the links below to jump to decorating tips for your apartment type:
Studio apartment
Railroad apartment
Micro-apartment
Shared apartment
Studio apartment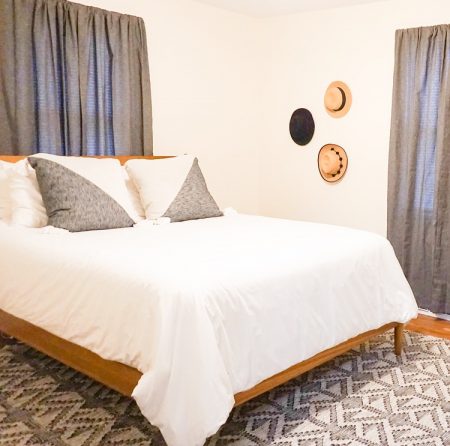 You might instantly cringe at the thought of a studio apartment, but some of my all-time favorite apartments are studios.
If you set your studio up right, it can be the perfect little living space. Here are some tips on how to decorate your small NYC studio:
1. Use curtains to make the room look taller
Instead of hanging your curtains at the top of your window, hang them as far up as they can go — think ceiling to floor. Making use of vertical space like this creates an illusion of height, and will make your room feel taller.
2. Use rugs to divide the room
I always recommend to clients to use trays to categorize items on tables. You can use this technique basically the same way when it comes to your studio apartment. Simply use rugs as your "trays" to designate distinct areas: dining, living, bedroom, etc.
3. Light the walls (without breaking your lease)
Instead of taking up floor space with a floor lamp, or table space with a table lamp, use a wall lamp. Apartment Therapy has a roundup of the best wall-lamps that don't require a lease-breaking foray into rewiring your apartment's electricity.
4. Get extra space under the bed
Put your bed on bed risers for an instant storage boost.
5. Downsize your furniture
Purchase smaller furniture pieces. Consider a love seat sofa instead of a full, and make sure it's comfy.
Free Bonus: 15 Seriously Genius Space-Saving Furniture Ideas For Every Room In Your Apartment
Railroad apartment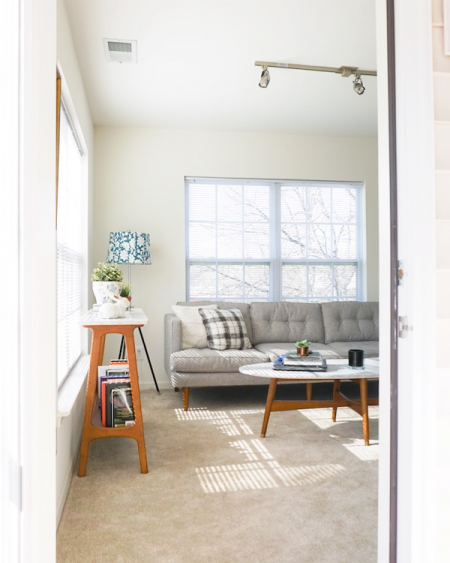 Railroad apartments can be tricky because of their awkward, narrow shape. But they can also be a gorgeous and very uniquely New York home.
Here are some tips for organizing and decorating a railroad apartment:
6. Keep the space visually clear
Because of the fact that you can look across your apartment and literally see every room, keep the tone minimal. Reduce as much clutter as possible, which will calm the space and leave it feeling less cramped.
7. Set up the space according to any natural light
If you're tasked with balancing and designating the apartment rooms, take note of the lighting. The living room tends to feel best at the end of the apartment, because it gets the most sunlight.
However, this means you'll have to accept the fact that your bedroom is in the middle of the apartment.
8. Take down any unnecessary doors
Remove doors to open up and brighten your long apartment. This will also help with ventilation.
9. Keep the color palette consistent
Paint the apartment either one color or in neutral shades for continuity.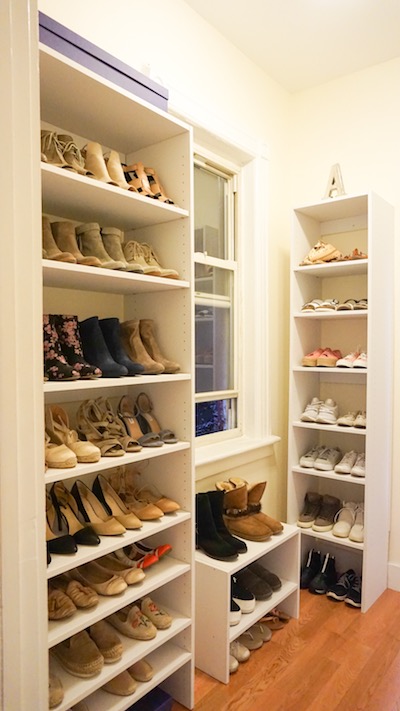 10. Think outside the closet
Closets in railroad apartments tend to be limited.  Try transforming one room into your "closet" by putting a wardrobe, dresser, and mirror in it. This will also clear tons of space in your bedroom.
To clear even more space in your home, schedule a Clutter pickup.
Clutter will pick up the stuff you don't need in your home right now (like your summer and spring clothes) and store it in their secure storage facility. When you need something back from storage, they'll deliver it to you.
Free Bonus: 53 Insanely Clever Bedroom Storage Hacks And Solutions
Micro-apartment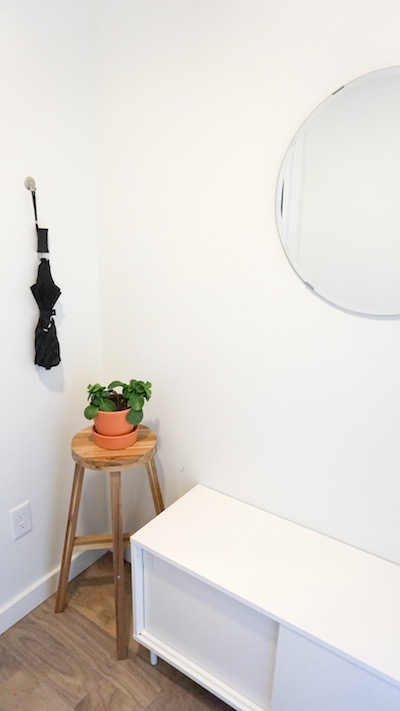 No need to fret over a tiny apartment. Have you ever heard the saying "less space, less stuff?"
In a micro-apartment, you'll actually end up accumulating less, simply because you won't have anywhere to put new stuff. There is nothing wrong with living with less.
In fact, it is said that with less you can enjoy more. You might find your smaller space allows for a bigger life.
Here are some ways to maximize your small space:
11. Use mirrors to visually expand your space
Don't be afraid to go big when it comes to using mirrors in a small room. This will create the illusion of depth.
Use mirrors even in the bedroom and kitchen. Some great areas to place a mirror is facing a window, in the entryway, along a narrow hallway, or above a fireplace.
Free Bonus: 15 Amazing Multi-Purpose Entryway Storage Hacks And Ideas That You'll Love
12. Pick mirrored and acrylic furniture
Mirrored and acrylic furniture is also brilliant when it comes to decorating small NYC apartments. I recently used this mirrored dresser and this acrylic desk for a few clients, and we were obsessed with the the overall look it gave their apartment.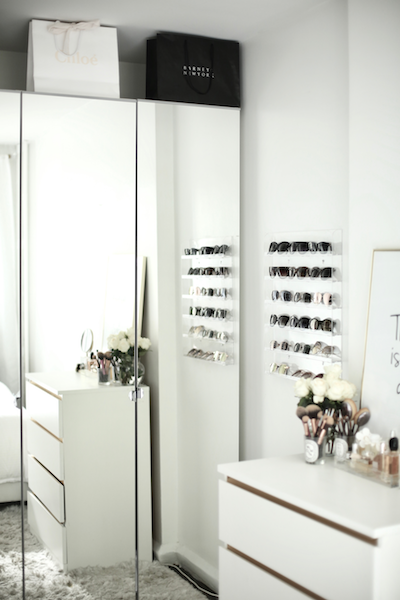 Mirrored furniture can make the floor space look bigger. However, you don't want to use mirror furniture if you already have a lot of patterns going on in the room.
As for the acrylic desk, it's almost like it isn't even there.
13. Position the bed foot-first
The bed always looks best head-on when you enter a room, even if that means placing it in front of a window.
14. Maximize any and all vertical space
Take advantage of all vertical space. Use shelves and over-the-door hooks wherever possible.
15. Keep backup tables without wasting room
Nesting tables are a great way to store additional side tables for guests.
Shared apartment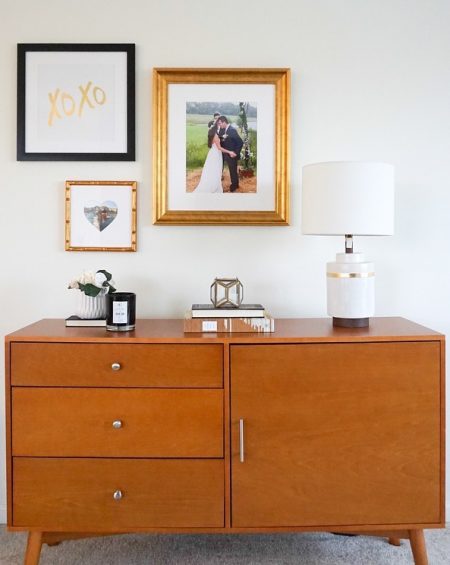 Living with roommates is hard, but I think almost everyone in NYC  has to experience it at least once in their crazy Big Apple journey. Here are some ways to manage sharing a space:
16. Compromise with a shared wall
Who doesn't love a gallery wall?
What's best about a gallery wall is it can pretty much be as random as can be and still look good. Try putting together your and your roommate's favorite pieces and see how much you both love it.
17. Try a touch of DIY
If you're both bringing in furniture and decor that you each already have, you may have to pull it together by adding a little DIY. Try covering pillows with different pillowcases, painting furniture, and changing dresser and door knobs.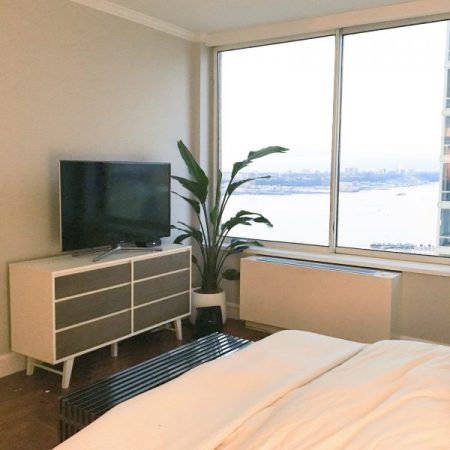 18. Add some (green) life
Increase your happiness and productivity by adding fresh flowers to your apartment. Placing plants by the window will improve the overall aesthetic, too.
Free Bonus: 7 Gorgeous Houseplants That Will Purify The Air And Make You Happier
19. Get creative when dividing the space
There are many unique ways to create a room divider:
It could be a simple 4-part screen, a bookshelf/open bookcase, slider doors, or a curtain. Or simply ask your landlord to build out a wall (yes, sometimes they will do this).
20. Be 100% yourself in your own space
When sharing a small apartment, you may have to sacrifice a few of your favorite decor ideas. So be sure to embrace your bedroom, and make it totally your own!
This article was written by Jamie Hord of Horderly. Horderly is a professional home organization company serving the greater New York City area. Specializing in decluttering, organizing, and unpacking, they help clients feel a new sense of clarity with their belongings, along with maintaining a steady, functional lifestyle.