Considering the fact that an entryway offers the first glimpse inside a home, it's a seriously overlooked and undervalued area. Sure, your entryway might be small, sparse, dark, or narrow, but hey — it's got major style and storage potential.
After all, what do you get when you remove the piles of shoes and coats behind your front door?
Glorious, wide open space.
Or maybe just space — space perfect for storing and organizing everything you drop off or pick up on your way in and out of your home.
Here are 15 amazing multi-purpose entryway storage hacks, solutions, and ideas that will keep your home's first and last impression on-point.
1. Turn a bookcase into entryway storage lockers.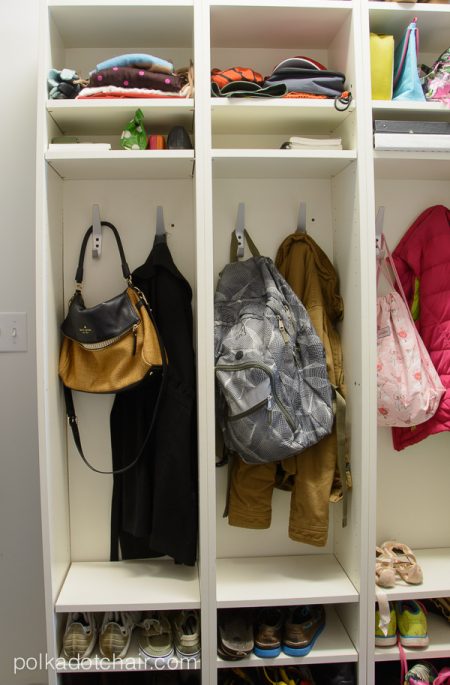 This option is ideal if you live with multiple people (and especially if some of those people are children).
You can check out the full tutorial at Polka Dot Chair, but the concept is simple: Purchase a few slim IKEA bookcases, stand them alongside one another, adjust the height of the shelves according to your needs, and voilà!
You have DIY lockers with room for coats, backpacks, shoes, sports equipment, and everything in between.
Free Bonus: Here are 10 more DIY storage and furniture projects you can make in less than one hour.
2. Store shoes, bags, and accessories in baskets on a console.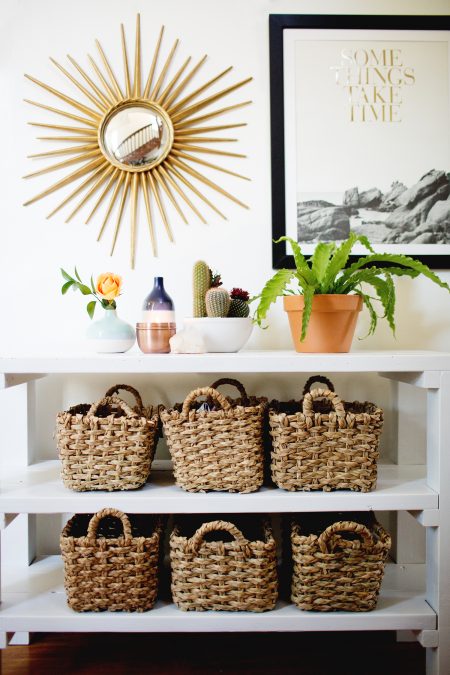 For style and function, store everything from purses and gloves to stacks of mail and shoes in matching baskets.
Easy, obvious, and yet totally impactful.
3. Build a DIY wooden boot rack.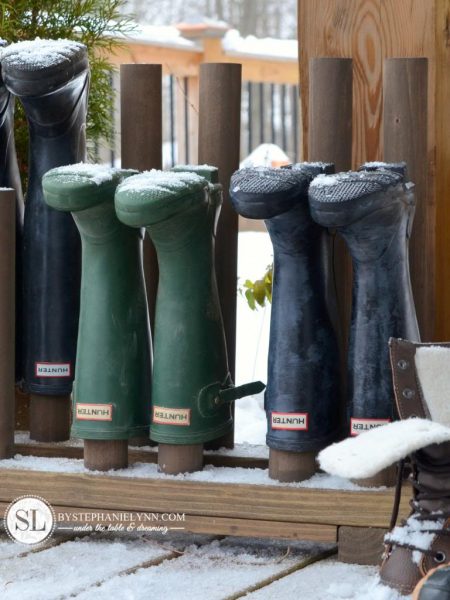 If you want to keep your winter boots (or summer sneakers, for that matter) organized and easy to grab when you're rushing out the door for an impromptu snowball fight, this DIY wooden boot rack is exactly what you need.
Stephanie Lynn features her boot rack outside, but you can easily display it below your coat rack or next to a storage bench.
If you decide to keep the boot rack inside, remember to place a tray beneath the rack to collect melted snow, dirt, and dust so your entryway floor stays clean.
Free Bonus: Here are 15 more smart ways to store shoes, boots, and sneakers.
4. Label your coat rack.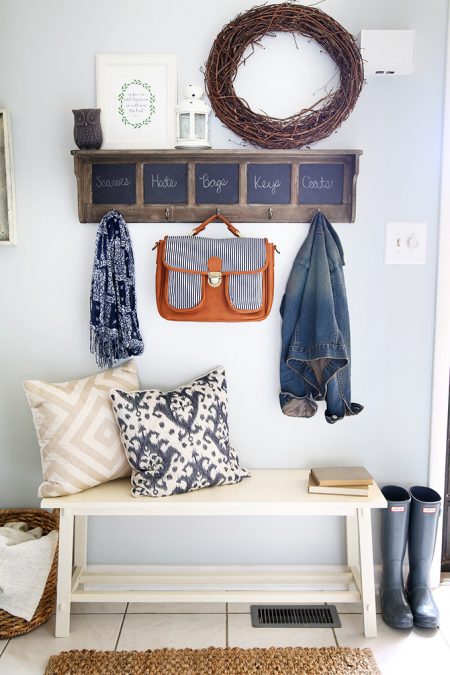 A classic wall-mounted coat rack in an entryway is always a good idea. It's easy to install, saves floor space, and adds a welcome dose of personality to an otherwise bland part of the home.
This particular coat rack, however, kicks functionality up a notch. How? With chalkboard labels.
You can label your hooks by type of outerwear (like in the photo above) or by person if you have a big household. It's a simple detail that'll make your stuff even more organized (and — let's be honest — a little cuter, too).
Free Bonus: Here are 13 easy DIY storage ideas that'll organize your entire home.
5. Make smart use of a nearby closet.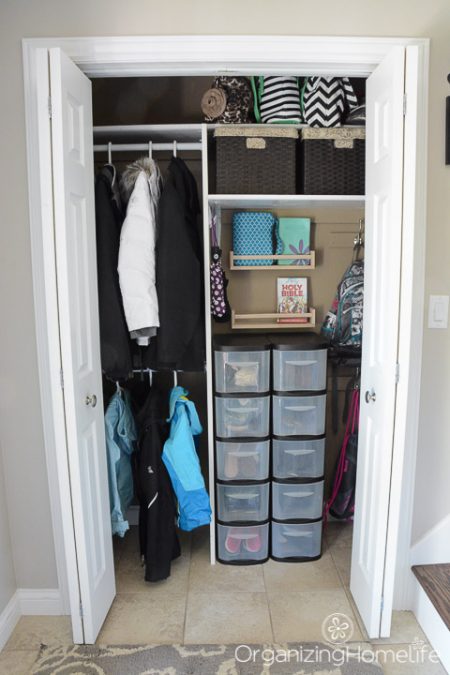 If you're lucky enough to have an entryway closet in your, ahem, entryway, take advantage of it.
Even the world's smallest, most poorly designed entryway closet has room for growth — and plenty of coats.
With a smart layout (and some major decluttering), you can easily maximize the space in your entryway closet to fit everything you need.
Install spice racks to hold notebooks and mail. Use wall hooks to store bags, purses, and umbrellas. Store shoes in plastic drawers. And use baskets to store accessories like hats, gloves and scarves.
Free Bonus: Here are 12 super creative storage ideas for small spaces.
6. Use a storage bench to hold bags and shoes.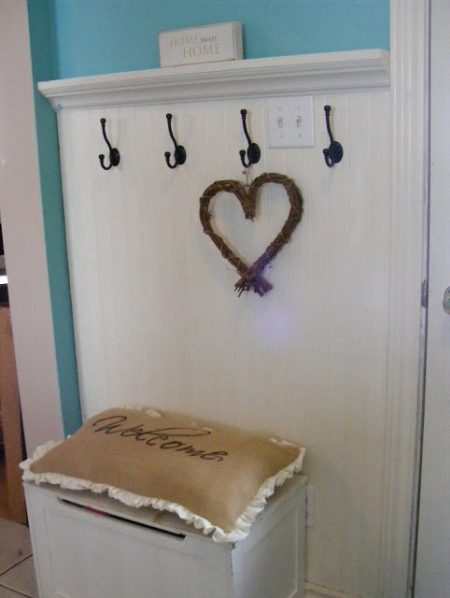 If you have room for a bench in your entryway (you know, to sit on while tying your shoes, resting after a long day, or pondering hygge), make it a storage bench.
You can stash shoes, baskets full of cozy gloves and hats, blankets, or even your collection of dog toys inside of the storage bench.
7. Display plants on DIY floating shelves.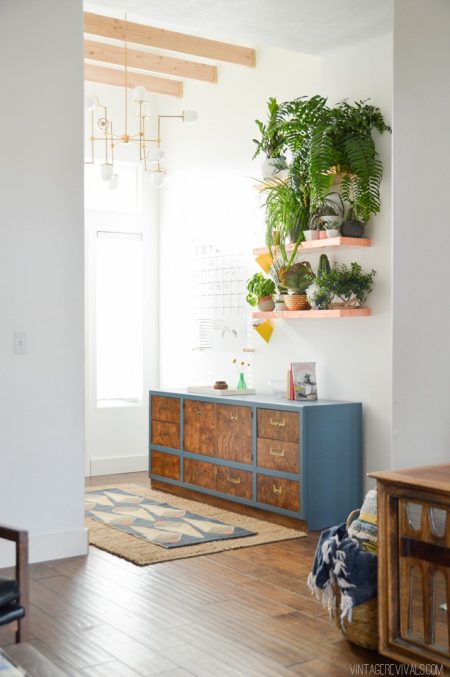 We're all for practicality, but why not add some happiness-inducing greenery to spruce up your entryway?
We even put together this list of the best houseplants and planters to make doing so as easy as possible.
You can also install a couple floating shelves (here are 15 breathtaking shelves you don't have to DIY) above your console table or coat rack to display potted plants or vases of flowers. Just like DIY extraordinaire Mandi Gubler from Vintage Revivals did in this video:
If, however, you discover you're not a very capable plant owner (it happens to the best of us), you can always swap the succulents for books, mail organizers, or — surprise, surprise — storage baskets.
8. Turn your hall closet into a giant coat rack.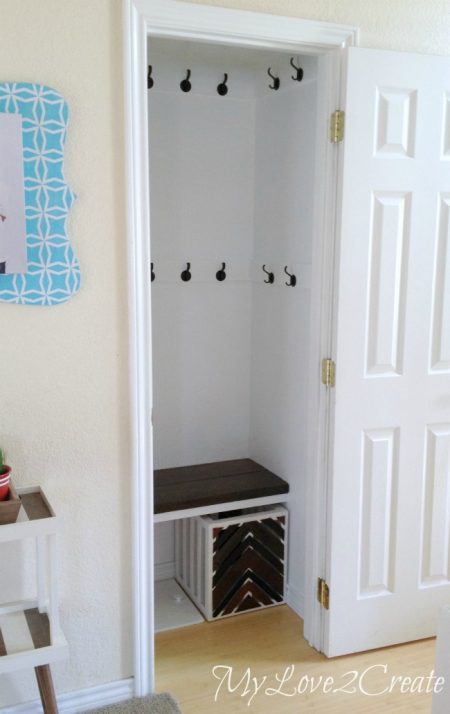 If the single tension rod in your hall closet doesn't cut it when it comes to storing your collection of jackets and coats, get rid of it.
Take advantage of that precious vertical wall space by installing as many hooks as you want. You'll be able to store at least twice as many coats and bags as before, and you won't have to rely on mismatched hangers to do it.
And in case you're wondering, here's how to easily organize everything in your closet.
9. Hang a shelf above your coat rack for extra storage.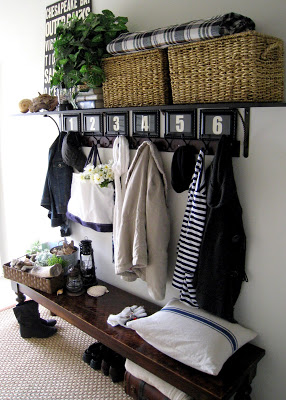 This entryway storage tip sounds obvious, but it's worth repeating:
A single shelf (above a coat rack or on its own) does wonders for an entryway. Use the self to store mail, sunglasses, purses, or baskets full of winter gear.
10. Turn a closet into a storage nook.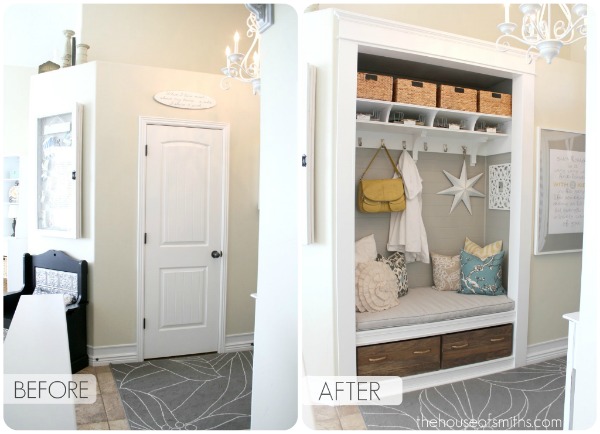 The House of Smiths breaks down this minor renovation process in full. The basic idea is this:
With some resourcefulness and patience, you can transform a small, dingy closet that doesn't meet your needs into a cool, functional storage nook.
Did we mention this little nook has coat hooks, mail organizers, wooden shoe crates, and a comfy seat? What more could you want?
11. Put hooks on the side of your console to hang bags.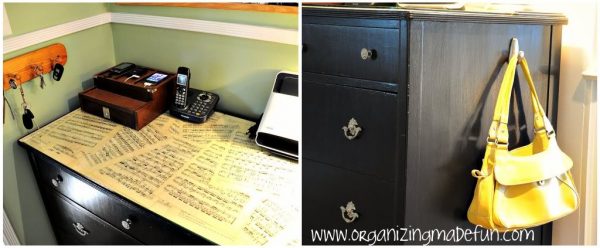 If you're lacking space on your coat rack (or want to nix it altogether), install stylish hooks on the side of your console or entryway table.
They're perfect for hanging purses, briefcases, backpacks, and even reusable grocery bags.
12. Turn an IKEA shelving unit into a cubby holder.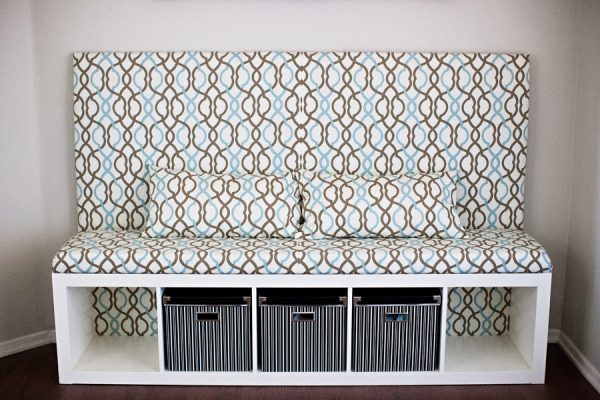 You know those tall, narrow IKEA shelving units perfect for storing books, CDs, and DVDs? Yep, we're talking about KALLAX shelf units.
It turns out the same shelving units — when laid horizontally — also make ideal cubbies for storing shoes and other small to medium-sized items.
Melodrama details this fantastic discovery and provides the full tutorial (complete with a banquet seat) here.
If you're not up for the full project, though, you can always stack a couple shelving units against the wall to make a taller cubby system. Or just tuck a singular unit below a long bench.
Free Bonus: Learn how to DIY the 12 best IKEA hacks and ideas for every room in your home.
13. Create a space-saving mail organizer using magazine holders.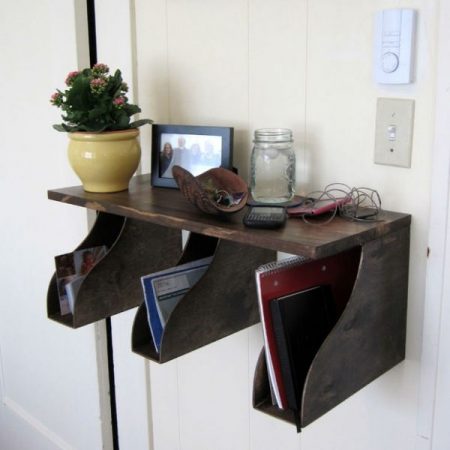 If you like to keep your surfaces clutter-free, use this genius IKEA mail organizer hack from Instructables.
Here's the gist: Find a few sturdy magazine holders, screw them upside down on the bottom of a shelf or tabletop, and bam! You have instant folders to organize your mail.
14. Store shoes in a vintage mail organizer.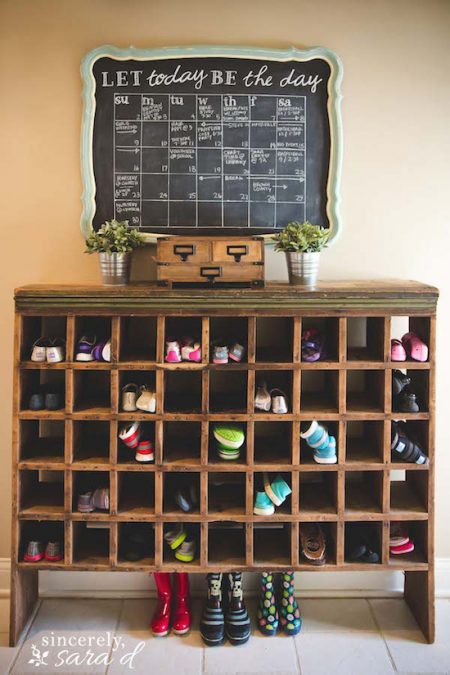 Disclaimer: Finding a gorgeous and intact antique mail organizer isn't exactly easy. But we can still draw inspiration from the idea.
If you can't score your very own vintage mail sorter like Sincerely, Sara D, build one by following these instructions from Remodelaholic.
Another option is to find another equally functional cubby shelf system (or wall hutch like the one that Abbi from Broad City uses in her bedroom) to store shoes and baskets of accessories.
The best part?
Not only is it the pinnacle of functional storage, it also looks really cool.
15. Let MakeSpace store everything else.
Don't have enough room in your entryway to store everything?
Let go of the stuff you don't need. Then let MakeSpace store your off-season clothes, shoes, bike, surfboard, luggage, A/C unit, and more.
Simply schedule a pickup and pack your things. We'll pick up everything from your home and carefully transport it to our secure temperature-controlled storage facility.
And when you want something back from storage, simply browse the convenient online photo catalog of your stuff, click the item's photo, and we'll deliver it straight to you.
Until then, make your place even more spacious by learning these brilliant storage hacks for every room in your home:
Top image via Artazum/Shutterstock
This article was written by Paige Smith, a freelance writer from Orange County, California who specializes in lifestyle, wellness, and travel topics.