As your history teacher always said, you can learn a lot from our past presidents. Each one offers lessons in honesty (George Washington), courage (Abraham Lincoln), and the importance of bundling up (William Henry Harrison).
But did you know that our former commanders-in-chief can also school you in an unexpected topic: storage?
No, none of our former presidents wrote a secret book on home decorating. (Although Teddy Roosevelt's would probably involve tons of bearskins.) However, their civilian homes can teach you how to make a little space go a long way.
That's right. We looked at the childhood, vacation, and retirement houses of seven past presidents for useful space-saving lessons that you can apply in your own home.
Here's what we discovered:
Lesson #1: You can stick a bookshelf anywhere.
President: Franklin D. Roosevelt
Home: The Little White House in Warm Springs, Georgia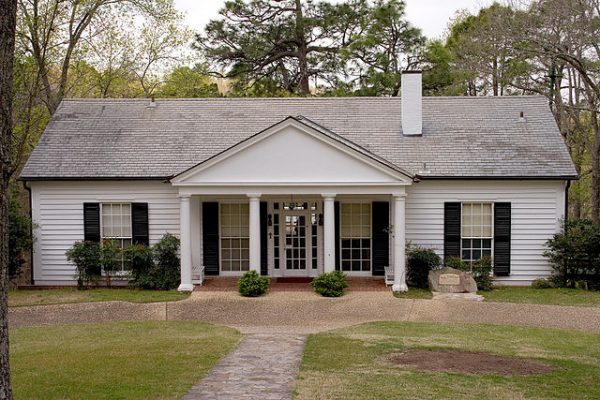 Franklin Delano Roosevelt lived in many homes over his lifetime. There was the "Big House" in Hyde Park, New York where he was born and buried.
There was also the family vacation home on Campobello Island. And that Executive Mansion he occupied from 1933 through 1945. But perhaps the most special Roosevelt residence of all was the "Little White House."
The "Little White House" is located in Warm Springs, Georgia. Roosevelt first traveled there in 1924, seeking mineral springs treatment for his polio. Although repeated exercise and treatments at the local resort did not restore his ability to walk, he responded well to Warm Springs and bought the resort in 1926.
The resort was a bit run-down and not nearly as grand as his other homes, but Roosevelt loved the little cottage and retreated there often during his four presidential terms. Since his aides frequently followed him there to conduct business, it was nicknamed the "Little White House."
So what home organization wisdom can you gather from this estate?
Take a look at FDR's living room: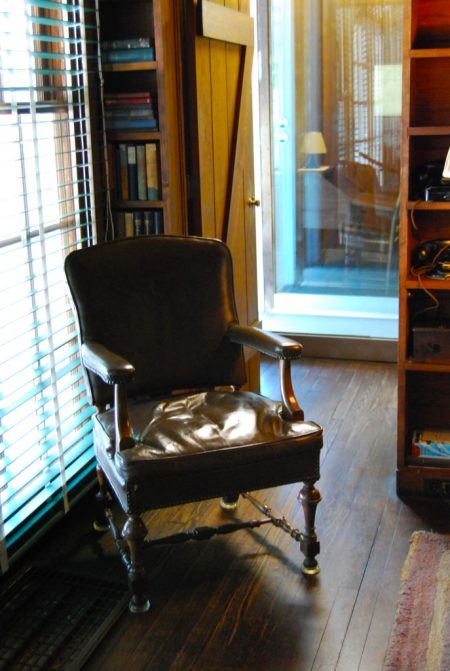 Roosevelt has a sizable bookcase in one corner, and he's sandwiched two skinny shelves between a doorway. One of the shelves is practically hiding behind a chair. Use this ingenuity to squeeze shelves into your apartment.
Can't fit something along your doorway like FDR?
Then try the ledge above your door frame. Also think about using window sills and walls for storage: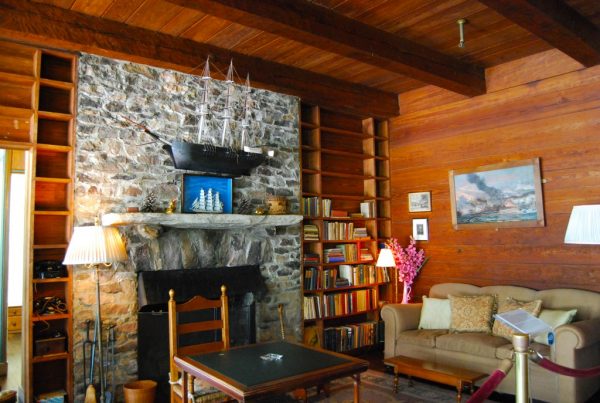 Once you're all set up, consider adding a paperback of Roosevelt's fireside chats to the books on your floating shelves.
Lesson 2: Alcoves are your friend.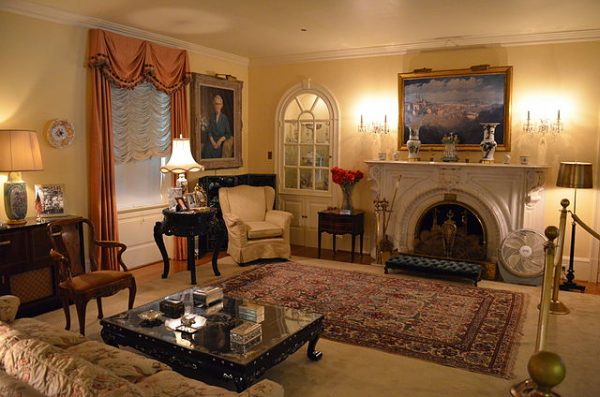 President: Dwight D. Eisenhower
Home: Eisenhower National Historic Site in Gettysburg, Pennsylvania
Our 34th president "Ike" grew up in Abilene, Kansas. When it came time to retire, though, he chose this farmhouse right next to the Gettysburg battlefield.
It made sense: He had already used the place as a weekend getaway during his presidency and even entertained a dignitary or two on the sprawling acres. (Jawaharlal Nehru, then prime minister of India, stayed in the guest room.)
Once he was done running the country, Eisenhower dedicated his days to raising Angus cattle and painting on this Pennsylvania property. The home is now a national park open to visitors, and it retains 99% of its original furnishings.
Although Mamie Eisenhower's blazingly pink bathroom is probably the highlight, take notes on the living room, pictured above.
The Eisenhowers clearly took advantage of their fireplace mantle, coffee table, and smaller end tables. Each one supports ashtrays, flowers, family photos, and clocks.
Now how did they manage to display several pieces of china without using an inch of that surface space?
An unassuming white alcove.
If your apartment already has an alcove built into the living room or kitchen, put it to use.
If your apartment doesn't have an alcove, but you're pretty handy — and you have your landlord's permission to do this — think about building an alcove. You're literally adding space to your home, without sacrificing anything but some dusty drywall.
Lesson 3: Get a desk with lots of storage space.
President: Harry Truman
Home: Harry S. Truman National Historic Site in Independence, Missouri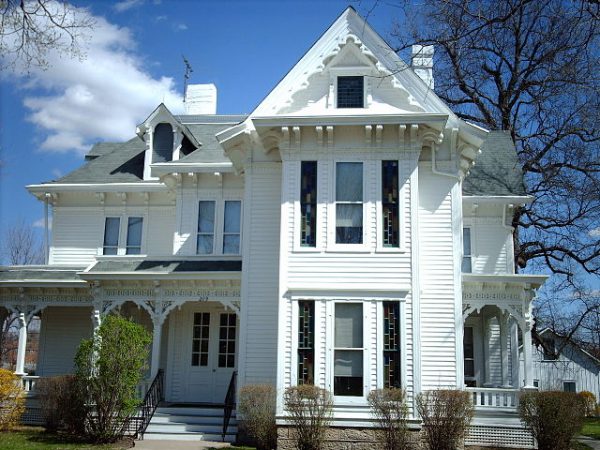 It seems only fitting that the 33rd president of America spent most of his life in Independence, Missouri. Harry Truman moved into 219 North Delaware Street with his wife Bess at the start of their marriage in 1919, and he stayed there more or less until his death in 1972 (if you don't count those couple years in Washington, DC).
The Trumans had lots of roots in Independence. Bess' grandfather built their longtime home, where their only child, Margaret, was born and raised. Truman's brothers lived in houses nearby, as did his aunt and cousins.
So when Truman returned to Independence for good in 1953, he lived like a man of the people. He didn't keep a Secret Service detail. He frequently drove his own car, and indulged any neighbor hoping for an autograph or handshake.
Bess Truman kept a large desk made from scrap wood salvaged during the White House renovations on the second floor of the house. While the desk itself was fairly cluttered — Marie Kondo would've had a field day with the former First Lady — it still illustrates the importance of a good desk with lots of storage space.
This particular piece of furniture featured at least ten drawers, including several on the sides. The top also contains a few small built-in shelves.
Take a page from Bess' book and seek out a desk for your home that has enough drawers, hutches, and slides to contain all your office supplies and so much more.
Lesson 4: Hang family photos on the wall.
President: John F. Kennedy
Home: Kennedy Compound in Hyannis Port, Massachusetts
Few people are familiar with the Eisenhower farmhouse or Truman home. But everyone knows about the Kennedy Compound. The famous photos of the kids throwing a football on the lush lawn and Jackie sailing in her chic beach wear cemented its mythical status.
One other thing helped give the Kennedy Compound its mysterious edge:
While other presidential homes are open to the public, this Cape Cod residence remains private.
Still, historians and journalists have picked out details about the Kennedy Compound. Rose Kennedy, AKA JFK's mom, revealed plenty in a 1962 video promoting her son's first Senate campaign. ABC News included some of the details in a report on the Hyannis Port estate.
The main takeaway from this promo?
The Kennedys really valued family photos. Even a small clip shows hundreds of framed photographs of the Kennedy kids throughout the house.
While Rose placed a bunch of stuff on tabletops, she also mounted things to the walls. This is free space you also have for hanging your posters, pictures, and paintings.
Vertical space is a lifesaver in a cramped apartment or house, so feel free to use your walls for storage, too.
Lesson 5: Levitate pots and pans on the wall.
President: Bill Clinton
Home: President William Jefferson Clinton Birthplace National Historic Site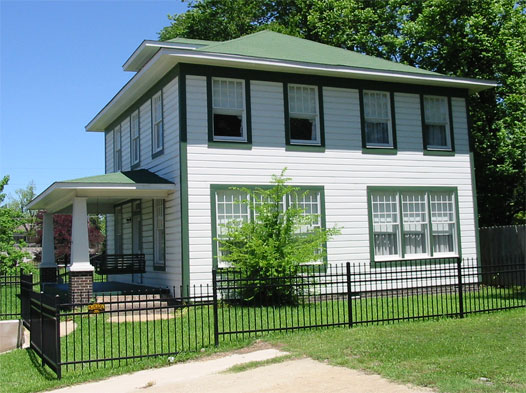 Bill Clinton spent the first four years of his life in this green and white foursquare home with his grandparents and mother, who was tragically widowed three months before his birth.
Although the 42nd president would move to Hot Springs, Arkansas with his mom and new stepfather, Roger Clinton, at a fairly young age, he always remembered this place fondly.
"In this house I learned to walk and talk, I learned to pray, I learned to read, and I learned to count by number cards my grandparents tacked on the kitchen window," he said in 1999.
While three adults and a baby can easily overwhelm a house, the family made it work. In fact, they had quite a bit of space for little Bill to roam in both the living room and dining room, which featured a playpen in the corner.
The kitchen, however, offered less freedom. As you can see at the 1:49 mark in this video tour, there was just enough space for a table, three chairs, Bill's high chair, and a few basic appliances:
So how did they get around the stark shortage of cabinets?
By using their vertical space, just like Rose Kennedy (and tiny-apartment dwellers Mary Helen Rowell and Grayson Altenberg).
Skillets, baking pans, and an enormous copper bowl all hung from pegs along the wall in Bill Clinton's boyhood home. Pegs or a mounted rack can do similar wonders for your cookware.
Even a magnetic knife strip, like this one from IKEA, can change your culinary game.
Lesson 6: Be strategic about your house plants.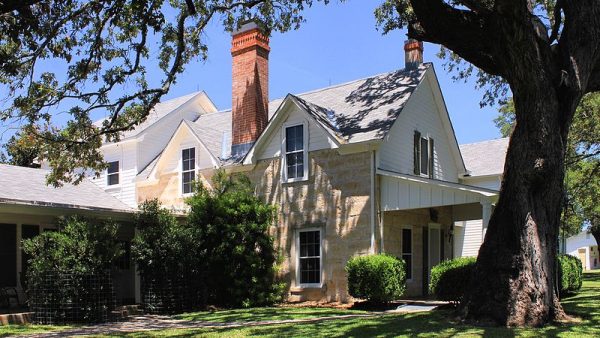 President: Lyndon B. Johnson
Home: Lyndon B. Johnson National Historical Park in Stonewall, Texas
The 36th president first acquired the "LBJ Ranch" or "Texas White House" in 1951 when his aunt gave him her rundown ranch.
Lyndon B. Johnson had his eye on the property since his teenage summers spent on the range, and he quickly built out the place into a folksy retreat from his demanding political life.
While he was president, Johnson hosted other past presidents like Harry Truman, John F. Kennedy, and Richard Nixon at the ranch. Guests could expect to receive a tour of LBJ's prized Hereford cattle in the Show Barn. Or a terrifying dip in the lake.
The prankster president was fond of scaring visitors with his Amphicar by driving off…into the lake…without warning.
But it wasn't all fun and games. If an important call came in for anyone, they could get down to business: Johnson had around 300 phone lines installed in his Texas ranch.
The Johnsons were obviously nature lovers, so they decorated their home with all kinds of greenery. They didn't just load down every table with a sprawling fern. They were strategic.
A small cactus on the desk here. A basket of wildflowers on the sitting room table there. And a much larger potted plant on the fireplace hearth.
Look for houseplants in a variety of sizes, suited for a variety of surfaces in your home. That way, you can keep your place nice and green without sacrificing too much counter space.
Lesson 7: Invest in extendable furniture.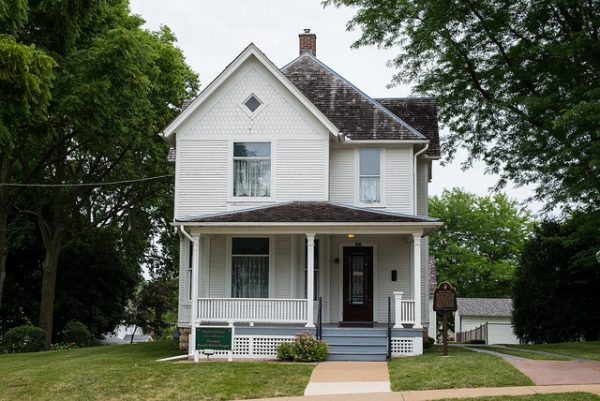 President: Ronald Reagan
Home: Ronald Reagan Boyhood Home in Dixon, Illinois
The Dixon, Illinois home where teenage Ronald Reagan lived is nothing like the $15 million Bel-Air mansion he would later share with his wife Nancy. But since you probably don't need advice on maintaining giant swimming pools, let's talk about the 40th president's childhood house.
Four Reagans occupied the two-story home: Ronald, his parents Jack and Nelle, and his older brother Neil. The boys had one bedroom, Jack and Nelle had another. There was also a kitchen, dining room, two parlors, and a sewing room.
Although the family only lived there for three years (the Reagans moved a lot), Ronald seemed to have a special attachment to this particular house. "All of us have a place we go back to; Dixon is that place for me," he wrote in his autobiography.
What made the place so magical?
Well, the Reagan matriarch probably had something to do with it. By all accounts, Nelle Reagan was an industrious woman, and it shows in her kitchen.
The tops of her cupboards and ovens are home to kettles and creamers. And her space-saving table is home to our jealousy. The table seemingly fits only two, but snap up the leaves and you can feed the whole family.
Look for extendable furniture that can stretch space constraints in your home as well. Search for tables with drop leaves, desks with pull-out panels like the tables in Carmel Place, and even futons that turn your living room into a makeshift guest room.
Bonus Lesson: MakeSpace takes care of all your storage needs.
Home: Your own
You might admire Rose Kennedy's
interior decorating
, but you don't have a spacious beach "compound" to accommodate all your belongings.
Heck, you (and us) would settle for an apartment with an actual dining room.
Good news: You can still live like a president in cramped quarters. All you need is MakeSpace.
Schedule a pickup and we'll pick up your extra furniture, kitchenware, luggage and anything else that's taking up valuable room in your home.
Then, we'll transport everything to our secure, temperature-controlled storage facility. We'll even create an online photo catalog of every item so you always know what you have in storage.
But that's not all.
When you want something back from storage, you don't have to drag yourself to a storage unit way across town. Just log into your MakeSpace account, select the item's photo, and we'll deliver it to you.
You may never win a presidential election. But with MakeSpace, you can win the endless campaign for more space in your place.
Top image via Wikimedia/Scewing