When it comes to home storage solutions, floating shelves are about as good as it gets for three reasons:
Floating shelves take up zero square feet.
They're absolutely gorgeous.
But there's just one problem:
So many wall shelves are DIY, and you don't always have the free time to build them.
Sometimes, you just need a quick fix.
Below are 15 breathtaking floating shelves that are already cut and stained. Which means the only thing you actually have to do is mount them to your wall.
1. Bamboo Three-Tier Floating Shelves by Lipper International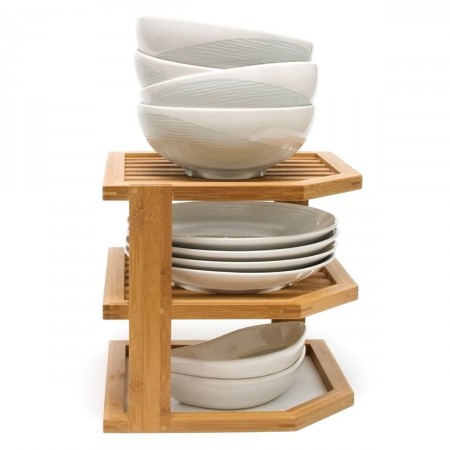 Price: $16.69
Here's a great kitchen storage hack: not having to build one. And the three-tier floating shelf by Lipper International is a prime example.
Made from sleek and sustainable bamboo, this 10" x 10" x 9.5" shelf fits nicely into a corner to keep your dishware safe and handy at all times.
2. SKOGSTA Wall Shelf by IKEA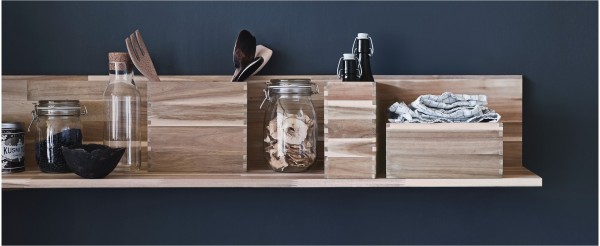 Price: $34.99
Hailing from SKOGSTA, one of IKEA's newer lines, is one seriously beautiful natural wall shelf. Because its mounting is concealed, you can enjoy four feet of shelving that seems to emerge from your wall.
3. Cubist Wall Display floating shelf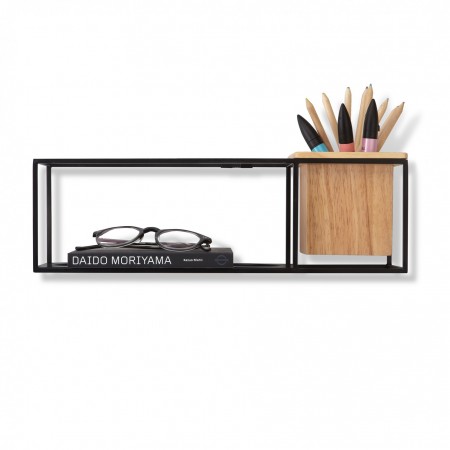 Price: $40
If your home office is looking to hire a CTO (as in, Chief Tiny Organizer), the cubist wall display from Erika Kovesdi is the #1 candidate.
This wire floating shelf is simple, affordable, and minimal, and will free up your desk space while looking sharp. And for only 10 bucks more, there's a larger option that has space to store a tiny plant:
4. Fungi Shelf from Gridy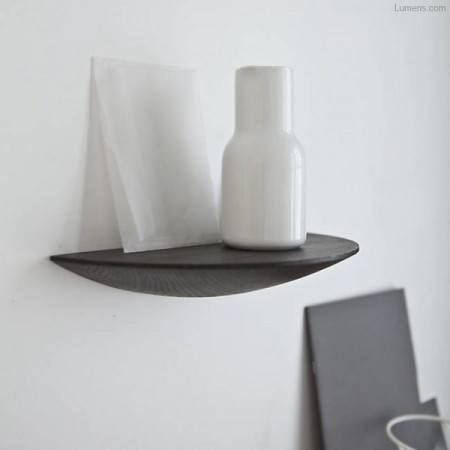 Price: Starts at $54.95
These elegant little wall shelves blend into their surroundings like their natural inspiration:
Tree mushrooms.
Their slight curvature appeals to your eye, enhancing your decor while offering functional storage space that comes in small, medium, or large size.
For the full "fungus that grows horizontally on trees" effect, cluster and stagger five of these stunning shelves at various heights, like this: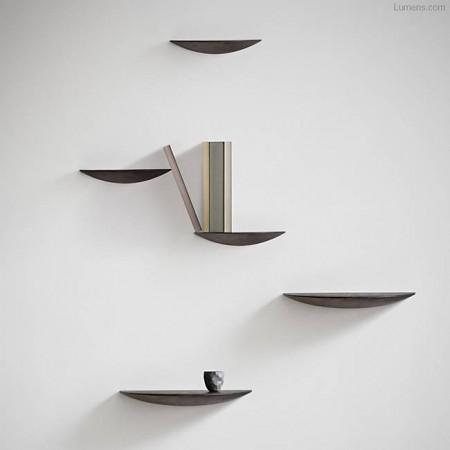 5. Marble Wall-Mounted Shelves from CB2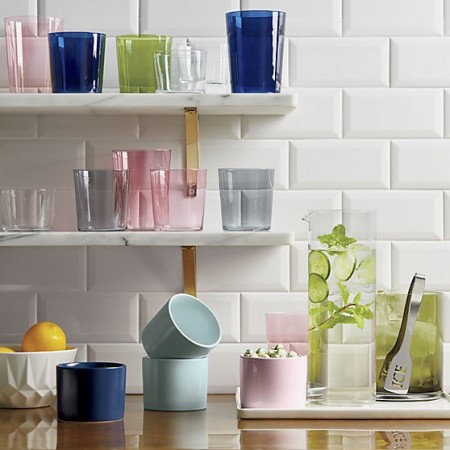 Price: $59.95
CB2 carries a nice selection of affordable wall-mounted shelves and this marble piece is definitely one of their prettiest.
Cut from solid rock, the wall shelf's clean stone and brass brackets will add a touch of elegance to your kitchen, living room, or bathroom walls.
6. Rustic Pipe Floating Shelf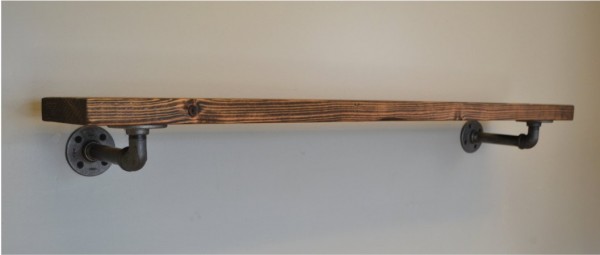 Price: $79
Sure, there's a bunch of pipe floating shelves floating around on Pinterest that you can DIY. If you have the time.
Since you sometimes don't, you can DIY nothing and order this prefab rustic industrial pipe shelf on Etsy instead.
Numerous sellers offer industrial floating shelves, but the one you see above is one of our favorites. Available in weathered grey, dark walnut, or ebony, this  36″ x 7.5″ x 2" floating shelf easily stores three feet of books and comes with zero buyer's remorse.
7. Coffee and Tea Shelf from (del) Hutson Designs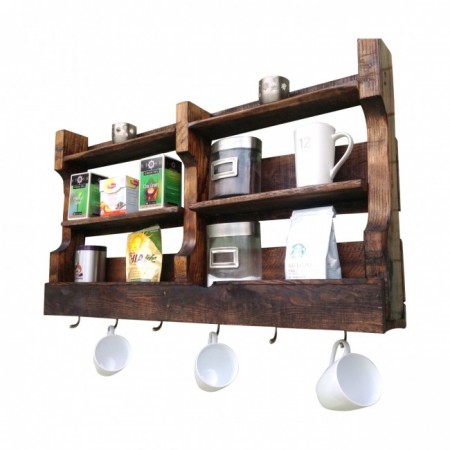 Price: $105
If coffee or tea is among your deepest pleasures in life, we found your storage soulmate.
Its name: Coffee and Tea Shelf.
Its parent's name: (del) Hutson Designs.
Handmade with reclaimed wood from pallets, fences, and barns, this floating shelf offers appropriately earthy storage for your appropriately earthy morning ritual.
And in the event that ritual includes DIY-ing creative storage solutions in your spare time, check out our list of cheap and easy wood pallet projects that will revitalize your home.
8. Wall Bar with Fold Down Shelf by BSEID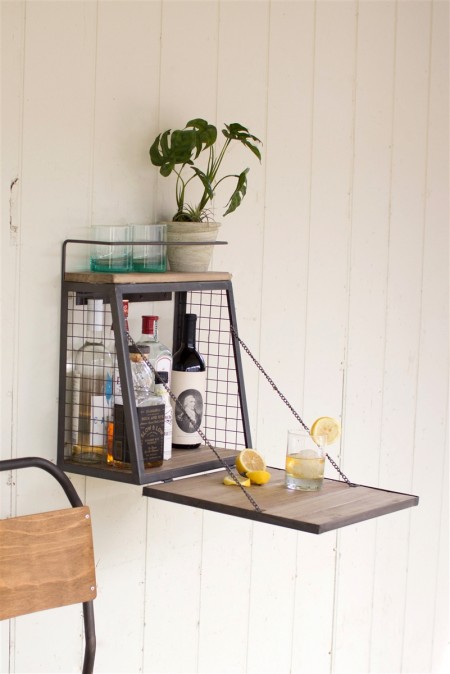 Price: $110
By now you're well aware that wall storage isn't just for books, pottery, and keys. But did you know that wall storage can also function as a bar?
That's right, this wall-mounted shelf/mini bar from BSEID offers storage space for your favorite spirits and a fold-down shelf where you can hone your speakeasy mixology skills.
Just install, stock, and release your raucous bacchus.
9. Laurel 3-Piece Wall Shelf by IMAX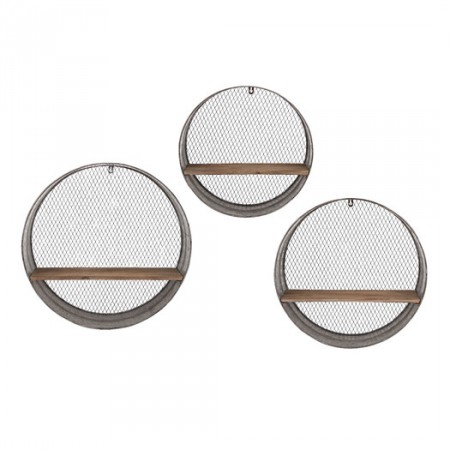 Price: $143.99
Does your apartment crave a little splash of French Farmhouse decor?
Quench its thirst with these circular wall shelves that, despite what its manufacturer's name might lead you to believe, do not transform into IMAX theaters.
They do, however, come in a set of three wall shelves and range from 16.25″ to 21.25″ in diameter, making them perfect hallway or kitchen storage solutions. Which is wonderful, especially if you're looking for smart ways to save a ton of space in your kitchen.
10. Bloomingville House Shelf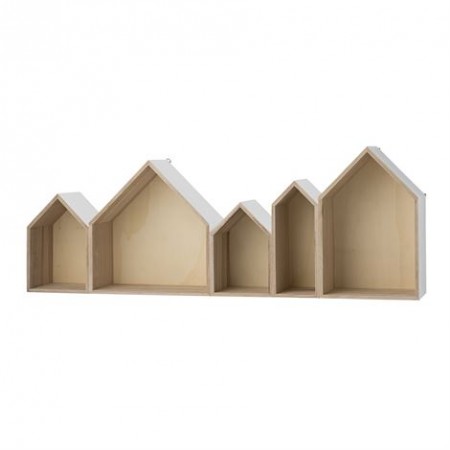 Price: $150
For a more playful design, consider the House Shelf from Denmark-based Bloomingville.
Sporting clean lines typical of Scandinavian design, these five house-shaped floating shelves stretch out over three feet. They offer unique and practical storage for tiny, happiness-increasing plants, trinkets, and toys.
11. LiliLite floating shelf
Price: $142
While you're shopping across the pond, consider LiliLite, a floating shelf that's beautiful and one of the best book storage hacks we've ever seen.
If you love reading but don't have room for a nightstand, add a LiliLite above your bed. Its zig-zag body offers storage space for your books while its built-in lamp illuminates the pages of the book you're currently reading before bed.
 12. Curio Shadow Boxes by Sierra Living Concepts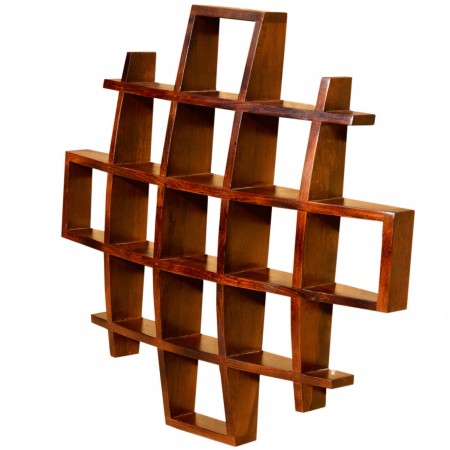 Price: $199
This solid Indian Rosewood wall shelf is as much a piece of art as it is a piece of practical storage. Billed as curio shadow boxes, these cubicles could store anything from mementos and makeup (here are 11 more beautifully easy ways to store makeup), to small plants and books.
Not sure what books should stay in your home?
Here's how to decide what books to keep or get rid of.
13. Floating Mid-Century Cabinet from West Elm
Price: $249
What's a cabinet but a set of shelves with walls, a ceiling, and doors?
While this beautiful cabinet from West Elm floats like the best of floating shelves, it adds a distinct mid-century style that few other pieces can invoke.
With three feet of storage above and below, and hanging hardware included, this cabinet arrives ready to create space.
14. Franklin Shelf from Tronk Design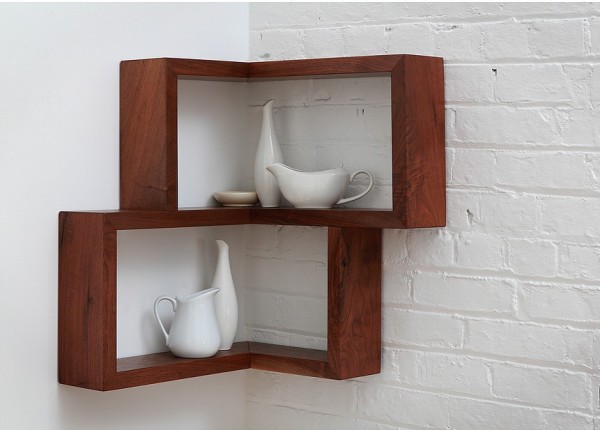 Cost: $400
Made with love in the US, this little floating shelf was nominated for a design award for good reason:
It helps you MakeSpace for storage in the least-used, but perfectly usable, section of a room — the corner.
Tronk doesn't sell their products themselves, but you can find a lot of their retail partners, like YLiving, by contacting Tronk.
15. Up on the Wall shelves from Bent Hansen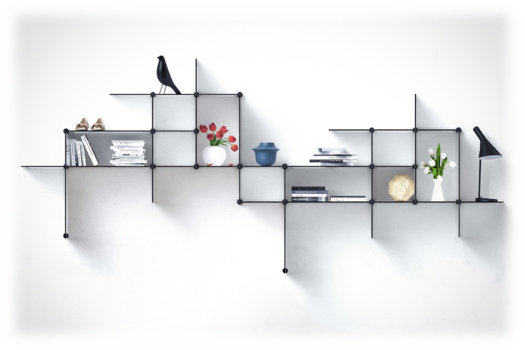 Price: Contact Bent Hansen
Made from compact laminate, these white or black floating shelves from Bent Hansen can be as simple or complex as you'd like.
Sold in single units, these long (about 30") or short (about 23") shelves are sleek and inconspicuous. Yep, even if you mount them to your wall in a geometric Snake-like pattern.
Top image via ArchVisuals and Design Milk.
This article was written by David Michael McFarlane, a writer from Texas and Oregon who lives in New York and loves smart design and organization.