Your makeup and other beauty products play a major role in starting your day. Which is why they deserve equal attention with regards to putting them on display. So, here are 11 makeup storage and organizing ideas that'll help you stay easy, breezy, beautiful — every single day:
1. DIY a magnetic makeup storage board.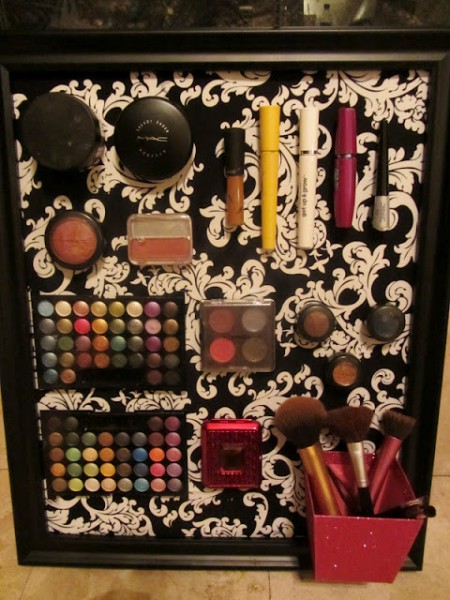 Makeup bags are far cuter than they are convenient. So why spend time sifting through your bag to find a specific lipgloss when you can save time (and space) by storing your makeup on this DIY magnetic makeup board that also primps your walls?
2. Store eyeshadow singles and MAC Paint Pot jars in a bead organizer.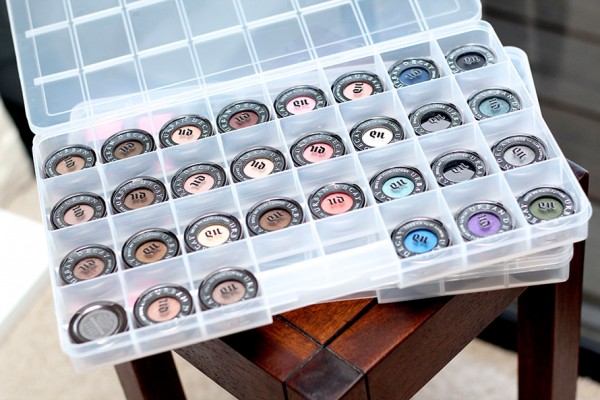 Rather than letting your old bead organizer collect dust in your closet, let it collect your eyeshadow singles and Paint Pot jars.
The result: a huge makeup palette that's transparent, lightweight, and best of all, free.
3. Upcycle an old mail organizer into a makeup organizer.
The postal system is quickly transitioning from print to online, but before you throw out your retro mail organizer, give it a makeover.
All you have to do is cut and stick decorative contact paper onto the mail organizer and bam, you have a brand new makeup organizer that embellishes your bathroom counter before its cosmetics embellish your face.
4. Take your makeup and other beauty products for a spin in a cosmetic carousel.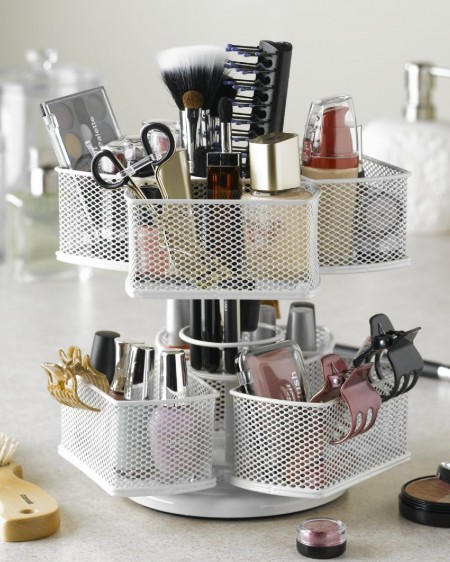 Basically a Lazy Susan on steroids minus the rage, this cosmetic carousel makes organizing and storing your makeup almost as thrilling as riding an actual carousel. Emphasis on the "almost."
5. Build makeup storage into your vanity table.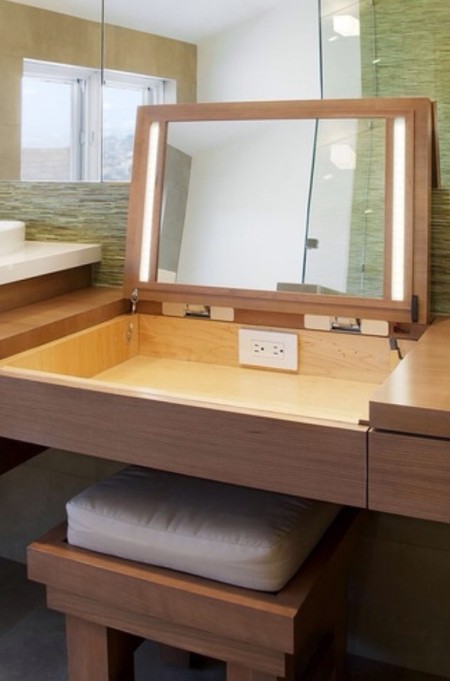 Hidden storage space isn't just for sailboats, the YO! Home, the Unfolding Apartment, or the LEGO-style micro-apartment. Take this hidden makeup vanity table for example.
First, it's as charming as your natural beauty routine. Second, the hidden makeup vanity table helps you wake up to everything you need and leave the house not only feeling more confident, but also clutter-free.
6. Upgrade an old picture frame into a makeup-organizing picture frame.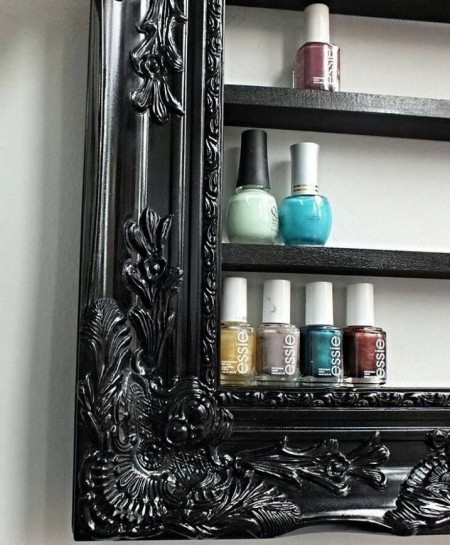 Just because Instagram exists doesn't mean that it's time to toss your picture frames. In fact, what makes for an old photograph storage solution makes for one ornate makeup storage solution.
Simply add shelves to a picture frame, hang the frame on the wall, and then fill the storage shelves with nail polish bottles and other cosmetics that no longer need to inhale any table space.
7. DIY a Mason jar makeup brush holder/air freshener.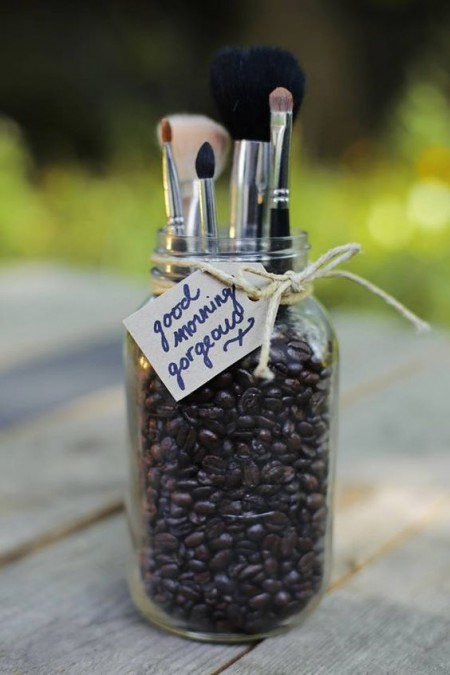 You already know that Mason jars are the new wood pallets. But did you know that they're also the new makeup brush storage solution that you can easily make at home in seconds?
That's right. Grab a spare Mason jar from your cabinet, fill it with coffee beans until they reach the bottom of the jar's neck, poke your makeup brushes inside, and guess what?
What?
The best part of waking up is no longer Folgers in your cup. It's Folgers in your Mason jar that doubles as a makeup brush holder and triples as a remarkable air freshener/bad-perfume-and-cologne neutralizer.
8. Roll your makeup brushes into a sushi mat.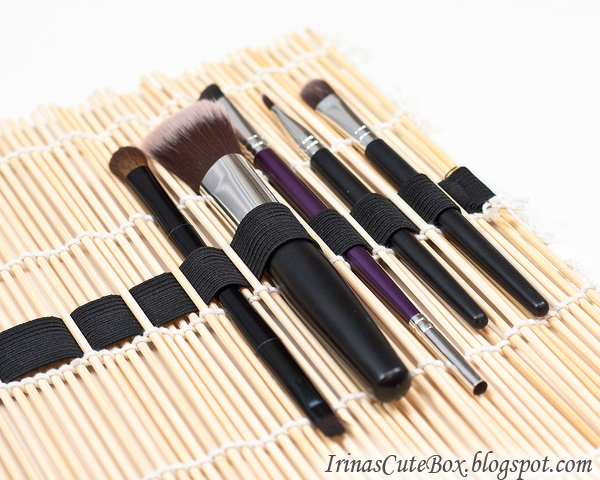 Who knew that the tool responsible for shaping our favorite lunch (ok, and our favorite dinner) could also be responsible for keeping our favorite makeup brushes organized 24/7/366?
9. Organize and store your makeup in leftover gift boxes.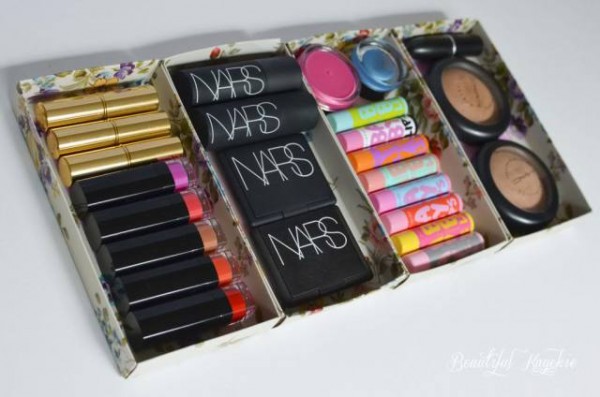 Have some gift boxes leftover from these holiday decoration storage hacks?
Don't recycle them. Reuse them. Toss your lipstick, blush, highlighter, mascara, bronzer, and eyeshadow inside the gift boxes. Then, savor your new privilege of waking up every morning feeling like it's Christmas.
10. Transform a cake stand into a makeup stand.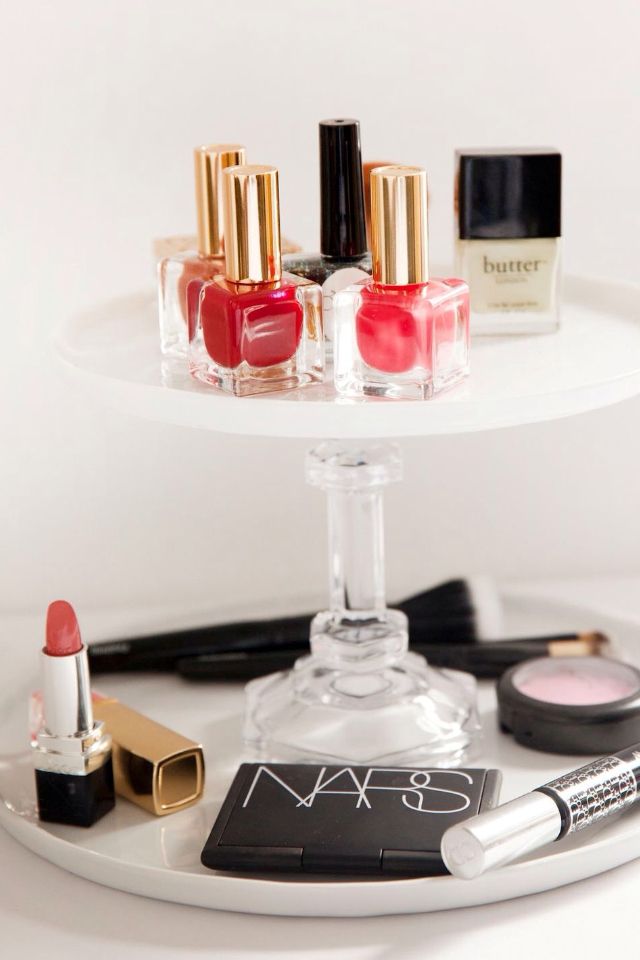 Once you've had your cake and eaten it too, transform your cake stand into a makeup, nail polish, and perfume stand.
Milk? Not included. Major props? Definitely included.
11. Organize and store eyeshadow jars in ice cube trays.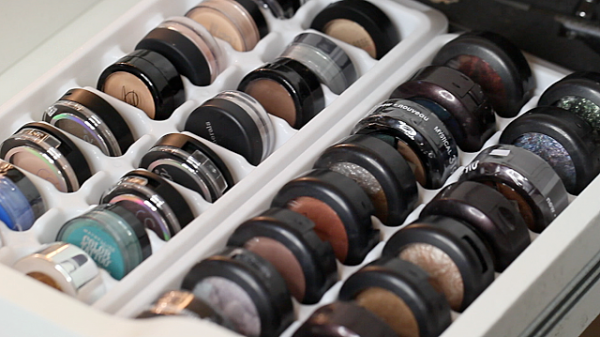 This one is self-explanatory and flawless. Just like your makeup game. 🙂