Bathrooms are the smallest rooms in any home, and they're also usually the messiest. Even though you're not a hoarder, it's easy to let all the products that keep you clean and presentable stockpile under your sink or inside your cabinets.
Next thing you know, your bathroom is drowning in toiletries. And you're googling "is it safe to take expired NyQuil?"
It doesn't have to be that way, though. Organizing everything is easier than you think. Especially if you follow these 12 extremely easy ways to declutter your bathroom:
1. Declutter your medicine cabinet.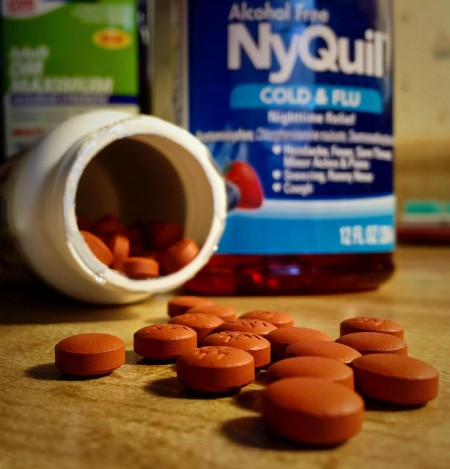 Is there expired NyQuil or stretched-out scrunchies in your medicine cabinet?
That's stuff you shouldn't use, and it's taking up valuable real estate. Chuck those items pronto.
2. Only keep products you use daily in your bathroom.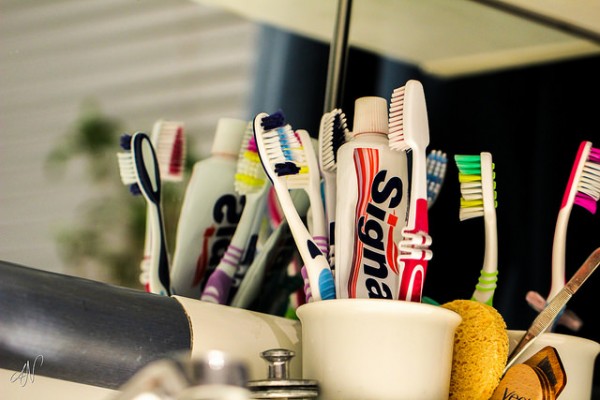 First-aid supplies are important, but you're not sterilizing cuts and icing bruises every day.
Separate out the stuff you do use each day (shampoo, toothbrush, toothpaste, etc.) from the stuff you don't (Neosporin) and find a new home in your closet to store the second group.
3. Store hair dryers and straighteners in a file organizer.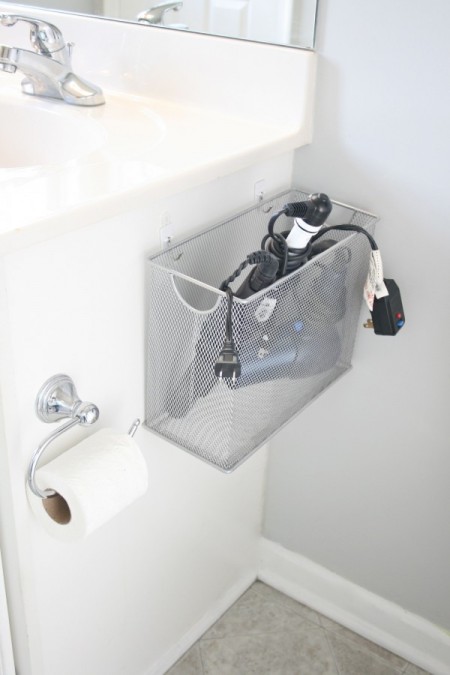 Hair care appliances can easily claim half the space under your sink if you're not careful. Attach a file organizer or magazine rack to the side of your bathroom sink, or to the inside of a cabinet door, and store your dryer and hair straightener inside.
You can also pick up a bathroom organizer from a place like The Container Store and then mount it on the wall or attach it to a towel rack.
What's that, "Super Mario" is more your style?
Take some cues from Pinterest and upcycle old plant holders or PVC pipes.
4. Attach a magnetic strip to the inside of your medicine cabinet's door.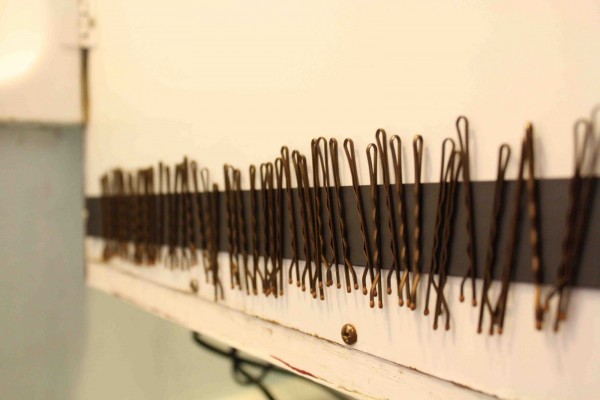 Where do you currently store your tweezers, bobby pins, nail clippers, and nail filer?
Inside jars on your sink? On your medicine cabinet's shelves? Or in a drawer?
Not anymore.
Free up that space by attaching magnetic strips to the inside of your medicine cabinet's door. Then, place the metal grooming supplies on the strips for easy, clutter-free access.
Alternatively, if you're into the magnet idea but want something more aesthetically pleasing, go Martha Stewart by sticking a sheet of precut galvanized steel to the back of your medicine cabinet and then attaching magnetic hooks to it.
5. Store makeup brushes and toothbrushes in Mason jars.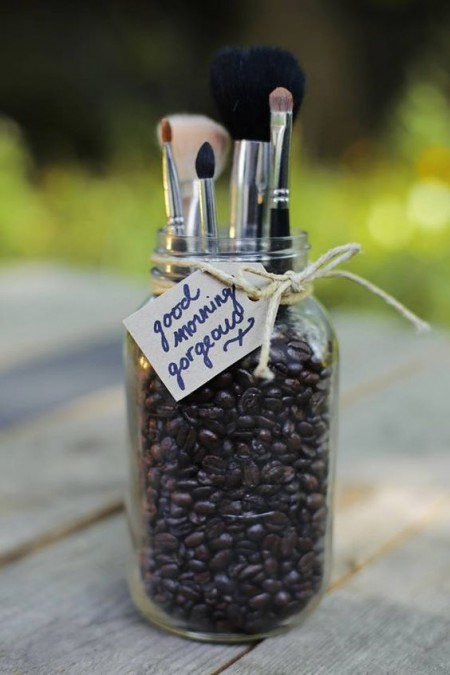 Mason jars seem like the answer to every one of your small item-storage problems. Including the predicament of not having enough space on your bathroom sink or shelf to rest your toothbrush and multiple makeup brushes.
Craving more creative makeup storage ideas?
Check out "11 Beautifully Easy Ways To Organize And Store Your Makeup."
6. Install a shelf above your bathroom door.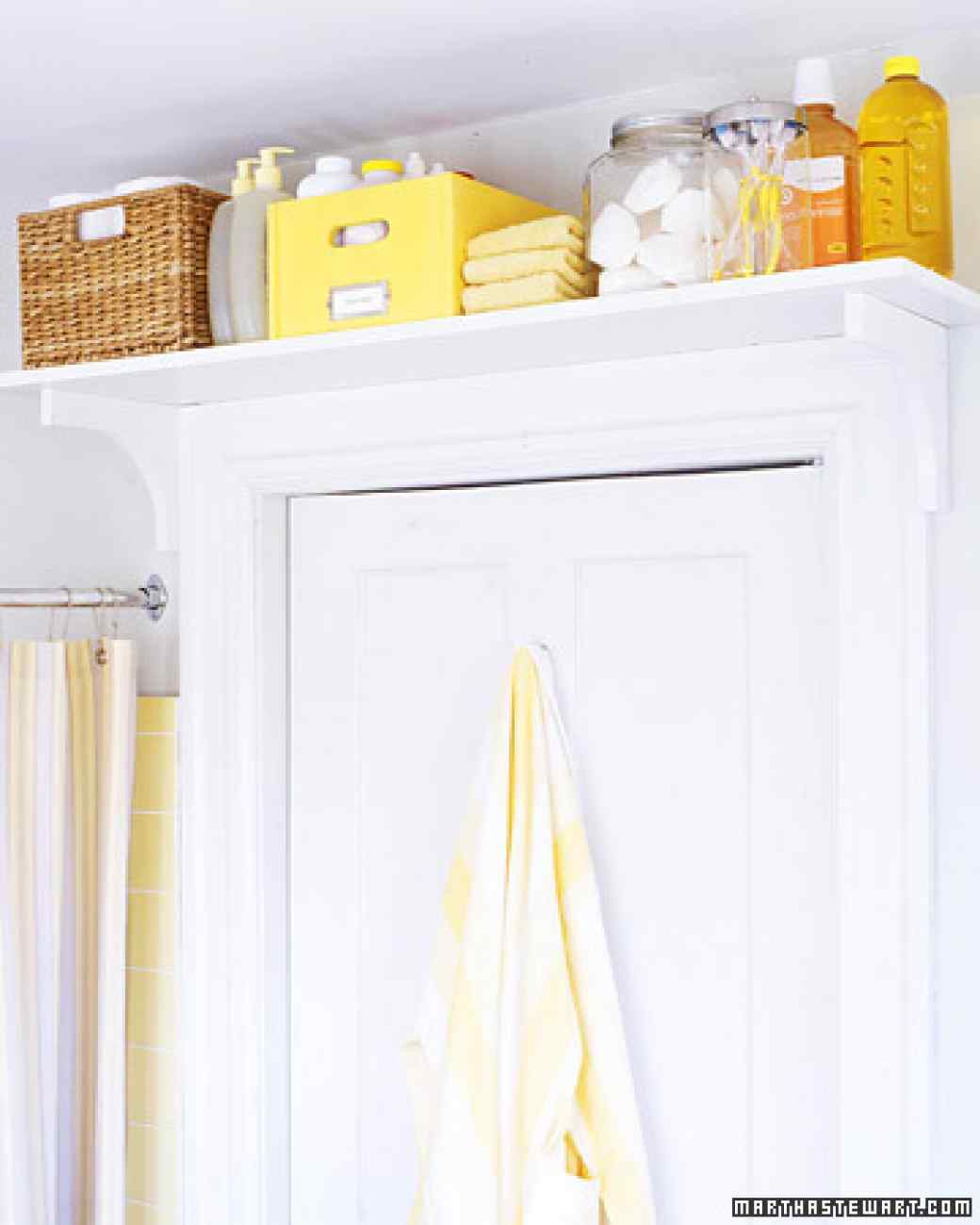 You probably already thought to put some hooks over your bathroom door to store towels. (If you haven't, get on that.)
But did you know that you can also turn the top of your door into an extra mini storage unit?
This is another brilliant bathroom decluttering tip from Martha, which means that it works and you should try it.
Secure a pair of wooden shelf brackets on either side of your bathroom's doorframe using wooden screws, attach a shelf to the brackets, and then store extra toilet paper rolls, soaps, shampoos, and any other grooming supplies on the shelf.
The top of your door's molding will help support the weight. So you don't have to worry about your collection of bath salts avalanching on top of you every time you close the door.
7. Declutter your bathroom drawers with a tray organizer.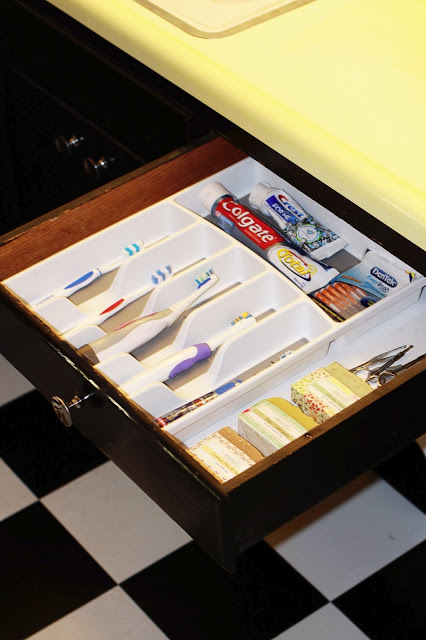 Drawers are often the biggest disaster zones in a bathroom. Just think about how much time you've spent rummaging around for that one red tube of lipstick.
Add some dividers, or a plastic utensil tray like Cosmopolitan recommends, to your drawer to cure that headache.
8. Lean a ladder against your bathroom wall.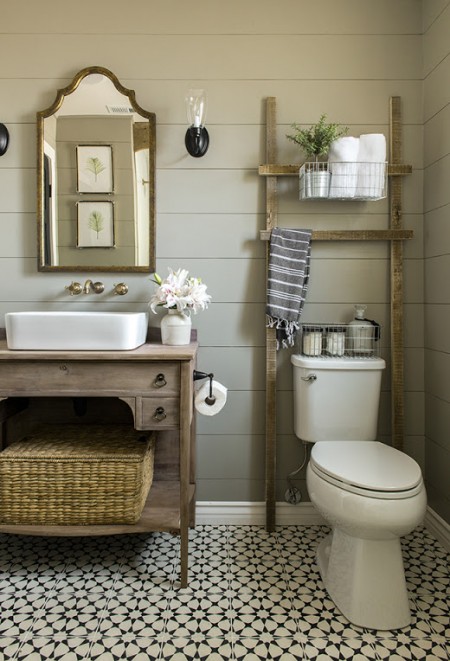 You can find all sorts of wooden cabinets or metal shelving units in stores or online, but of course there are plenty of DIY storage solutions as well. Including this rustic bathroom storage solution that's made from pieces of spare wood found at a lumber yard.
9. Hang cleaning products on a tension rod underneath your sink.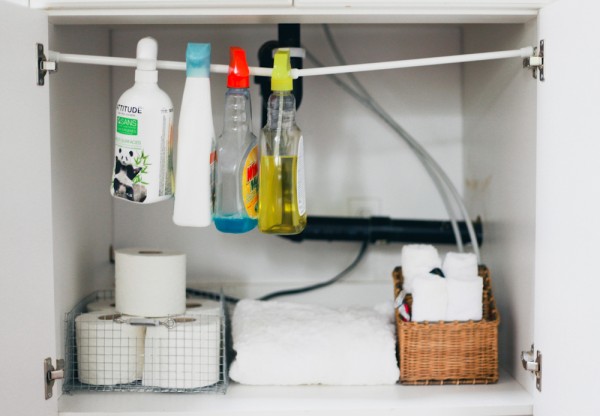 Tension rods are great for more than just hanging your shower curtain. Place a tension rod underneath your sink and hang your Windex, tile scrubbers, and other bathroom cleaning products on it.
The result: extra storage space in your cabinet and extra space on your floor. All for only a few bucks.
10. Attach a spice rack to your bathroom wall.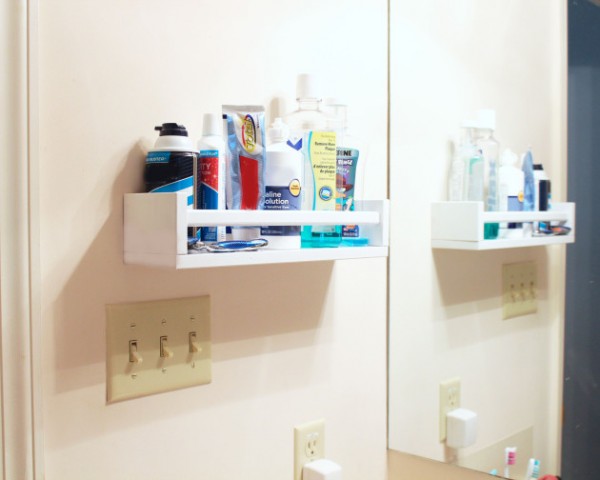 Attach an IKEA BEKVÄM spice rack to the wall that's next to your bathroom mirror and stash your assorted gels, creams, sprays, solutions, and scrubs inside. Because if it's good enough to store your oregano, it's good enough to store your moisturizer.
The best part: It'll only cost you $4.
11. DIY a shower shelf.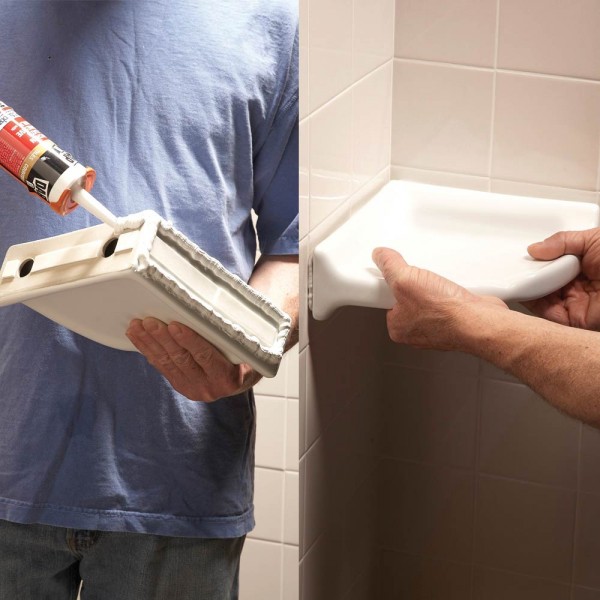 Is the top of your tub the only storage space you have in your shower?
Not anymore.
This hack from The Family Handyman will give you some much-needed shower storage. It requires a flat-back corner shelf unit (available at tile stores for roughly $20), double-face foam tape, and silicone caulk.
You'll need to clean off the shelf and test-fit it before you seal it with the tape and caulk, but once you complete the prep, you'll have a new home for your loofah, shower gel, shampoo, and shaving cream.
12. DIY a TP holder/shelf.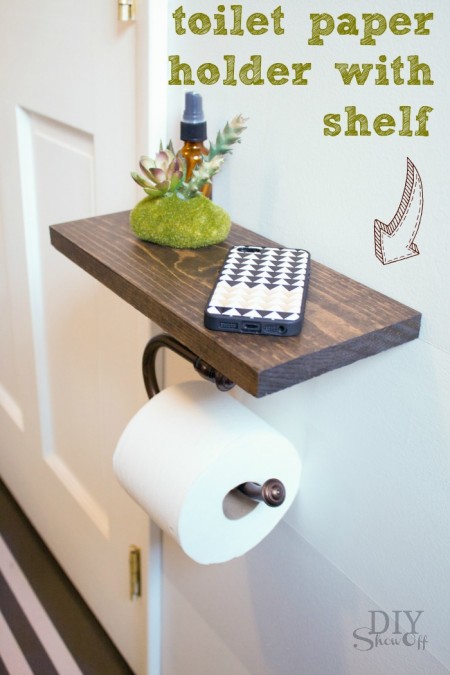 This tiny shelf is a Pinterest favorite. And while you could use it to store your TP, tiny plant, iPhone, and air freshener, most people seem to see it as a haven for bathroom literature.
Want more easy DIY ideas for decluttering your bathroom?
Check out our huge list of 42 bathroom storage hacks that will upgrade your life. And don't forget to clean these 10 things in your bathroom that are a breeding ground for bacteria, germs, dirt, dust, and more.
Want to declutter your home in the fastest and easiest way possible?
Schedule a MakeSpace pickup and pack the stuff you don't need. That's it. We'll pick up everything and store it in our secure and temperature-regulated storage facility.
The best part:
When you need something back, it's only a few few clicks at Clutter.com, or a few taps on the MakeSpace app, away.