If you like these bedroom storage hacks, you'll love our Top 8 shoe storage ideas
Bedroom storage hacks and solutions are a dime a dozen. A quick Google search will reveal a sea of storage ideas. So how do you know which storage solutions to DIY or buy?
You don't. But that's ok because we're here to help.
We sifted through tons of bedroom storage tips and products to bring you this huge list of 53 insanely clever bedroom storage hacks and solutions that you'll actually want to DIY or buy — without having to break a sweat or the bank.
The result: a more spacious and organized bedroom/home office/closet/storage unit because let's be real, we're all tight on space.
So read on, and unleash your bedroom's true storage potential. Plus, if Grayson Altenberg can maximize the space in his 100-square-foot micro-apartment, so can you.
1. Install shelves along the perimeter of your bedroom walls.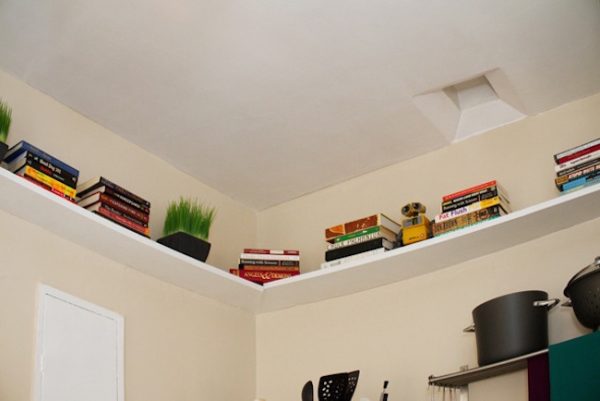 The least-used space in your apartment is prime real estate for implementing creative bedroom storage ideas. And no space is more unused than the 12 inches of wall below your ceiling.
Put that space to work by installing shelves along the perimeter of your bedroom walls, which will add dozens of square feet of storage space.
We like the clean design of these InPlace Floating Shelves.
2. Clip binder clips onto your desk and store cords in their arms.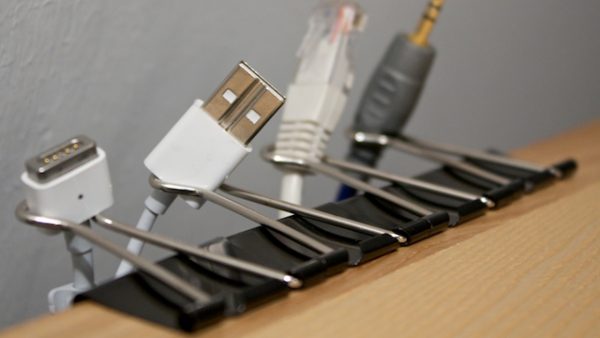 They may look sleek and be small, but your iPhone and MacBook cables take up more space than you realize. In fact, when they're tangled beside your bed, they're just clutter.
Organize those cables using a few binder clips. It's one of many storage hacks for small spaces that works well on its own or when paired with a DIY charging box.
We also love the sleek and colorful design of Poppin's Cable Catches.
What's that? You also want to keep your iPhone charger and headphones untangled while you're on the go?
No problem. Follow these four simple steps, store everything in an eyeglasses case, and be on your decluttered way.
3. Hang a clothes rack in the corner.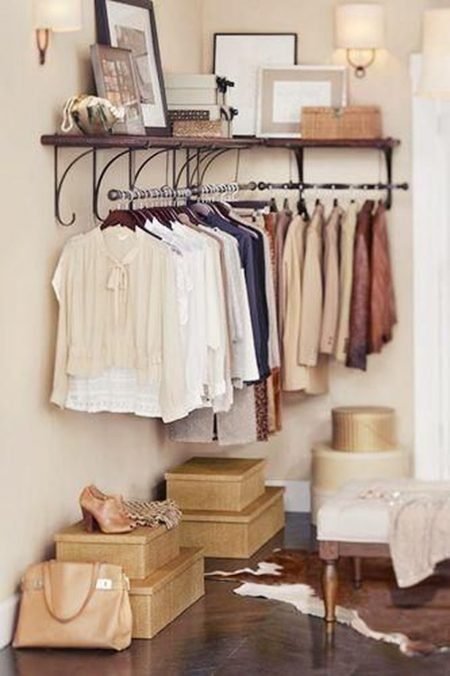 The bad news: Your closet, if you have one, won't grow on its own.
The good news: You can quickly make a closet.
How?
Glad you asked. Hang a clothes rack in any empty corner. Try the TLBTEK Industrial Clothes Rack.
4. Use crown molding as a shoe rack.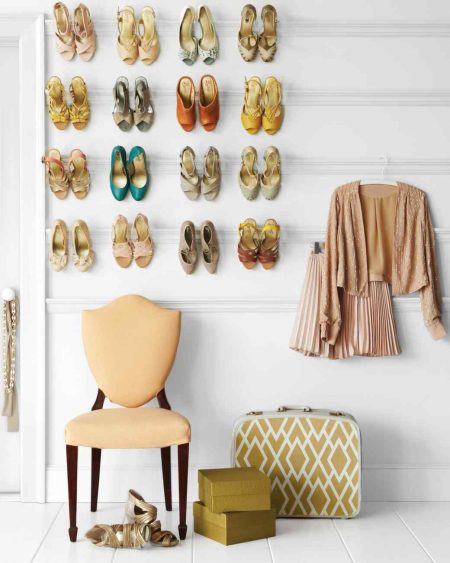 This simple bedroom storage hack will work best with heels, and look best if your footwear collection rivals Carrie Bradshaw's. Because their sole supports itself against the wall, your shoes will stay put on their own.
The best part: Crown molding is unobtrusive since it blends in with the wall. Kind of like the Indominus rex from Jurassic World, except not deadly.
Pick up crown molding from your local big-box hardware store, or order it from Amazon.
5. Opt for a headboard with storage.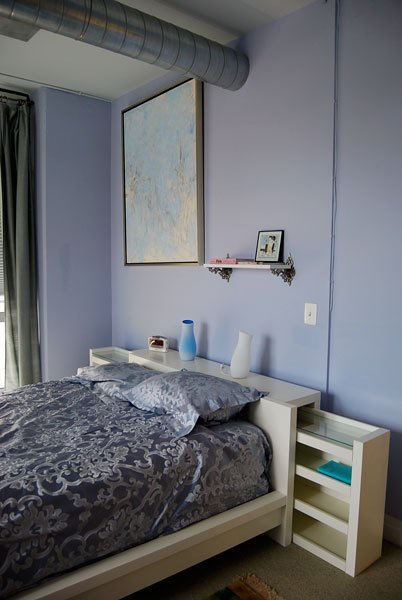 If your bedroom is more bed than room, look at it as a storage opportunity. You can adapt your bed to store many things, starting at the top.
Choose a headboard like the BRIMNES headboard from IKEA or the South Shore Vito Bookcase Headboard that gives you storage space for books, magazines, mementos, and spare light bulbs for your space-saving BULBING Lamp or LiliLite.
6. Hang your laundry hamper on the back of your bedroom door.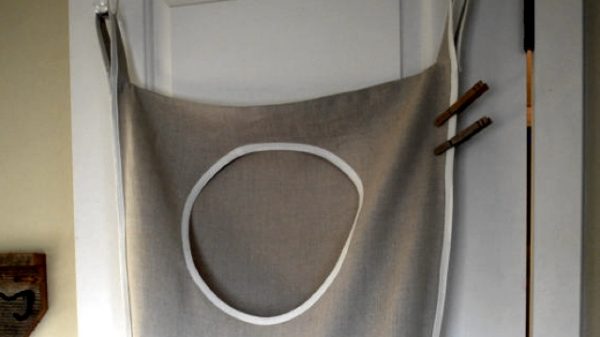 Your dirty clothes hamper doesn't have to take up three square feet on the floor. In fact, it shouldn't since you can buy a hanging hamper like the KEEPJOY Hanging Laundry Hamper.
Hang it on the back of your bedroom or closet door and relish all the floor space you just saved.
7. Use your radiator for shelf space.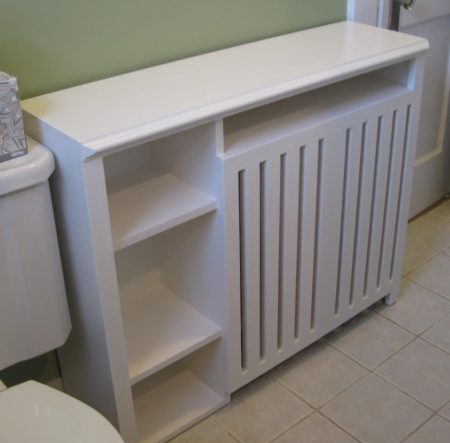 Since we can't live without them three to five months a year, we might as well use our radiators for storage.
DIY-ing a radiator shelf or buying a cover is a good idea for safety and aesthetics. And if you buy one with attached shelving like the vidaXL Radiator Cover, you'll get some extra storage space out of it too.
8. Store your yoga mat on the wall.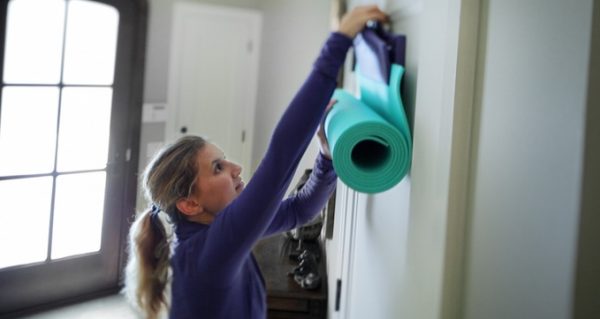 Sure, yoga mats roll up nicely into a soft cylinder, but that's still a cylinder you have to store somewhere.
You could build a little shelf for it. Or you could install a Namaste Yoga Mat Hanger behind your bedroom door.
9. Buy a bed frame with drawers.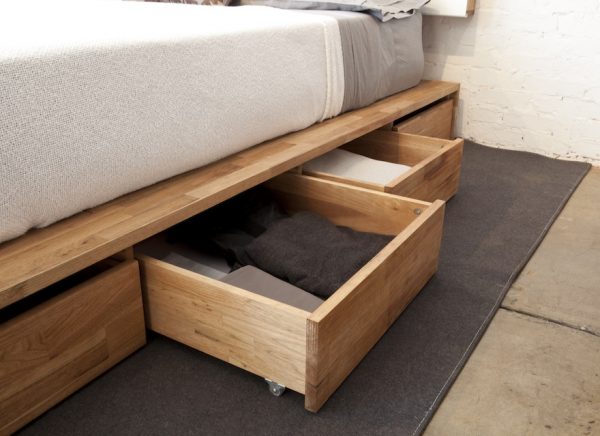 Storage beds are one of the most obvious storage hacks for small bedrooms, but they're also among the best. While every kind of space-saving bed will open up space in your bedroom, storage beds can give you as many drawers as a dresser. We like the upholstered look of the Kelly Panel Bed Frame by DG Casa.
Whether you use those drawers for storing clothes, files, or your movie collection is entirely up to you. And maybe also your significant other.
10. Build a staircase/bookcase.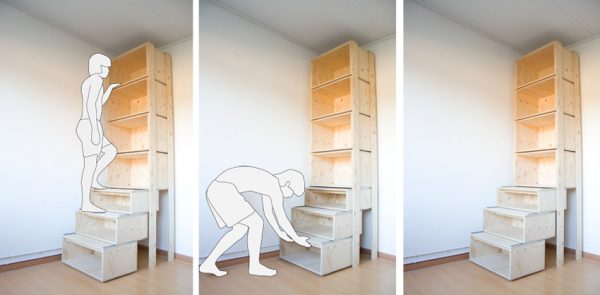 In real life, or on HBO, we've all seen those beautiful custom-built loft beds with bookshelf stairs. There's just one catch: Because they're feats of engineering, they can intimidate anyone who wants to replicate the design but has no idea where to start.
If you're handy and want to build tall shelving you can walk up, consider a shelf unit like the one above. It's simpler than a full bedroom project, and still gifts you with shelving up to the ceiling.
11. DIY a platform storage bed.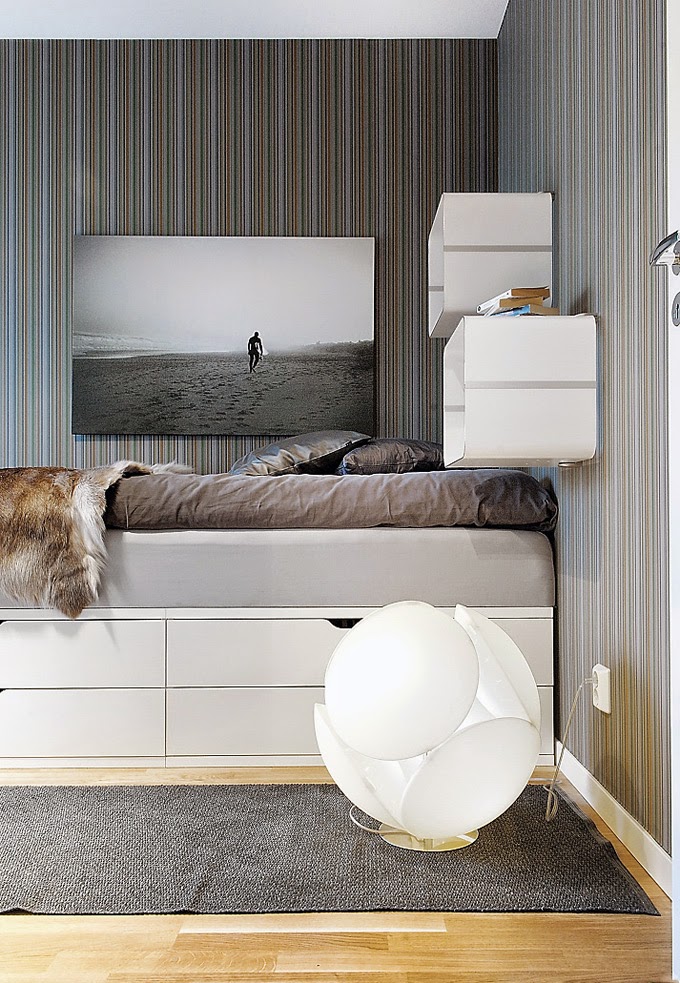 With a little creativity and a few extra screws, you can hack IKEA furniture into beautiful storage solutions. In fact, the platform bed above was made from just a few STOLMEN drawers.
As amazing as that platform bed is, though, that's just the tip of the IKEA-bedroom-hack iceberg. For plenty more bedroom IKEA hacks, look no further than one of our favorite sites of all time: IKEA Hackers.
12. Stack old suitcases to make a vintage nightstand.
Stacks of old suitcases can add a nice stylistic flair to your bedroom plus convenient storage for the things you need but don't use every day.
Your extra winter blanket, for example, can go in the bottom suitcase until the weather turns cold again and you need the blanket to beat cabin fever/build a fort.
Our favorite part: This storage trick doesn't require any construction. Just stack and store, and you're all set.
13. Hide your trash bin.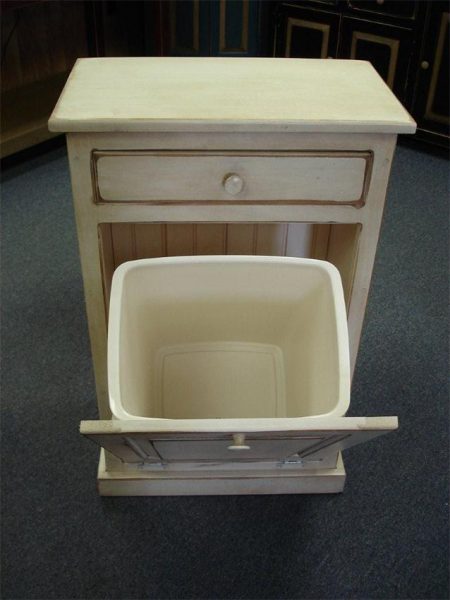 We all need to store our trash somewhere. The only problem is that any trash bin will eat at least a square foot of space. Until it doesn't because you're going to hide yours in a tilting cabinet like this one from U-Eway.
Not only will it keep your waste out of sight, but it'll also serve as a nightstand, filing area, or makeup counter.
14. Install a fold-down desk.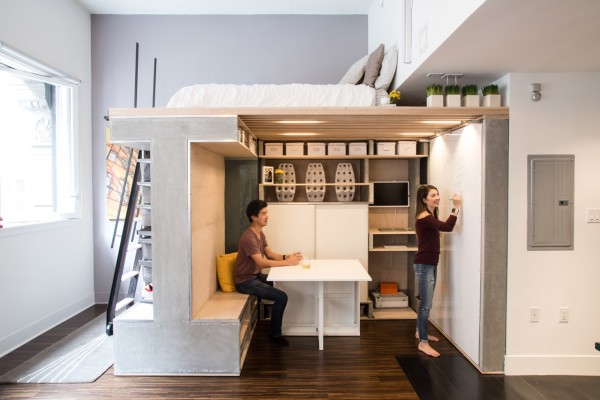 Here's a paradox: You need a desk but don't have room for a desk.
The solution? A fold-down desk like the one from the Domino Loft System that practically disappears when you fold it back up against the wall.
These desks come in all shapes, sizes, and styles. Some even have built-in storage for your office supplies like this Wall Mounted Table. They're a great storage solution for your bedroom, if and when you work from home. All you need is a chair, though the foot of your bed can do in a pinch.
15. Store your tank tops on shower curtain rings.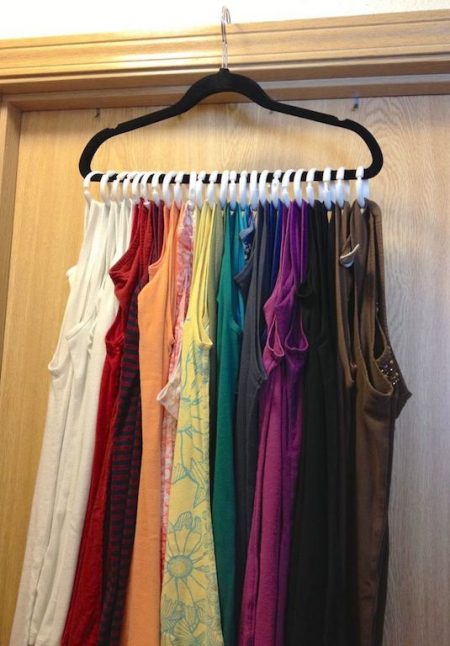 Your drawer and closet space is a precious commodity. If you have a lot of tank tops to store, save yourself the folding hassle by following these simple steps:
Step 1: Attach shower rings to a hanger.
Step 2: Hang the tank tops on the rings.
Step 3: Hang the entire storage solution on top of your bedroom doorframe
That's it?
That's it. You just cleared out a whole drawer, and you're still ready to bring the guns out when the sun's out.
16. Hang a cork wall for jewelry storage.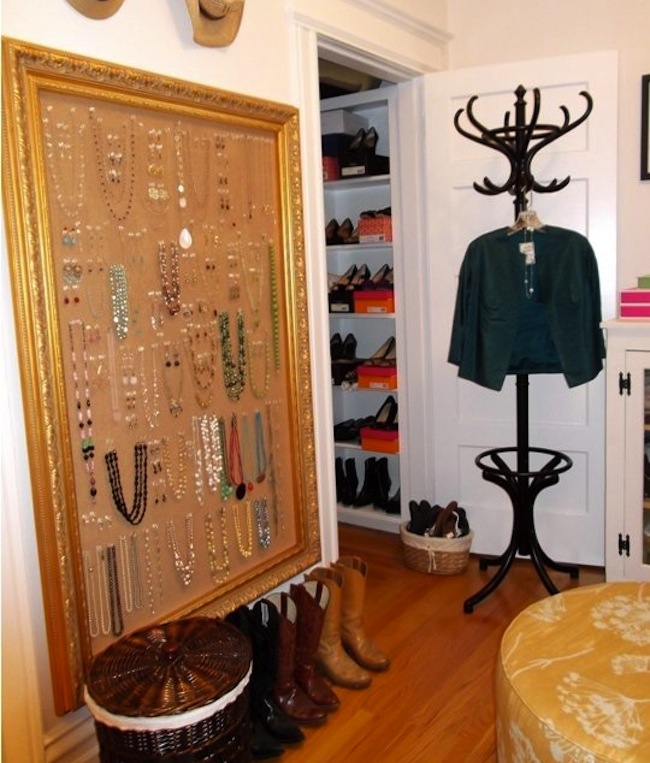 You may not have used cork board since elementary school, but you should, especially if you need jewelry storage.
This simple, sustainable material will keep all of your necklaces from tangling — without taking up more space than a picture frame. On its own, cork board doesn't look as elegant as some countertop solutions, but it can with a nice gilded frame. Or try an all-white option like this one from Amazon.
17. Velcro your hard drive to a shelf.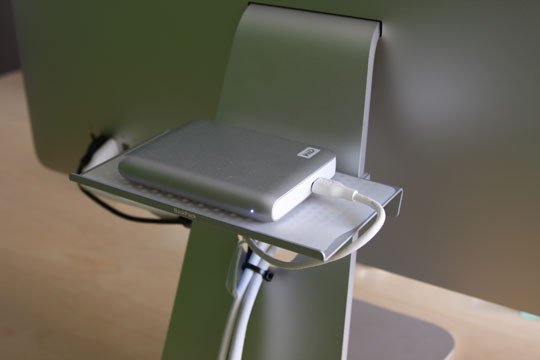 Regardless of how small your hard drive is, it still takes up precious desk or shelf space by just sitting there. You can quickly store your hard drive in the air, though, with a little Velcro.
Beneath your desk or on the underside of a shelf, this easy DIY storage hack can be used for your hard drive or anything else you want out of sight, out of mind.
Want the hard drive shelf pictured above?
Pick up a BackPack from Twelve South, clip it to the back of your iMac stand, and keep your hard drive out of sight but definitely not out of mind.
18. Hang pegs on the back of your closet door for storing shoes.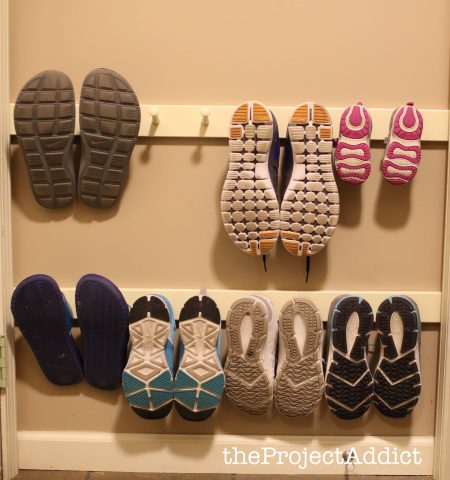 A shoe organizer does wonders for decluttering your home, but what if you prefer a more attractive storage option?
Build a pegboard shoe rack, attach it to the back of your closet door, or to the wall right above the floor, and hang your shoes on the pegs.
Required: a little elbow grease.
Not required: watching your shoes fall to the floor because a shoe peg board guarantees sturdiness.
(You can also cheat and buy a peg Coat Rack.)
19. Fold your bed sheets and store them under your mattress.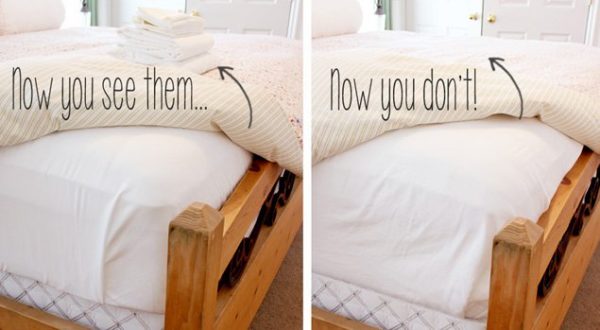 Sometimes the simplest storage solutions are the easiest to overlook.
Rather than add messy piles to your closet shelves or drawers, clean and store your extra sheets under your mattress. If you fold them well and put them at the foot of your bed, you won't feel a pea, much less a stack of sheets.
20. Add a few floating shelves.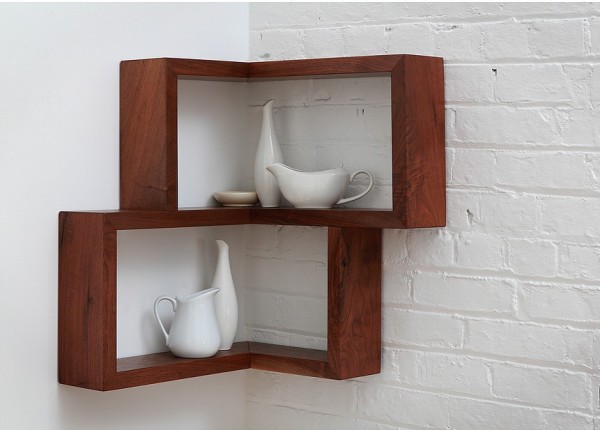 Floating shelves are an awesome bedroom storage solution. They free up floor space and allow more natural light to flow through your home, which visually expands your space.
Some floating shelves are DIY, but you can also choose from a bunch of prefab wall shelves like the Melannco Floating Wall Cube Shelves that just require a stud and screwdriver.
21. Give your pants their own rack.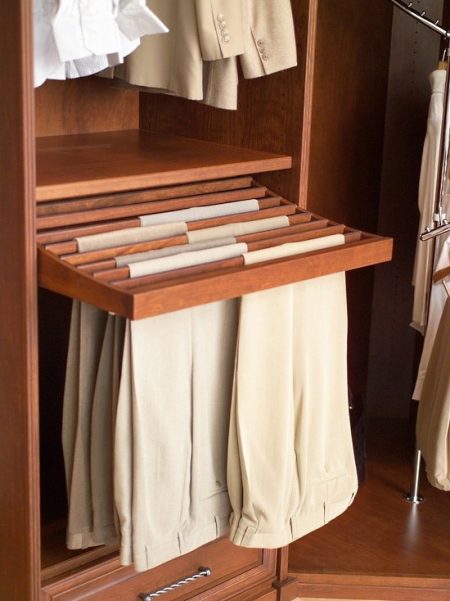 You shouldn't have to waste half of your clothes rod on hanging pants. And you won't, if you install a pants rack in your closet. These efficient storage systems keep the creases out while avoiding hangers.
That said, they're usually custom-built. If you don't have the carpentry skills and don't want to hire a contractor, invest in a few pant rack hangers. The principle's the same, though they're a little more difficult to access while you're dressing.
22. DIY a pegboard organizer and mount it to the wall.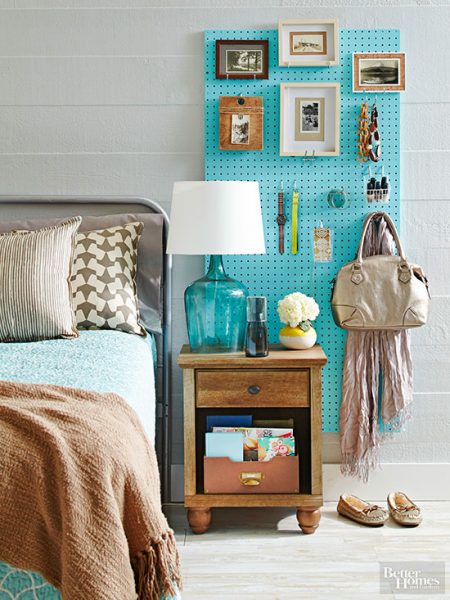 A fixture of any workshop or tool shed, pegboards can be beautiful bedroom storage solutions too.
With a little paint and a few screws, you can hang pegboards anywhere to store just about anything. Since they've been around so long and used so much, you can find many baskets, rods, and hooks tailor-made for the system.
23. Suspend your bicycle from the ceiling.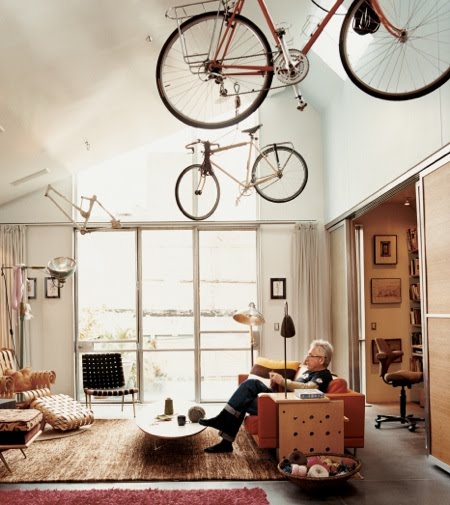 Bikes take up a lot of space, which you already know if your apartment building isn't blessed with a basement bike room.
We've seen many gorgeous bike storage solutions that hang your bike from the wall, but don't forget about the ceiling. Your unused airspace is begging to store your bicycle. Try the top-rated RAD Sportz Bicycle Hoist.
24. Build bookshelves from old dresser drawers.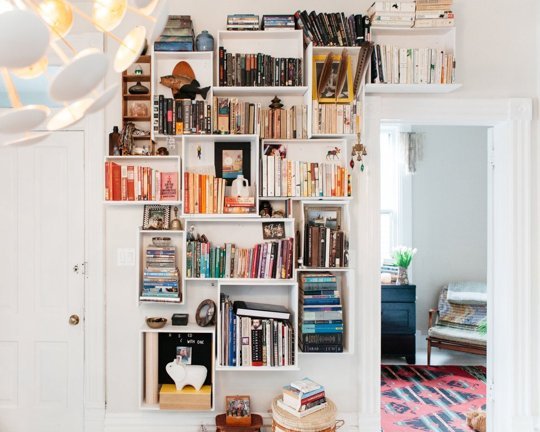 If the idea of DIY shelving terrifies you, consider this alternative book storage hack: Repurpose old dresser drawers into bookshelves.
You may have to hunt around on Craigslist or garage sales for free (or almost free) dressers. And if you do, you'll have the skeletal framework of a hanging shelf. Arrange the drawers however you want, and voilà, instant and interesting book storage.
25. Add hooks to the back of your closet wall.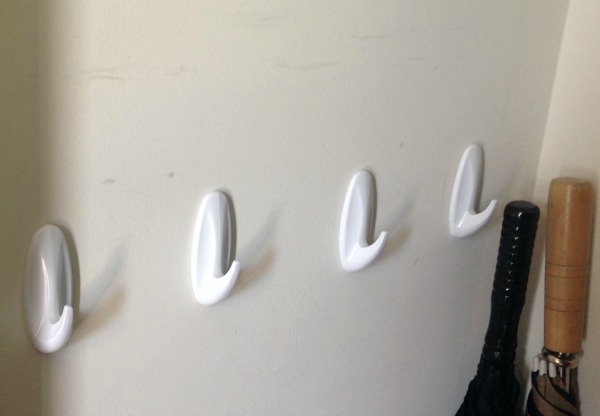 Behind your clothes rod stands a wall just itching to be used. But because it's usually covered up with clothes, you can't store items there that you need to access every day.
Surely, though, you have a few purses, messenger bags, or even coats that would fit on hooks behind the clothes rack. In fact, anything hangable can go back there, so install some hooks and have at it.
26. Maximize your drawer storage with drawer organizers.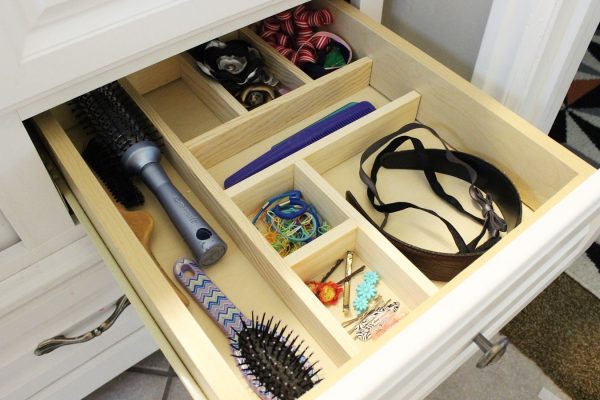 You already know modular desk organizers are great for organizing any kitchen or junk drawer. But did you know they're just as valuable in your bedroom?
Place one in any desk drawer, or in any dresser drawer that doesn't hold stacks of clothes, and toss your comb, brush, hair ties, hair pins, and any other small item inside.
Prefer to build your own?
Here's how to DIY a drawer organizer out of craft board.
27. Store your keys and cables in LEGOs.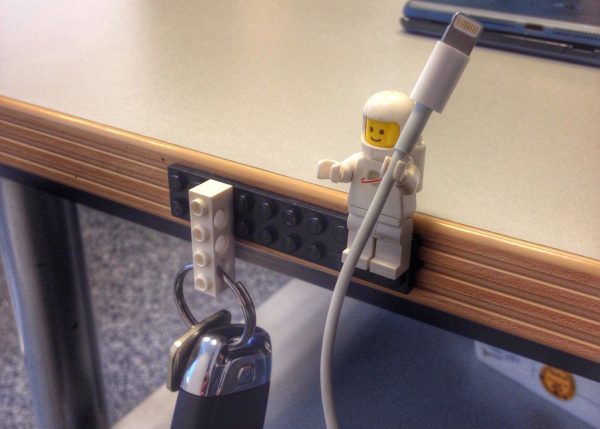 We love creative desk organization products, and this LEGO storage hack remains one of our favorites. With a little Sugru, these three LEGO pieces can store your phone charger and key ring right where you need them: in plain sight.
28. Hang your pants and jeans on S Hooks.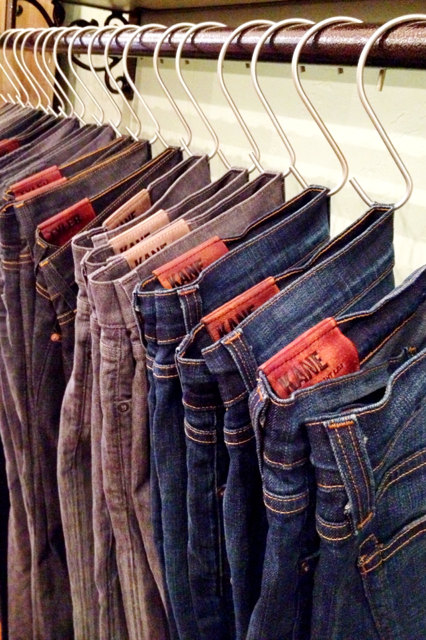 Like the tank top trick mentioned earlier, except for pants, hanging S hooks on a rod is an easy way to instantly increase your closet storage space. The simple metal hooks will store any number of pants and jeans, without the bulk of wooden hangers.
Use them in your closet or add a new rod anywhere in your bedroom. Just make sure it's high enough to suspend the full length of your pants.
29. Buy a MANDAL headboard — and then a second one.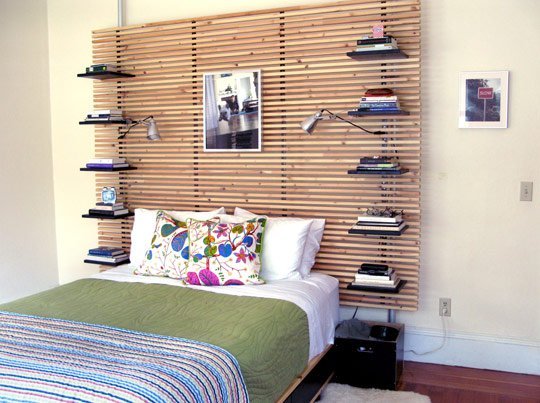 IKEA's MANDAL bed has always been a stunning piece of bedroom furniture with storage. And because it has drawers built into its frame plus a headboard with adjustable shelves, the MANDAL bed can easily replace your nightstand.
It's even more effective if you buy two headboards like in the above photo. You'll need to do a little engineering to keep the top headboard from tipping over. Once you accomplish that, you'll double your headboard shelf space in no time.
30. Build a trundle bed with storage.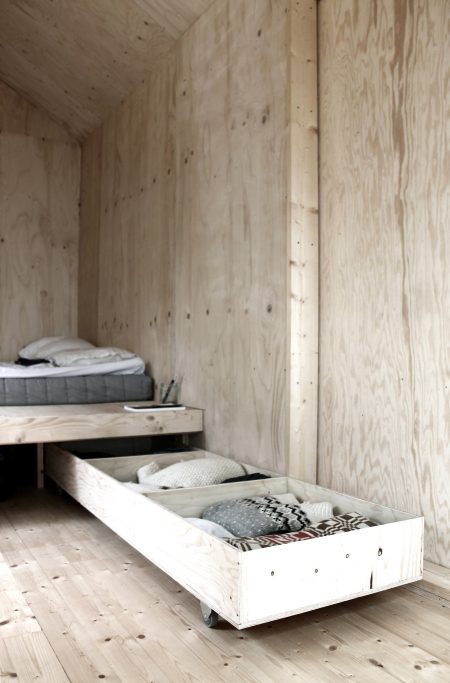 You don't see many trundle beds, except for maybe in your grandparents' house. Still, their basic concept is valuable for saving space in a small bedroom. Visible to everyone is a sturdy twin bed, while hidden beneath it is a second mattress on wheels.
If you'd rather not build your own platform bed or install drawers, don't worry, you don't have to. Simply add wheels to an old dresser drawer and push it under your bed frame, or buy one ready-made. Whenever you need to access your stuff, it's only one tug away.
31. Create your own rolling library.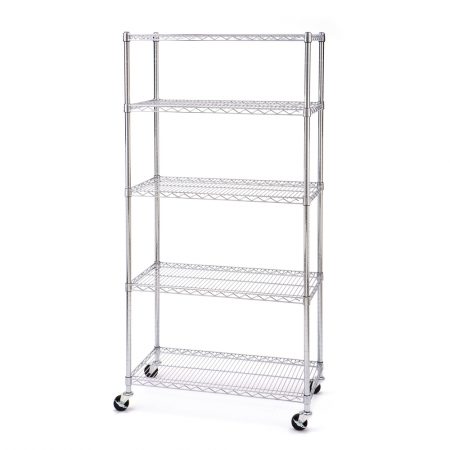 Storage racks with wheels are brilliant. Take the Amazon Basics 5-Shelf Shelving Storage Unit for example. Thanks to its five sturdy shelves and wheels, you can use it as a portable storage unit.
Or buy a few, push them together, place your books on the shelves, and congrats — you now have a library that you can roll anywhere.
Want a smaller option?
These affordable and stylish bathroom carts from IKEA are exactly what you need.
32. Buy hanging fruit baskets and store socks, hats, and more in them.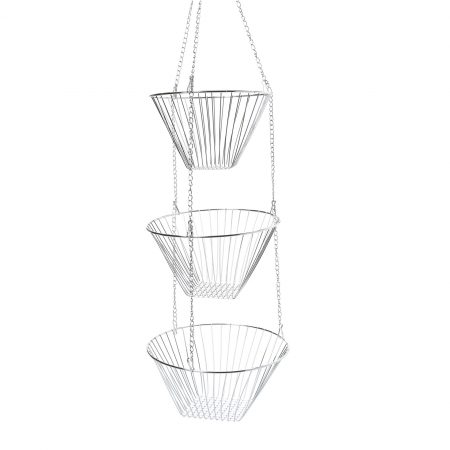 Remember these guys?
Just because hanging fruit baskets are still around in a lot of kitchens doesn't mean you can't use them in your bedroom, especially if they have a fun design like this boho-inspired Macrame Fruit Basket.
Hang one above your nightstand, or in your closet, and use it to store socks, hats, bandanas, beanie babies, or whatever else floats your boat. The hanging fruit basket doesn't judge, or take up any floor space.
33. Store clothes and linens in canvas totes.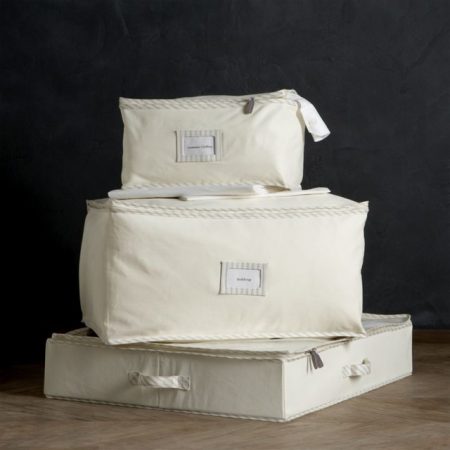 Canvas totes are a storage staple in many boats for two main reasons:
They can store as many items as plastic crates can.
They're malleable, which makes collapsing and storing them under your bed, on a shelf, or in the back of your closet super easy.
AMJ Storage Bags come in sets of 2 and have handles for easy carrying.
34. Deck out your wall with TRONES.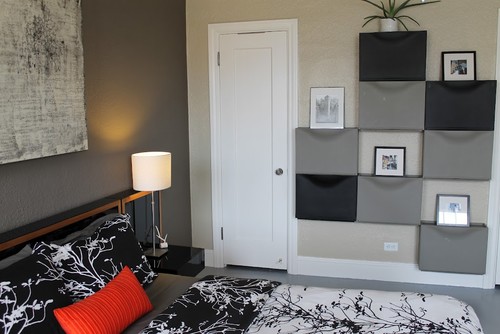 No hacks or tinkering here, just one versatile shoe storage product. Pick up a TRONES cabinet (or four), mount them to your bedroom wall in your configuration of choice, and store up to six pairs of shoes inside each one.
Don't limit yourself to only storing shoes, though. If an item can fit in a 20" x 7" x 15" space, it can fit in a TRONE. We're looking at you, gloves, scarves, hats, and magazines.
35. Mount an invisible bookshelf to the wall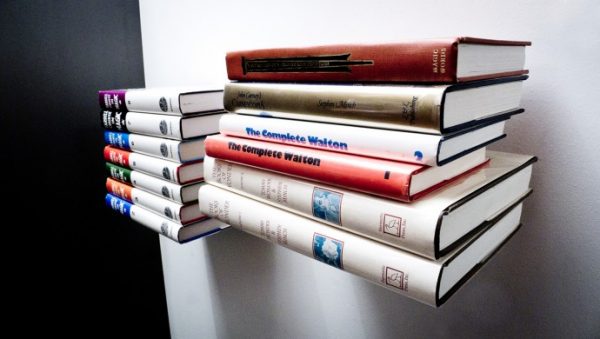 The simple, unobtrusive, and inexpensive Conceal Book Shelf is almost invisible, hence its name. Using two thin metal plates, the Conceal Book Shelf can levitate a stack of books wherever there's a wall. So basically anywhere in your bedroom, and in your entire apartment.
36. Wall-mount your coat rack.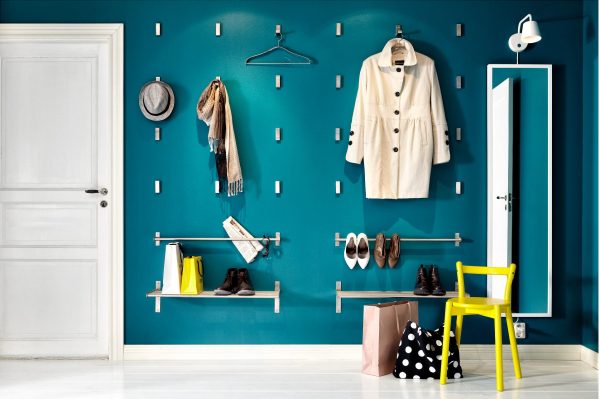 Don't bother with a coat rack that takes up a whole corner of your bedroom. Instead, hang your coats on the wall using hooks like BJÄRNUM folding hooks from IKEA or the VinBee Folding Hooks from Amazon. These little storage solutions are cleaner, more space-efficient, and less at risk of toppling over onto your attractive face.
37. Install a shelf above your bedroom door.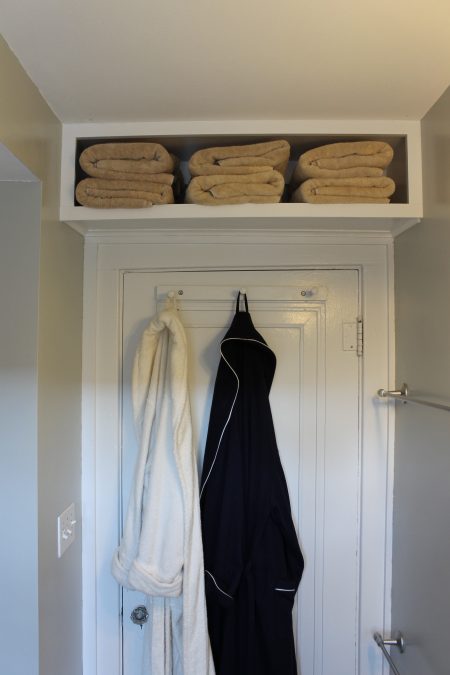 Here's a space you definitely don't use but definitely should: the space above your bedroom door.
DIY and install a storage shelf right above your door and use it for storing anything from towels to rain boots.
38. Use bead organizers for your makeup storage.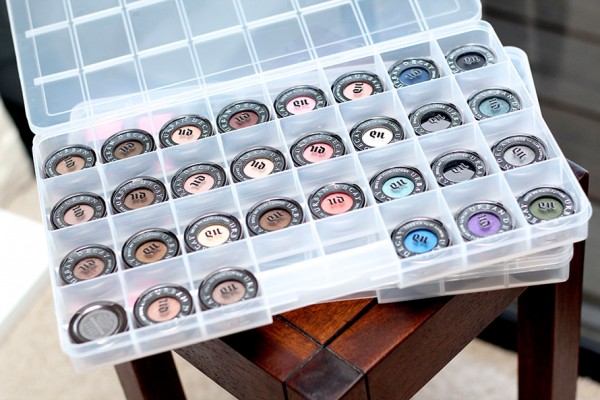 We've seen a lot of makeup storage hacks in our days, and we keep coming back to this one for its simplicity: old bead organizers.
Why?
Because they're a convenient and cheap storage solution that just so happens to be perfectly sized for storing MAC Paint Pot jars and eye shadow singles
39. Belt, tie, and scarf organizers

They might have less fabric than any other piece of clothing, but the sheer length of belts, ties, and scarves can eat a lot of space.
Luckily, this slide-out DIY storage rack can store all three types of accessories in very little space. It's especially perfect if you have a closet in which to build one.
Not into DIY? Try Rev-A-Shelf's Extending Tie and Belt Rack.
40. Use bookshelves as a headboard.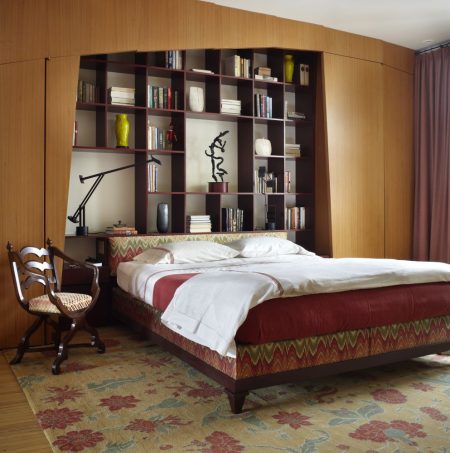 While you don't need a headboard, they're a nice addition to any bedroom. They also can be whatever you want them to be, whether they're wood pallets, artwork, or a bookshelf. If maximum storage space is your goal, we recommend the latter.
Opt for a platform bed and push it up against one or two shelves that you've already lined with books. This storage tip will kill two birds with one stone, and offers out-of- sight storage behind and below your mattress.
41. Add risers to your bed.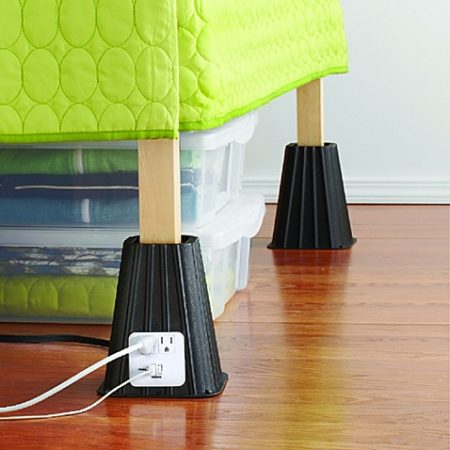 Another easy and cheap bedroom storage trick is putting your bed on bed risers. These little pieces look like hooves and give your bed a boost.
Some, like the Studio 3B 4-Piece USB Bed Lift Set pictured above, even act as electric outlets and a USB charging station for your phone, laptop, and tablet.
Although bed risers are frequently seen in dorm rooms, they also work wonders in any bedroom that needs more storage space (like yours).
42. DIY a full-length mirror jewelry cabinet.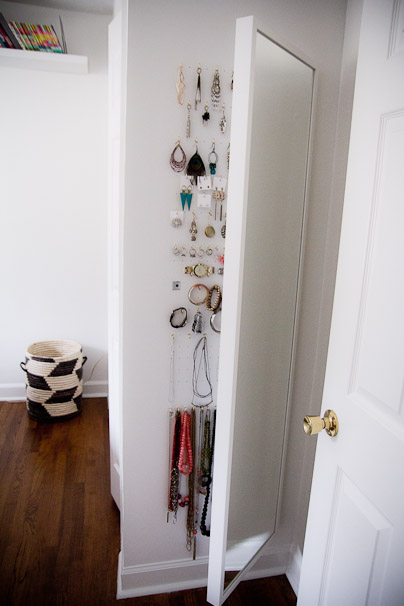 Medicine cabinets are the perfect storage solutions for your bathroom, and the same goes for your bedroom. And since you need a nice full-length mirror for your room anyway, you might as well hack one into a mirror jewelry cabinet while you're at it.
Here's how:
Step 1: Attach hooks to your wall of choice.
Step 2: Hang whatever you want, such as necklaces, earrings, bracelets, and keys, on the hooks.
Step 3: Add hinges to a full-length mirror.
Step 4: Install the mirror on the wall so that when you close the mirror, it hides all your stuff.
43. Install tension rods in your bedroom nook and hang shoes on them.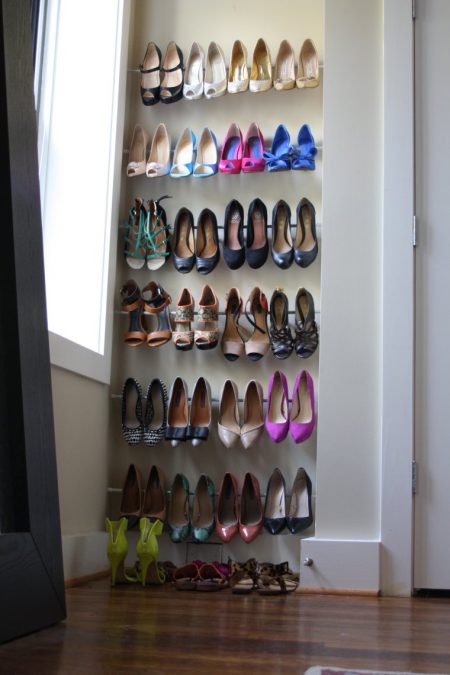 Tension rods are the simplest way to hang up curtains, and just about any other hangable lightweight item you can possibly imagine.
Use them to easily hang shoes, shirts, pants, holiday decorations, crafts, and more wherever you have two parallel walls.
44. Build a balancing bookshelf.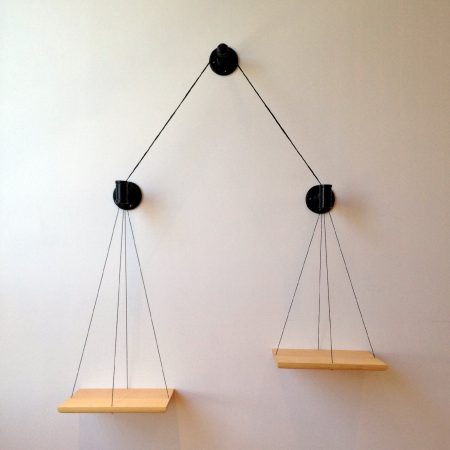 Sort of a mix of a floating shelf and a fruit basket, this nifty balancing bookshelf has an intriguing design with practical storage space.
You can buy the Balance Bookshelf pictured above, or build your own with some pipe, boards, and twine.
45. Sit on your storage.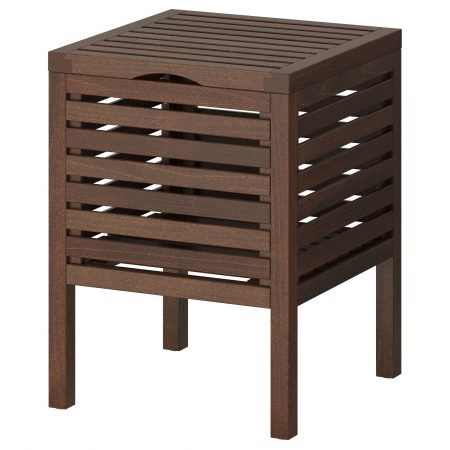 Everybody has to sit, so why not store your stuff while you're doing it?
The MOLGER storage stool from IKEA boasts a clean design that can store a lot of things inside, including old vinyl records. Whether you place it up against the wall or in front of your fold-down desk, this is a bedroom storage solution you'll constantly love using. We also love the design of the Rivet Asher Round Upholstered Storage Ottoman.
46. Hide keys behind your artwork.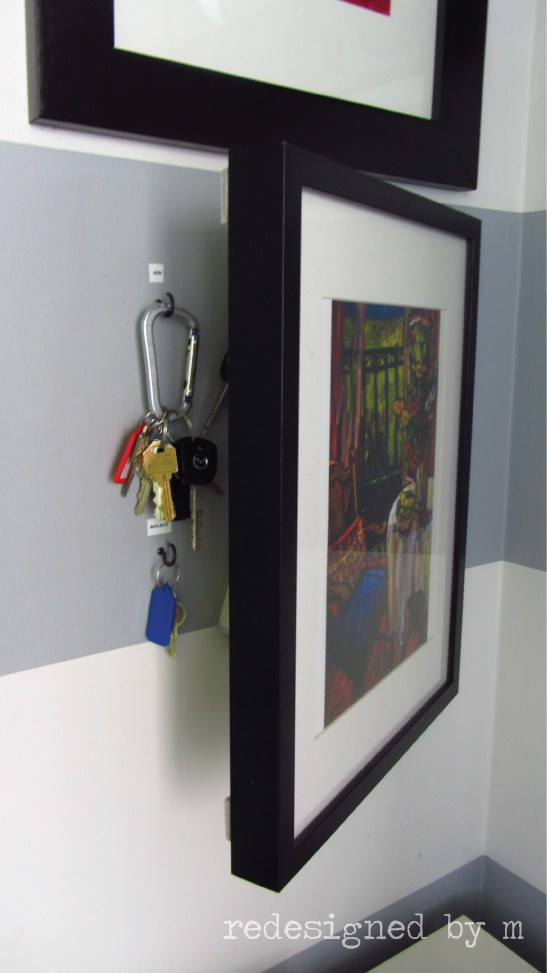 Similar to the full-length cabinet mirror, this DIY bedroom storage hack can keep your keys, cash, and other daily essentials artistically hidden against the wall.
All you have to do is screw tiny hooks into the wall and add hinges to the picture frame of your favorite artwork or photograph.
47. Mount magazine racks to the wall.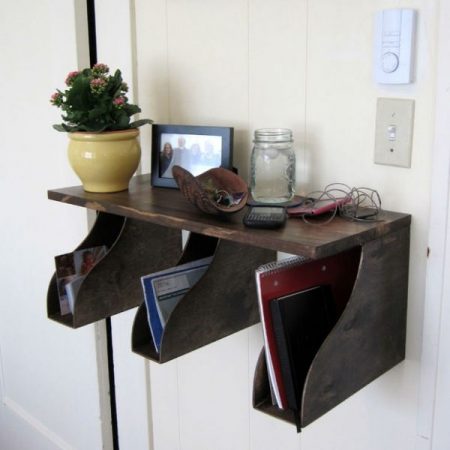 Mail piles up. Those old New Yorkers keep waiting to be read. And there's that form you know you need to hold on to for just a little while longer.
Instead of letting these stacks of paper smother your desk or dresser, hack IKEA KNUFF magazine files and a wooden board into a storage rack. Next, mount the storage rack to a wall and enjoy never having to clutter any desk, dresser, or counter space ever again.
Pro Tip: Use an app like Scannable to scan and digitally save papers to your phone. Then, recycle the paper, and while you're at it, browse our list of awesome apps and services that will spring clean your entire apartment.
48. Stack cabinets.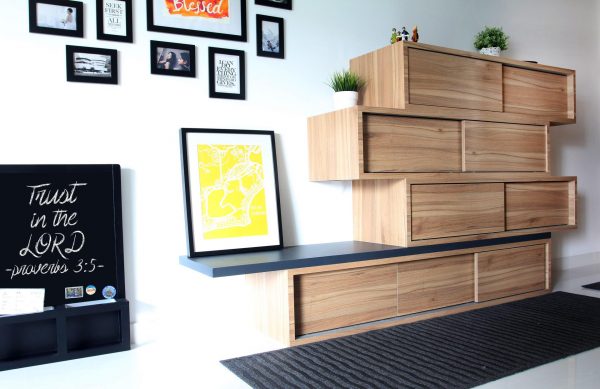 Stacking is the easiest DIY trick in the book, and you can buy a lot of long cabinets that arrive ready to stack. All you need to keep a storage solution like the one above in place are a few screws and a screwdriver.
If you decide to use flat cabinets and only stack a few, screwing them into the wall is optional since they're already sturdy.
Either way, stacking cabinets give you a lot of accessible storage in your bedroom, and they can fit in more places than most dressers.
49. Install an (almost) invisible nightstand.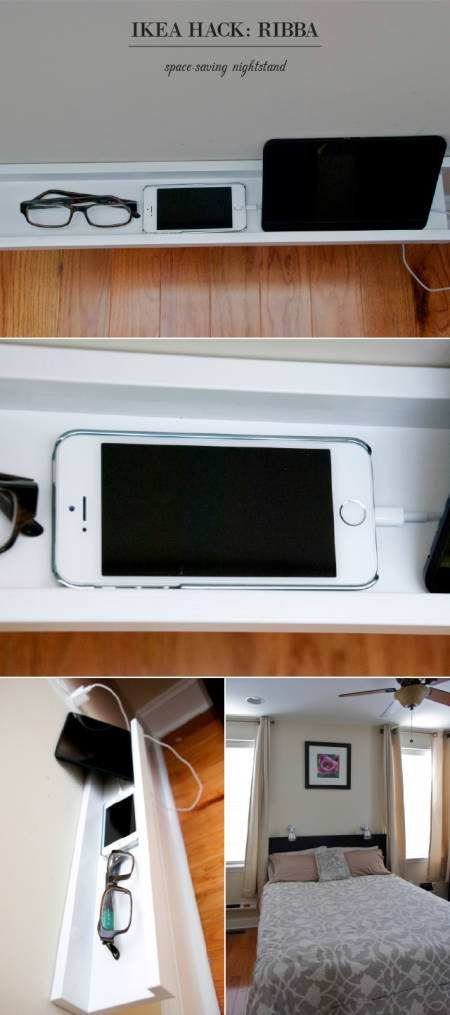 Picture ledges are inexpensive, easy to install, and they can hold a lot more items than picture frames. So mount a picture ledge, such as IKEA's MOSSLANDA or KNOPPÄNG, to the wall beside your bed. You'll have a nearly invisible nightstand that takes up next-to-no space.
There's room to store your phone, eyeglasses, clip-on lamp, and not much else. But really, what else do you need?
50. Add a window seat to your bedroom.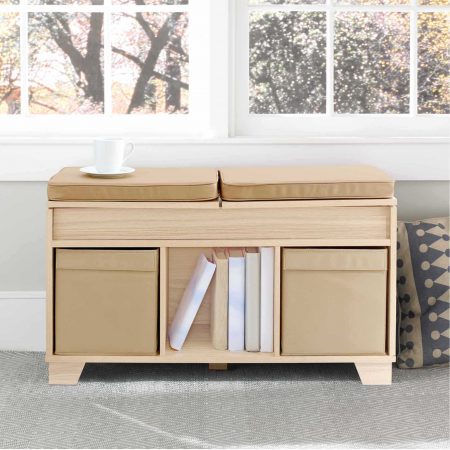 For anyone who loves to read, pick up a storage bench like the 3-Cube Split Top Bench Storage Unit from Bed Bath & Beyond or the 3-Cube Organizer Storage Bench from Amazon and park it in front of your bedroom window.
In addition to giving you a lovely place to perch, the bench includes three cubbies and two under-seat compartments. Which is plenty of room for stashing all the novels you'll be reading while basking/tanning in sunlight.
51. Store your boots in a vertical shoe rack.
Everybody loves a pair of good boots, but nobody loves a good pair of boots that are now wrinkled because they were stored improperly. Fortunately, a vertical shoe rack can store shoes of any size and keep them wrinkle-free.
DIY the vertical shoe rack pictured above, buy a 3-pair boot organizer from Amazon, or hang them on Boot Hangers — one of professional organizer Anna Bauer's favorite products for keeping your apartment organized.
52. Install shelves and cover them with sliding mirrors.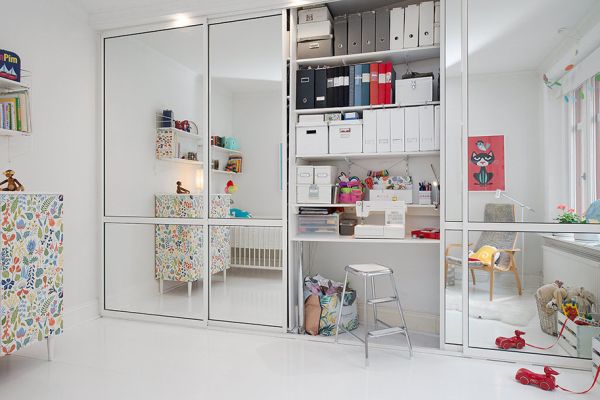 Don't have a closet?
Here's how to live without a closet.
Don't have a closet but want one?
Take a page out of YO! Home's book, install some shelves, and cover them with sliding doors:
You'll lose some floor space, but you'll gain a ton of storage space.
Pro Tip: Install the entire DIY closet directly opposite a window and attach mirrors to the doors. The mirrors will reflect and fill your bedroom with sunlight, trick your eyes into thinking you have an extra window, and make your room feel bigger.
53. Clutter.
All of these bedroom storage hacks are wonderful. But don't feel like you have to cram everything into one tiny room, which would only be counter-productive.
Sometimes the best storage hack is having someone else do all the work for you. That's where Clutter comes in. We'll pick up everything (including your furniture), store it in our secure and temperature-controlled storage facility, and create an online photo catalog so you always remember what you have in storage.
The best part: When you need something back, we'll deliver it to you.
Ready to store your stuff in the fastest and easiest way possible?
Schedule a Clutter pickup, pack your stuff, and leave the rest to us.
And while you're at it, make your place even more spacious by learning these incredible storage hacks for other rooms in your home:
This article was written by David Michael McFarlane, a writer from Texas and Oregon who lives in New York and loves smart design and organization.