Besides Marie Kondo's new book, Spark Joy, all we want for Christmas is for you to have a spacious Christmas. To help make that happen, we put together this list of 16 amazing space-saving products for everyone on your gift list, including you. Because you worked extremely hard this year and totally deserve to treat yo'self.
1. Wallet Ninja
Price: $9.99
We don't know what's more insane, the genius stainless steel Wallet Ninja that miraculously packs 18 tools into one credit card-shaped multi-purpose tool OR the Wallet Ninja's spokesperson, Justin Credible:
2. Staekler Shoe Hooks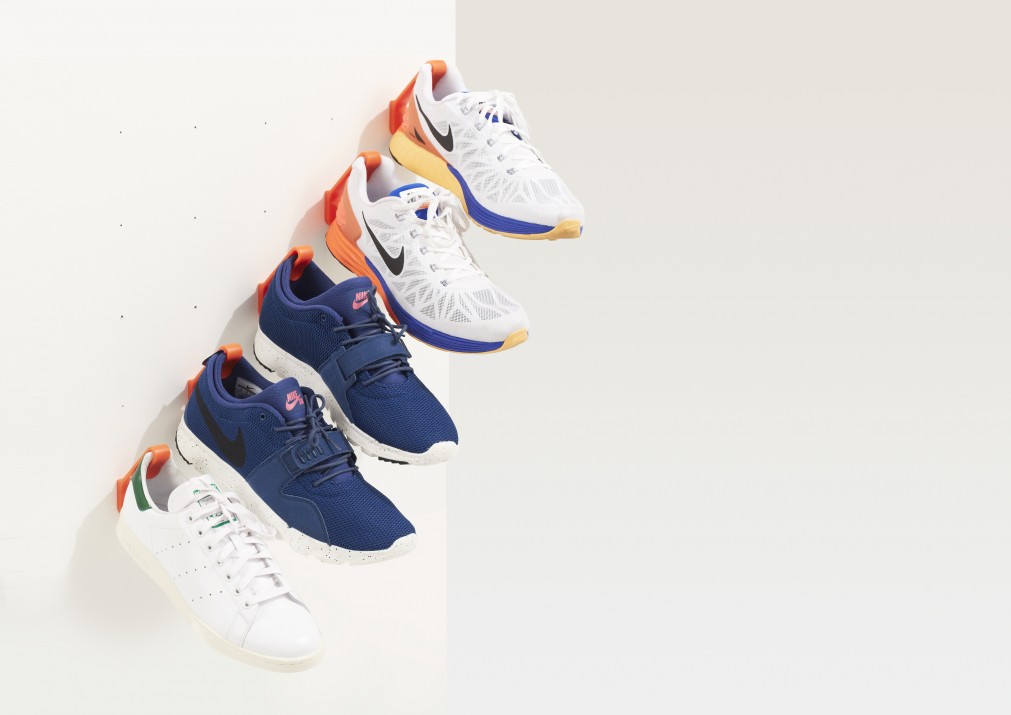 Price: $10 for one pair
How beautiful are shoes in boxes underneath a bed? Who knows. Nobody can see them because they're in boxes underneath a bed. Show off fresh kicks, without taking up any precious floor space, by hanging them on Staekler shoe hooks that mount to a wall.
3. Star Wars R2-D2 Laundry Hamper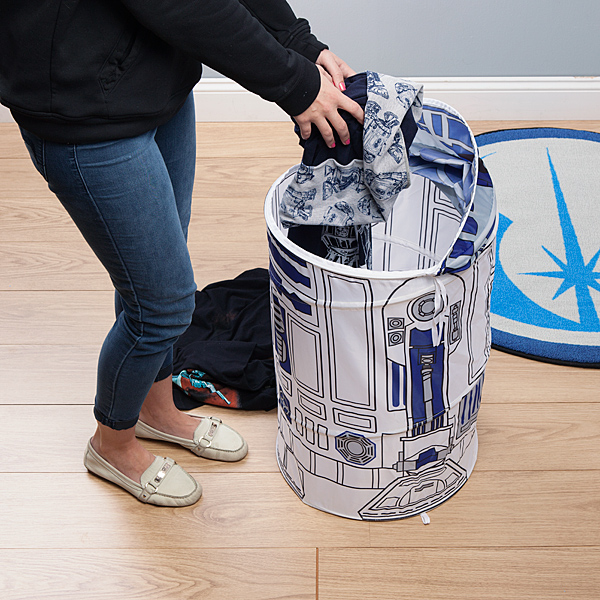 Price: $19.99
This R2-D2 is billed as a pop-up/collapsible laundry hamper, but that doesn't mean it can't double as a galaxy- and space-saving storage bin for your Star Wars memorabilia.
4. CLUG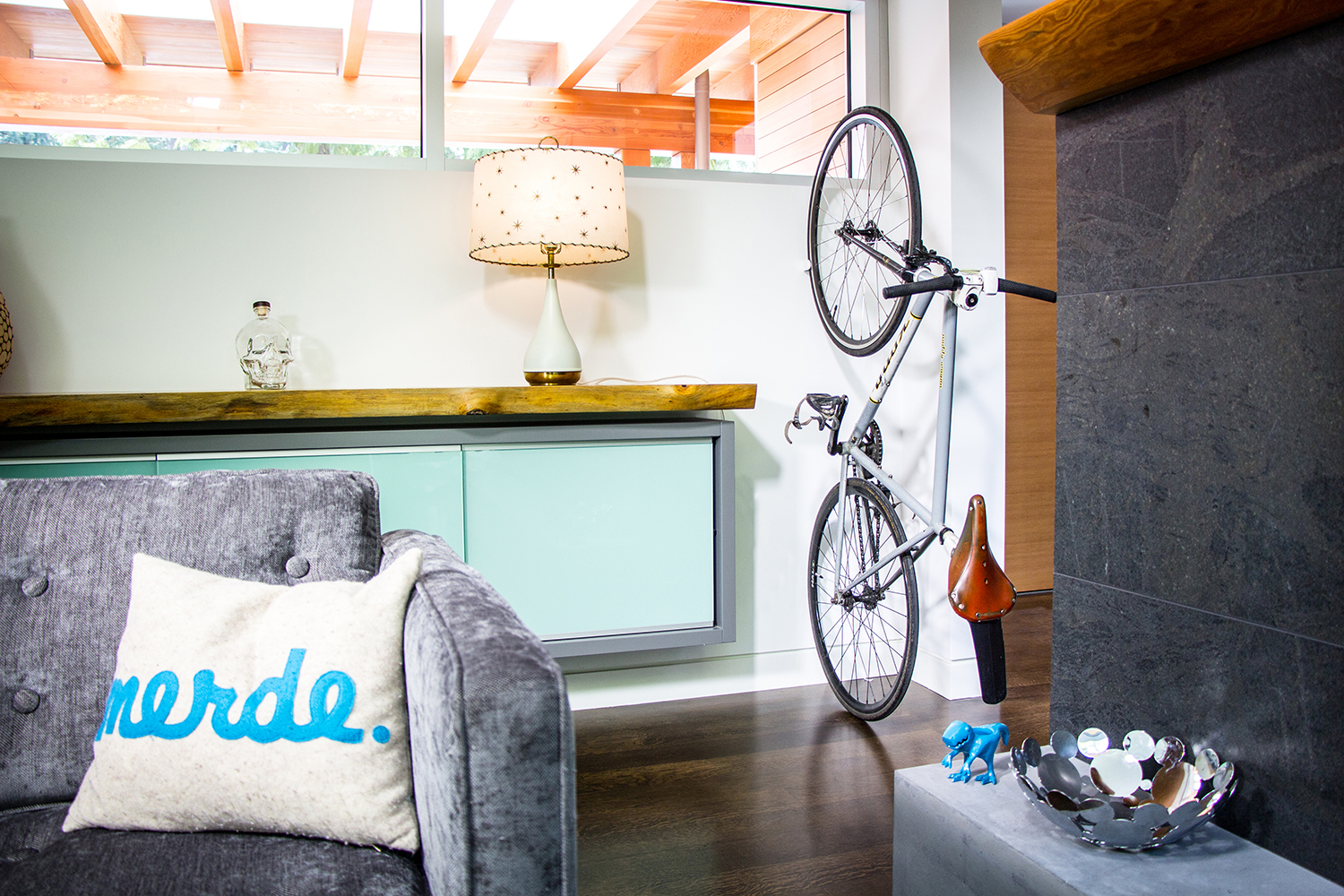 Price: $20
A CLUG stores a bike upright against the wall, comes in multiple colors, and is so tiny (it's the size of a kiwi) that it's actually the world's smallest bike rack. Get a CLUG, and never trip over your bicycle on your way from your living room to your kitchen again:
If you'd like to check out more space-saving bike storage solutions, feast your eyes on these 11 gorgeous bike racks that double as art.
5. Urbio Perch 5-Piece Starter Kit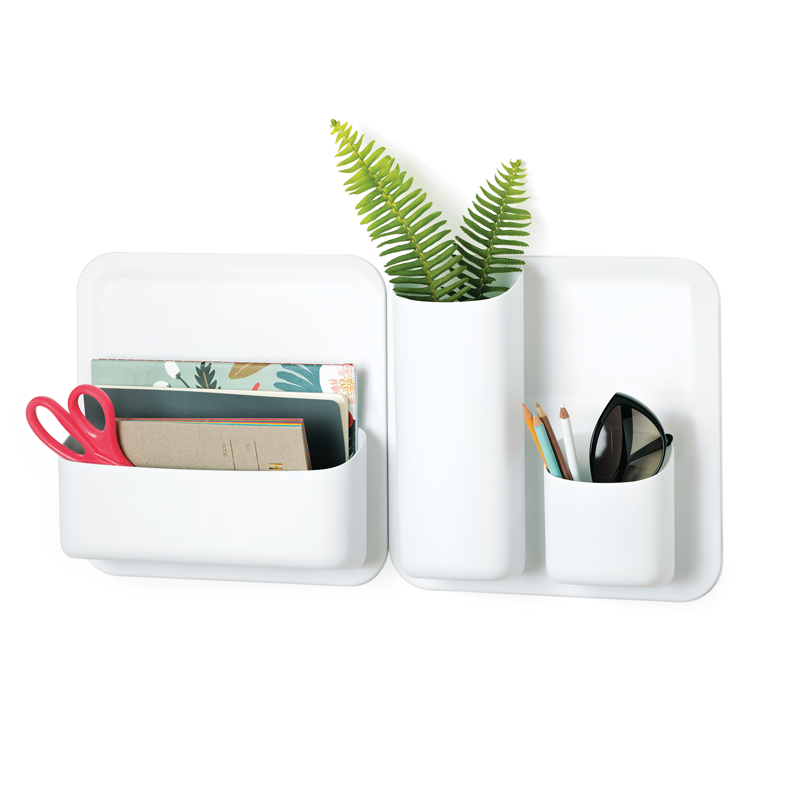 Price: $39.99
Some of the best things in life come in pieces: a 3-piece suit, 6-Piece Spicy Chicken Nuggets from Wendy's, and the 5-Piece Starter Kit from Urbio that organizes daily essentials while storing a tiny happiness-increasing plant.
6. Bookniture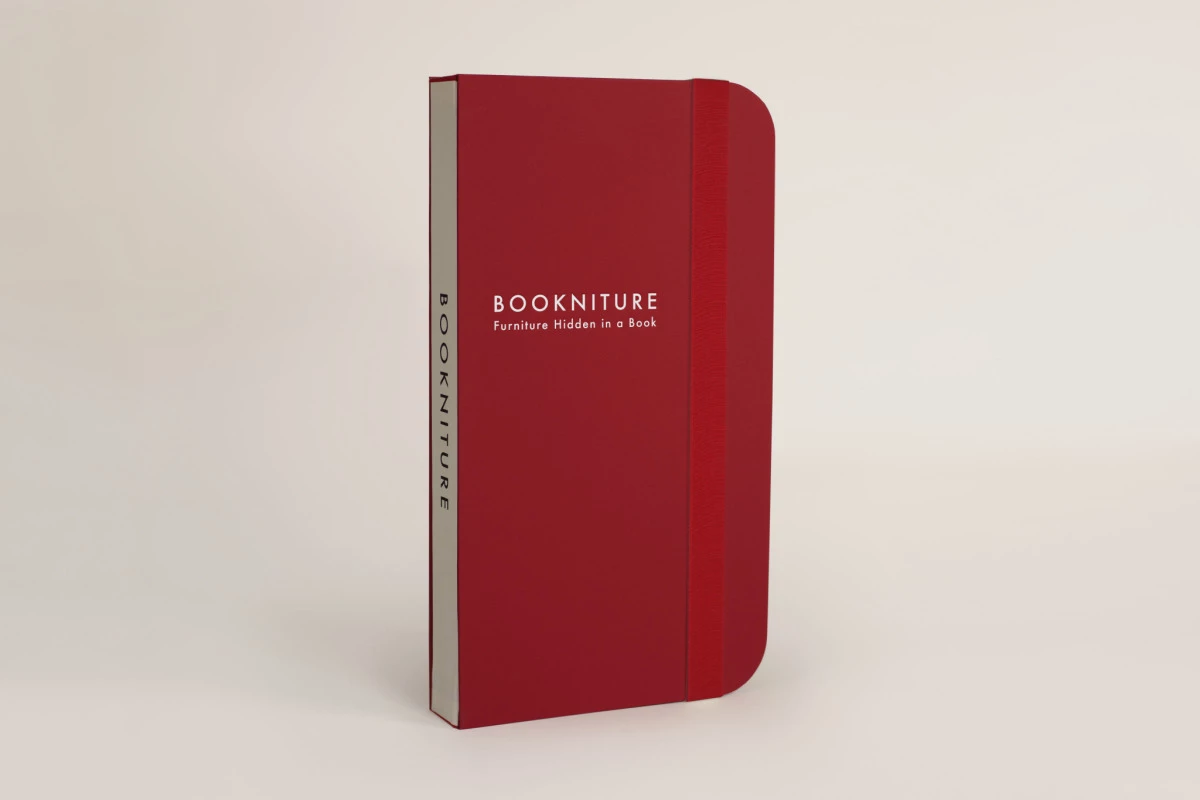 Price: $86
What if building, moving, and storing furniture was as easy as opening a lightweight book, carrying it, and placing it on a shelf? It is … if you buy Bookniture:
7. Twist Smart LED Lightbulb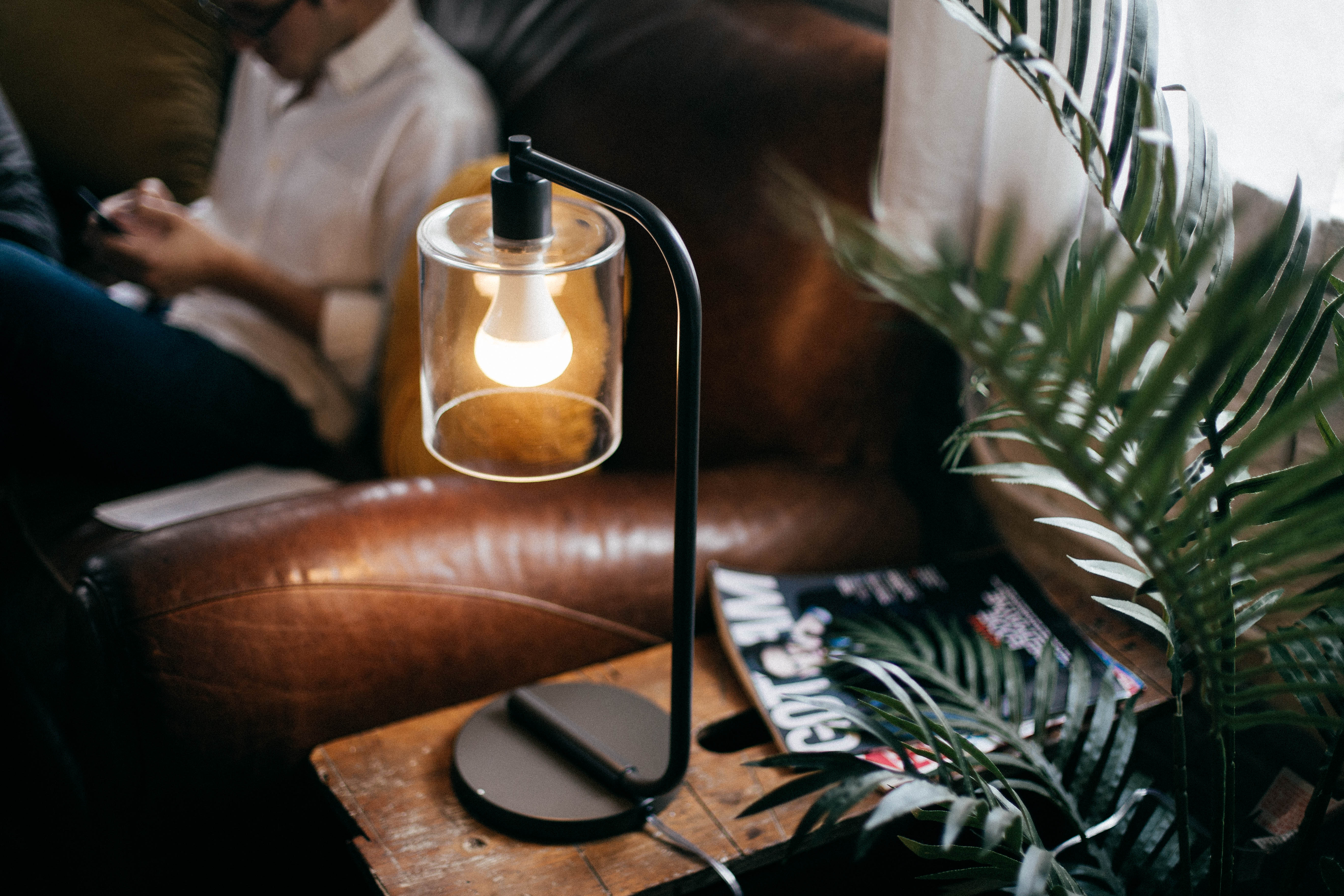 Price: $99
Put your ear two feet away from the nearest lightbulb. Chances are it doesn't make you dance. That's because it's not a Twist Smart LED Lightbulb that not only changes color based on the time of day, but also streams music from any AirPlay-enabled device.
The future is now. And it looks and sounds beautiful thanks to Twist:
8. Grasslamp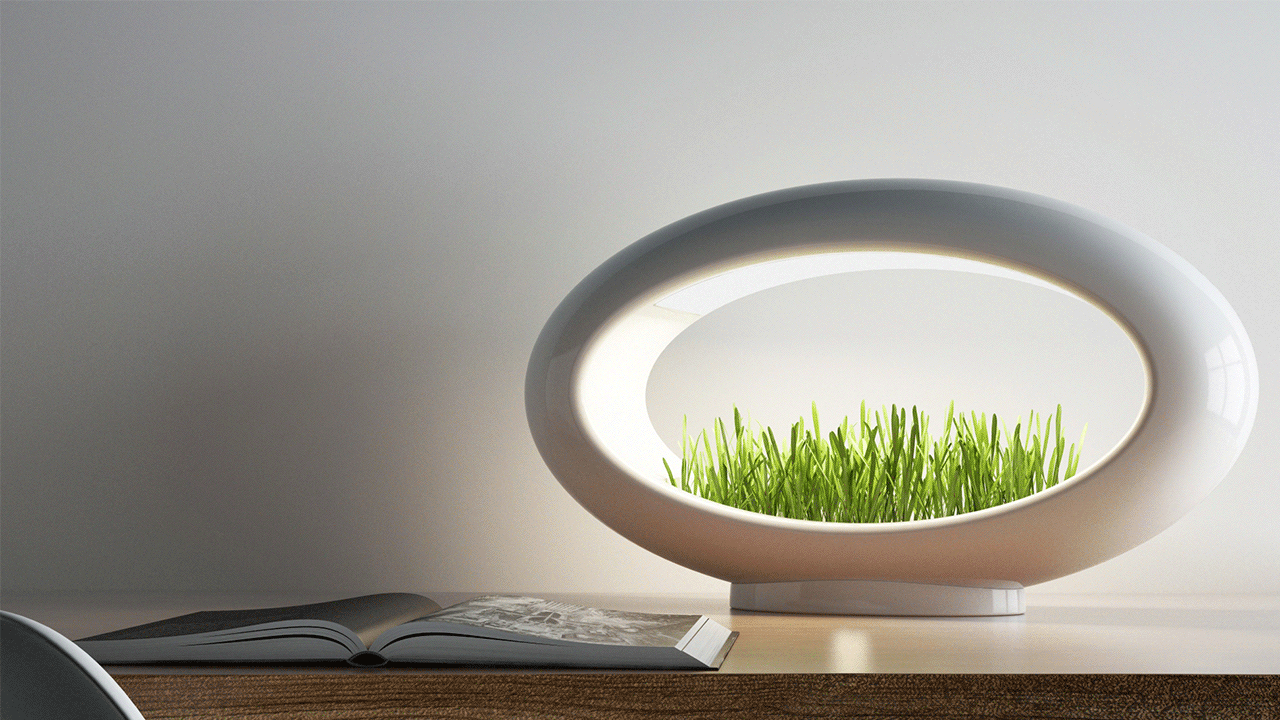 Price: $99
The grass is always greener on the other side. Unless you have a Grasslamp. In which case you'd always be on the other side. Because you can place a Grasslamp on any flat surface that your green thumb deems fit for the Jetsons-esque lamp/hydroponic garden:
9. LiliLite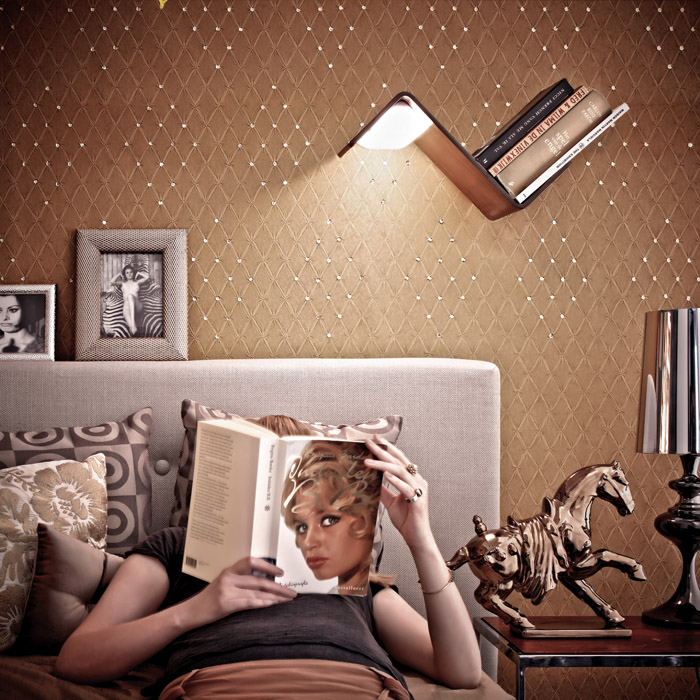 Price: $140.18
If you like reading in bed at night and remembering what page you left off at, then LiliLite is right up your literary alley. It's an elegant wooden bookshelf, bookmark, and automatic lamp that unlike a nightstand, mounts to your wall (so you don't have to worry about banging your head into it while rolling in your sleep):
10. IKEA GODMORGON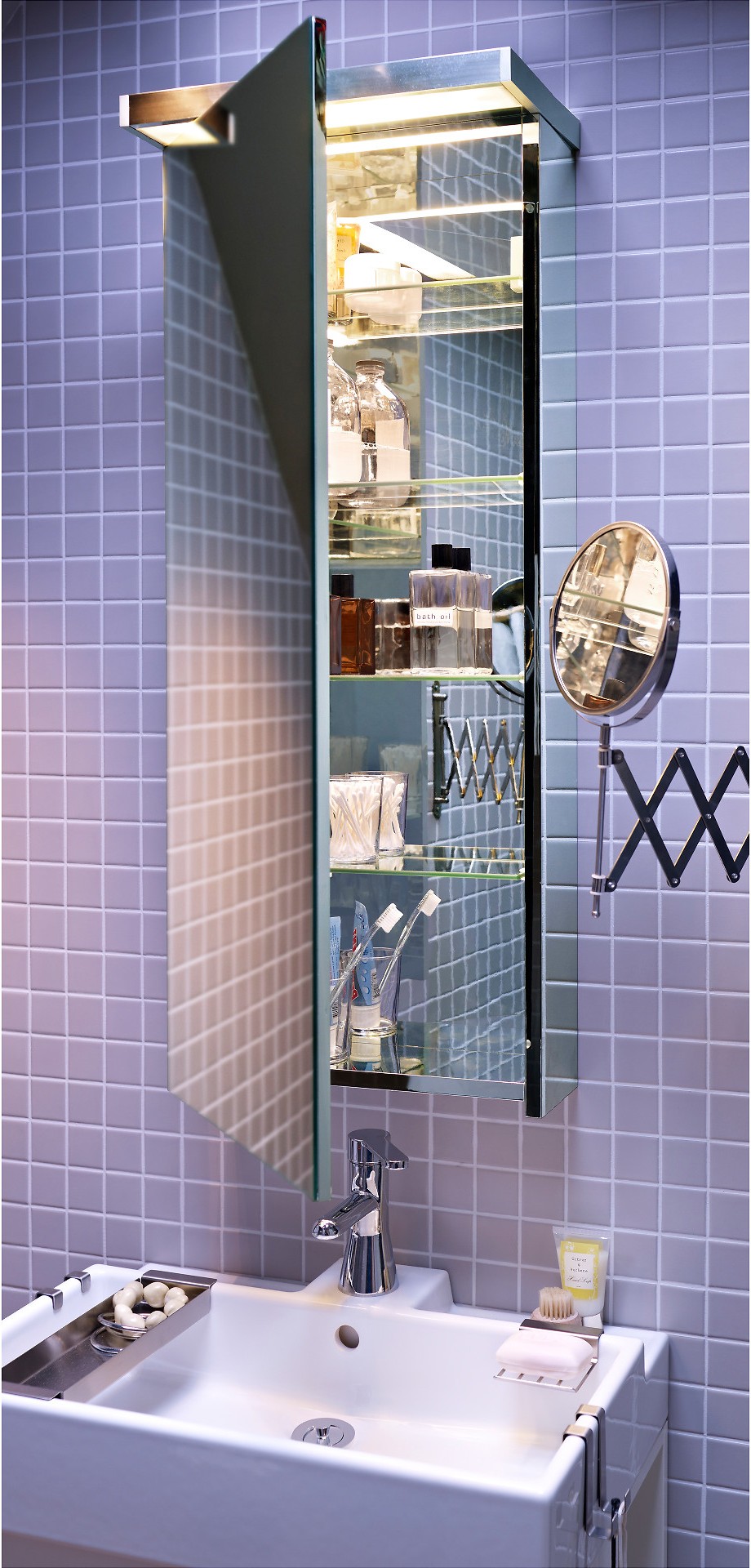 Price: $150
There's a medicine cabinet, and then there's the gigantic yet space-saving GODMORGON from everyone's favorite Swedish furniture behemoth. The 3-foot-2-inch-tall storage cabinet mounts to a wall and boasts four adjustable shelves on which you can store meds, toiletries, makeup, and jewelry. Before you put them on while checking yourself out on GODMORGON's dual-side mirrors of course.
11. BrunoSmart Trash Can + Vacuum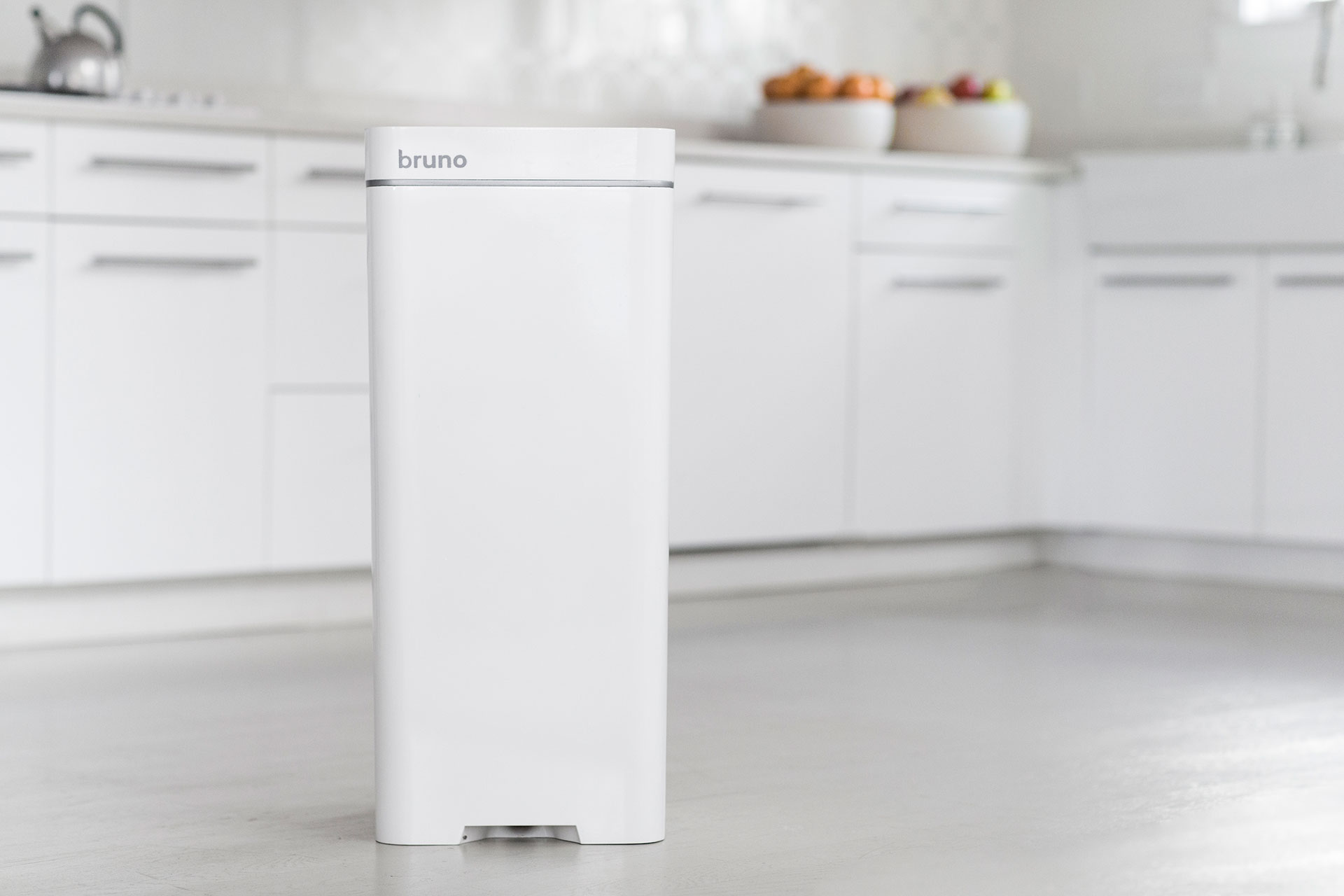 Price: $179
The first thing that comes to your mind when you hear the word "trash" probably isn't "fancy." Well, that's about to change because we'd like you to meet uber-fancy Bruno, the world's first smart trash can that makes all other trash cans and dust pans obsolete.
How smart is Bruno?
Bruno automatically opens its mouth when you wave your hands over it. It also vacuums your debris. And reminds you to take the trash out. And tells you when you're low on garbage bags so you can order more from the comfort of your phone:
12. Lakeland Multichef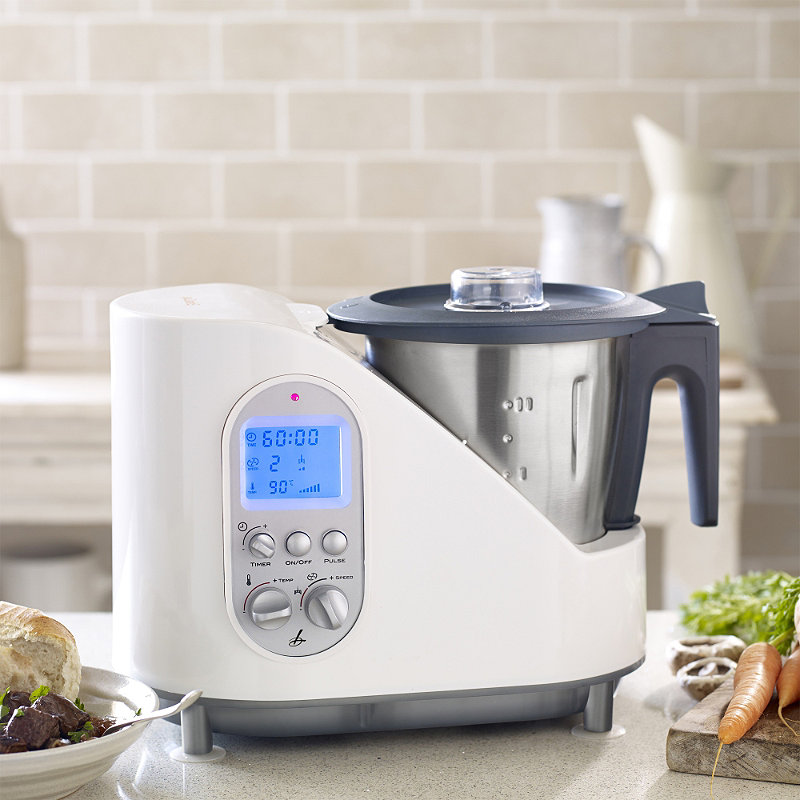 Price: $373.02
The multi-function Lakeland Multichef is a tiny kitchen counter's space-saving savior. It condenses 11 kitchen appliances into one. It grinds; chops; grates; blends; mixes; whips (but unfortunately doesn't nae nae); kneads; steams; simmers; stir fries; and measures hours, minutes, and seconds. What a time to be alive.
13. SAIC Tonic Bar Cart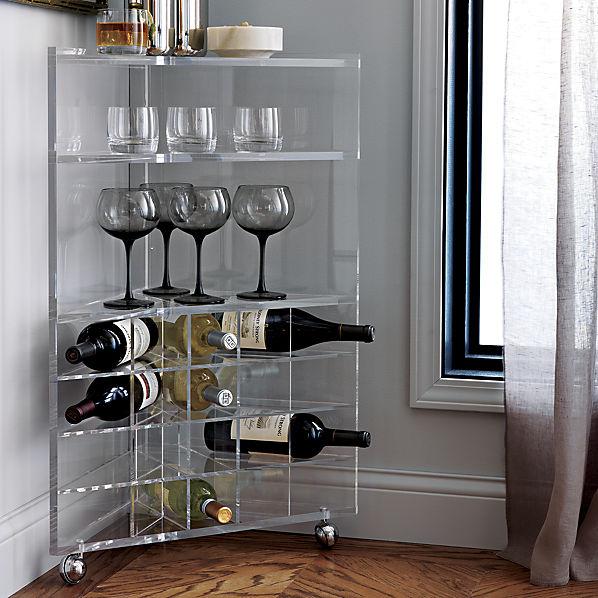 Price: $499
Without beverages, a holiday bash is a holiday bore. But that won't happen to you, or your future Christmas and New Year's Eve party guests, because you're going to invest in a portable SAIC Tonic Bar Cart from CB2. It tucks into tight corners while storing 12 bottles of wine along with plenty of wine glasses and other barware.
14. Pile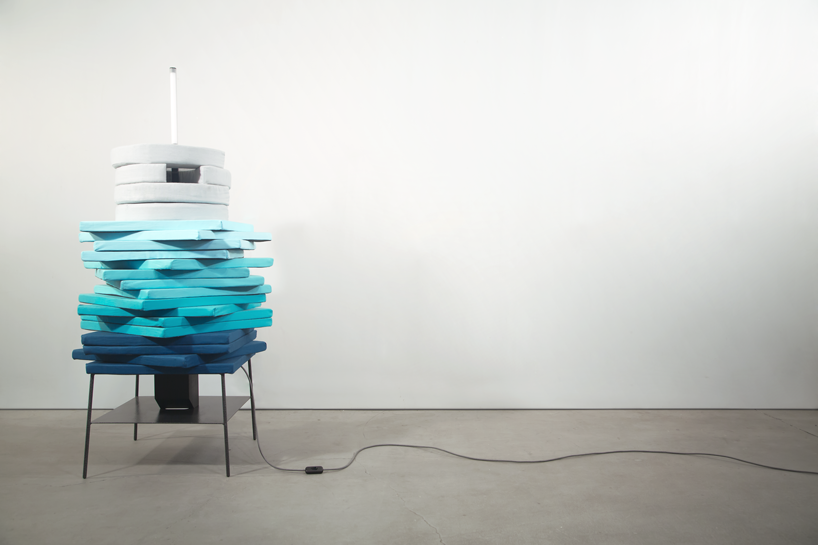 Price: $1,600+
Pile starts as a stack of vibrant cushions. Then it becomes whatever space-saving furniture that you decide to build with it. Which is as simple as stacking and rearranging it's comfortable cushions, leaning lamp, and sturdy steel coffee table:
15. Ram & Row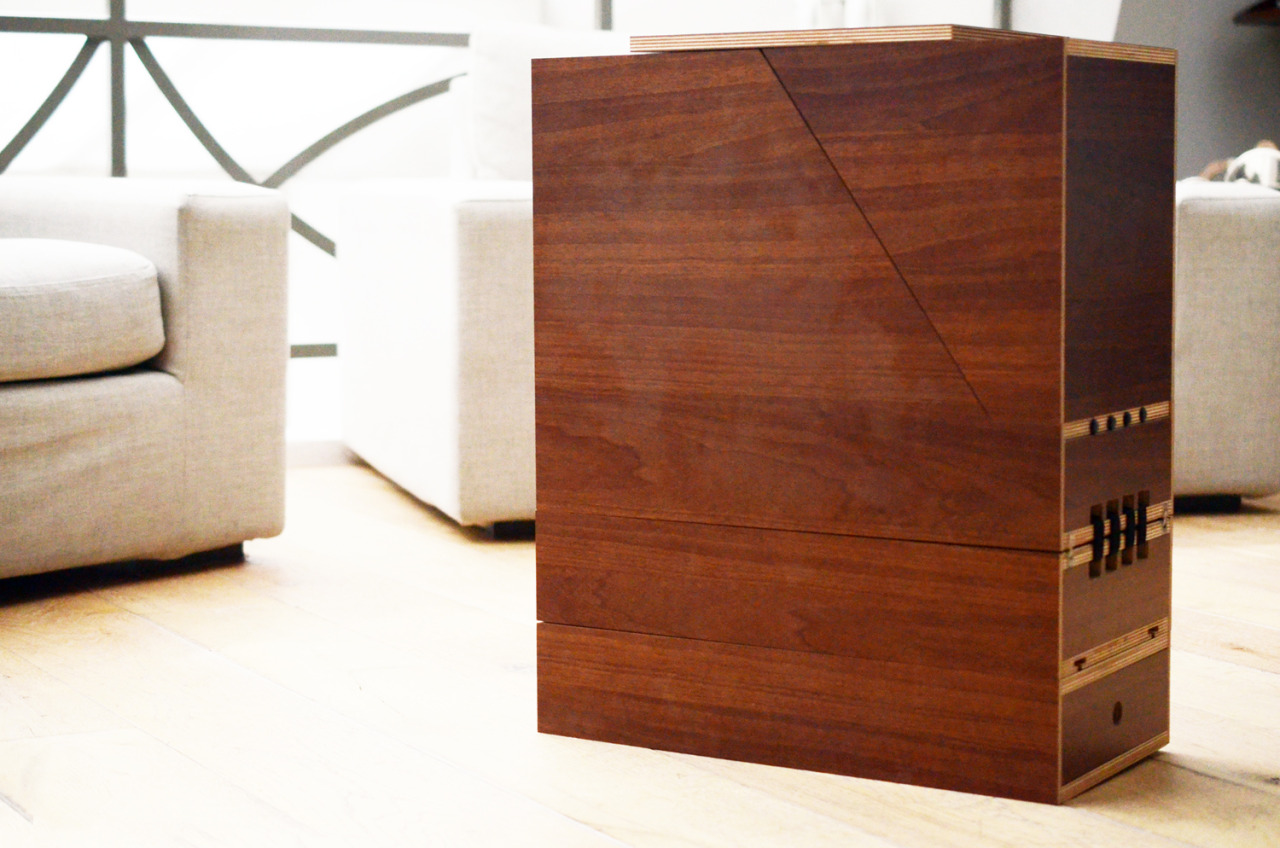 Price: $2,173.40+
If you want to exercise more, but don't always feel like trekking to the gym, get a stylish wooden Ram & Row. When closed, it's a side table on which you can rest a protein shake. When unfolded, it's a rowing machine that you can use to work up an appetite for said protein shake:
16. Living Cube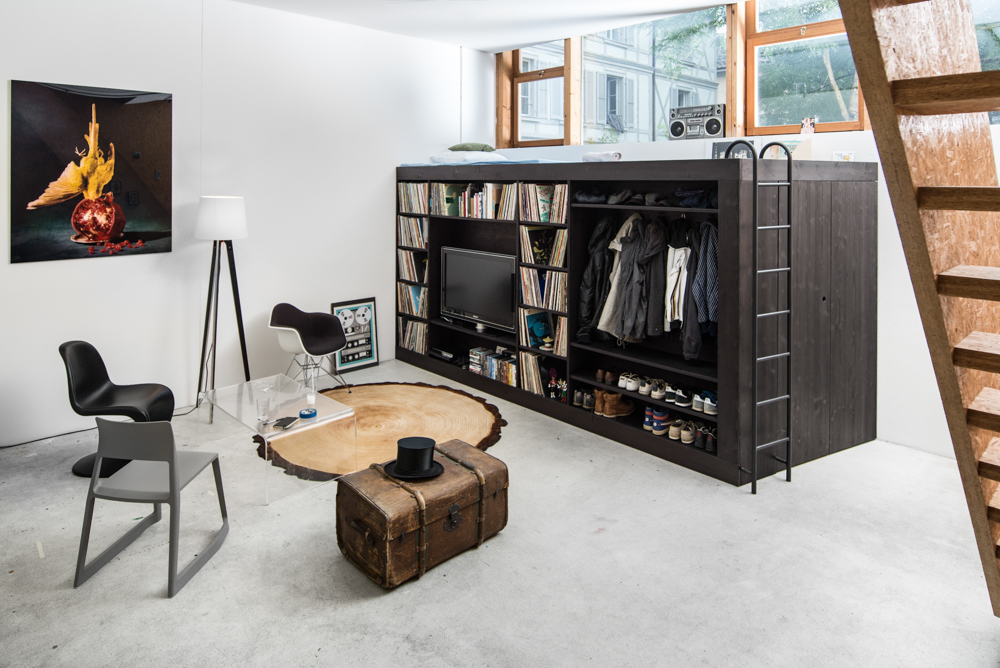 Price: $2,500+
The Living Cube lets you furnish almost an entire room in the least stressful way possible. It's an all-in-one media center, mini bar, closet, bike rack, loft bed, bookcase, desk, and storage unit. Which means you'll have a place to store every space-saving product on this list, Santa's sleigh, all your Christmas gifts, holiday decorations, and more. With room to spare. And if that room runs out, there's always your infinite closet: MakeSpace.