You just moved into your first one-bedroom apartment, and it's alllll yours. You have big dreams for your new apartment life. And being able to cook in a kitchen that's yours, and yours alone, is one of the many perks you've wanted, but couldn't have, until now.
There's just one problem: How are you going to fit everything in your tiny kitchen?
Luckily, there are plenty of creative kitchen storage hacks, solutions, ideas, and tips out there that'll help you squeeze as much space out of your kitchen as possible — without sacrificing style or your bank account.
So grab a drill, some reclaimed wood, and your favorite wood stain, and let's get to work!
1. Repurpose an office supply organizer into a kitchen supply organizer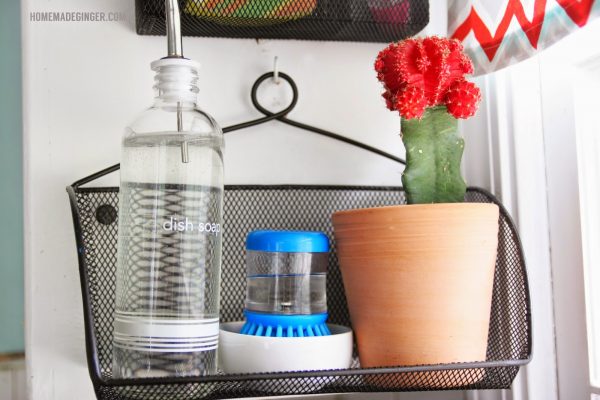 We all have at least a few of these mesh office supply organizers lying around. So why not put them to good use?
Hang one on the wall by your kitchen sink and store your dish soap and sponges inside. The mesh allows water to drain for a mold-free sponge space and happier you.
Just be sure to put a small tray underneath to catch all the drippage.
2. Mount a dish drying rack to the wall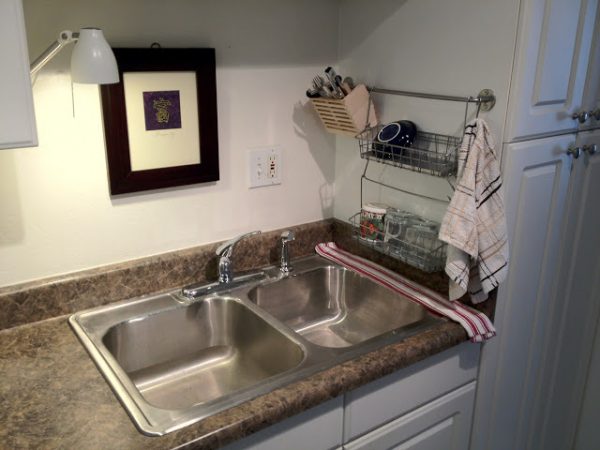 If you're feeling crafty, which you probably are since you're reading this list of kitchen storage hacks, build a vertically integrated drying rack using a BYGEL rail, two BYGEL wire baskets, S-hooks, and a cutlery caddy.
You'll free up your counter space and benefit from having extra kitchen storage space. Which should be dry because you're also going to place a towel or rag underneath the drying rack to catch any drips.
3. Attach a towel holder to the inside of your kitchen sink
If you're feeling futuristic, add this tiny magnetic cloth holder to your life. Combine it with the hanging dish drying rack and you've just made doing the dishes an entirely self-contained job.
4. Hang a sponge holder on the wall and sink faucet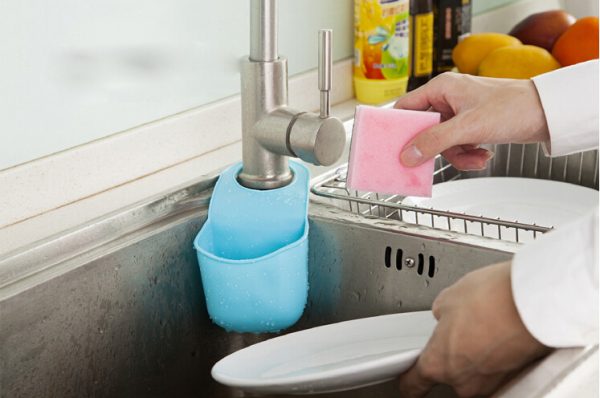 This silicone sponge holder is great at storing your sponge on the inside of your sink and cutting out the grossness that can often result from a wet sponge left on a counter. And if you combine the sponge holder with the in-sink towel holder, you'll be a sink space-saving pro pronto.
5. DIY a pull-out cutting board with a hole in the middle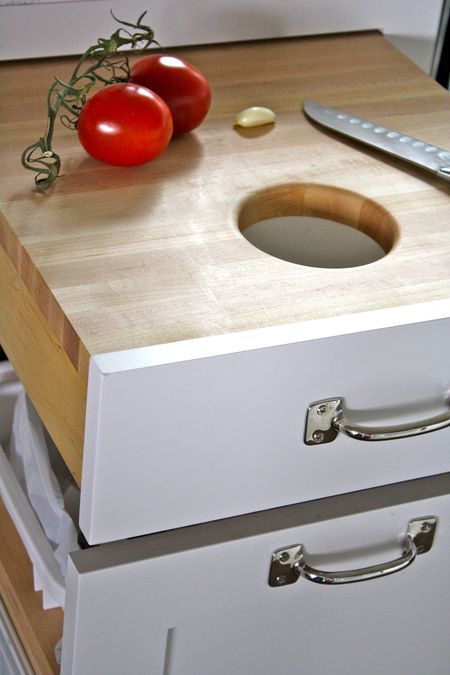 Kill two birds with one stone by DIY-ing a pull-out cutting board with a hole in the middle.
It maximizes your counter space since you can hide it in your drawer. It makes your meal prep way more efficient since you can quickly toss trimmings directly into your trash can. It is so genius we wish we thought of it ourselves.
Brownie points for using a wooden cutting board, which studies have shown can be more sanitary than a plastic cutting board in the long run.
6. Hack a drawer into a utensil organizer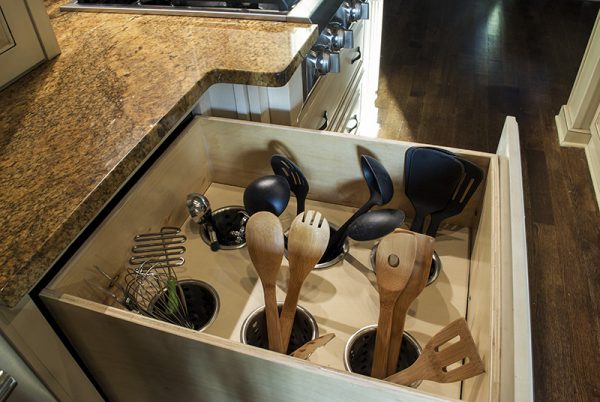 Ladles lying strewn everywhere? Spatulas sleeping where they shouldn't be? Whisks every which where?
Tear a page out of Remodelaholic's remodeling book and turn one of your other drawers into a pull-out utensil organizer.
7. Stash cooking and eating utensils in Mason jars.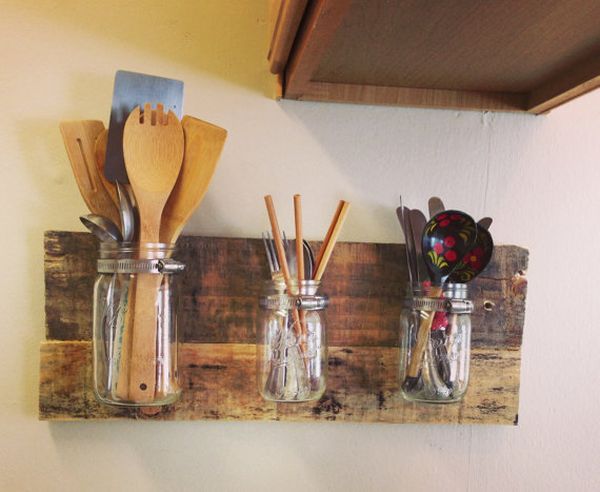 Although this tutorial from The DIY Playbook is for a bathroom organizer, it's so versatile that you can use it anywhere in your home. Including in your kitchen, where the mason jars would look particularly nice filled with spoons, forks, cooking utensils, and a few flowers to brighten things up.
The steps are pretty simple: Find a piece of wood you love, give it a good stain, drill a few hose clamps into the wood, attach the Mason jars, and hang it up.
Depending on what you need to store, you can even use different sizes of jars, which makes this project perfect for freeing up precious drawer space.
Here's how to DIY a Mason jar organizer:
8. Or store utensils in floating tin cans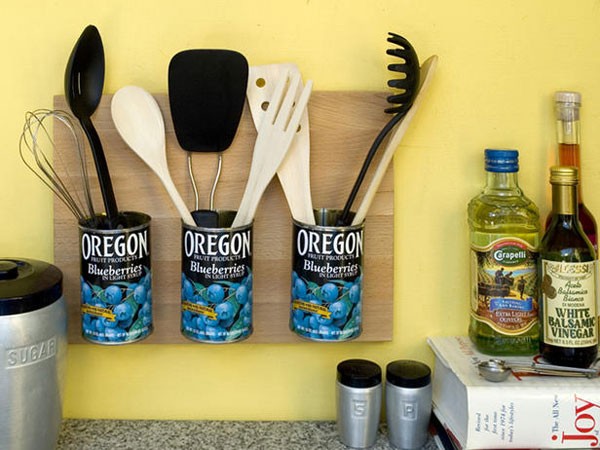 Another great way to get utensils out of your drawers and into a more creative storage set up is to build a shelf out of tin cans and a piece of wood. It'll give your kitchen a nice rustic vibe while freeing up some drawer or cabinet space.
9. Store utensils in floating tin cans that are as pretty as you are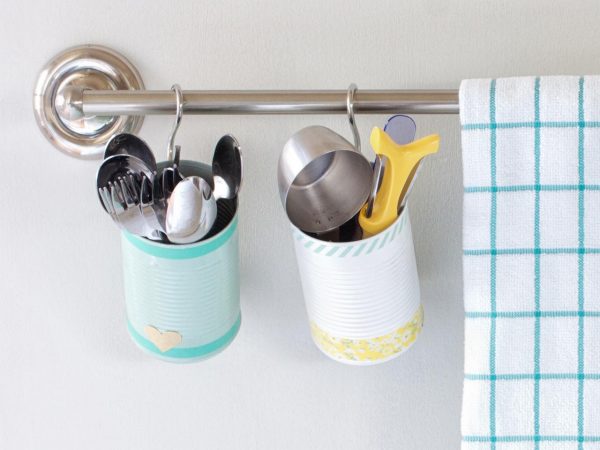 These DIY utensil cans are very similar to the tin can shelf. The only difference is these cans hang on a metal rod that doubles as a hand towel rack.
Also, everything is all in one place, and you can hang the rod at eye-level, which means no more bending down when you need a dish rag or a spoon.
10. Upcycle a wood pallet into a silverware holder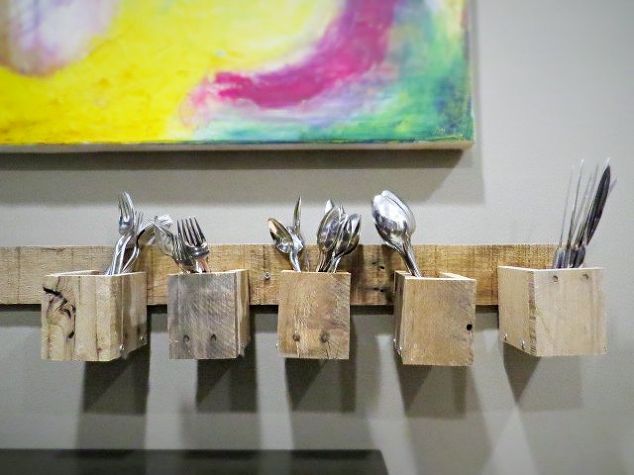 This silverware holder will add a chic vintage look to your kitchen while freeing up a drawer or two. (You know, in case you want to make a drawer paper towel dispenser. Or drawer cutting board.)
Hop over to Hometalk for the full instructions.
11. Dispense paper towel from a drawer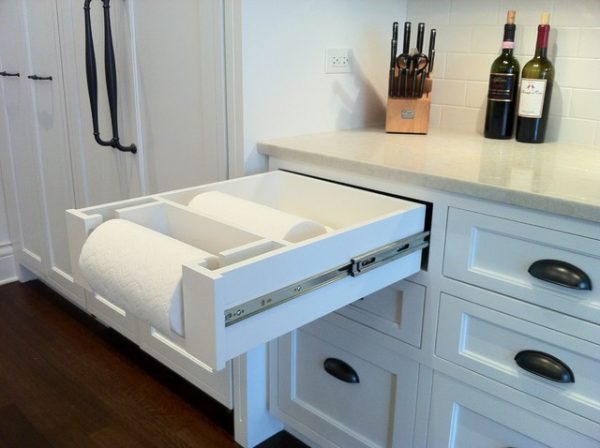 If you can spare a drawer, convert it to a paper towel dispenser. It makes cleanup a no-brainer, and you can even store your backup rolls there too.
12. Dispense vegetables from drawers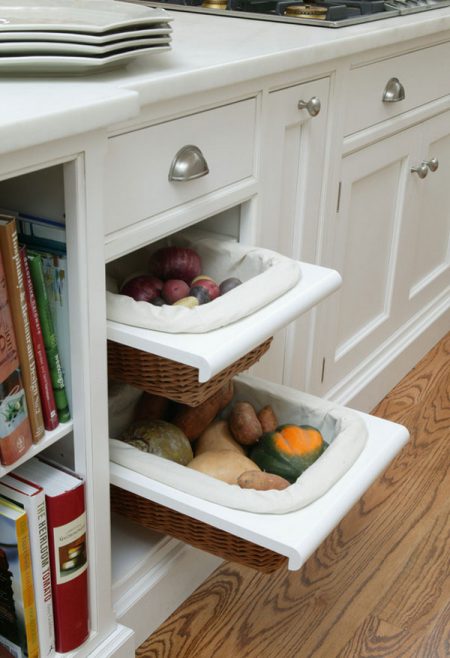 Have the resources (and let's face it — motivation) to convert the space under your sink into a cabinet?
Add a few sliding wicker basket drawers. They're ideal for storing vegetables (such as potatoes, squash, and beets) that can be kept in dark temperate places.
13. Store fruits in an under-cabinet bin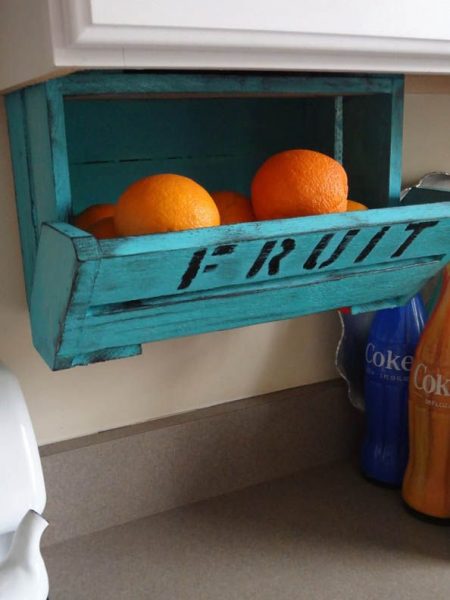 This under-cabinet fruit bin adds both charm and accessibility to your kitchen. You'll feel more inclined to grab an orange or two if they're hanging near eye level, and your countertops will be free of cumbersome fruit bowls.
Hear that? That's the sound of healthy space-saving success.
14. Levitate produce in three-tiered hanging wire baskets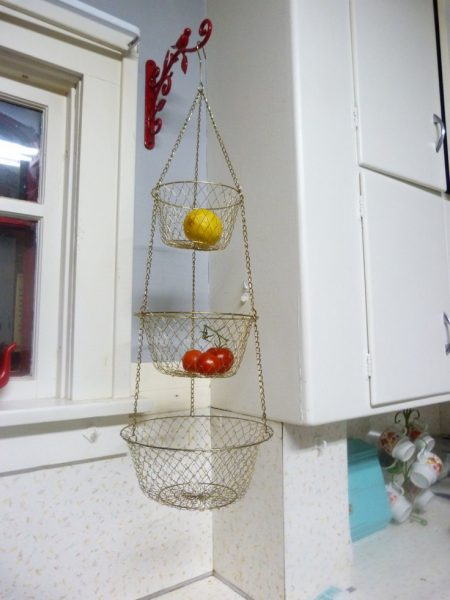 Produce — where the heck are you supposed to put it?
The answer: It depends, and The Kitchn has an excellent guide.
Sure, large wooden bowls that overflow with fruit are pretty, but who has the space for that? If you're reading this, probably not you.
Fret not, though, because a three-tiered hanging wire basket may just be the storage solution to your produce woes. And once again, World Market has a great, cost-effective storage option.
All you have to do is hang the wire basket from the ceiling in one of the corners of your kitchen. It's great for storing garlic and onions on the top; bananas, avocados, and oranges in the middle; and bread and other large items in the bottom basket.
Ok, so that probably wasn't the most DIY project out there. So if you'd like to make your own hanging wire basket, check out these instructions from projectophile.
You basically just need a few wire baskets, a lightweight chain, a bracket, and some spray paint in your color of choice. After spray painting the baskets and letting them dry for 24 hours, simply drill the bracket into the wall, attach all the baskets to the chain, and then hang that baby up!
The best part: You have full control over this kitchen storage solution's height and number of baskets.
15. Pimp out your drawers with produce baskets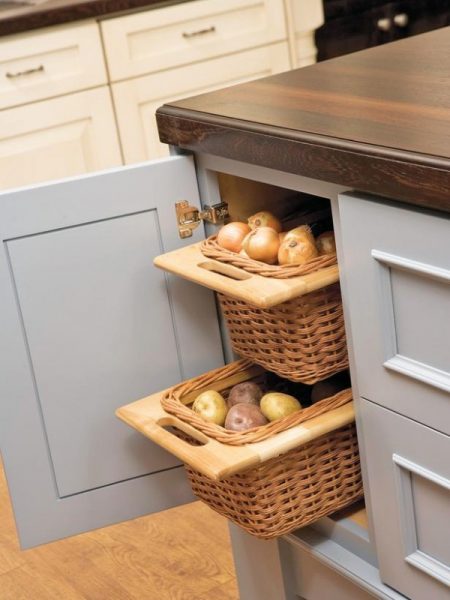 If you cook for a lot of people in your tiny kitchen or just like to stock up on supplies, these in-cabinet wicker baskets might be perfect for you. They're great for storing large amounts of potatoes, garlic, or onions out of sight and off your counters.
16. Store a cookbook on a retractable book stand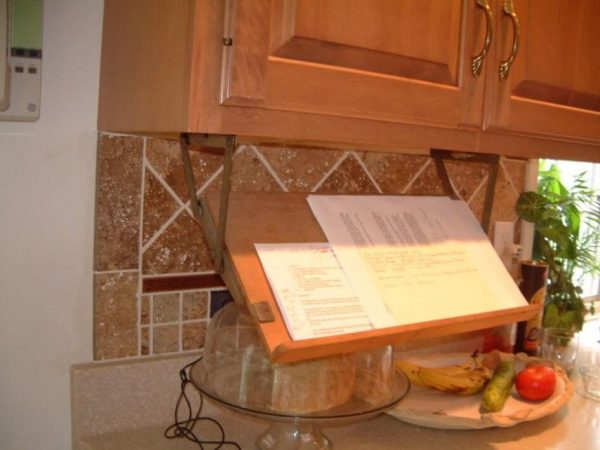 For hands-free cookbook reading, look no further. This retractable book stand keeps your beloved Joy of Cooking out of the danger zone while you're cooking and neatly stores it away when you're not.
17. Repurpose magazine holders into freezer shelves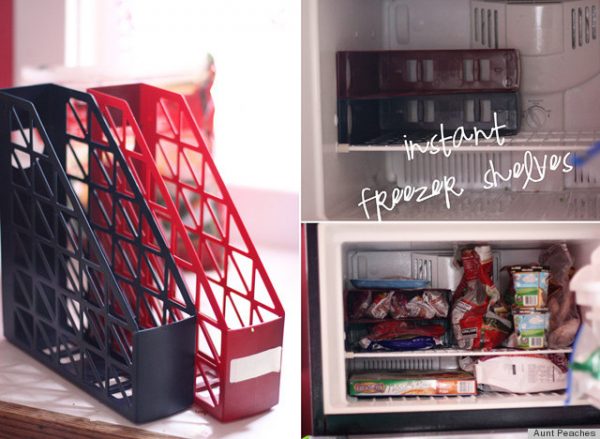 Here's another handy use for any extra office supplies you have laying around. Adding a couple magazine holders to the back of your freezer is great for organizing and storing bags of frozen fruits and veggies.
18. Color-code fridge drawers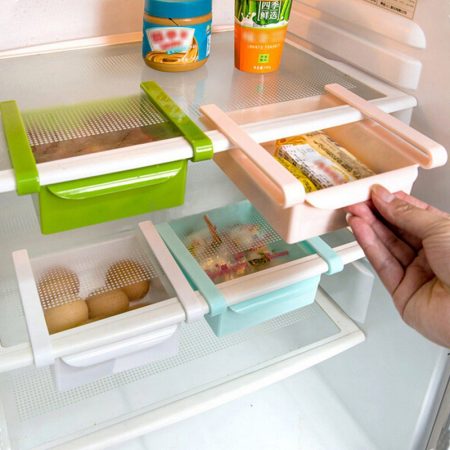 These adorable miniature pull-out drawers instantly add a pop of color and extra storage space by using the underside of your fridge's pre-existing shelves.
Pro tip: Use the fun colors to color-code your food.
19. Add a wire rack to your fridge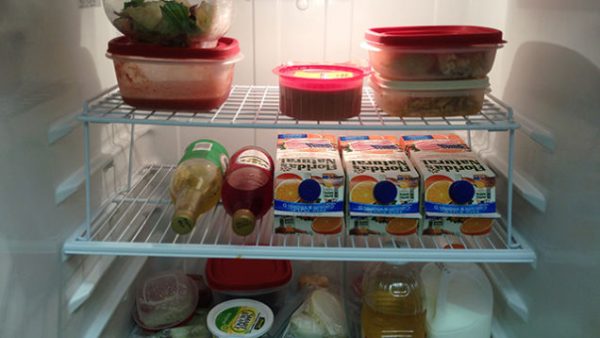 It may seem simple (because it is), but adding a wire rack to your fridge will change your whole fridge organization game by greatly increasing the amount of goodies you're able to store.
20. Put a clear desk organizer in your fridge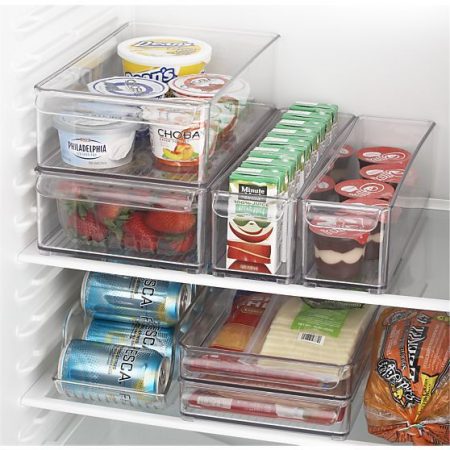 When it comes to keeping practically everything in your fridge organized, clear desk organizers are a dream come true. They let you easily corral and see your inventory, and their hard plastic bodies make them totally stackable.
Looking for a more vibrant option?
Poppin has plenty of desk organizers in eye-opening colors.
21. Hang a rack on the side of your fridge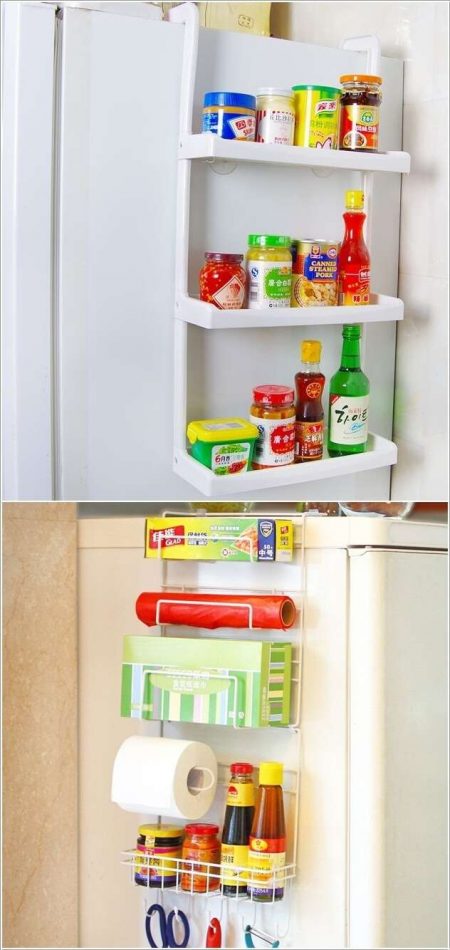 Not everyone is blessed with a pantry, and so if you have a fridge with an exposed side, use that space for storage.
Simply hang a multifunctional storage rack like this one on the side of your fridge and toss your tin foil, parchment paper, Sriracha, peanut butter, and other pantry items inside.
22. Stick spices on your fridge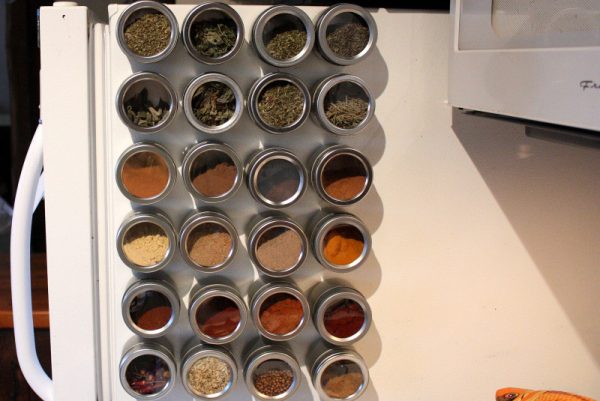 This DIY trick looks fancy, but it's easier than you think. Fill magnetic tins, such as GRUNDTALs from IKEA, or magnetic spice tins from Bed Bath & Beyond, with spices and place them anywhere on your fridge.
Pro tip: Label the tins on their backside so you always remember what's in what.
23. Put a Lazy Susan in your fridge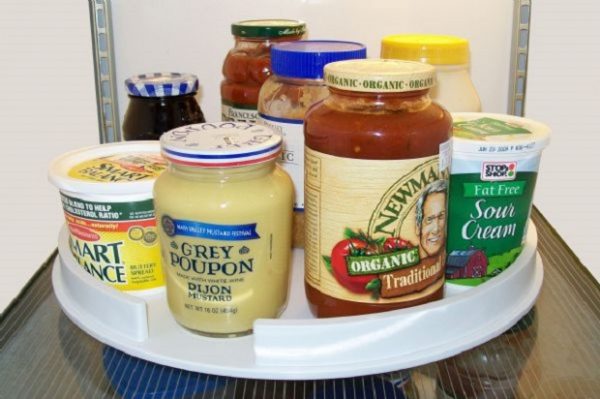 A messy fridge means our worst nightmare — food that goes to waste because it's been hiding in the back of your fridge untouched for weeks.
If this sounds familiar, install a Lazy Susan and store your condiments, plastic and glass containers, and other small stuff on top of it.
The result: An organized fridge where no food goes to waste because it has a mini merry-go-round that makes reaching things 10x faster.
24. Put a Lazy Susan under your sink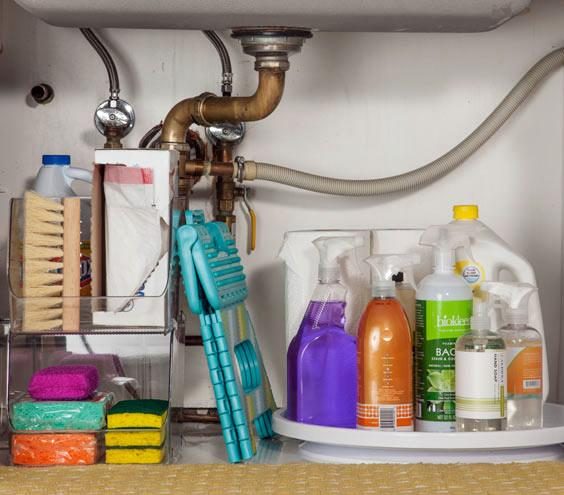 While we're on the topic of Lazy Susans, consider putting one under your sink as well. It's great for storing cleaning supplies and keeping the space tidy.
25. Hang cleaning supplies on a tension rod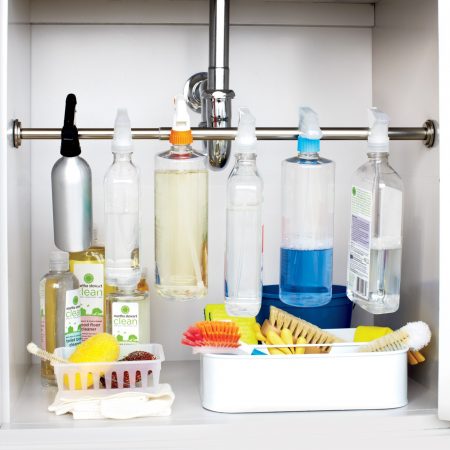 A tension rod mounted under your sink gives you quick and easy access to spray bottles while leaving plenty of space for sponges and rags underneath. Which means no more digging through bins of bottles to find your Green Works!
26. DIY an under-sink trash bag dispenser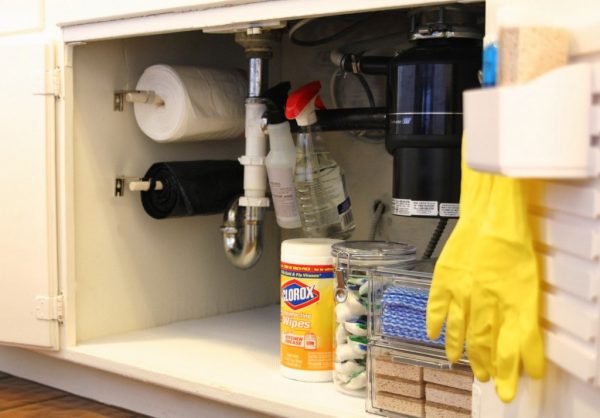 Have oversized rolls of garbage bags taking up too much space under your sink?
Not anymore. Because you're going to follow these simple instructions from Simply Organized that show you how to DIY a trash bag dispenser in no time.
27. Invest in a thin storage rack on wheels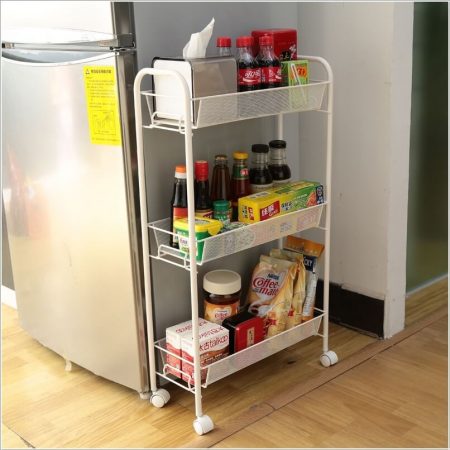 A tall and skinny storage rack on wheels is perfect for storing items in the awkwardly designed spaces in your kitchen. Proudly display your French press and coffee set up here, or stock it full of extra cleaning supplies, and then wheel it away to a space that gets minimal traffic.
28. Transform a nook into an appliance garage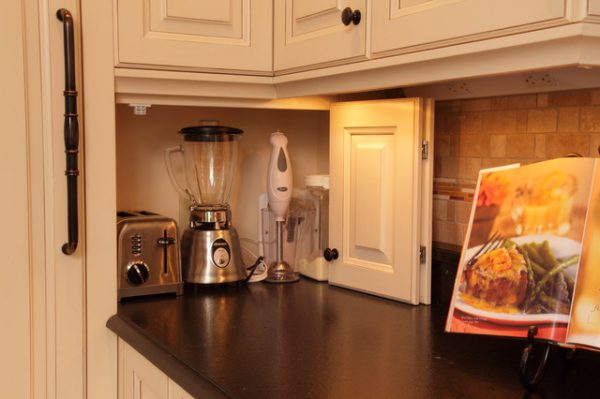 If you have an empty nook on your kitchen counter, transform it into an appliance garage. A sliding cabinet door keeps your counter space visually decluttered and serene, and you'll always know where your Magic Bullet is hiding.
29. Build a storage shelf that doubles as a pot and pan rack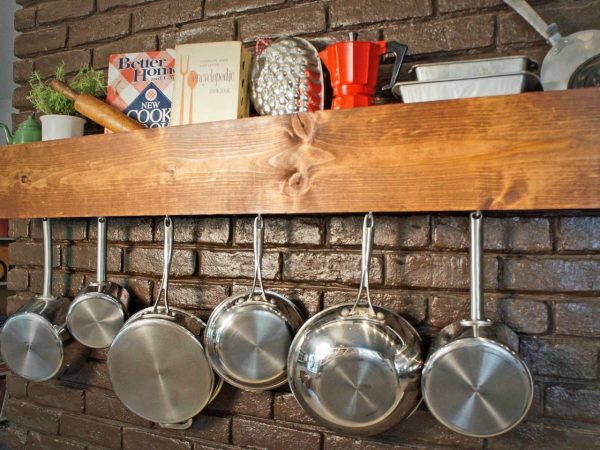 This hanging cookware rack is a versatile storage solution for any one-bedroom apartment where it may be hard to distinguish the kitchen from the dining room from the living room.
Blend the storage needs of all three rooms by storing books and candles on the top shelf while hanging pots and pans on the bottom hooks.
30. Vintage locker + extra shelves = your new pantry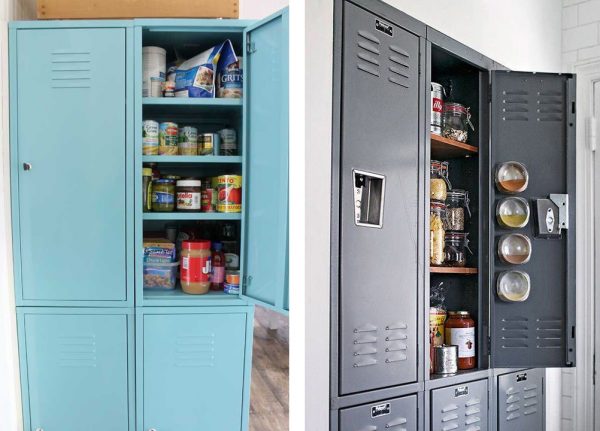 A locker is basically a mini storage unit. If you can find a salvaged one (the free section of Craigslist can be an amazing place sometimes), buy it.
We recommend adding a few shelves to the interior of this rugged-but-classy relic to maximize your storage space. And because the locker is made of metal, it's the perfect place to hang spices using magnetic tins that you can pick up for only $9.95 (for a pack of five) at World Market.
This also means that magnetic hooks will work too. But why stop there?
Hang a whiteboard, a calendar, or even some embarrassing bar photo booth strips. When you're done, bask in the glory of being the only person you know with a kitchen cabinet that's almost as cool as high school-you.
31. Hang anything with a loop on a DIY wire rack.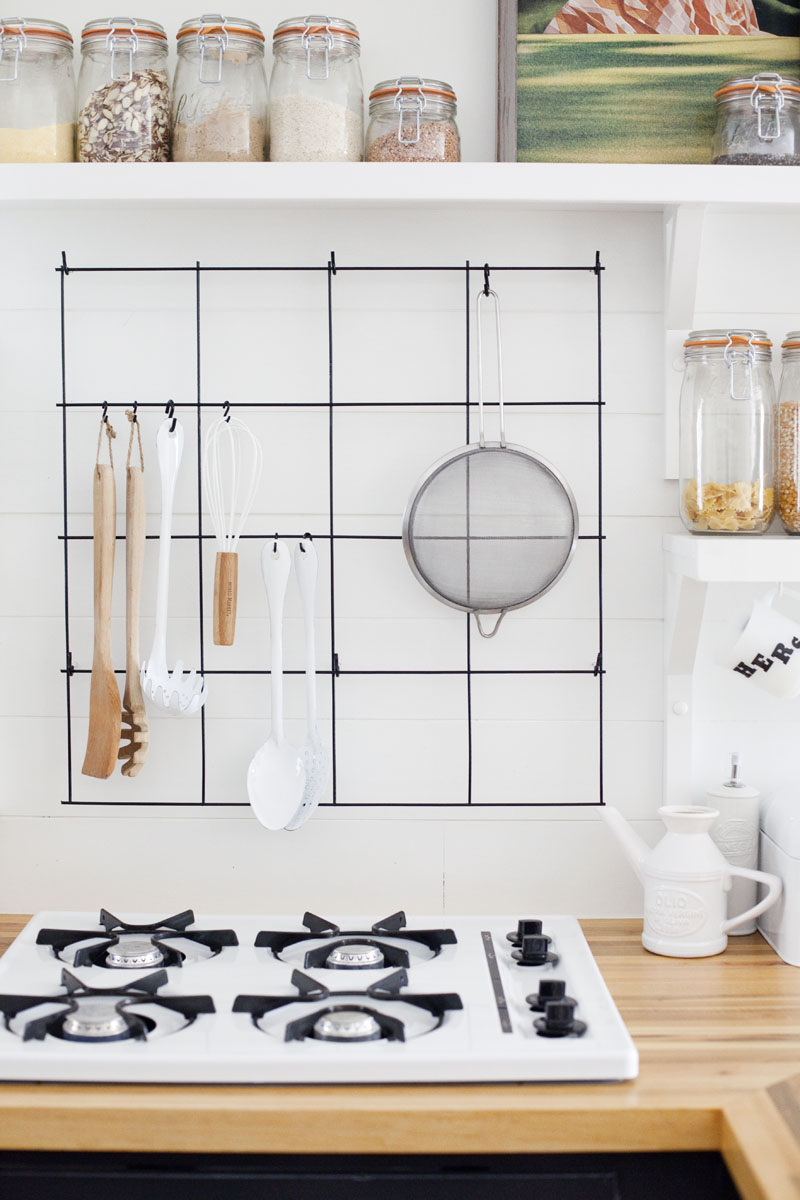 Not only can this space-saving, pot-and-pan-hanging wonder store all your cooking utensils, but it also has a minimalist design that fits into any decor, it won't take up any space on your kitchen counter, and it's fairly easy to make thanks to these instructions from A Beautiful Mess.
You really just need some wire mesh rebar, a few hooks, rust-preventing primer, wire cutters or a metal grinder, and a power drill.
We suggest hanging this wire rack in the small nook behind your stove (what else were you going to do with that space anyway?), and then storing anything from pots and pans to spoons and spatulas and even a colander.
The possibilities of what you can hang on this rack are like your DIY kitchen storage imagination:
Practically endless.
32. Or build nothing and hang pots and pans on a ladder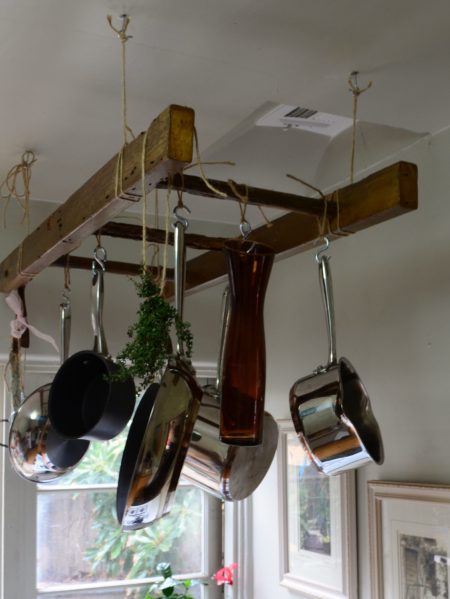 Like the reclaimed locker project, this how-to is perfect if you happen to have an old ladder laying around. If you don't, there's always Craigslist, or any home improvement store.
Once you have the ladder, Old House Crazy has your back with these DIY antique ladder pot rack instructions.
After sawing the ladder to your desired size and finding the proper studs to mount it to, simply use a few screw hooks, eye bolts, and a chain to hang the ladder from your ceiling.
Then, slap on a coat of polyurethane, let it dry, hang up your pots and pans, and invite your friends over for a dinner party pronto. Even if you're not a MasterChef, this brilliant and cheap kitchen organization solution will certainly make you look like one.
33. Mount a pull-down spice rack to a cabinet shelf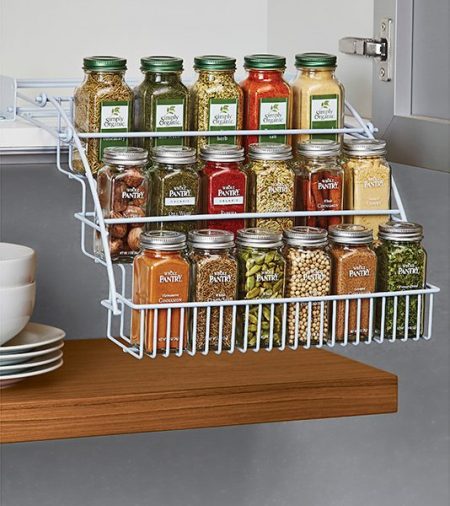 Get your napkins ready because this kitchen storage solution might just blow your mind:
It's a spice rack with three shelves that pull down from your cabinet.
What more could you ask for?
34. Buy a tiny spice rack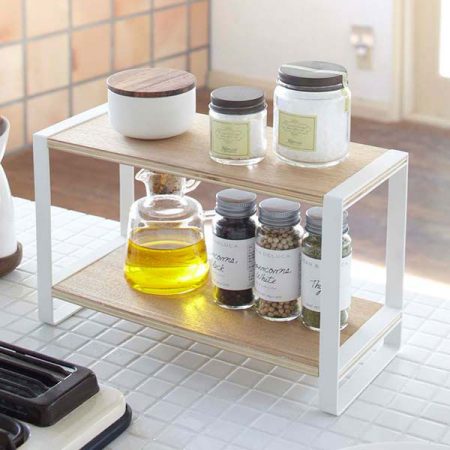 If this isn't the cutest miniature condiment shelf you've ever seen, we don't know what to tell you.
Stack your oil, vinegar, and salt for a classy bread dipping station. Or use it to store various cooking oils, spices, and seasonings for an organized space-saving cooking station.
35. Hide a trash can in a butcher block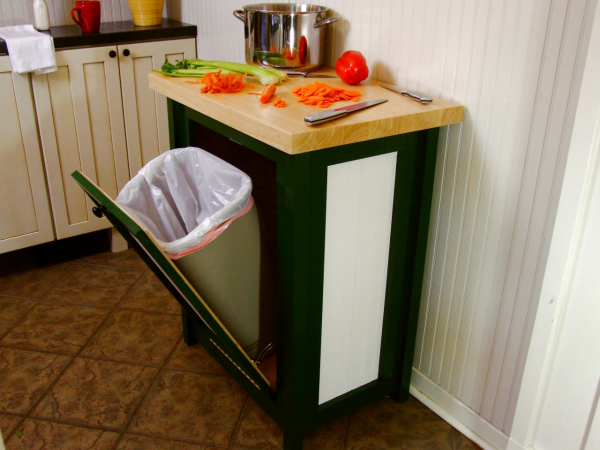 If you frequently have guests over for dinner parties, or if your friends and family typically migrate to the kitchen (in such a small space, where else would they go?), then you'll love  this space-saving butcher block/pull-out trash can.
It makes cleaning up veggie scraps a cinch, and it discreetly stows your garbage away from your guests.
36. Poke knives into your kitchen countertop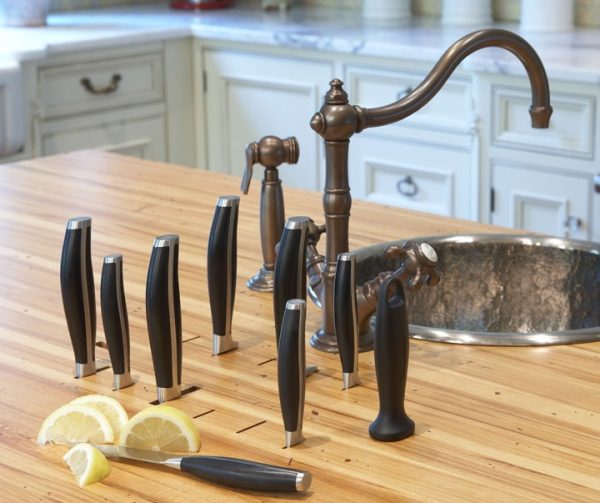 Instead of keeping your knives in a woodblock on your counter or strewn about in a drawer,  keep them in your counter.
A hidden knife block will make your cutlery that much more accessible while chopping, slicing, and dicing.
37. Float knives on the wall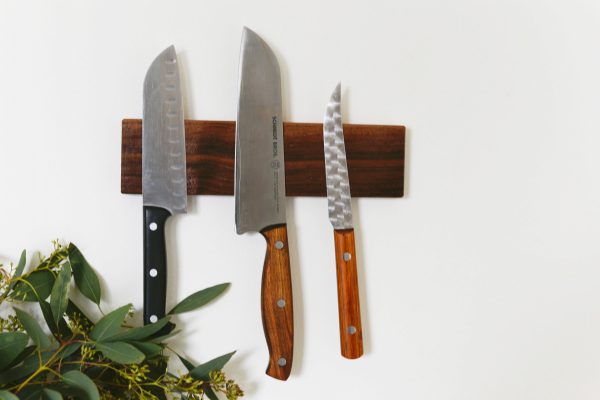 Large, beautiful wooden knife blocks are nice to look at, but they cost you prime real estate on your kitchen counter. What if there was a beautifully easy way to safely store your knives without giving up any horizontal space?
That was a rhetorical question, and so here's a step-by-step guide from Homedit that shows you how to DIY a magnetic knife holder you can mount to your kitchen's wall. Bonus points for using reclaimed wood.
38. Ask a bull to organize your knives and cookbooks

If you aim to impress, this part bull, part bookshelf, part knife holder, part cutting board might just be your ideal kitchen storage solution.
Hang it up and store your beloved cookbooks and prized cutlery all in the same place — without sacrificing any counter space.
39. Store fruits, vegetables, and snacks in a rolling cart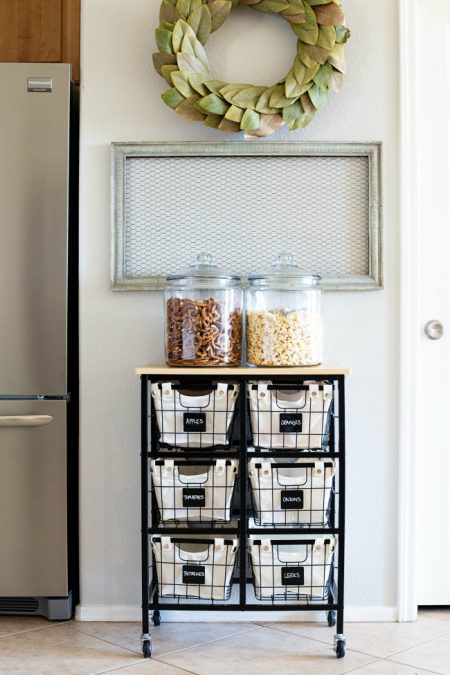 This rolling 6-drawer wire cart with canvas baskets and chalkboard plaques is the perfect place to store and organize your produce and snacks.
And if you get tired of seeing it parked next to your fridge for example, simply push it to wherever you want.
40. Or create a rolling pantry that you can wheel anywhere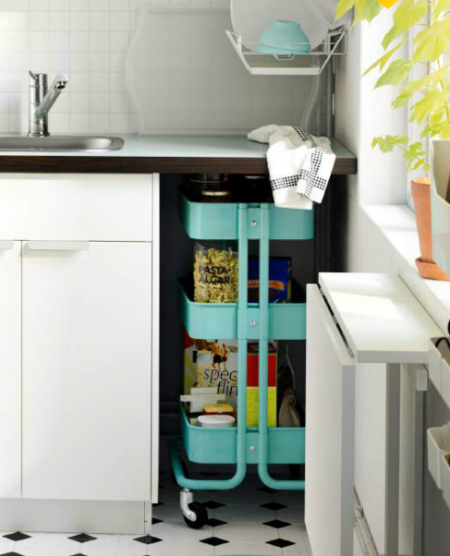 Not that you needed yet another reminder, but the RÅSKOG utility cart from IKEA is the perfect kitchen storage companion. Find a nook where it can live (like under your sink) and roll it out when you need access to your pantry items, produce, cleaning supplies, and more.
You name it, the RÅSKOG can store it. Including adult beverages, mixers, and barware.
41. Transform a drawer into a recycling center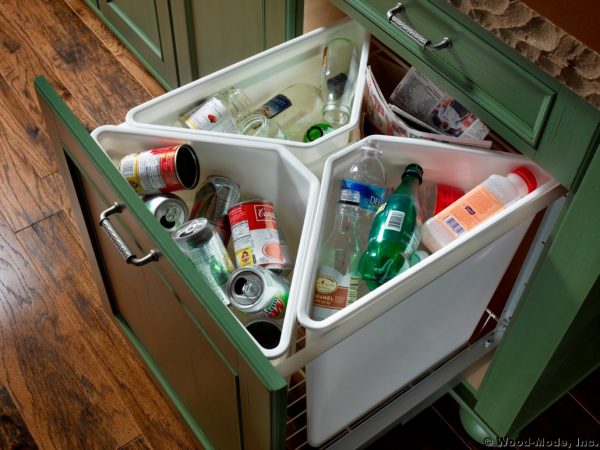 Instead of having bins and bins underneath your sink where you sort and store different things to recycle, try this four-compartment "recycling center" idea from Jeff Gilman Woodworking.
It hides inside of a pull-out drawer just like a trashcan so your recycling won't generate any visual clutter in your kitchen.
42. Hack your breadbox into a charging station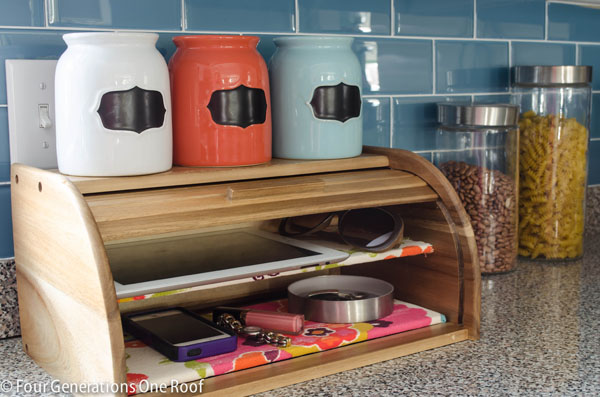 Does anyone even use a bread box nowadays?
Oh, you do? Ok well although it doesn't actually involve any cooking, this bread box charging station certainly belongs in your kitchen.
Your friends will love the fact that they can charge their phone at your place without feeling awkward about asking to borrow a charger.
43. Stack bathroom shelves on your kitchen counter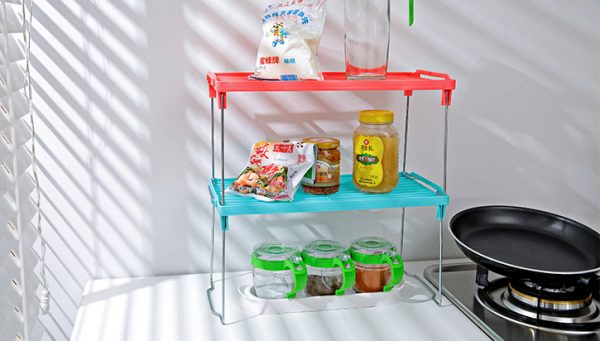 Just because these multi-colored stackable shelves are for your bathroom doesn't mean you can't use them in your kitchen.
(If you really want to declutter your bathroom, though, check out our huge list of 42 brilliant bathroom storage hacks and solutions.)
Not only will they add a fresh pop of color to your kitchen counter, but they'll also give you convenient storage space outside of your cabinets.
Have pretty dinnerware?
Stack it on top.
Have jars of loose-leaf tea?
Stack them on top.
Have a miniature indoor herb garden?
Stack it on … ok you get the point.
44. Build a Mason jar balcony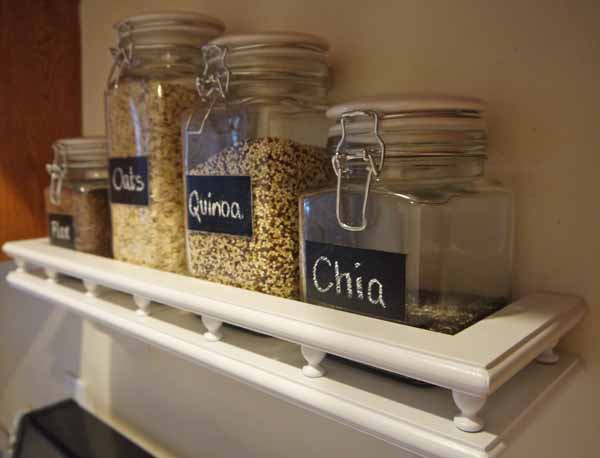 We've all seen a Mason jar with chalkboard paint, but this tiny glass jar balcony is a sight for sore eyes. It helps you organize and remember certain seeds, grains, spices, and herbs while leaving your countertops and cabinets free.
45. Screw Mason jars into the underside of a cabinet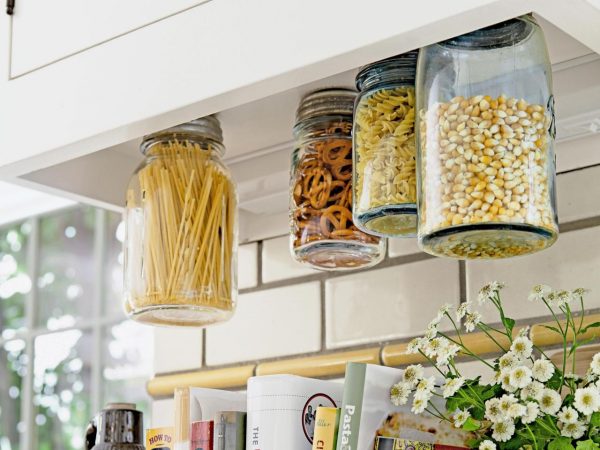 Though this looks complicated, it's actually a pretty simple set up. Just screw Mason jar lids into the underside of a cabinet and voilà! You've got a beautiful set of floating Mason jars that elegantly store and display your pasta, pretzels, popcorn kernels, and plenty more (so choose wisely).
Want more awesome things you can DIY with Mason jars?
Check out our list of 10 brilliant Mason jar decorating and storage ideas.
46. Take your kitchen on a trip to Pallet Island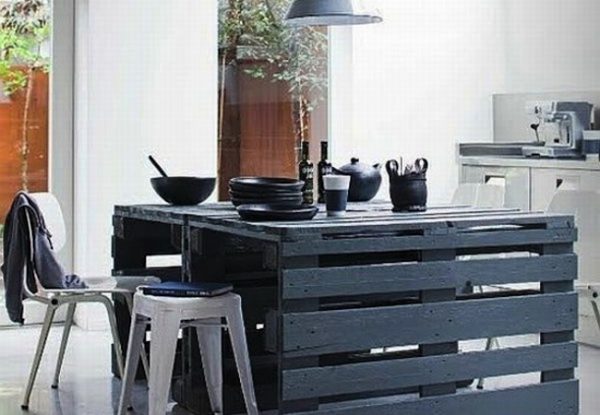 If your apartment blends both your kitchen and your living room into one space, this DIY pallet island is a fun kitchen storage hack you'll want to try.
You'll be able to store many items inside of it, introduce more counter space to your kitchen/living room, and create a fun place for guests to congregate around.
47. DIY pegboard storage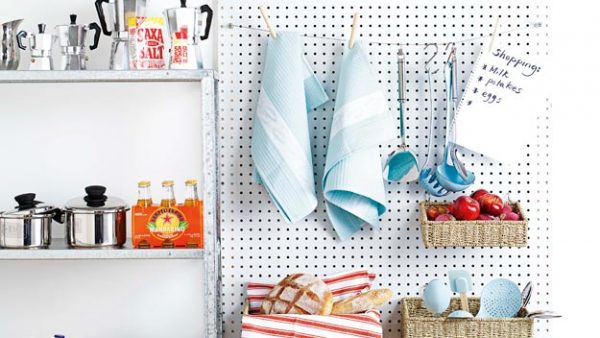 This pegboard idea from Ninemsn Homes fits in with any decor, it's easy to make, and you can hang virtually anything on it. Place it above your stove or sink for easy access to your cooking utensils, rags, apples, bread, shopping lists, and more.
48. Effortlessly store everything Clutter!
Still hungry for more space in your place?
Try the fastest and easiest storage hack of them all: Clutter.
Simply schedule a storage pickup, pack your stuff, and leave the rest to us.
We'll pick up your stuff (including your heavy furniture, fridge, skis, snowboard, mattress, and more), store it in our secure temperature-controlled storage facility, and create an online photo catalog of everything so you always know what you have in storage.
The best part:
When you need something back, we'll deliver it to you.
This article was written by Hannah Van Arsdale, a freelance writer and dog person based in Portland, OR.