Outdoor storage isn't exactly straightforward. Unlike a home that has closets, cabinets, and drawers to hide your unappealing possessions, a backyard is wide open, meaning you have to think outside the box to organize and store your stuff.
But no matter your backyard situation — whether you have a teeny balcony, medium-sized patio, or sprawling lawn — there are plenty of easy, practical ways to store your landscaping tools, pool cleaning equipment, gardening materials, kids' toys, and more.
Read on for 19 bodacious backyard storage ideas, tips, hacks, and solutions that will transform your outdoor space into an organized, clutter-free paradise.
1. Turn a bookcase into an outdoor storage bench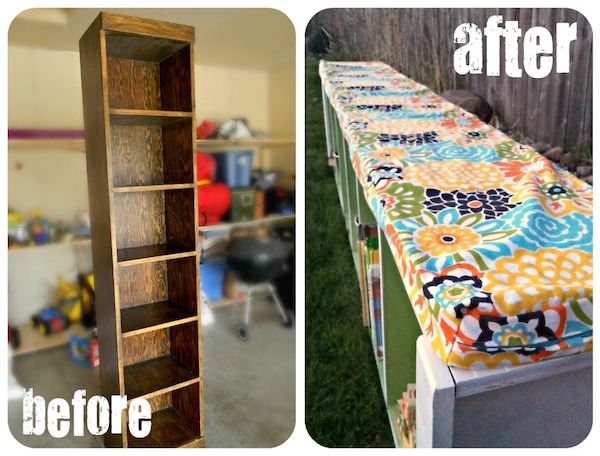 This genius tutorial from So You Think You're Crafty repurposes a narrow bookcase to make a padded storage bench . Just gather some foam, fabric, a can of paint, and bam — your tired bookcase is reborn as a dual-purpose seating area.
As far as storage possibilities go, get creative:
Fill the cubbies in your bench with towels, blankets, baskets of gardening tools, or pretty planters.
Want more cool DIY storage ideas?
Check out these 10 DIY storage and furniture projects you can make in less than one hour.
2. Revamp your tool shed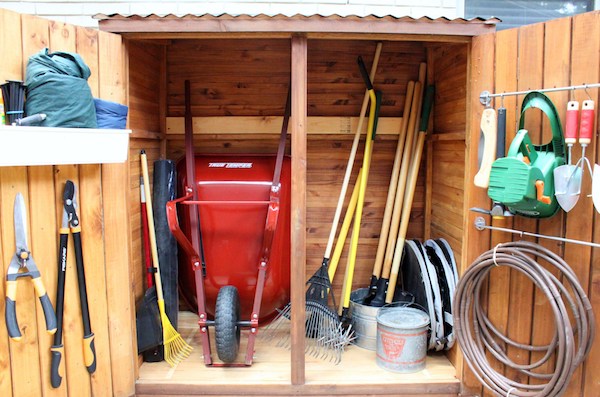 Tool sheds are a convenient, efficient way to store the equipment you need to maintain and spruce up your backyard — like lawn mowers, landscaping tools, planters, and hoses.
The only problem?
Tool sheds don't always feature a smart design on the inside.
If that's the case, take a cue from the men behind The Cavender Diary and make a few basic changes to upgrade your tool shed.
Tear out bulky shelves. Install an IKEA Grundtal rail, utensil holder, and S-hook to hold small gardening tools. Add wall hooks. Or hang a sturdy bin to store items like fertilizer and plant spray.
Free Bonus: 12 Best IKEA Hacks And Ideas For Every Room In Your Home
3. Use a hanging organizer to store gardening tools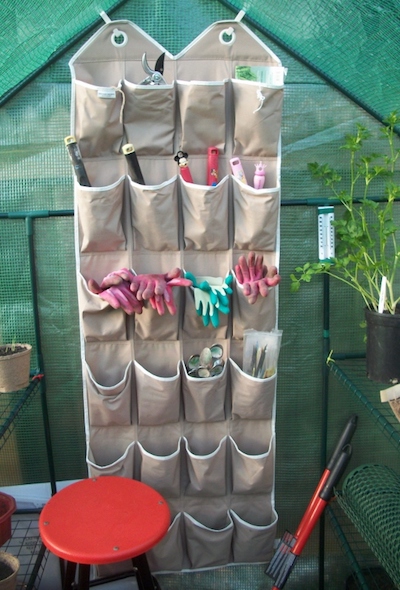 A hanging organizer is the baking soda equivalent of organizing tools: It fixes every problem.
You can use hanging organizers to store shoes, winter accessories, makeup, beauty products, crafts, and even cleaning supplies, so why not use them in your backyard, too?
Stuff the pockets with your gardening gloves, clippers, plant stakes, twine, and seed packets like The Coupon Project did, then hang it on the wall of your greenhouse or tool shed.
4. Make a DIY garden hose holder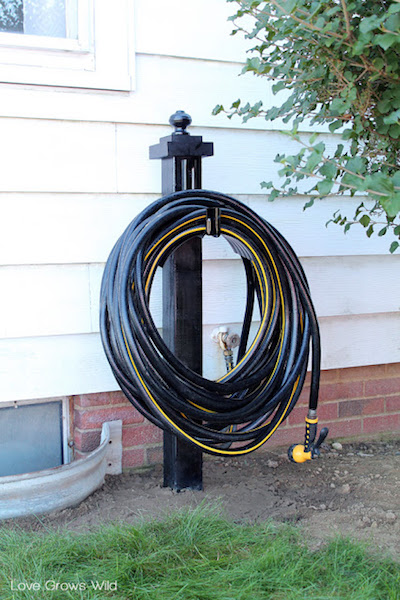 This clever DIY garden hose holder accomplishes three important things:
It keeps your hose accessible
It prevents your hose from ending up in a tangled pile on the ground
It looks surprisingly chic sitting in your garden.
What more could you want?
Check out the full tutorial at Love Grows Wild.
5. Build an outdoor coffee table with storage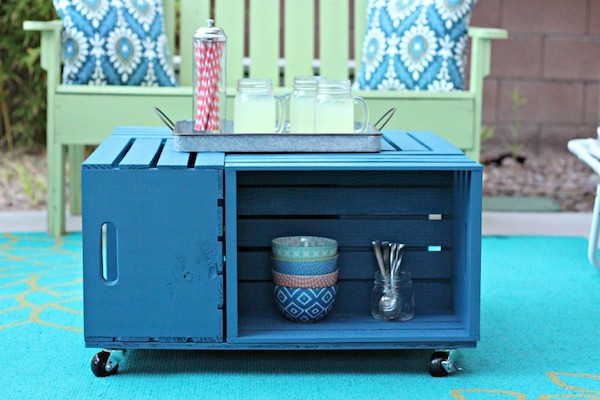 This outdoor crate coffee table with storage is the ultimate fun yet practical DIY project. Organize & Decorate Everything breaks down the full process, but here's the gist:
Gather a few wooden crates (try your local farmer's market or winery).
Slap them with a fresh coat of paint.
Glue them to a piece of sturdy plywood in the shape of a square.
Add caster wheels, and voilà — you have a portable rustic coffee table with plenty of storage for bar essentials, gorgeous air-purifying houseplants, or maybe even some books.
Free Bonus: How To Decide What Books To Keep Or Get Rid Of
6. DIY a covered kids car garage
No more tripping over tricycles, toy cars, and skateboards scattered around your backyard. Corral your kids' toys and gear in this mini covered kiddie parking garage by Mom Endeavors.
The DIY storage unit — built from PVC pipes, a corrugated plastic panel, and cloth — expertly hides your kids' outdoor stuff, but is still easy enough for them to access.
7. Turn an old shutter into a towel rack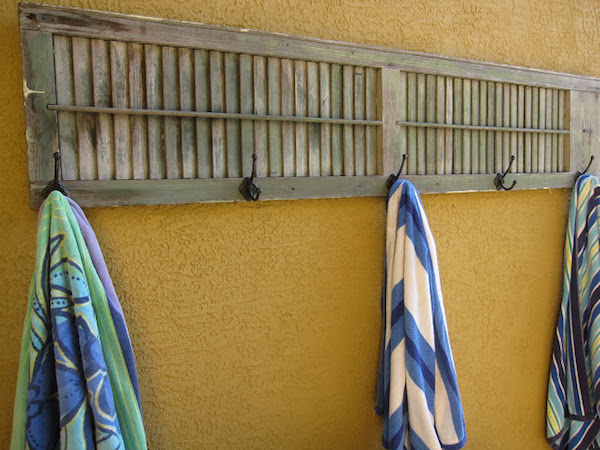 If your dilapidated, weather-beaten shutter is almost falling off its hinges, give it a new identity: flip it on its side, install a few hooks, and call it a shutter towel rack.
You don't even have to paint it or sand down the edges if you don't want to. The ramshackle look will only add to its rustic, antique charm.
Free Bonus: Want more vintage pieces turned storage solutions? Check out these eight cool vintage finds to help you control clutter.
8. Hide your garden hose in an outdoor planter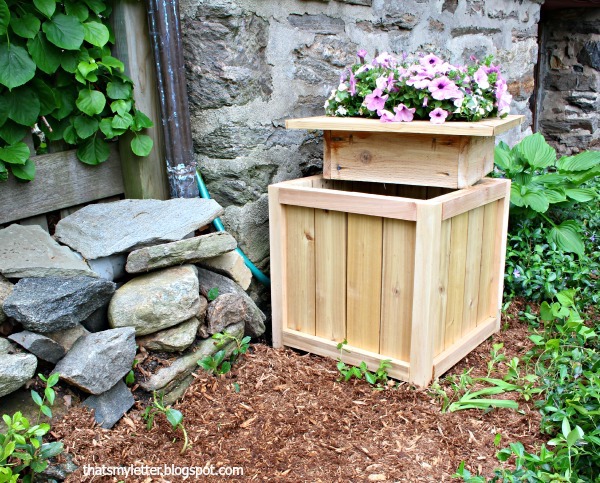 If you're sick of dragging your hose to and from the backyard to water your plants, or leaving it in a messy pile in the middle of your garden because you're too tired to put it away, here's your solution:
Store the hose in a pretty outdoor planter. It's simple, convenient, and actually looks good.
Read the post on That's My Letter to learn exactly how to set up your own secret hose-hiding planter.
9. Build an outdoor buffet cabinet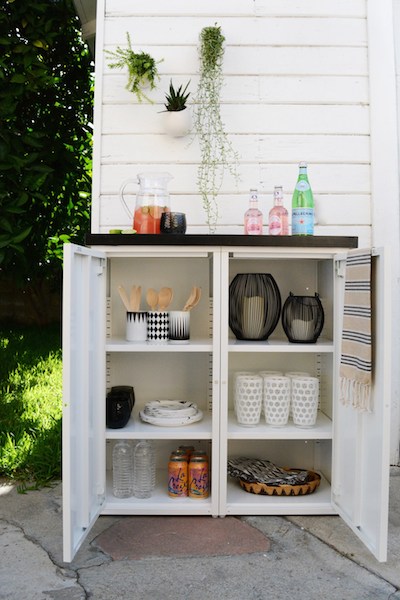 Depending on your personality, backyard setup, and weekend routine, you might have a variety of different storage needs. You may need to store shovels, gravel, and extra terra cotta pots.
Maybe you have to make room for pool tools and kids' toys. Or, you may need a place to store your party necessities.
Whatever the case, Oleander + Palm's gorgeous DIY outdoor buffet cabinet is just the thing you need to easily host dinners, brunches, and game nights al fresco. The buffet top serves as a mini bar, while the cabinets hold everything from candle lanterns to glassware.
Free Bonus: For more DIY fun, check out these 11 DIY wood pallet ideas that will increase the space in your apartment.
10. Store firewood in a DIY firewood cart with wheels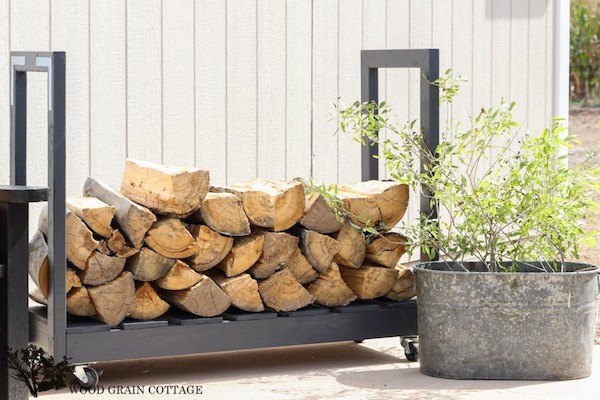 Cabin owners and mountain dwellers know how quickly a basic supply of firewood can stack up (pun intended) and take over your entire deck, patio, or garage.
To prevent this from happening, invest a Saturday afternoon into constructing your very own stylish and ultra practical rolling firewood cart à la The Wood Grain Cottage. It'll help maximize your outdoor space and keep your logs organized.
And did we mention it's portable? Skip the heavy lifting and just roll your firewood wherever it needs to go.
Want more smart home storage hacks?
These 12 best IKEA hacks and ideas will upgrade your entire apartment.
11. Hang gardening tools on a piece of wood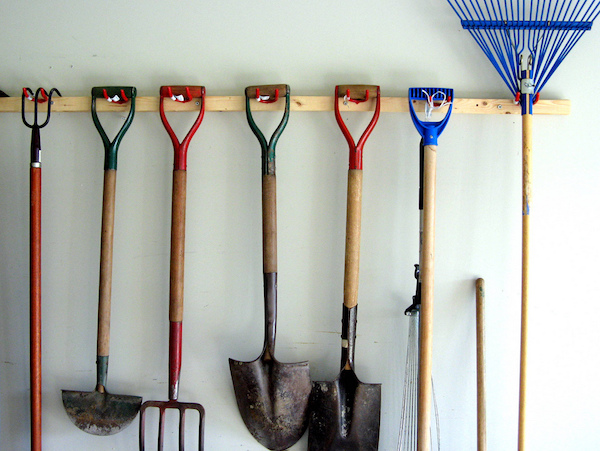 Have an old wooden plank laying around from your last DIY project?
Give it new life as a simple garden tool rack.
You don't need a plain piece of wood, either. Repurpose an old coat rack, hockey stick, or longboard to add some personality to your storage.
12. Construct an outdoor storage bench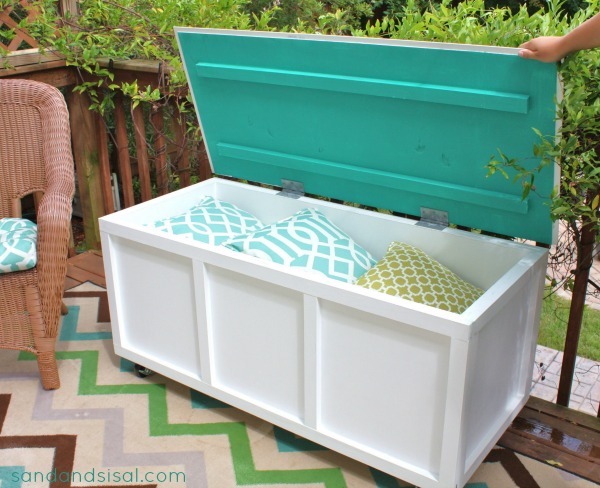 An outdoor storage bench is a no-brainer for your backyard. It's a dual-purpose item that saves space, holds up to harsh weather, and looks great among your patio furniture. Especially if you build it yourself with help using Sand and Sisal's DIY outdoor storage box tutorial.
Use it to store outdoor pillows, blankets for cozying up around the fire, games, pool toys, or towels. If you have enough seating space, it also doubles as a buffet table or drink station.
13. Use a wood pallet to store pool toys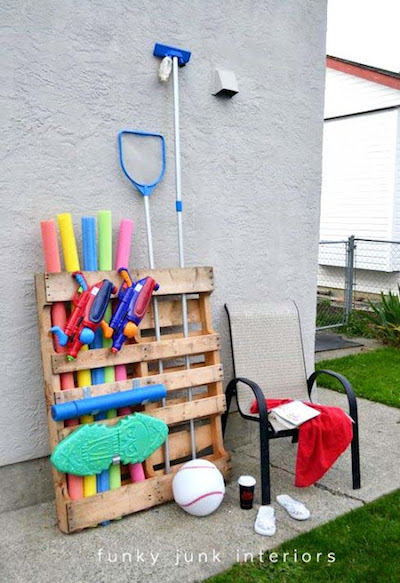 Pool toys are some of the worst backyard clutter offenders. They come in a variety of (sometimes bulky) shapes and sizes, making them difficult to store unless you have a dedicated shed or massive bin to stash them in.
Luckily, thanks to this smart DIY wood pallet project from Funky Junk Interiors, you don't need either of those options to store your pool toys. A basic wood pallet with a few added hooks on the front can accommodate pool noodles, rafts, kickboards, squirt guns, and even cleaning equipment.
Free Bonus: How To Start Decluttering Your Home: 15 Actionable Tips From Certified Professional Organizers
14. Design a vertical cinder block planter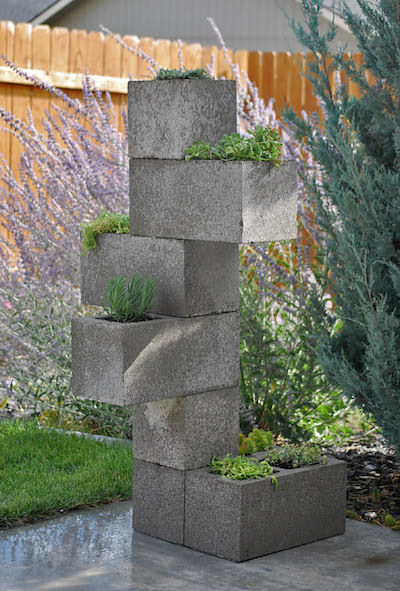 If you don't have enough surface area to spread out your collection of herbs, plants, and flowers, go vertical using this DIY cinder block vertical planter tutorial from The Garden Glove.
All you need are some cinder blocks, heavy-duty construction glue, and a bit of imagination. Make your planter as tall or intricate as you like.
And if you're not a fan of the urban grey vibe, spray paint your blocks to match your outdoor decor.
Pro Tip: Don't stop with your yard. Give your home a green makeover, too. Here are the best house plants and planters for anyone who lives in a tiny apartment.
15. Organize kids' toys in weatherproof baskets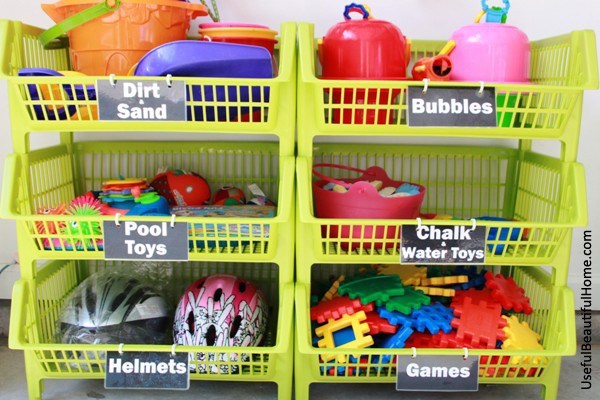 Even your littlest tots will be able to declutter following these simple yet extremely effective organizing concepts from Useful Beautiful Home (and our decluttering flowchart).
Just pick up a few lightweight plastic bins to store your kids' assortment of toys. Bonus points if they're color-coordinated, stackable, and perforated so dirt and water can fall through the bottom.
16. Transform a cabinet into a potting bench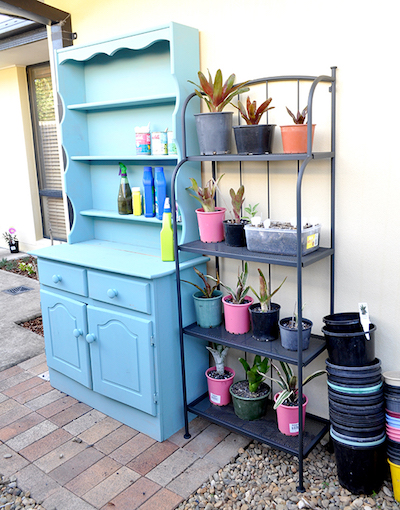 If you have an outdated armoire, bookcase, or cabinet in your home, don't throw it away. Bring it to the backyard instead. The Organised Housewife proves that a good scrub and a fresh coat of paint can transform an old cabinet into the perfect outdoor potting station.
Store gardening gloves, tools, and seed packets in the drawers, then use the shelves and cupboards to hold bags of soil, pesticides, and extra pots.
17. Build a wooden bench with crate storage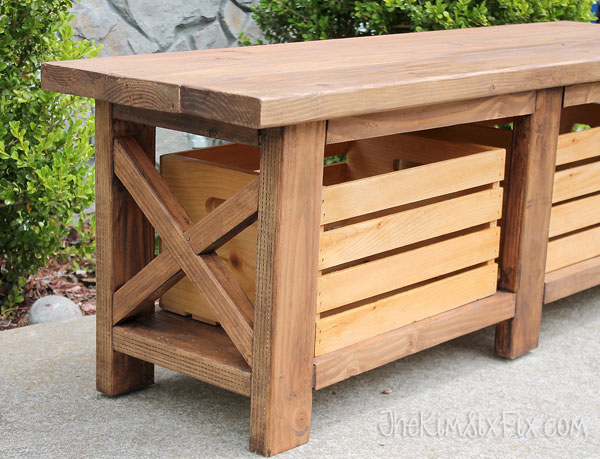 This wooden bench with crate storage project from The Kim Six Fix puts a fun twist on a classic storage bench. Use the open storage bench to slide in a couple of wooden crates that are perfect for storing blankets, towels, gardening tools, or kids' toys.
If the weather turns foul, simply carry the crates inside to protect your belongings.
Up for more creative DIY projects made from wood?
Try these eight cheap and easy wood pallet ideas that will revitalize your home in no time.
18. Hang storage buckets on your fence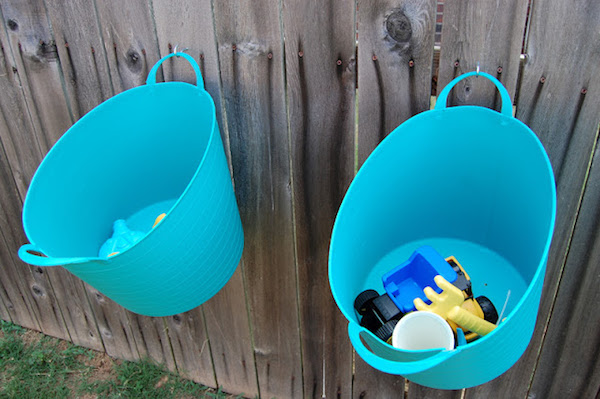 Even backyards have vertical storage possibilities.
Enter: The minimalist backyard toy storage solution from Bless Our Nest. Just screw a couple hooks into your fence and hang a durable plastic bucket from each.
It's a simple, foolproof way to keep your kids' toys organized and within easy reach.
19. When your backyard storage is maxed out, use MakeSpace
If you don't have extra storage space for your stuff, use MakeSpace. We'll store your bike rack, snowboarding gear, skis, surfboards, paddleboards, yoga mats, pet toys, and more.
All you have to do is schedule a pickup and pack your stuff. We'll pickup everything from your home, transport it to our secure temperature-controlled storage facility, and create an online photo catalog of your stuff.
When you need something back from storage, simply browse your online photo catalog, click the item's photo, and we'll deliver it to you.
This article was written by Paige Smith, a freelance writer from Orange County, California who specializes in lifestyle, wellness, and travel topics.