We've all fantasized about starting the perfect kitchen or bedroom remodeling project — the one that will add secret drawers, sliding panels, extra shelving, and hooks galore to our homes, magically creating space for all the stuff we can't find space for.
But here's the hard truth:
When you don't have the time or funds for a full-on renovation, you have to get creative to maximize your available space.
But it isn't as daunting as it seems. All you need are a few hardware store supplies, a basic tool kit, and a can-do attitude.
Here are 13 easy, clever DIY storage ideas and solutions for every part of your home. Click any of the links below to jump to a specific room:
DIY Bedroom Storage Ideas
DIY Closet Storage Ideas
DIY Bathroom Storage Ideas
DIY Kitchen Storage Ideas
DIY Garage Storage Ideas
DIY Home Office Storage Ideas
DIY Living Room Storage Ideas
DIY Bedroom Storage Ideas
1. DIY Hat Display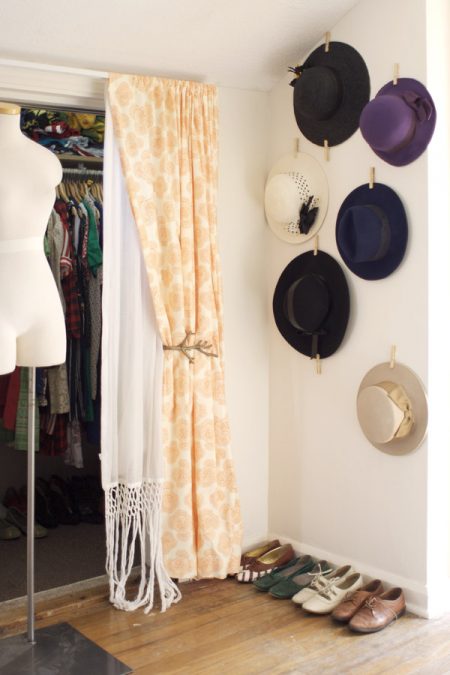 Instead of stacking hats on the tallest shelf in your closet or — gasp — folding them to fit inside a plastic storage box, hang them.
This easy tutorial from A Beautiful Mess uses clothespins and removable adhesive strips to hold the hats, but you could also use towel hooks or spray-painted nails to get the job done.
The best part?
Your hat display doubles as chic wall decor.
Want more creative hat storage ideas? See our full list here.
2. DIY Copper Clothing Rack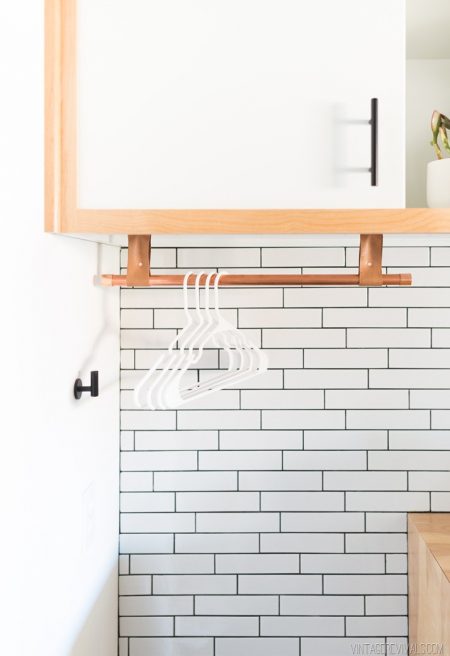 For the outfit that's just too cool to stay in the closet (or, let's be real, for your massive collection of sweaters and jackets that just won't fit), make this chic DIY copper clothing rack.
Vintage Revivals made this simple rack out of a copper pipe, leather straps, screws, and a grommet kit.
It's perfect to hang from the bottom of a cabinet or high shelf. Or, if your room has an unused, unloved corner spot, ditch the leather straps and position the pipe between your walls.
Free Bonus: Check out these 53 genius bedroom storage hacks that will upgrade your life.
DIY Closet Storage Ideas
3. DIY Clutch/Purse Holder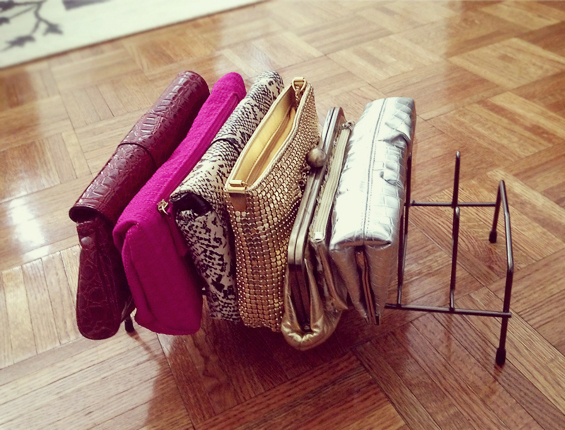 Say goodbye to misshapen clutches and handbags cluttering your closet shelves. This no-brainer DIY solution from Fabulous Fashions 4 Sensible Style repurposes a sturdy lid rack to neatly organize your prettiest purses.
So easy.
4. DIY Pegboard Organizer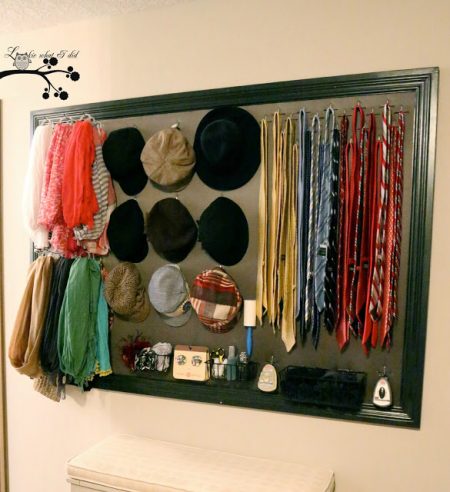 Accessories like belts, ties, scarves and hats can be tricky to store in a small closet. So instead of shoving them wherever you have precious shelf space, take them out of the closet completely.
This clever project from Lookie What I Did combines function and style by corralling typical outfit accessories and displaying them in a giant framed pegboard.
The framed pegboard is genius because it's basically a blank storage canvas you can decorate exactly how you like.
Use it to display everything from hats and ties to belts, scarves, jewelry, or even cologne and perfume in small baskets.
Don't have a traditional closet? Learn how to live without a closet.
DIY Bathroom Storage Ideas
5. DIY Cabinet Pocket Organizer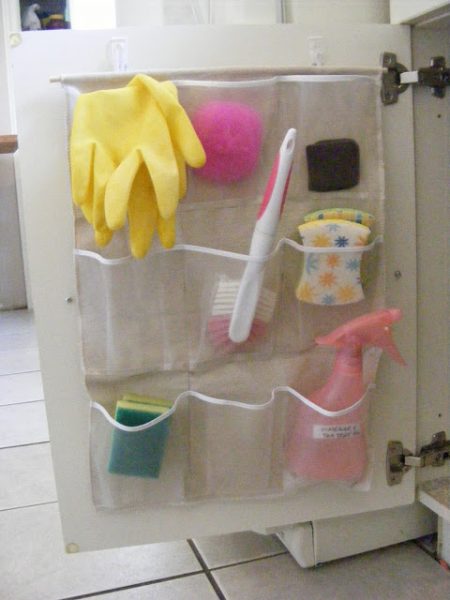 Cabinets below the sink are usually home to piles of half-used hair gel, mini shampoo bottles, cleaning products, extra toilet paper, and everything that can't fit inside your medicine cabinet (here's how to declutter your bathroom).
That two feet of cramped cabinet space — made even more maddening by the giant pipe in the center — doesn't quite cut it to store all your favorite products.
Enter: the DIY cabinet door pocket organizer. The Complete Guide to Imperfect Homemaking has a simple tutorial requiring a scrap of fabric and basic sewing skills, but if you struggle with a needle and thread, here's the cheater version:
Buy an over-the-door pocket organizer, cut it down to size, and use screws or adhesive strips to hang it on your cabinet door.
Voilà! Space for everything from cleaning products and sponges to bottles of lotion and bandaids.
Free Bonus: See our full list of easy and creative bathroom storage hacks that will make getting ready in the morning so much faster.
6. DIY Bathroom Towel Storage Baskets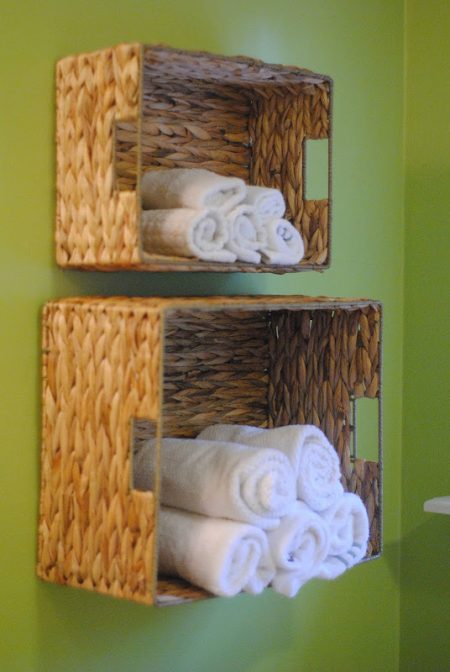 What to do when you have limited bathroom storage space and a stack of fluffy hand towels just waiting to be displayed?
Come up with a simple towel storage solution (baskets) that doesn't involve installing shelves or splurging on a fancy étagère.
Making Lemonade has the full breakdown of the process, but here are the simplified steps:
Find a sturdy basket, screw it into the wall sideways, add towels, then pat yourself on the back for being so resourceful.
Free Bonus: If you do want more shelves, but don't want to build them, check out these 15 gorgeous floating shelves that you don't have to DIY.
DIY Kitchen Storage Ideas
7. DIY Pantry Baskets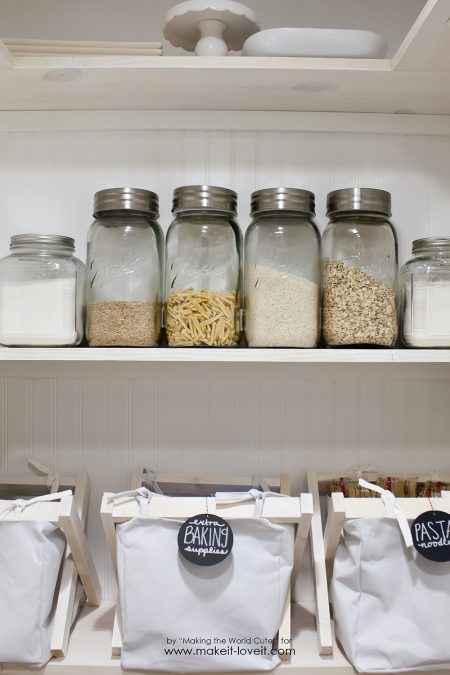 How much easier would your daily routine be if you could go straight to your pantry and find exactly what you're looking for in an instant?
The answer: Way easier.
This adorable DIY tutorial by Make It & Love It is just the thing to revamp your pantry and keep everything neat and organized.
With a bit of canvas fabric, wood, and willpower, you can make simple, stylish baskets to hold everything from baking powder and spices to boxes of pasta and Power Bars.
Free Bonus: 11 clever and easy kitchen organization ideas you'll actually want to try.
8. DIY Hanging Storage Bins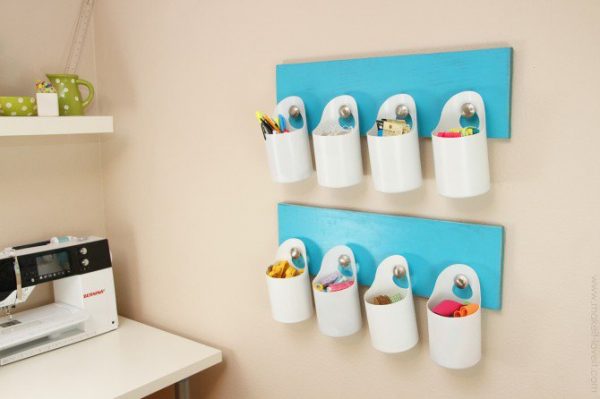 Make It & Love It used recycled containers and coat racks to create these simple storage bins that hang on the wall. You can use them to store spatulas, wooden spoons, spices, or even rolled dish towels.
Already have plenty of kitchen space?
No problem — these recycled bins are insanely versatile. Use them to hold scissors and masking tape in your craft room or makeup brushes and beauty products in your bathroom.
Craving more DIY kitchen storage ideas?
Check out our huge list of 48 kitchen storage hacks and solutions.
DIY Garage Storage Ideas
9. DIY Glass Jar Tool Storage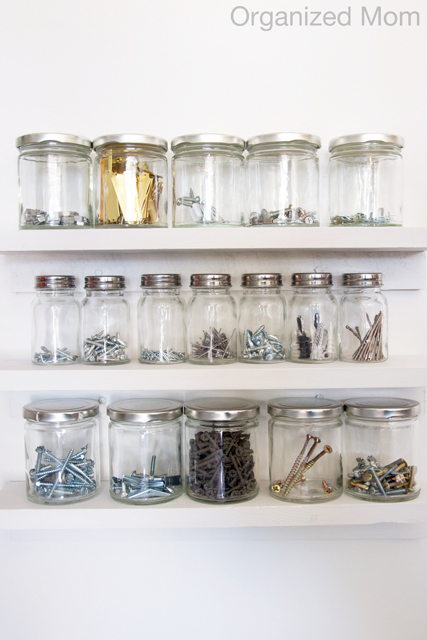 If you have crates of empty Mason jars left over from your Pinterest-inspired DIY lantern and layered salad projects, put them to good use in your garage.
Organized Mom used these simple glass jars to corral loose screws, nails, and bolts, a garage storage solution that makes it easy to see whether or not you need to restock your supplies.
Free Bonus: Even more DIY Mason jar storage and decorating ideas.
DIY Home Office Storage Ideas
10. DIY Craft Supply Pegboard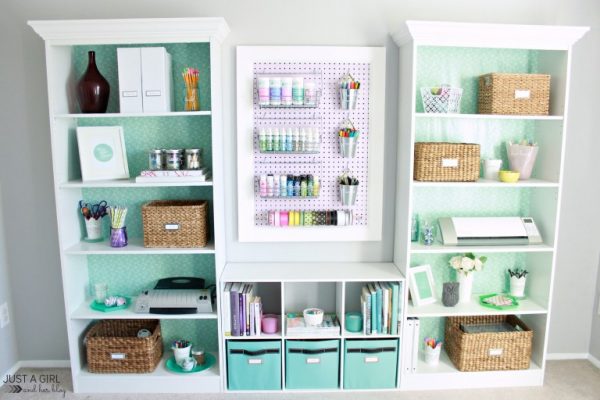 Pegboards are the easiest way to hang and display all the knick-knacks and supplies you don't have drawer or shelf space for.
Not only are they affordable and easy to use, they're versatile and a cinch to style.
Here's how the project works:
Buy a piece of pegboard from your local hardware store, frame it to match your decor, mount it on the wall, then use it to hang wire baskets and canisters full of all your craft supplies.
11. DIY Rolling Utility Cart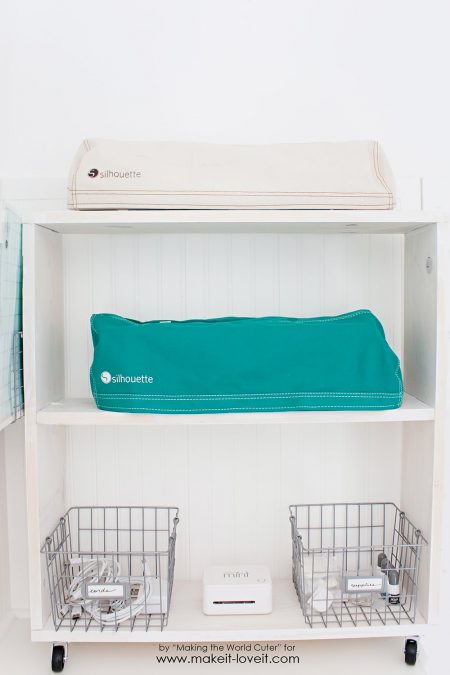 Maybe you have printers and label-makers galore with no place to store them. Perhaps you have bookshelves that house your office supplies but they're too far from your desk when you need them.
Whatever your office storage space conundrums may be, we've got the solution for you: a DIY utility cart that holds everything and rolls wherever you need it.
Make It & Love It fashioned this adorable, highly functional craft cart using wood, casters, nails, and a fresh coat of paint.
Free Bonus: Awesome DIY storage and furniture projects that you can complete in less than 1 hour.
DIY Living Room Storage Ideas
12. DIY Cabinet Shelf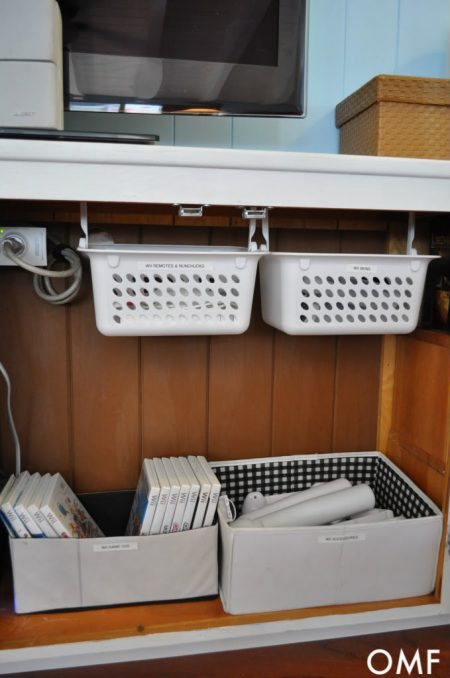 Unless you're a diehard drawer fanatic with a penchant for cabinet demolition, chances are good you have a large, poorly designed cabinet somewhere in your home that you wish had built-in shelves.
If so, this is the project for you. Organizing Made Fun lived up to its name and transformed a handled basket into an extra cabinet shelf by hanging it from cup hooks.
The result? Instant and efficient living room storage space.
13. DIY Storage Bench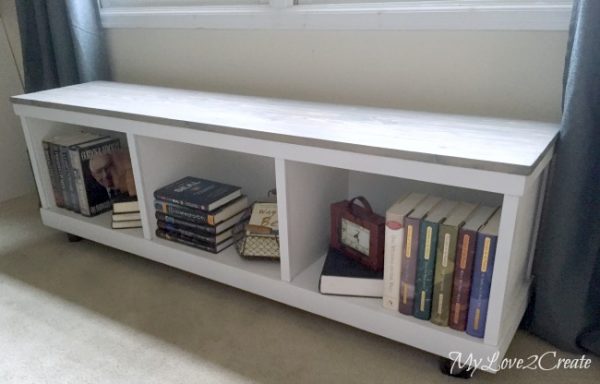 If you need a stylish but compact space to store your collection of cookbooks, family albums, or art supplies, look no further than this elegant DIY storage bench from My Love 2 Create.
The project uses plywood, paint, and a nail gun to transform an old laminate bookcase into a sturdy storage bench perfect for tucking in an entryway hall, living room, or bedroom at the foot of the bed.
Use it to store books, photos, trinkets, or baskets full of blankets.
Want more projects like this? Check out our list of DIY wood pallet projects that will help you save space in your home.
As for all those pesky storage problems you can't DIY your way out of, use MakeSpace.
All you have to do is schedule a pickup and pack your stuff. We'll grab everything from your home and transport it to our secure, temperature-controlled storage facility.
And when you finally nail that DIY shelving unit you built to display all your vinyl records, just browse your convenient online photo catalog of your stuff and click a button to get it back right away.
Top image via Lookie What I Did
This article was written by Paige Smith, a freelance writer from Orange County, California who specializes in lifestyle, wellness, and travel topics.