The kitchen is often the most used space in your home — and the least loved. Half-filled spice jars can clutter your countertop. Piles of mismatched containers and lids can overflow from your cabinets. And coffee filters and paper plates can get crammed in your pantry alongside bulky boxes of cereal and bags of bread.
Sometimes, the kitchen can be a total mess. But don't worry!
Here are 11 clever kitchen organization ideas that will keep your kitchen clutter-free so you can focus on what matters most (no, really): enjoying your food.
1. Store spices, baking ingredients, and snacks in glass jars or other transparent containers.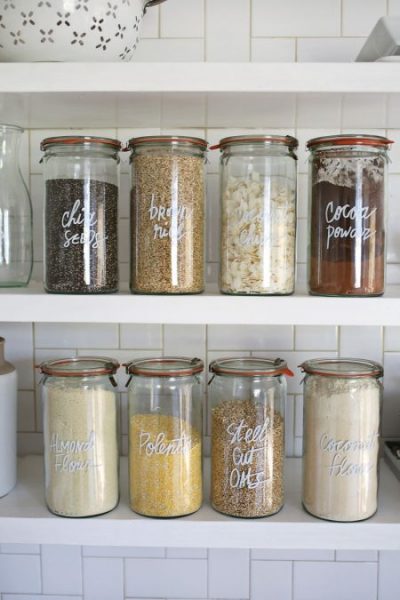 One of the best ways to save space in your kitchen and keep everything neat is to use transparent containers. Store everything from spices and baking ingredients to cereal, chips, and loose-leaf tea in either glass or plastic containers.
If you plan to store things like flour, sugar, and baking powder on open shelves, opt for attractive matching containers like glass jars, Mason jars, or metal tins.
Free Bonus: Check out our handy decluttering flowchart for determining what kitchen appliances, supplies, or other items (if any) you need to get rid of.
2. Use your walls, ceiling, and doors for vertical kitchen storage.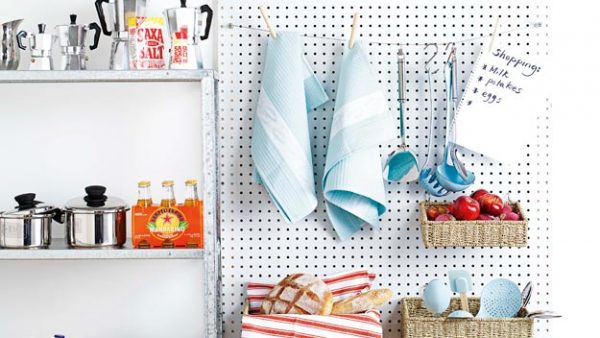 Take advantage of the vertical space in your kitchen. The inside of a pantry door, the sides of your cabinets, and the space above your stove are all creative kitchen organization ideas for cooking tools and cleaning supplies — without having to sacrifice any counter or drawer space.
Nail plastic pencil trays and baskets to the cabinet door below your sink to store extra sponges, rolls of trash bags, and dish soap.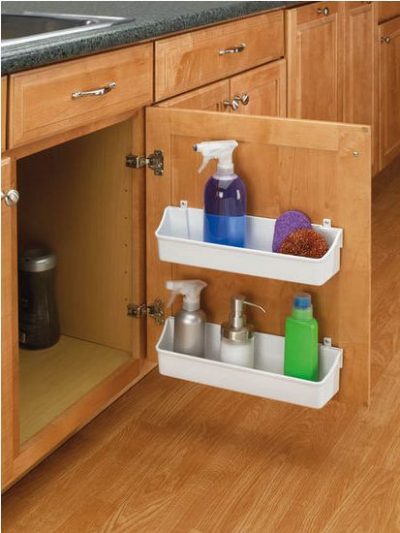 Hang a metal grid above your kitchen island to hang pots and pans — bonus points if they're all color-coordinated.
Install a simple coat rack into the side of your kitchen island or cabinet to hang pot holders, dish towels, and even pots and pans.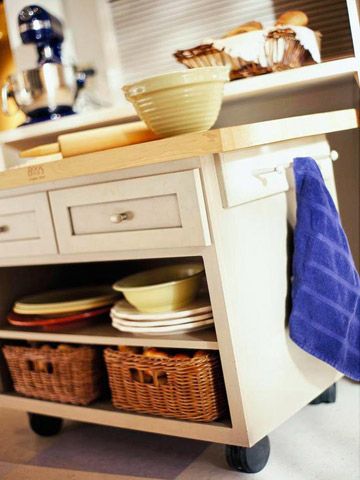 Another easy kitchen organization tip is to hang an over-the-door organizer on the inside of your pantry door to store everything from PowerBars and tea packets to Ziploc bags and tin foil.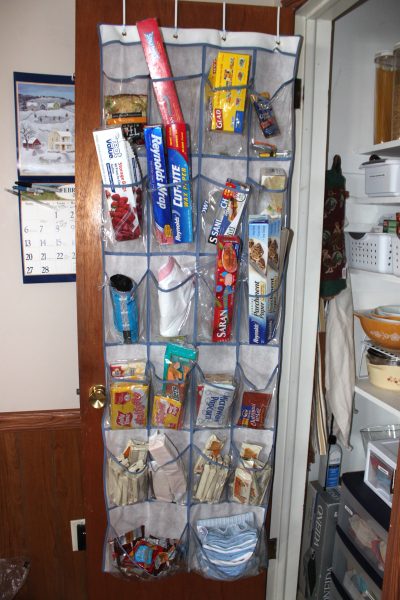 Want more smart kitchen organization ideas?
See our complete list of "48 Easy Kitchen Storage Hacks And Solutions That Will Instantly Upgrade Your Life."
3. Store water bottles and thermoses in a wine rack.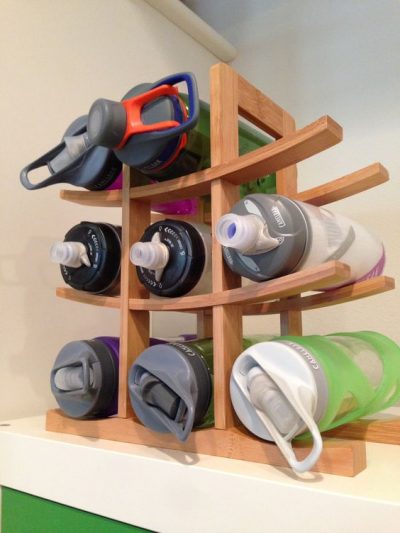 Instead of crowding all your reusable water bottles and to-go coffee mugs together on a shelf, use a cheap wine bottle rack to keep them organized and easy to grab.
4. Bring the Lazy Susan back.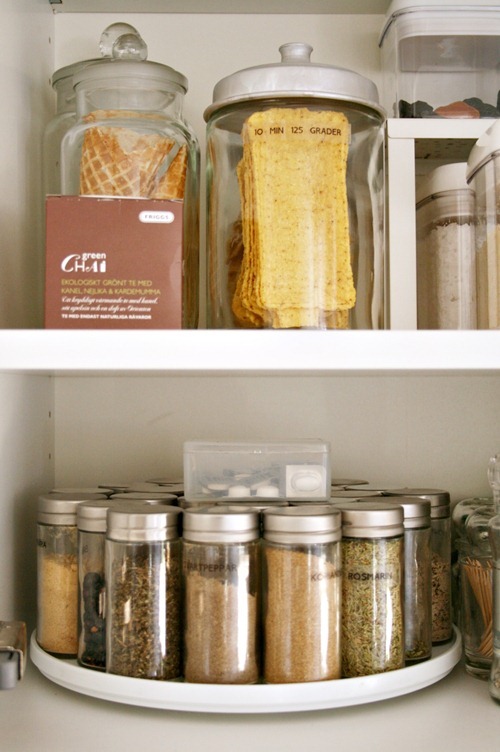 Lazy Susans are the little black dresses of kitchens: useful, versatile, convenient, and surprisingly stylish. They can do so much more than sit on the dining table and hold your napkins and condiments for a family dinner.
Get creative and use Lazy Susans in different sizes and different areas of the kitchen. For example, put one in the corner of your counter to corral spices or condiments.
Or stick a Lazy Susan in the fridge to organize beverages or little bowls of pre-chopped and prepped ingredients for dinner.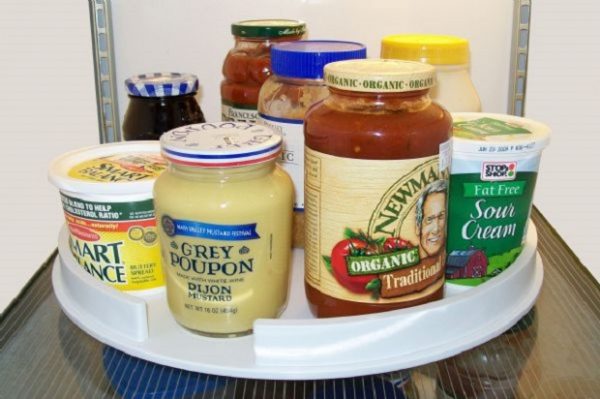 You can even put a Lazy Susan in a cabinet to hold your jars of flour, rice, and sugar for easy access.
5. Repurpose your office supplies into kitchenware storage.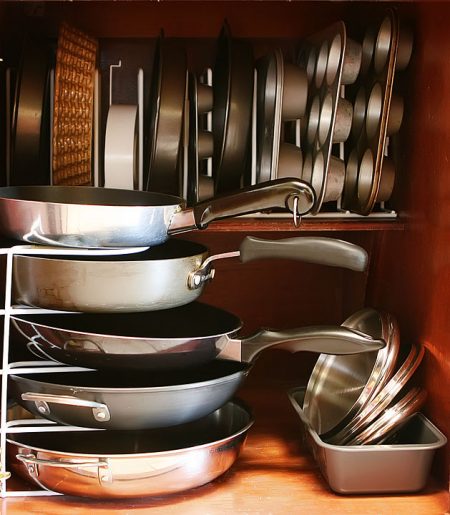 Instead of stacking pots and pans on top of one another from largest to smallest (a method that looks neat but makes them tricky to access), file them vertically.
Repurpose some of your old or unused file organizers to store cookie sheets, cooling trays, baking tins, pans, and cutting boards.
Watch this fun video from TODAY Home to see how simple this kitchen storage idea is.
6. Use drawer dividers to organize cooking tools.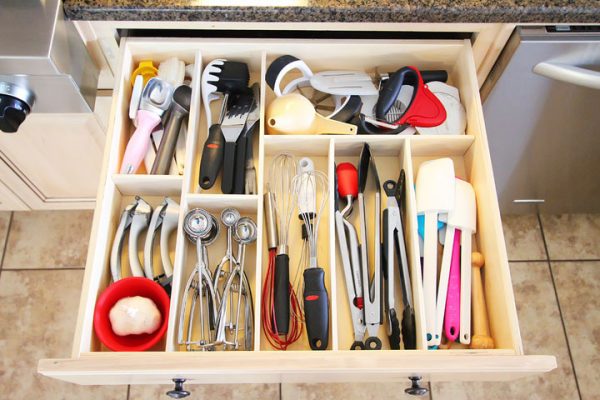 This kitchen organization idea seems obvious, but it makes a world of difference in your daily routine. Searching for the pointed spatula inside a drawer full of floating ladles, wooden spoons, and tongs is tedious and unnecessary.
This is where drawer dividers come in. You can buy simple wooden dividers you install yourself, or get organizing trays with separate areas for your stuff.
Once you have the dividers, use them to organize items like your entire knife, silverware, or serving utensil sets.
7. Use boxes to organize what drawer dividers can't.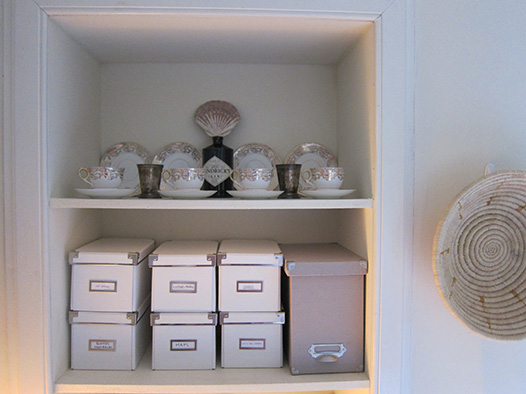 For all those bulky items or things that don't lay flat in a drawer, take a tip from expert organizer Marie Kondo and use shoe boxes to store them instead.
You can use shoe boxes (or seagrass baskets, storage bins, and the like) to store rolled-up dish towels, container lids, or measuring cups.
If you have shallow drawers, no worries — you can always put boxes of specific items on your cabinet shelves for easy access. Just be sure to label them clearly so you can grab what you're looking for in an instant.
Free Bonus: Download our awesome KonMari cheat sheet so you can easily declutter your kitchen and the rest of your home in no time!
8. Repurpose a tension rod to hang cleaning supplies underneath.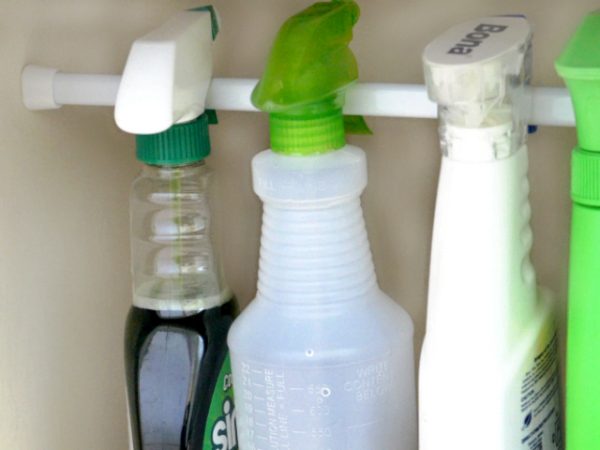 Keep your kitchen sink cabinet neat with the help of a simple tension rod. Install one near the top of your cabinet (out of the way of any pipes that might block the space) and use it to hang your bottles of Windex, granite cleaner, and disinfectant.
Want more creative ways to organize your kitchen?
We've got you covered with "7 Smart Ways To Save A Ton Of Space In Your Small Kitchen."
9. Embrace baskets for food storage.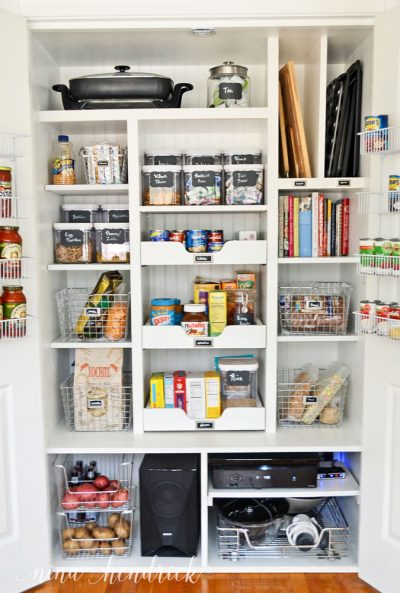 Keeping your pantry and food cabinet organized isn't just great for aesthetic purposes. Knowing where everything is will make it way easier to cook often and choose healthy snacks.
Buy sets of matching wire baskets or clear plastic bins in different sizes to store all your various food items. Organize your food by type so you have separate baskets for your bread products, baking goods, canned soups, and snacks, for example.
If you want to take it a step further, organize your baskets by meal category or time of day so things are that much easier to find.
10. Install kitchen shelf organizers.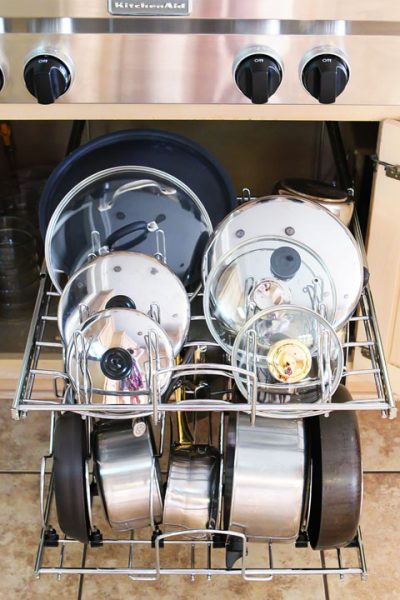 This is a simple DIY storage project that's well worth the extra effort and time it takes to complete.
If you've ever known the hassle of squatting down on your kitchen floor, opening your cabinet, and then pulling out every single pot, pan, and muffin tin you own just to reach the cheese grater in the very back, then you can just guess how a simple shelf organizer will change your life for the better.
Metal shelf organizers are designed to fit perfectly inside your shelves and sit neatly on little gliding grooves so you can slide them out like your very own makeshift drawers.
No tears of frustration necessary.
11. Easily store your extra kitchenware in Clutter.
Maybe you share a home with your significant other or a friend. Maybe you moved in with your parents. Or maybe you just have some extra utensils and appliances lying around that you don't want to get rid of but don't want to keep in your home.
Either way, what's better than letting your extra basting brush, blender, can opener, citrus squeezer, pots, pans, peelers, lids, measuring cups, whisk, wooden spoons, silverware, spatula, tiny BBQ grill, turner, and tongs clog your kitchen?
Letting them clog nothing because Clutter will pick up, store, and deliver everything for you.
Simply schedule a pickup, pack your stuff, and leave the rest to Clutter.
The result: More space in your kitchen. And more free time to do the things you love, like catch Pokémon in Central Park.
Top image via Rooang
This article was written by Paige Smith, a freelance writer from Orange County, California who specializes in lifestyle, wellness, and travel topics.