Top image of the marvelous stackable vinyl record storage cubes via Simple Wood Goods.
If you feel like you've sacrificed your sanity by living in a small apartment, you'll be pleased to know you can quell that feeling by adding a few classy things to your home.
If you don't have a record player — the classiest of classy things — here are eight dope space-saving vinyl record players for you to choose from.
Naturally, you're also going to need vinyl records to go along with your new vinyl record player.
But how are you going to fit a big record collection in your tiny apartment?
By storing them in any of these nine stylish vinyl record storage solutions that will bring a huge smile to your face, and to your place:
1. Dovetail Record Crate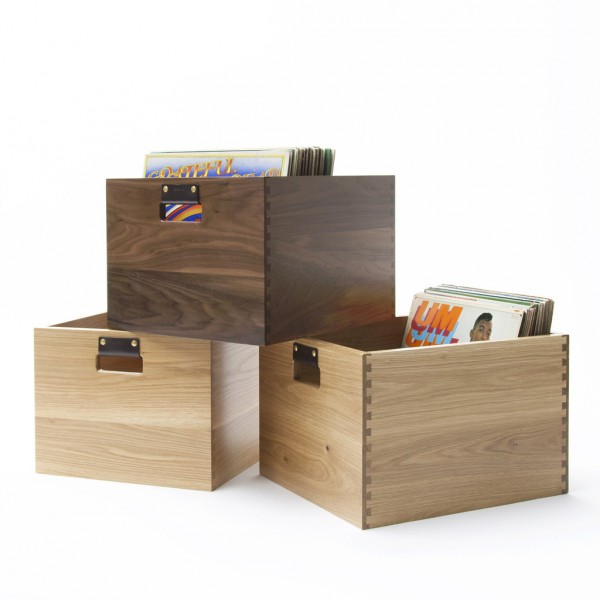 Price: $225
With a cool minimalistic feel, the Dovetail Record Crate is a handsome solution to the problem of an overflowing record collection.
For starters, it stores up to 100 LPs in a solid walnut or white oak crate.
It's also hand-crafted with leather handles and brass fasteners that'll ensure you won't drop it while moving this beautiful crate from surface to surface.
Ugh, what a beauty. Definitely worth the $225 price tag.
2. Vintage Vinyl Record Storage Case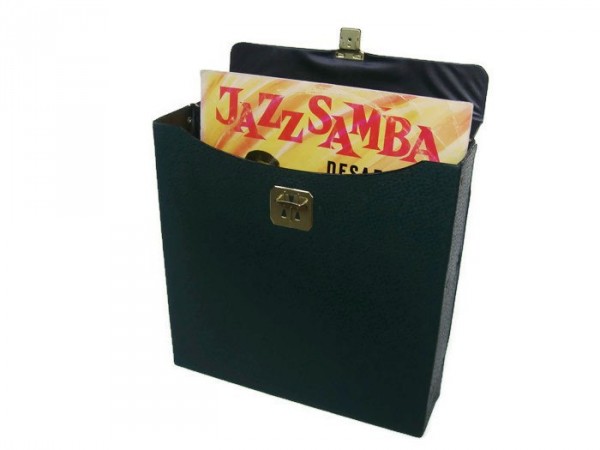 Price: $25.25
If you want to go the opposite direction from the hand-crafted wooden record crate, you can spend only $25 on a green faux-leather Vintage Vinyl Record Storage Case.
With the ability to store up to 20 records, this funky attaché-esque record storage case looks like it was left behind in the temporary hotel room of a double agent. Perfect for those of you who want their record cases to reflect the dynamic collection of their vinyl.
3. Horizontal A-Z Record Dividers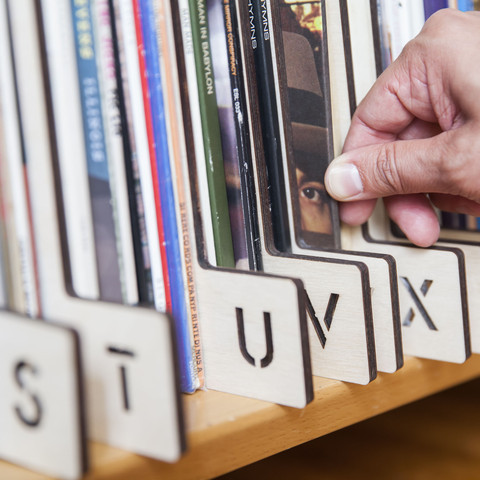 Price: $320
There's no problem with yearning for organization when putting away your records. In fact, these Horizontal A-Z Record Dividers give you the order you're looking for.
How so?
The record dividers let you easily store your albums horizontally on a bookshelf, and its stenciled letters ensure that you don't throw yourself into a tizzy every time you look for a record by ZZ Top.
4. MOLGER Storage Stool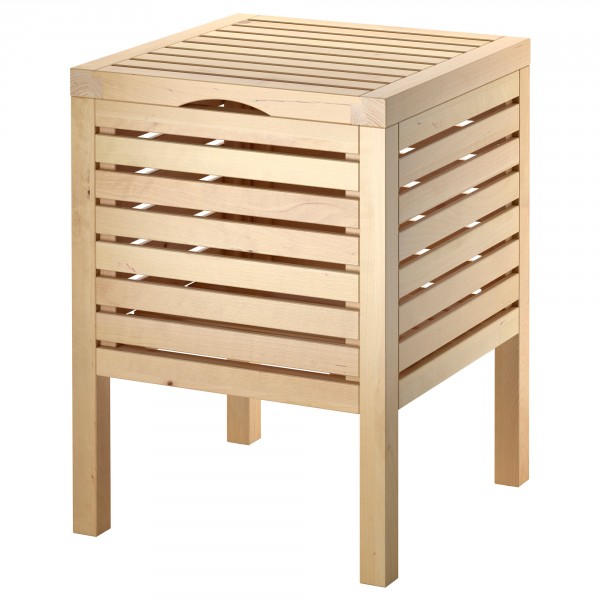 Price: $39.99
It seems as though IKEA is just a never ending wealth of storage ideas that always churns up something new with each click.
Take the solid birch MOLGER Storage stool for example. It's a $39.99 investment that although is touted as a place to store your linens and towels, can actually double as a killer record storage unit.
Plus, the extra real estate on top of the MOLGER Storage stool gives you a side table. A side table on which you can immediately put down your drink for when the urge to dance gets too strong.
5. Atocha Design Record Stand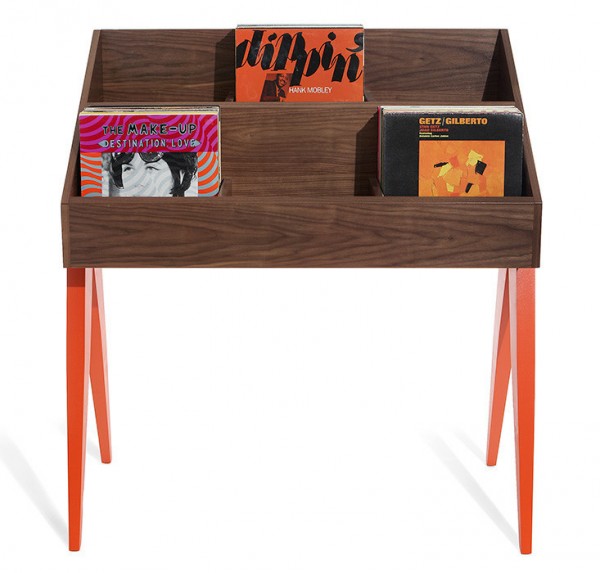 Price: $1,275
How could anyone in their right mind resist putting their awesome collection of LPs on display, especially when supported by vibrant orange-red legs?
Handcrafted in New York, this walnut and American maple record stand showcases up to 300 LPs on its shelves. But that's not all. It also has a groove in its top ledge that serves as a clever "Now Playing" display when you put the record stand against a wall.
Take a look: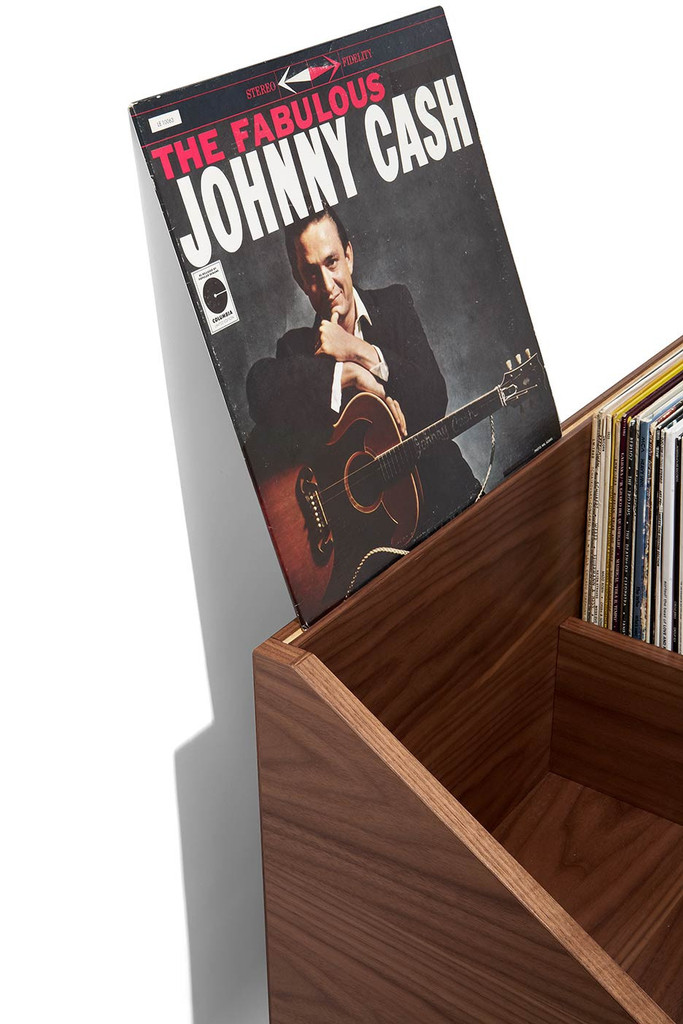 6. Hand Built Wood LP Storage Crate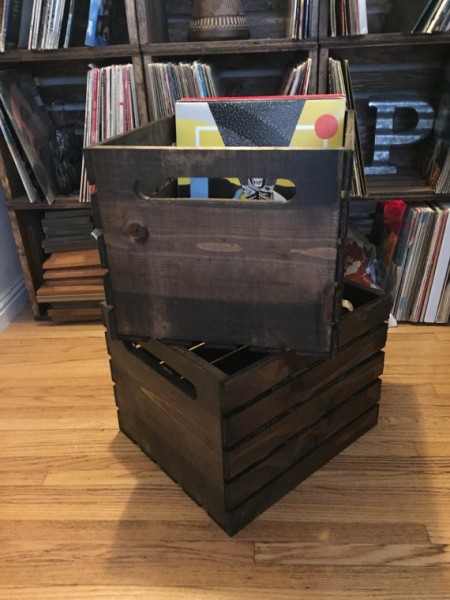 Price: $35 or $65 for two
If you can't find one of these bad boys from an antique shop, it's definitely worth throwing down $35 (or $65 for two) to get your hands on this wooden LP storage crate.
No bells and whistles, just a really classic and cool way to store your records. Each crate can store around 75 to 100 LPs, and is just over a foot wide, which is small enough to remain inconspicuous in a small space.
7. Draper Media Console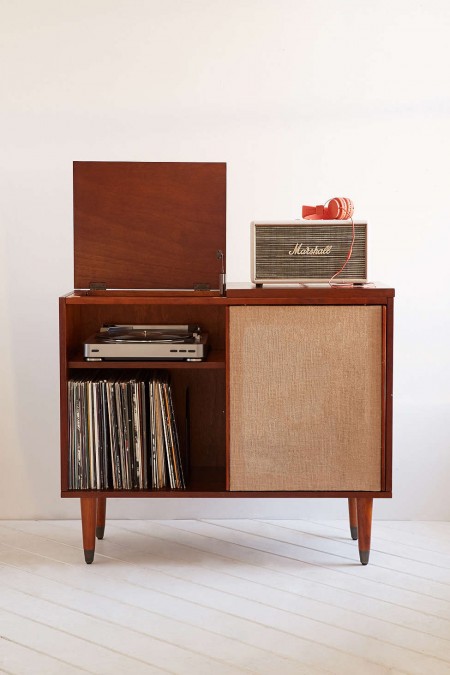 Price: $279
Let's say you're tired of going small. So, let's go big. The appropriately named Draper Media Console is a mid-century inspired unit with a sliding board that lets you store your records out of sight for a cleaner look.
A hinged top gives you a space to put your record player, while the shelf to the right is perfect for storing books, magazines, or a speaker. The Draper Media Console really does look like something you'd find in Don Draper's apartment.
8. DIY Floating Vinyl Record Shelves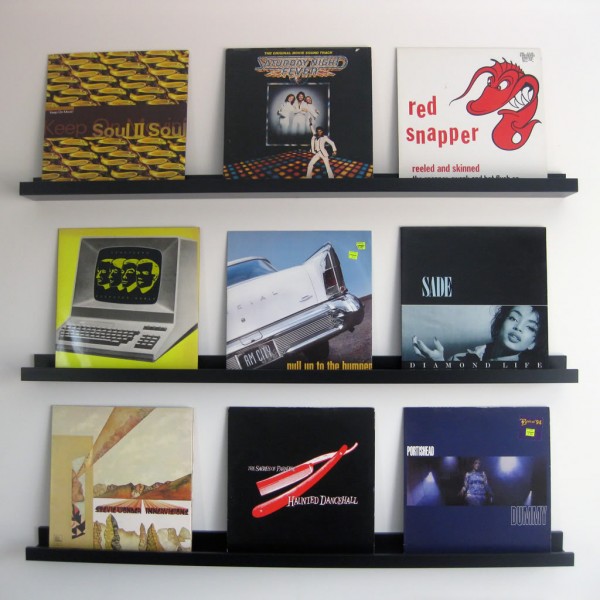 The best floorspace-saving vinyl record storage solution is one that takes up no floorspace at all.
Case in point: the above floating vinyl record shelves that you can easily DIY using IKEA RIBBA picture ledges like Matt Simner.
But before you head to IKEA, know that they discontinued their RIBBA picture ledges. You can, however, still find them on Amazon.
Or use MOSSLANDA or KNOPPÄNG pictures ledges, both of which IKEA currently sells.
9. IKEA KALLAX Shelving Unit
Price: $64.99
KALLAX sounds like evil thorny aliens from Star Trek, but don't let that scare you away from putting this shelving unit in your apartment.
Giving you the freedom to show off books and trinkets alongside your records, this simple vinyl record storage solution lets you easily store your entire record collection in your apartment — without sacrificing too much horizontal space. Which is great because you're going to need that space for when you build a majestic blanket fort to combat cabin fever.
This article was written by Charles Adams, a Connecticut-born writer who currently resides in Brooklyn and has written for a multitude of men's interests sites under a number of pseudonyms.