It almost seems like time is moving backwards with America's newly-rekindled love of vinyl. Millennials pushed vinyl sales to an insane 26-year high in 2015 and it looks as if our appreciation for all things vintage won't be waning anytime soon.
However, if you were raised on vinyl by way of your parents, you probably have a hard time shaking the scene of a gigantic sound system taking up valuable real estate in your living room.
Because we're a generation of people who know how to scale down, here are eight of the best small-yet-powerful vinyl record players.
1. QFX TURN-101 Retro Collection Suitcase Turntable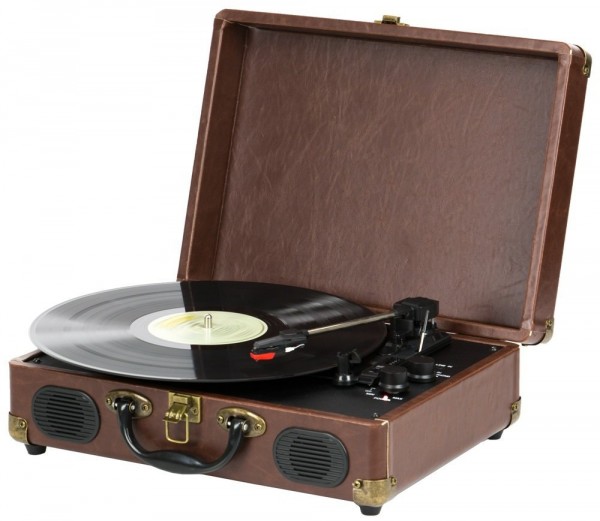 Price: $99.99
You're going to see a lot of these briefcase-style turntables while on the hunt. And honestly, we can't blame you for wanting to grab the first one you see. They're really kitschy and cool.
However, the QFX Turn-101 Suitcase Turntable does a bit more than its competitors: an included 45 RPM adapter lets you play three different speeds, you can convert records to digital files, and there's a dynamite ceramic stereo cartridge with a stylus. Plus, you really can't go wrong with the rechargeable battery.
2. Jensen JTA-222 3-Speed Turntable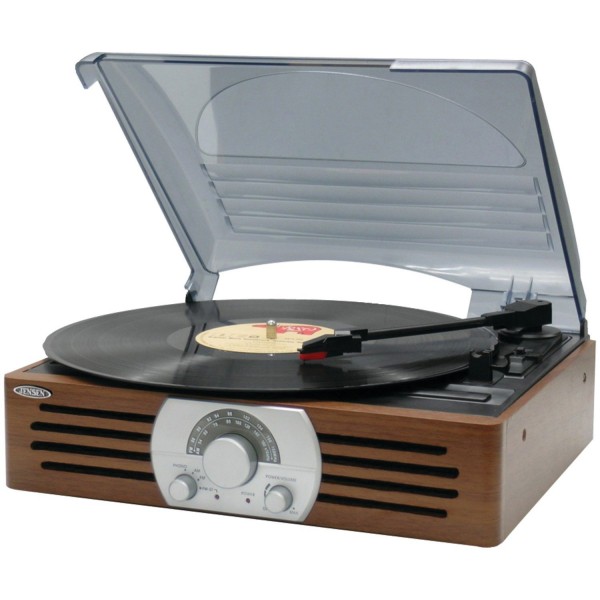 Price: $44.36
Amateur audiophiles, the Jensen JTA-222 is, hands-down, the record player you're looking for. Speaking as an owner of the Jensen, I cannot recommend this $44 turntable more highly. It's extremely easy to use, small, light, and boasts some incredible sound to fill your tiny apartment with whatever record makes you feel the best.
The antique wooden case design hints that you're in another era, which is great if you have old records. Just know that it'll definitely clash with the Drake record you're playing.
3. Ion Duo Deck Digital Conversion Turntable With Cassette Deck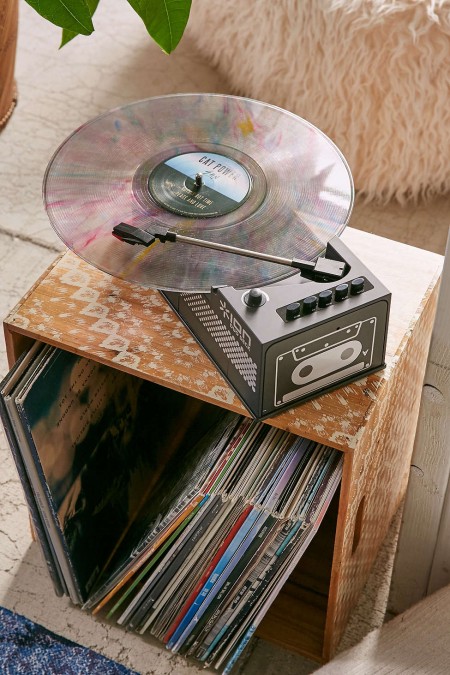 Price: $99
Anyone's first reaction will probably sound something along the lines of what the heck am I looking at?
The Ion Duo Deck Digital Conversion Turntable is as if RoboCop customized a record player and made it his crime-fighting sidekick. Forget how it looks. This thing is a beast: it's tiny and powerful, it transfers vinyl and cassettes (who still listens to cassettes?!) into MP3s, and it automatically converts them to your iTunes.
You've also got a headphone jack — for those nights where you need to listen to Radiohead in the dark — and a retractable tone arm to further downsize. It's small and weird, just go with it.
4. Audio Technica AT727 Turntable Walkman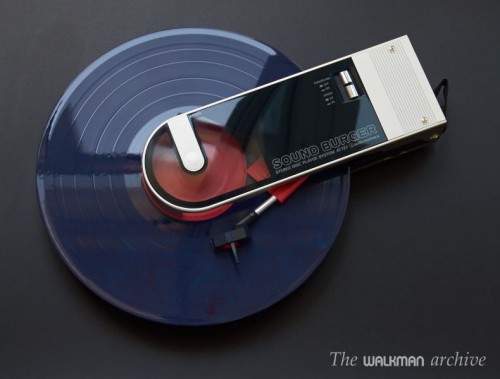 Price: $551.21
If the Ion Duo Deck freaked you out, avert your eyes now. But seriously, if you want the smallest possible record player, the portable Audio Technica AT727 is your best bet.
First of all, this thing's going to cost you some serious money. It's an extremely hard to find collector's item that we promise your neighbors will think is cool.
It's also compact, it has a headphone jack, it plays 33 and 45 RPM vinyls, and it has a line output so you can connect this to the speaker of your choice. This won't last forever,  though, so jump on it!
5. Pro-Ject Essential II Matte Black Turntable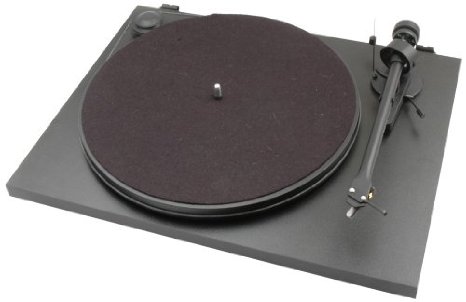 Price: $299
Ok, this is for the people who are really serious about their record collection. The Pro-Ject Essential II Matte Black Turntable is not kidding around, but that's fairly obvious by the way it looks. Its sleek and minimalistic design is perfect for a small space, while still maintaining sound quality for determined audiophiles.
A DC-powered motor control minimizes vibration, ensuring your music-listening experience happens without unwanted skips, and — at only 11.9 pounds — you won't have to struggle moving this record player around.
6. Sylvania Turntable Record Player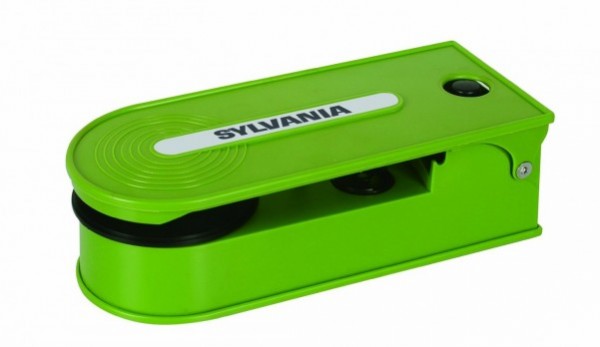 Price: $35.82
Let's say you want the kitschiness of the Audio Technica, but don't want to spend the money, and you're more concerned about size than sound. At $35, the Sylvania Turntable  is the answer to your prayers.
This record player is adorable. It's just under two pounds and just over one foot long. It has built-in speakers, can convert records to MP3, and is guaranteed to raise some eyebrows. As long as you don't mind your friends and neighbors insisting they play with this thing, you've got yourself a really fun, little, and novel turntable.
7. Crosley C10A-NA 2 Speed Manual Turntable with Pro-Ject Tone Arm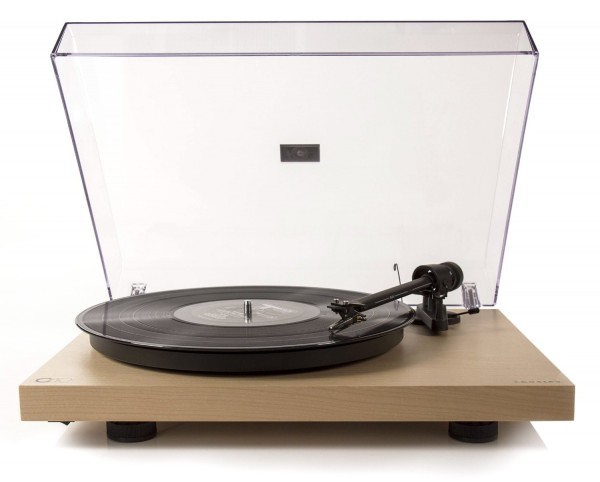 Price: $349.95
Without sacrificing even a little bit of quality, the reliable Crosley C10A-NA 2 Speed Manual Turntable features a minimalistic design at a reasonable price.
An 8.6″ aluminum tonearm with sapphire bearings glides over your vinyl, ensuring a sonic experience you'll never forget. At the same time, a low vibration synchronous motor protects you against stray bumps and skips.
This, ladies and gentlemen, is the amalgamation of quality and quantity.
8. Honorable Mention: The Record Runner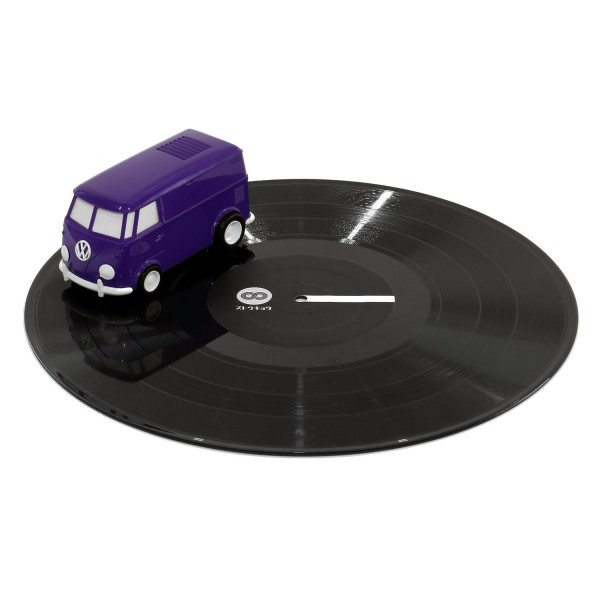 Price: $79.95
It's been done, people. The record player has been downsized to the point where the record itself is bigger than the turntable.
The Record Runner is just hilarious. A needle within the body of the car actually produces music as the car circles the vinyl, blasting sound from the speakers. It's definitely not going to be the best sounding thing on Earth, but just look at it! How could you pass this thing up?
And in case you're wondering, the vertical turntable at the top of this article is the gravity-defying Floating Record Vertical Turntable that sounds as mesmerizing as it looks.
This article was written by Charles Adams, a Connecticut-born writer who currently resides in Brooklyn and has written for a multitude of men's interests sites under a number of pseudonyms.