All artwork — whether it's a curated piece for a gallery wall, or a portrait of a pug from the flea market — deserves a good home.
But that can be tough when your home is small. And it's even tougher when the only decent wall space you have was recently taken over by your DIY clothes rack.
Before you shove your art beneath your bed or host an impromptu sale for your collection, though, let us help you out.
You can still store and display art in your small space — you just have to get a little creative. Here are eight ingenious ways to display your art when you're pressed for room, plus five tips for storing it.
8 stylish ways to display your art:
1. Display small artwork on bookshelves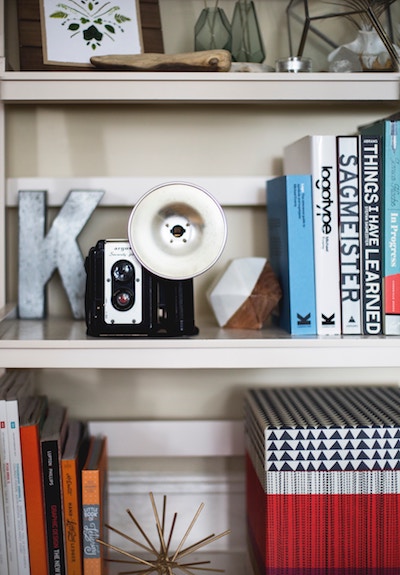 Your bookcase isn't just good for housing your collection of pine-scented candles and Jack Kerouac novels — it makes an awesome art display, too.
Small pieces of artwork fit perfectly on bookshelves, and serve as a unique way to break up your rows of New York Times Best Sellers.
Free Bonus: 9 Creative Book Storage Hacks for Small Apartments
2. Use large artwork as your room's statement piece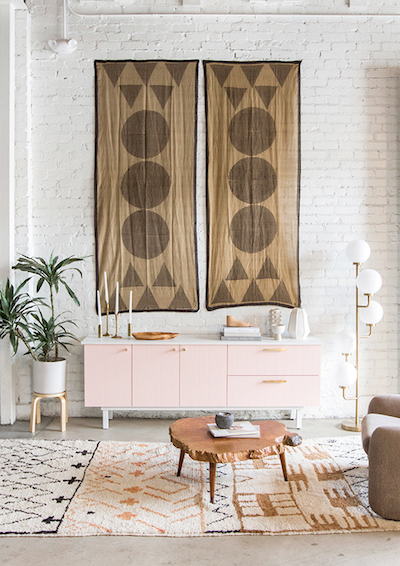 Maybe you don't have enough space in your tiny apartment for the chic sectional you wanted or the red velvet chairs you envisioned yourself using for afternoon tea parties (here's a roundup of stylish space-saving sofas and coffee tables perfect for a tiny home).
But that's okay. Instead of statement furniture, embrace the idea of statement art. Hang your biggest and boldest piece somewhere visible and prominent. Since it's just on the wall, it'll add style to your home without cluttering or overwhelming it.
3. Consider the style of your art when figuring out where to display it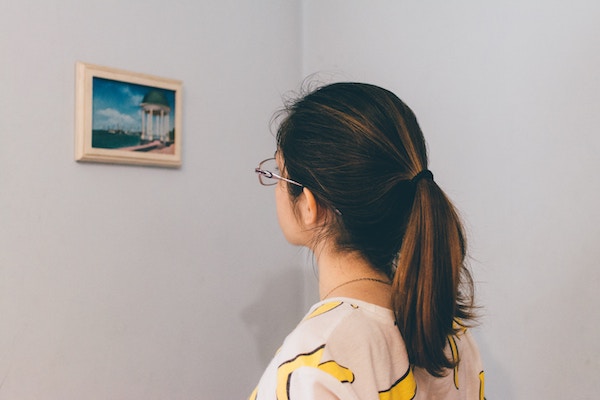 Graphic artwork with bright, vibrant patterns is easy to see from a distance, whereas art with intricate scenes or small details is better observed up close.
If you own the type of art that makes people squint their eyes or walk toward it to get a better look, display it in a more intimate space. Think places like above a desk, leaning atop a dresser (check out these Ikea hacks to get the dresser of your dreams), or in a narrow hallway.
On the other hand, if you have art that's best viewed from afar to see how the colors and details connect on a larger scale? Hang it above a sofa, bed, mantelpiece, or dining table.
4. Take advantage of narrow spaces for mini galleries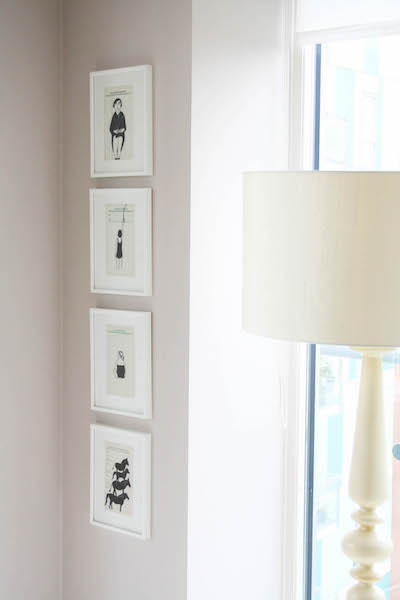 If you have a diverse collection of cohesive artwork, don't stress about finding a spot for each individual piece. Group them together instead.
Entryways, bathroom hallways, and even corners (like in the photo above) make ideal gallery spaces.
Your blank wall will be filled with something beautiful and you'll have a cool area to bring guests when you want to show off your taste in art. That's a double win.
5. Use the leaning method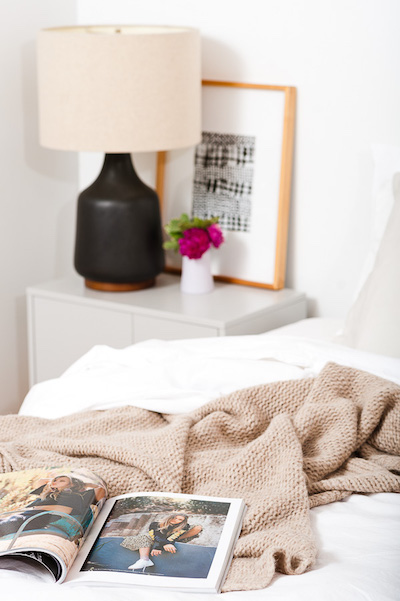 Out of space to hang your favorite pieces?
Here's an idea as stylish as it is easy: Place your art on top of a desk, nightstand, or dresser and lean it against the wall.
Simple. Chic. No nails required.
6. Create a tranquil window scene with your art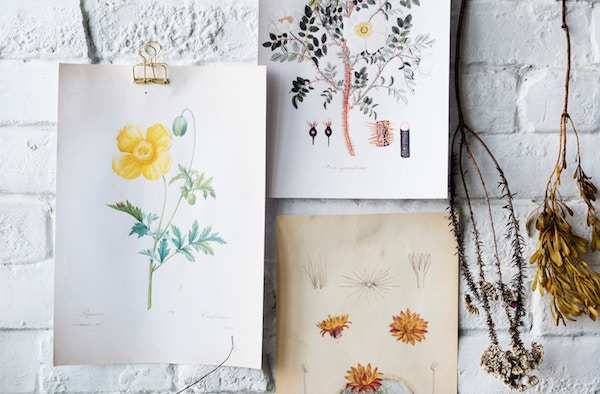 A print from nature or a gorgeous landscape piece make the perfect figurative window to open up your space.
Bring the outdoors into an area of your home that doesn't get a ton of natural light.
Free Bonus: 7 Easy Ways to Fill Your Apartment With More Natural Light
7. Place large and small pieces alongside one another to add depth
This method is the low-key alternative to a gallery wall.
Instead of grouping 10 unique pieces or hanging just two identical paintings, strike a balance: Pick three or four pieces in different shapes and sizes.
The look will add dimension to your space without feeling chaotic.
Pro Tip: Try these 4 easy decorating ideas to make your small apartment look bigger.
8. Hang art in unexpected places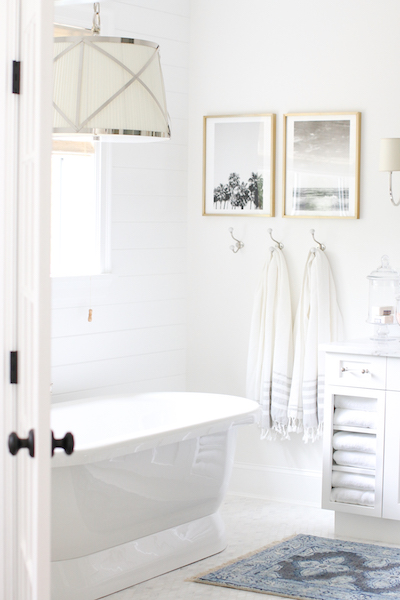 Showcase your art where you'd least expect it. If you're lucky enough to have a fireplace, lean a frame or two against your hearth.
Prop a piece on your open kitchen shelves, or hang one above your toilet or bedroom doorway.
5 Smart Tips for Storing Your Art
1. Clean it first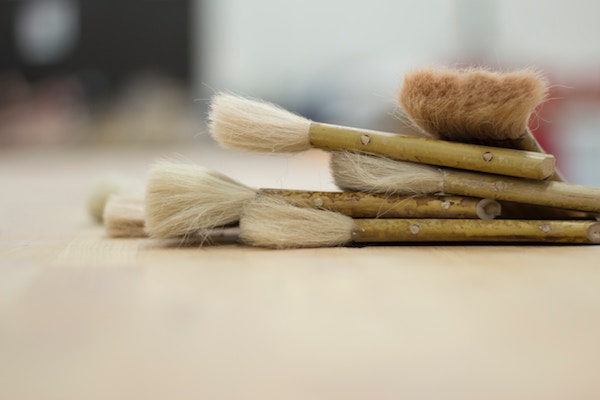 Gently wipe dust off your artwork with a clean, dry microfiber cloth. If you have wood or metal frames, spray them with a protectant polish to prevent rusting and disintegration.
Don't want to muster your masterpiece? Check out Apartment Therapy's tips for cleaning all kinds of artwork.
2. Cover your art with a cloth
If your art is framed, tape cardboard pieces to the corners to protect it, then drape a clean cloth, blanket, or piece of felt over it to prevent dust and dirt from settling.
If you're transferring your art to a new home or storage facility, wrap it with a blanket or cloth and place it in a sealed plastic bag to prevent water damage during the move.
3. Store your art in a clean, dark, temperature-controlled space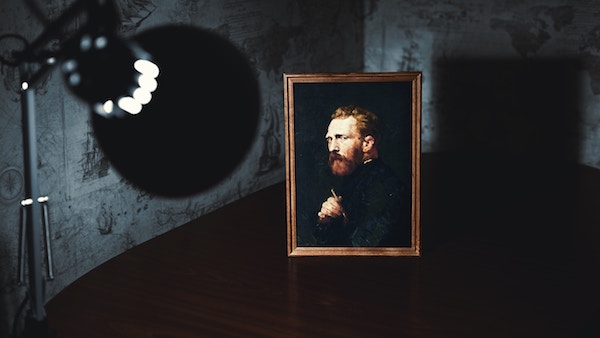 Changes in temperature can cause your art to expand or contract, which leads to warping, stretching, and cracking over time.
Steer clear of spaces like attics and basements, as the moisture build-up from high humidity can lead to mold.
Same goes for bright, sunny places, since intense light exposure might fade your artwork over time.
Your best bet is to keep your art in a clean, dry, windowless space that stays around 70 degrees Fahrenheit all year.
4. Keep your artwork separated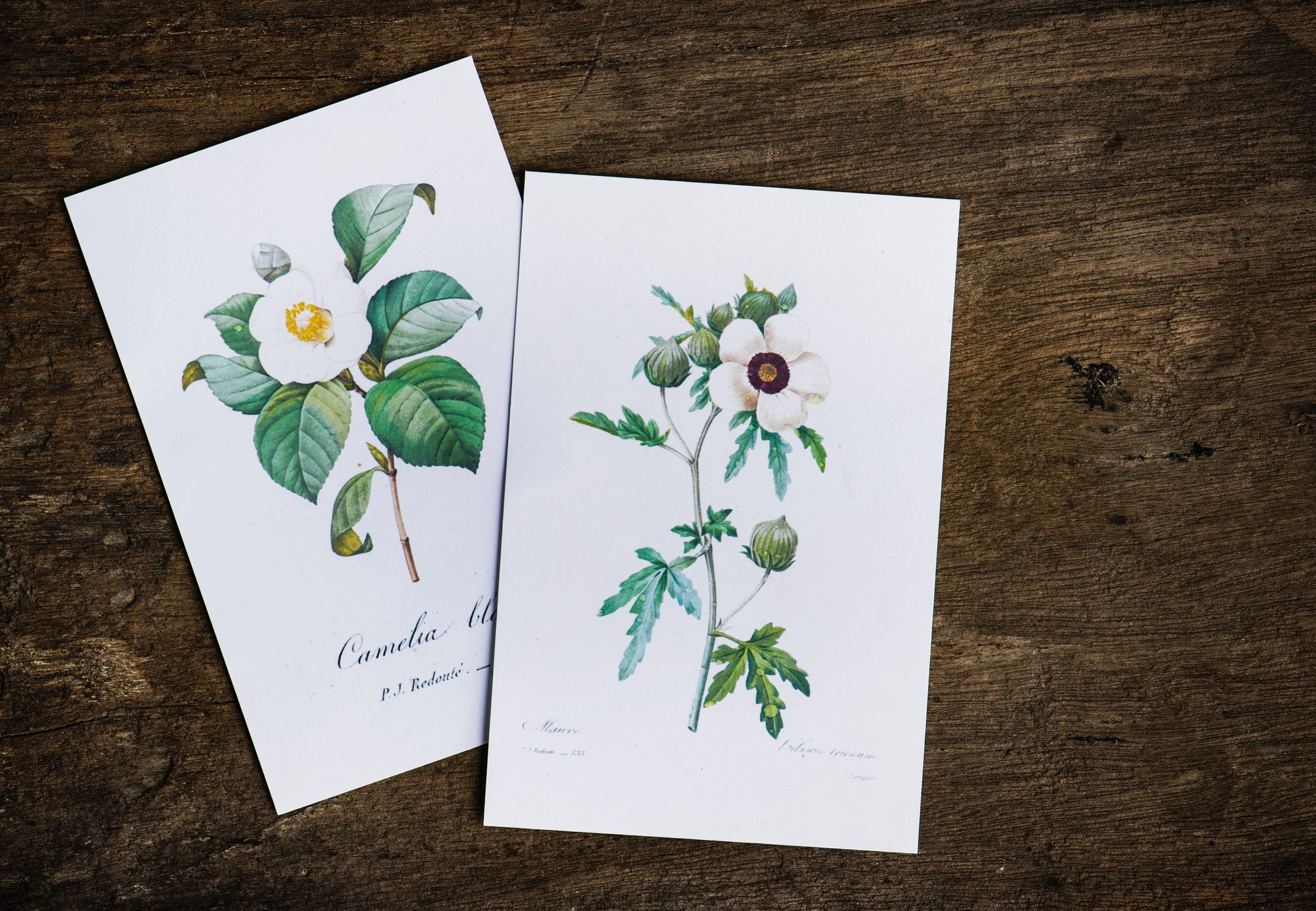 If you're storing multiple pieces of art in the same small space, keep them cushioned against one another with foam or padded blankets.
Whenever possible, keep your artwork off the floor (hang it on a closet wall or use open shelf space) to protect it from mold, dirt, and potential moisture.
And remember: Stack your pieces standing up (like books on a shelf), not lying flat.
5. Let Clutter store your art for you
For all the framed posters and flea market finds you don't have room for, use Clutter.
Simply schedule a FREE pickup and pack your stuff. We'll grab everything from your home and carefully transport it to our secure, temperature-controlled storage facility.
And when you want that massive 3-by-5 forest print back, just browse the convenient online photo catalog of your stuff, click the item's photo, and we'll deliver it straight to you.
This article was written by Paige Smith, a freelance writer from Orange County, California who specializes in lifestyle, wellness, and travel topics.