You already know about space-saving vinyl record storage, book storage, bike storage, shoe storage, billiards, and even storage beds. But what about the other essential piece of furniture that you plop onto after a long day at work — your couch?
Sure, any couch or sofa could technically fit in your apartment if you had the NY Couch Doctor disassemble it before carrying it through your door. However, nothing makes a small apartment look smaller like a ginormous piece of furniture that devours most of your living room.
The couch you purchase can make or break the comfort, aesthetics, and feng shui of your apartment. So rather than lugging your old sofa from your parents' house (here's the best way to move from a house to a tiny apartment), or trying to find a cheap futon on Craigslist, choose a piece that conforms to your space and your taste.
Measure your living room, plan out the living areas, and then invest in any one of these stylish space-saving sofas or couches that will actually fit in your apartment:
Traditional: The Lloyd Loveseat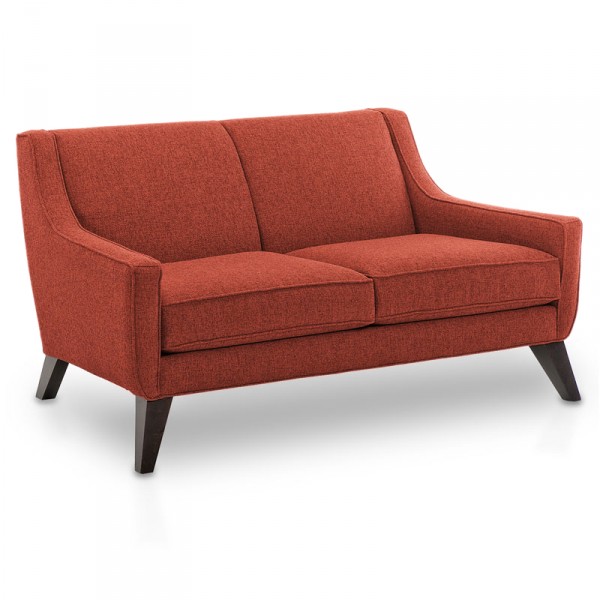 Price: $1,349
Tiny apartments aren't the most accommodating for a dinner and/or cocktail party, and so you probably don't need a traditional three-seat sofa. If your couch is mainly for you and your S.O., you and your roommate, or you and your Hinge date,  a loveseat is your best bet.
Because it's shorter narrower, and lighter than a traditional sofa, a loveseat is one of the best couches for small apartments. Especially if you live in a walk-up and don't want to break your back trying to finagle a 350-pound sofa into your 5th-floor home.And though loveseats were originally made to pair with larger, traditional sofas, their condensed size makes them appear tailor-made for a studio.
The Lloyd Loveseat pictured above is made in the US and available in 18 colors, so you're bound to find one that melds with your apartment style or palette. Additionally, the backrest is only 2 feet 8 inches tall, so it'll obstruct less natural light and fit evenly with the base of your bed for example.
If the Lloyd Loveseat's $1,349 price tag is a bit too hefty, fret not. There's always IKEA, which makes loveseat versions of almost all of their sofas.
Sectional: The Hamilton from West Elm
Price: $1,868
Okay say you do want to entertain at least four guests in your apartment, and you just so happen to have an empty corner. What should you do?
Easy. Put  a sectional in that corner. Thanks to its L-shape, not only will a sectional squeeze perfectly in that space, but it'll also sit four people (or more if you're cuddly) in the length usually required to sit three.
With a backrest height of 2 feet 7.5 inches, the Hamilton from West Elm sits low like the loveseat above while its narrow arms limit its length to 6 feet 11 inches.
Want the chaise to be on the right side instead of on the left as pictured above?
No problem. West Elm offers both options.
If you're okay with shelling out $1,868 for a sectional, by all means purchase the Hamilton. If you're not, head to IKEA and pick up a comfy, chic, and modular SÖDERHAMN sofa and chaise: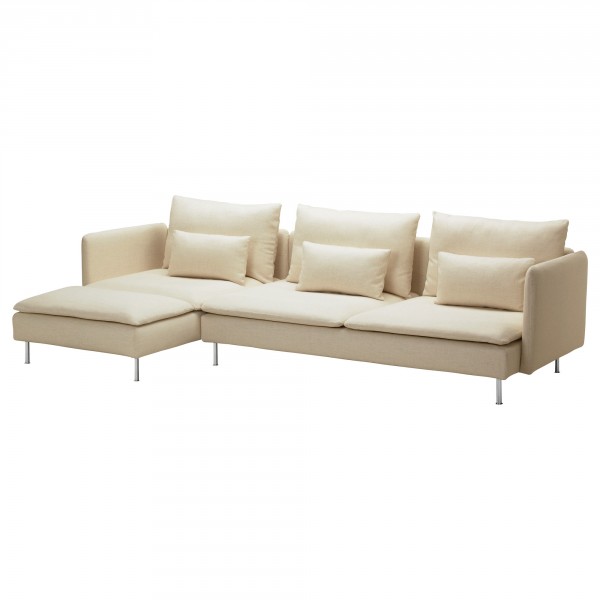 Or check out the $758 Soho Flat Flex sectional:
Like the Hamilton, the Soho Flat Flex sectional comes in a left or right hand option with a chaise. Unlike the Hamilton, it's also available as a sofa with a free-floating ottoman that won't cost you one month's rest.
Less conventional: The chaise lounge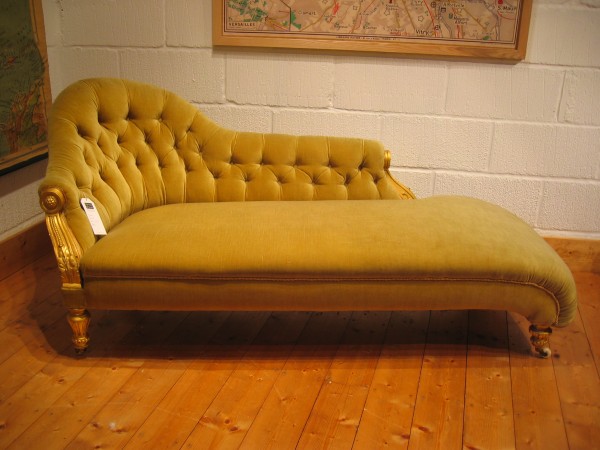 If you don't have the space or the need for a full sectional, consider its defining feature: the chaise lounge.
While technically not a sofa, these therapist couches accomplish the same basic functions. Plus, because they lack a full back cushion, they meld into smaller surroundings easier, and can adapt to your existing décor.
You can find a chaise lounge in any style, and from just about every era if antiques and period pieces are your bag. Want a Victorian flair in your apartment? There's a chaise for that, though it might be called a "fainting couch."
You can also buy a mid-century modern chaise, or one that is just modern.
Chaises can be inconspicuous, like the $639 Patterson from Armen Living: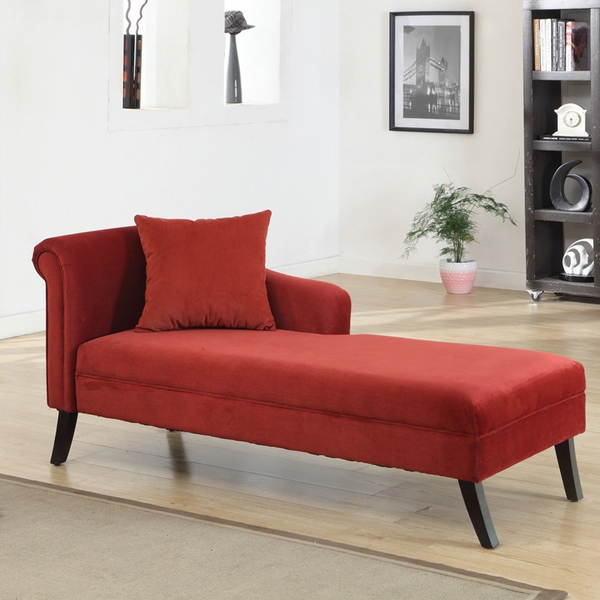 Or they can be coconut-esque conversation pieces like the $4,600 Ichiban Slide: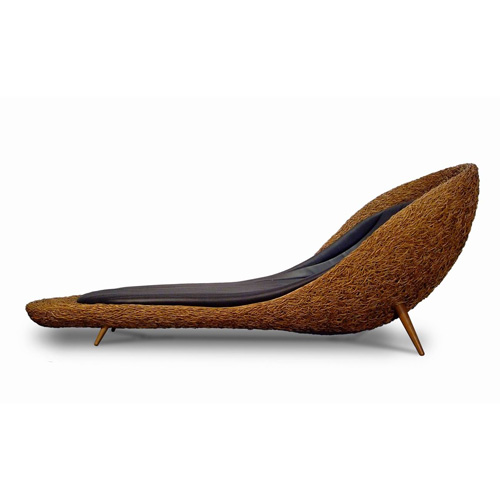 But let's be real, who has that kind of spare change?
Check out these other stylish chaise lounges, which start in the low $200s.
Multi-functional: The Istikbal Kubo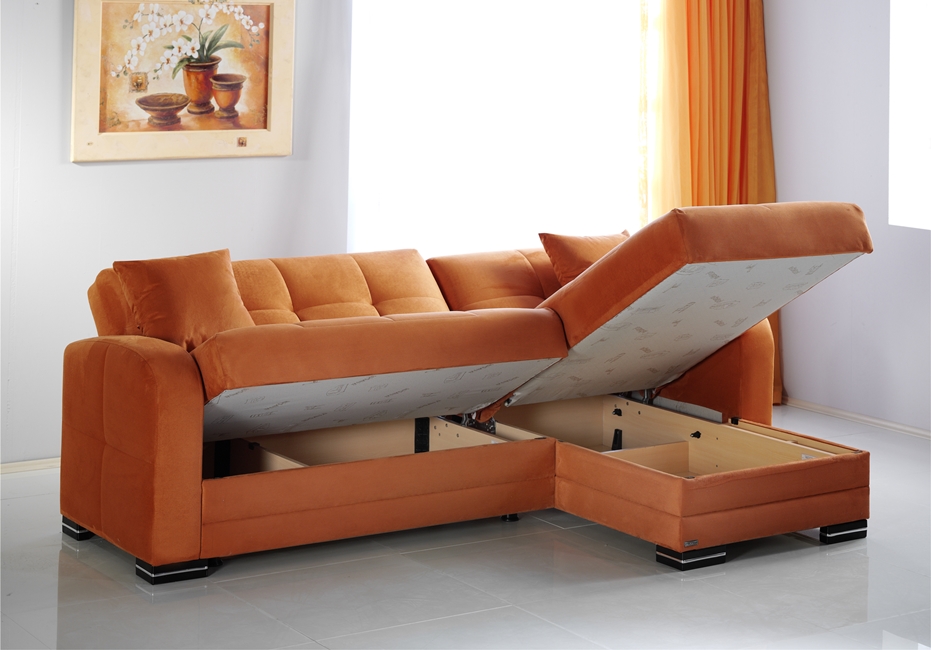 Price: $759
In case you didn't already know, we love furniture that serves multiple purposes, and the rainbow orange Kubo is no exception.
Kubo comes from the Turkish furniture maker Istikbal, and while it's a little wide (7 feet 6.5 inches) for a small apartment , it has tons of storage space hidden underneath its cushions where you can stash anything you want.
Of course, Kubo isn't the only couch with storage out there. Home Reserve builds narrower loveseats with built-in storage, and Overstock carries some inexpensive options too.
If you really want a bright orange multi-purpose sofa, though, another option is the Doc sofa bunk bed. It transforms from, yep, a sofa into, yep, a bunk bed, in less than 30 seconds: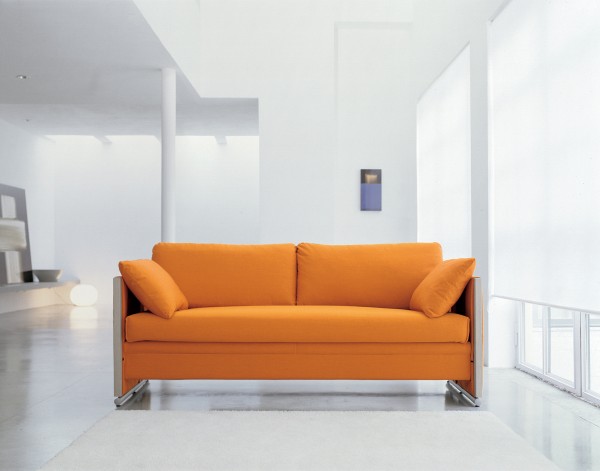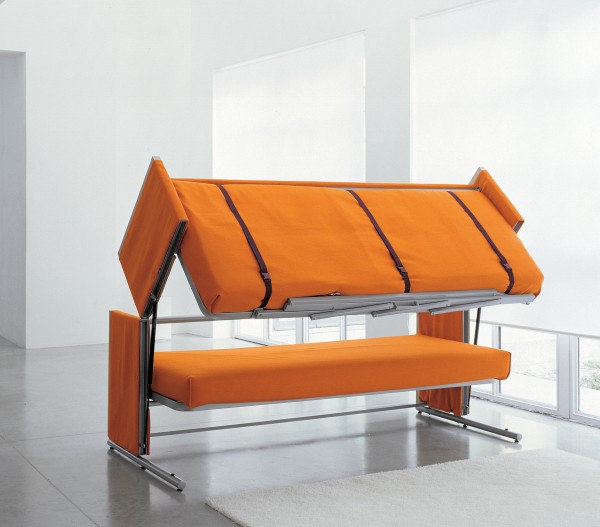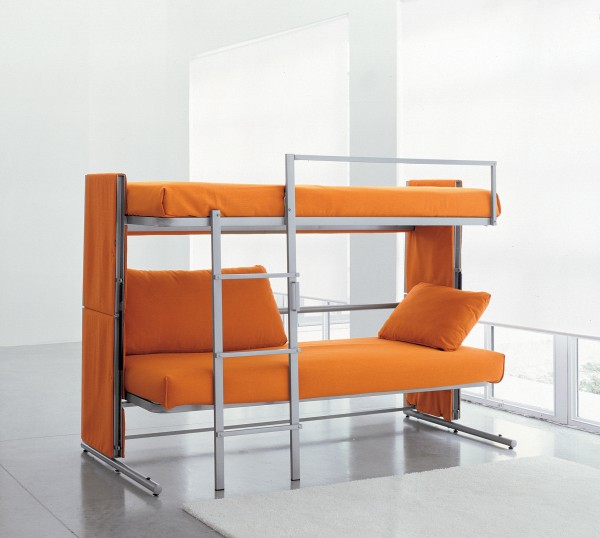 This article was written by David Michael McFarlane, a writer from Texas and Oregon who lives in New York and loves smart design and organization.