Brokers have been using words like "spacious," "airy," and "HUGE" to sell their clients on apartments since the dawn of leases. But for some people, small spaces are the next big thing.
In large cities across the nation, micro-apartments are exploding in popularity. Just consider Manhattan's new micro-unit development Carmel Place, or the surge in micro-housing out in Seattle. Still, plenty of skeptics question why anyone would choose to live in a virtual broom closet — and that's where psychology can help.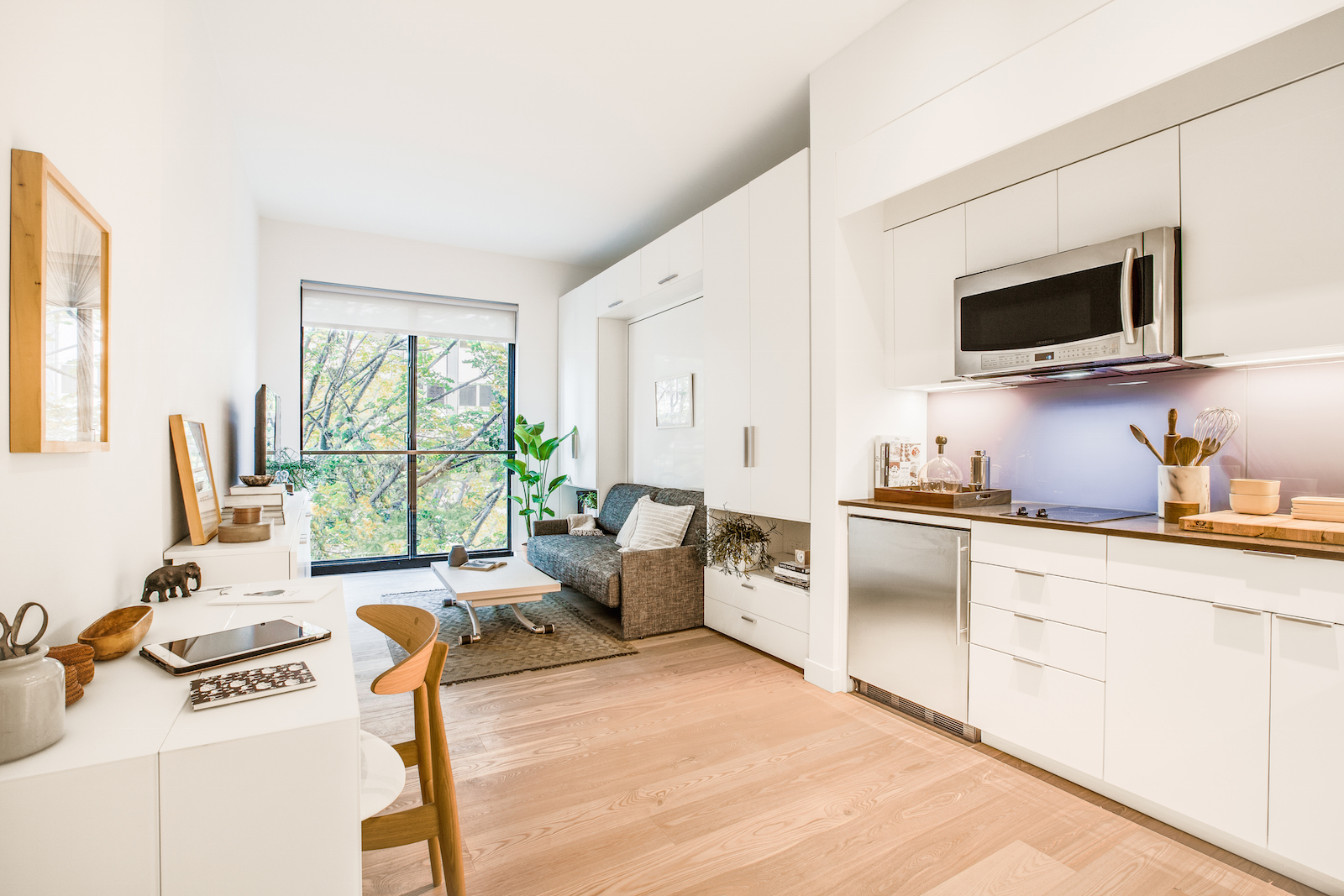 "There are two distinct types of people who would want to live in tiny homes at the moment," says Sally Augustin, an environmental psychologist and founder of Design with Science. "People who have the resources to live in other places, but the tiny homes appeal to them. And then there are people who don't, who would otherwise be sharing with other people."
While the draw of micro-apartments should be obvious for those in the second camp — housing is expensive, and less space means less rent money — Augustin explains that folks who aren't under a financial strain still have plenty of reasons for staying small.
"Some people have a real need for uniqueness and for the time being, it's an unusual way to live," she says. "Some people really like puzzles and living in a tiny home can be quite a puzzle to figure out how to cook real meals and have a shower you can comfortably step into. Some people are really concerned about environmental responsibility. And sometimes, but not always, these tiny homes are more responsible."
Mary Helen Rowell definitely understands the puzzle appeal. When she moved into her 90-square-foot West Village apartment, she loved the neighborhood and low rent, but was also excited to turn the cramped spot into a real home.
"After I signed the lease, I would go there every day after work and sit in the room and try to figure out what to do," says Rowell. "I just felt I could make it work. The worst that could happen would be that I'd be uncomfortable for a year."
The brainstorm led her to creative tricks like hanging her seasonal clothes "shoulder-in" (the rest of them are stored in MakeSpace) and mounting foldable chairs on the wall.
Graham Hill is another micro-dwelling disciple, and not just because he likes a good puzzle. Hill has lived in all sorts of small-scale homes, but he's probably most famous for the 420-square-foot "convertible" apartment he once owned on Sullivan Street.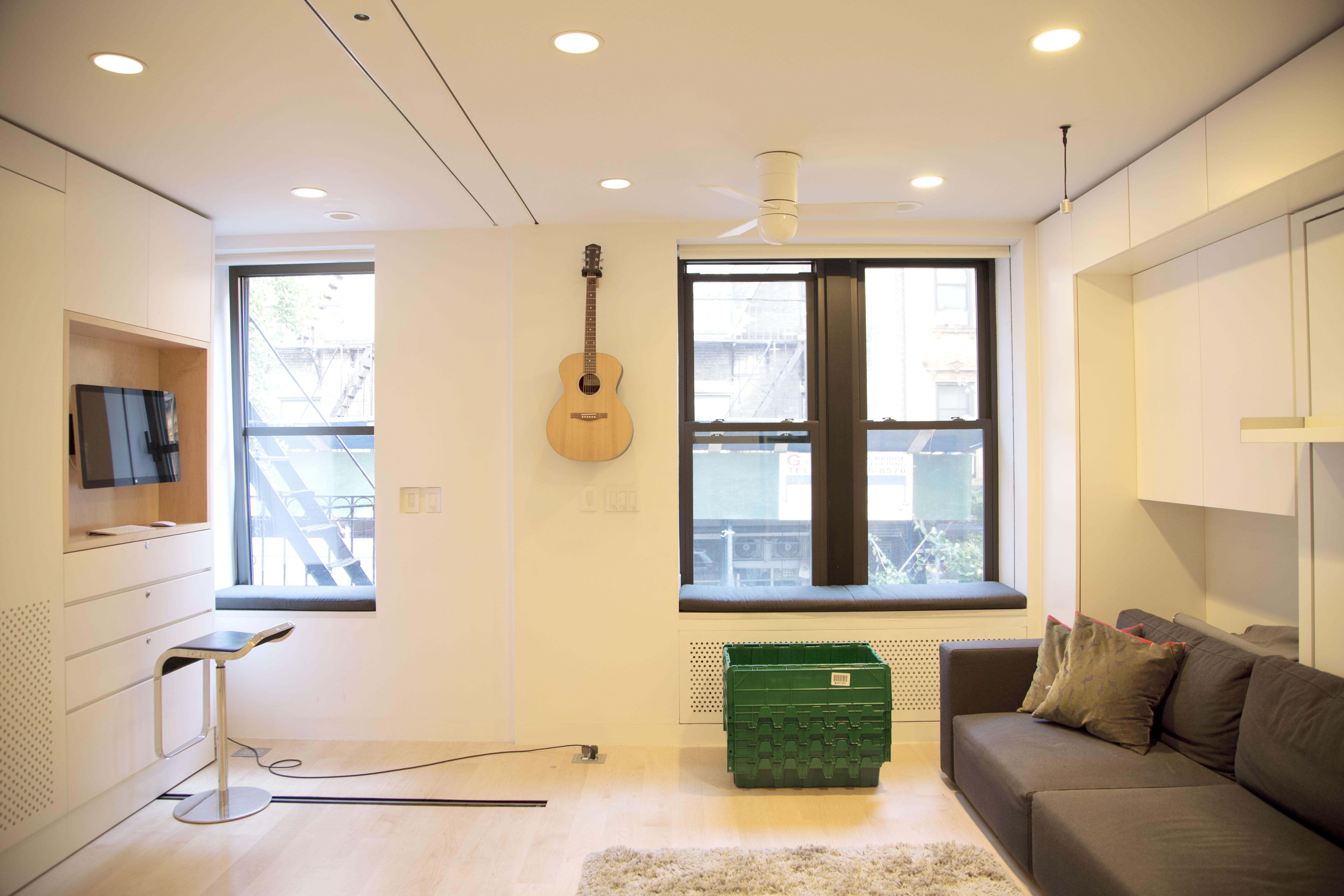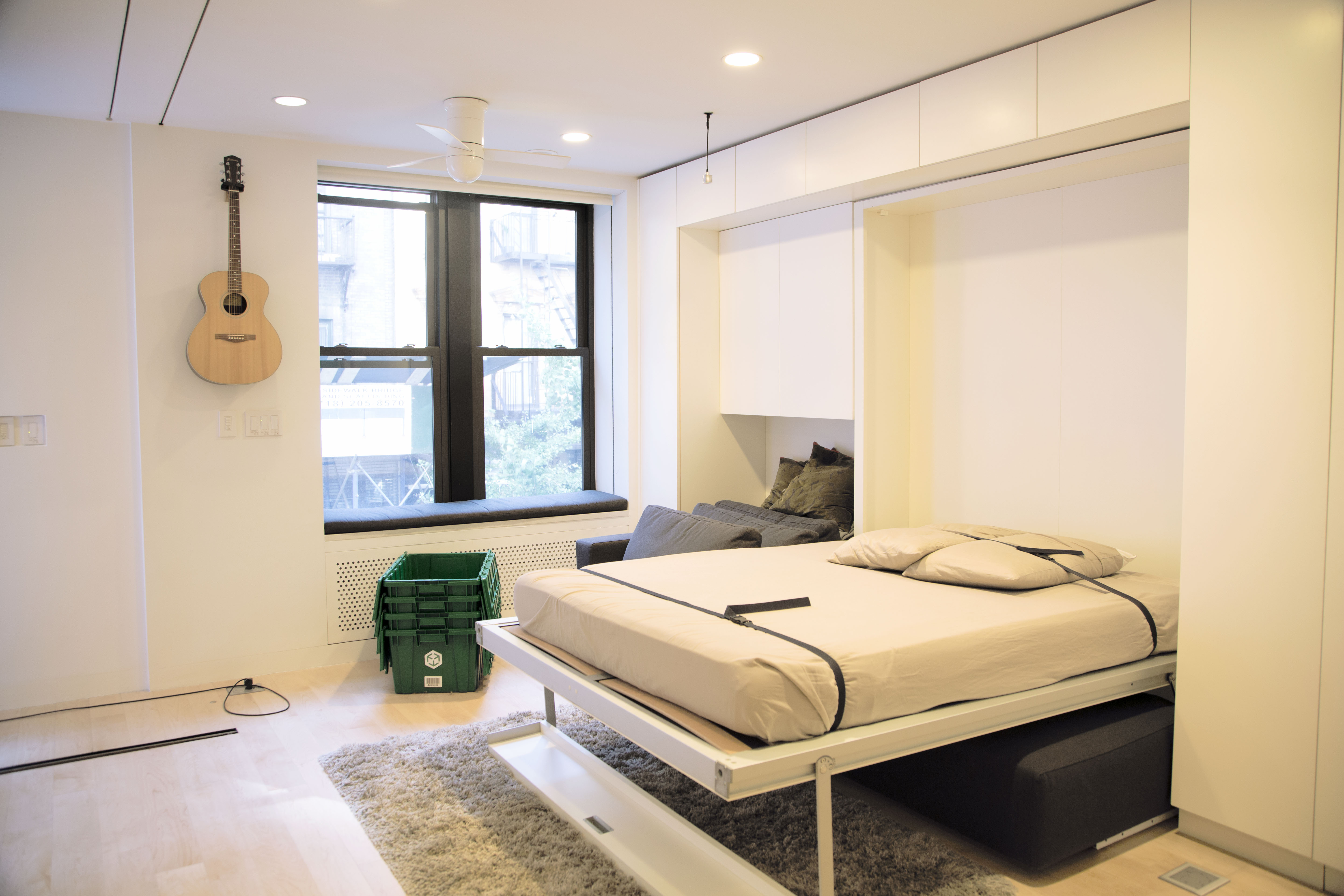 Working off a design from two Romanian architecture students, Hill remodeled two tiny adjacent apartments into one single pad with moving walls and space for a 12-person dinner party.
It was all meant to demonstrate his company LifeEdited's mission — "design your life to include more money, health and happiness with less stuff, space and energy" — and Hill is still working on getting people to see the unexpected perks of giving up some square footage.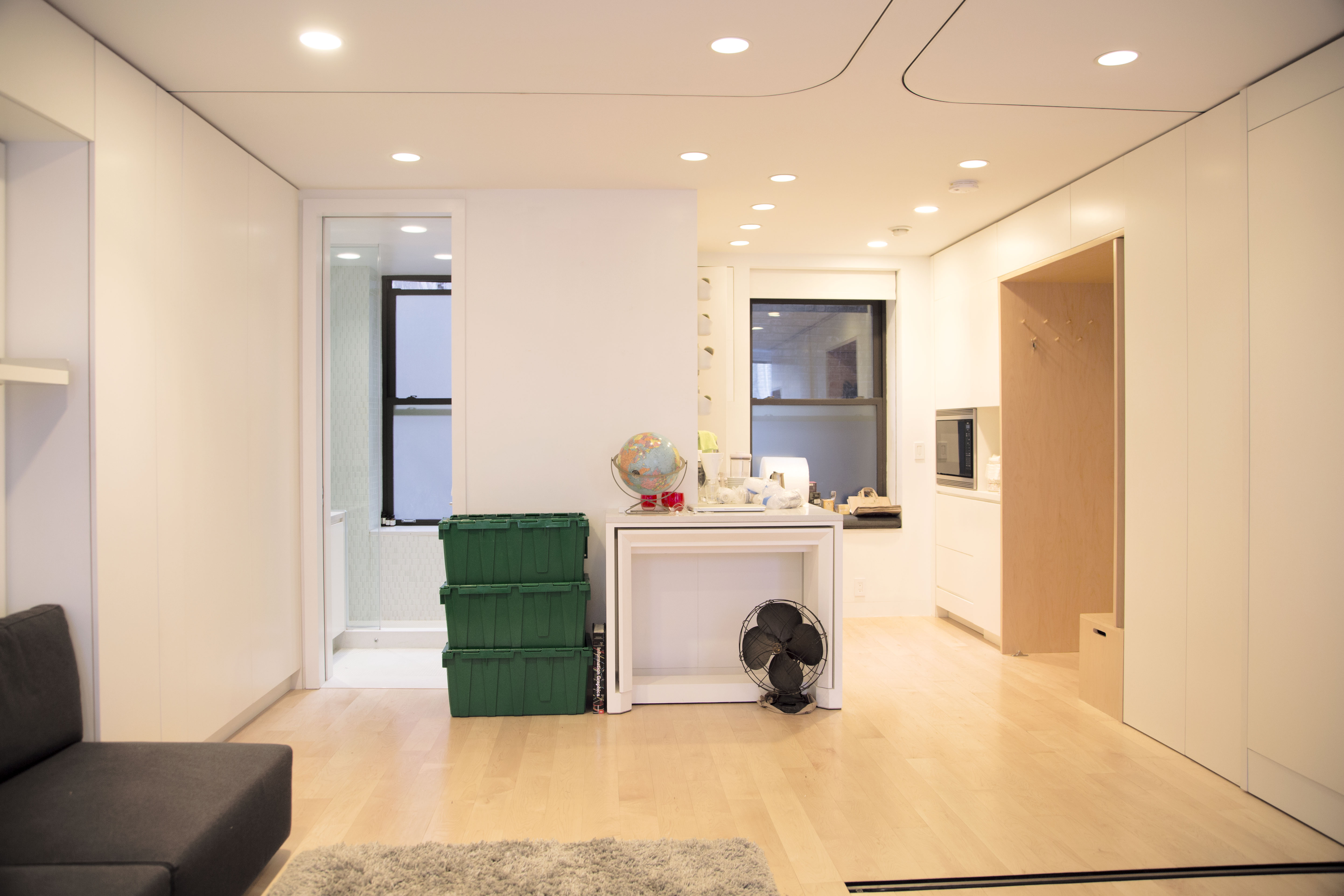 "Sure, bigger houses can be nice, but they also have a lot of hidden costs," says Hill. "More space to clean, heat. Big homes also tend to be further from city centers, meaning more driving, which ups your carbon footprint and takes a bite out of your wallet. What small houses might lack in features, they make up for in freedom to not be a slave to your space and your stuff, to live a life that is both financially and environmentally responsible."
But of course, micro-apartments aren't for everyone. Experts believe that kids who grow up in teeny apartments can develop short attention spans or social problems, and older adults may also struggle with a dorm-sized home.
For certain personality types, it can just be a mental minefield. "If someone has a hobby that's really important to them, like say someone is a painter who paints larger canvases — for those people, moving into a tiny home can be really difficult," says Augustin. "Because that's an important part of their identity. I think there are also people who are more attached to things than others. You have to think what their options are and what's important to them."
Rowell remembers struggling with this material problem when she started living in her micro-dwelling — giving up on the dream of a couch "or even a cozy armchair" was an early battle. But she thinks ultimately, it does come down to your core personality.
"You get to know yourself so much better in a challenging living situation like that," says Rowell. "Everything you bring into your life becomes a question. Is it a necessity or not? You learn how adaptative you are."
That might sound daunting, but making a micro-space work is getting easier each year. As Augustin points out, technology is digitizing more and more of our belongings (think ebooks and all those photos on your phone), so people are bringing less literal baggage to these diminutive apartments. And in the end, having any sort of apartment does great things for your mood.
"People have really strong psychological reasons for wanting a place of their own," says Augustin. "It signals you've reached a certain life stage, it gives you an opportunity to express who you are, and it gives you an opportunity for privacy. That's important for obvious reasons, but it also allows you to mull over past life events. We need respite every now and then to make sense of what's happening to us."
And even if it means one seriously streamlined kitchen, a micro-apartment can do just that.