It's the most wonderful time of the year. Until it's not because your bike is rusting outside all winter long and susceptible to theft. Or maybe your bicycle currently devours half the space in your small apartment and trips everyone in its path.
Either way, the bike storage struggle is real. And we have the solutions.
This holiday season, treat yourself, your significant other, and anyone else in your bike riding crew, to any of these gorgeous bike racks that'll store your bike in the least obstructive and painful way possible:
1. IKEA KVARTAL Bike Rack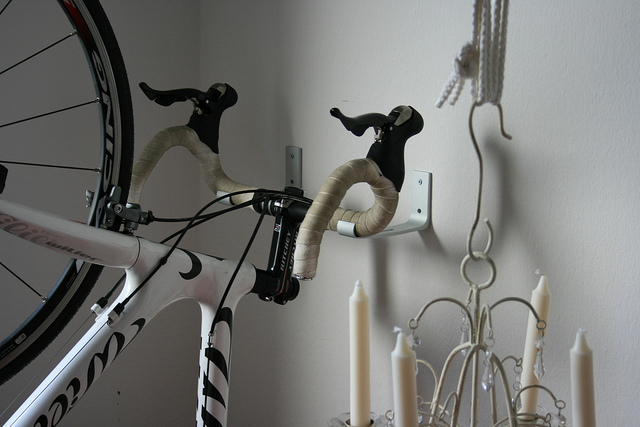 Cost: $5
For some, the best bike storage solution is a cheap bike storage solution. At only $2.50 per KVARTAL (you'll need two) plus the cost of screws, this DIY bicycle rack is the most budget-friendly option on this entire list. Which leaves you with tons of spare change to splurge on presents. Or donate to charity.
2. CLUG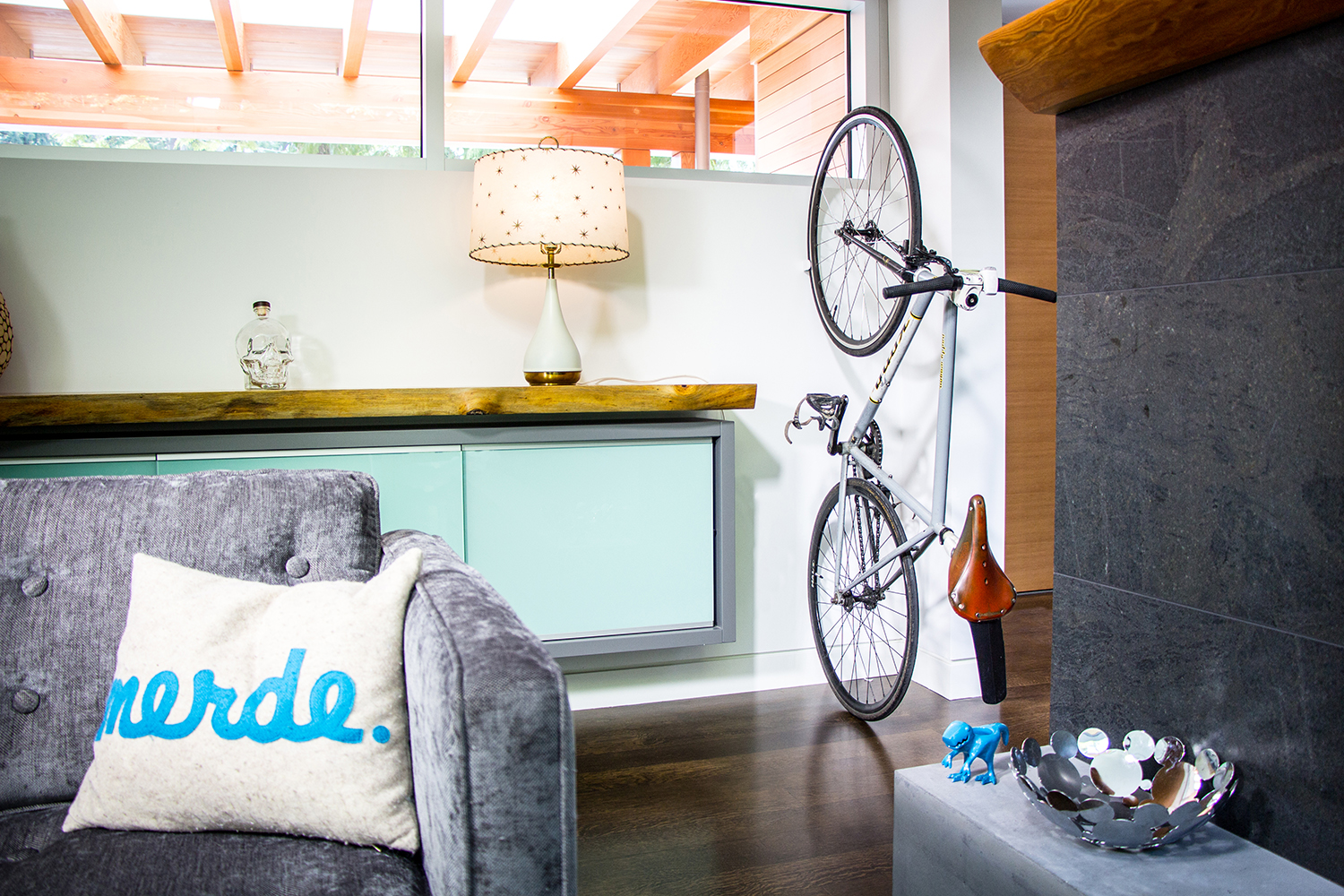 Cost: $20
This bike storage solution is so small, you probably didn't see it in the picture above. CLUG is a U-shaped hug for your bike that stores your ride upright or sideways.
Take a closer look at the world's smallest bike rack (it's the size of a kiwi):
3. Wooden Bike Hooks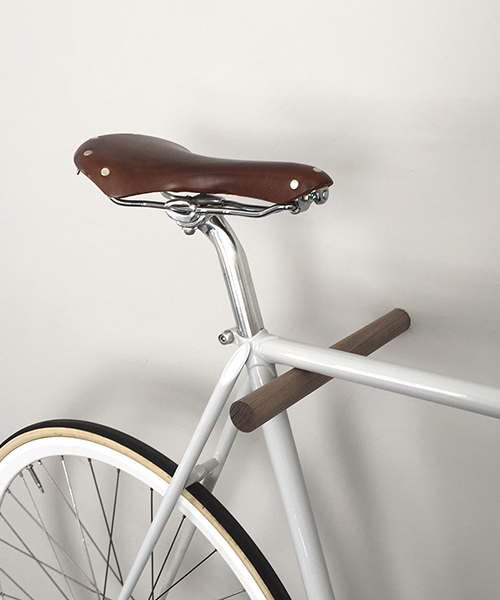 Cost: $73.24+
If you're a minimalist, then Wooden Bike Hooks are exactly what your cycling heart desires. But only if your bike weighs less than 28 pounds. If it doesn't, keep reading.
4. Michelangelo Two Bike Gravity Storage Rack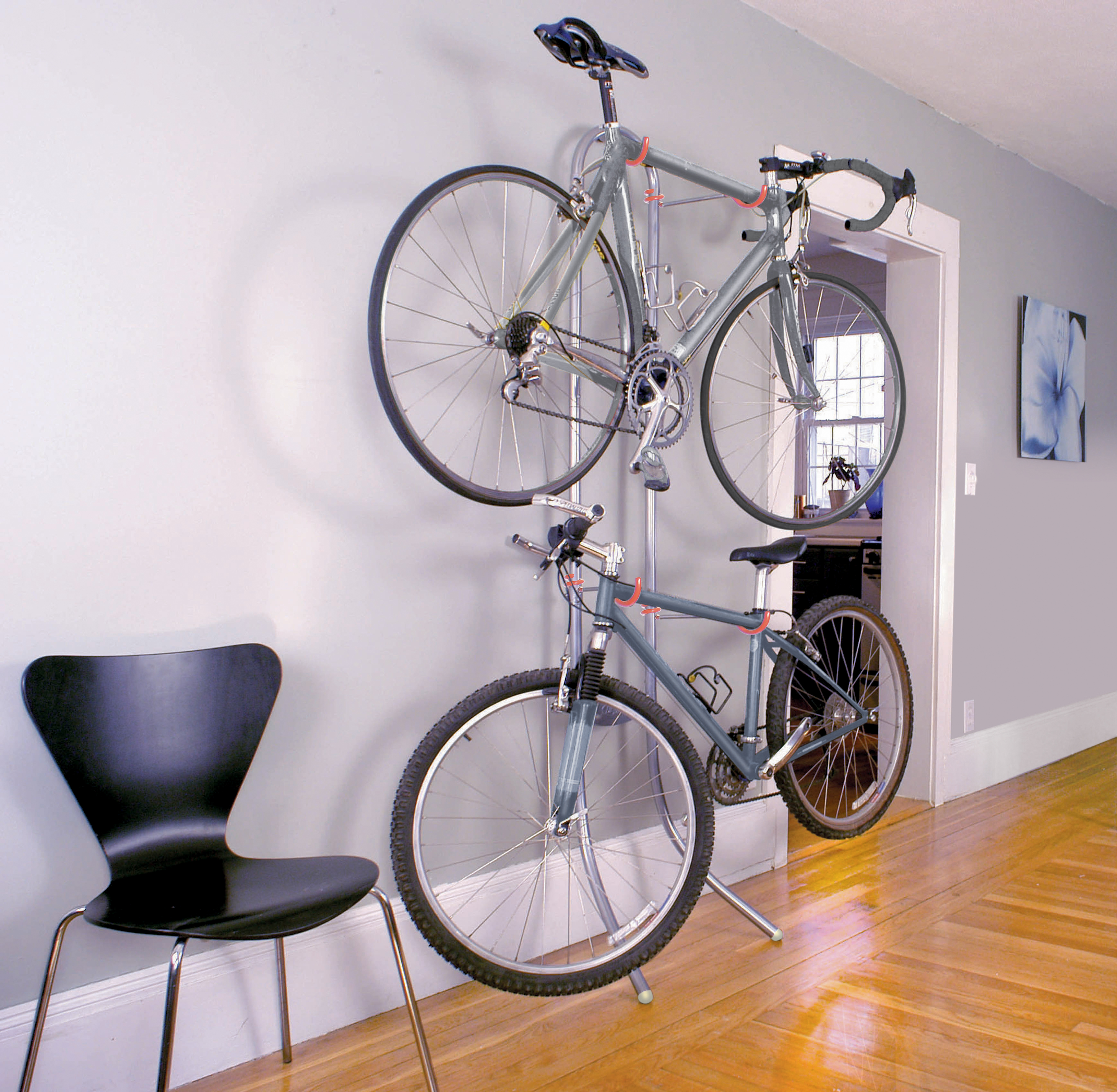 Cost: $79.99
For the renters out there who aren't supposed to drill holes in the wall, there's the Michelangelo Two Bike Gravity Storage Rack. Just lean this art deco bike storage rack against the wall and let gravity take care of the rest.
The best part: The assembly-free Michelangelo Two Bike Gravity Storage Rack can hang your bike and your roommate's ride, without scratching your wall or floor thanks to its rubber bumpers.
5. The Bike Valet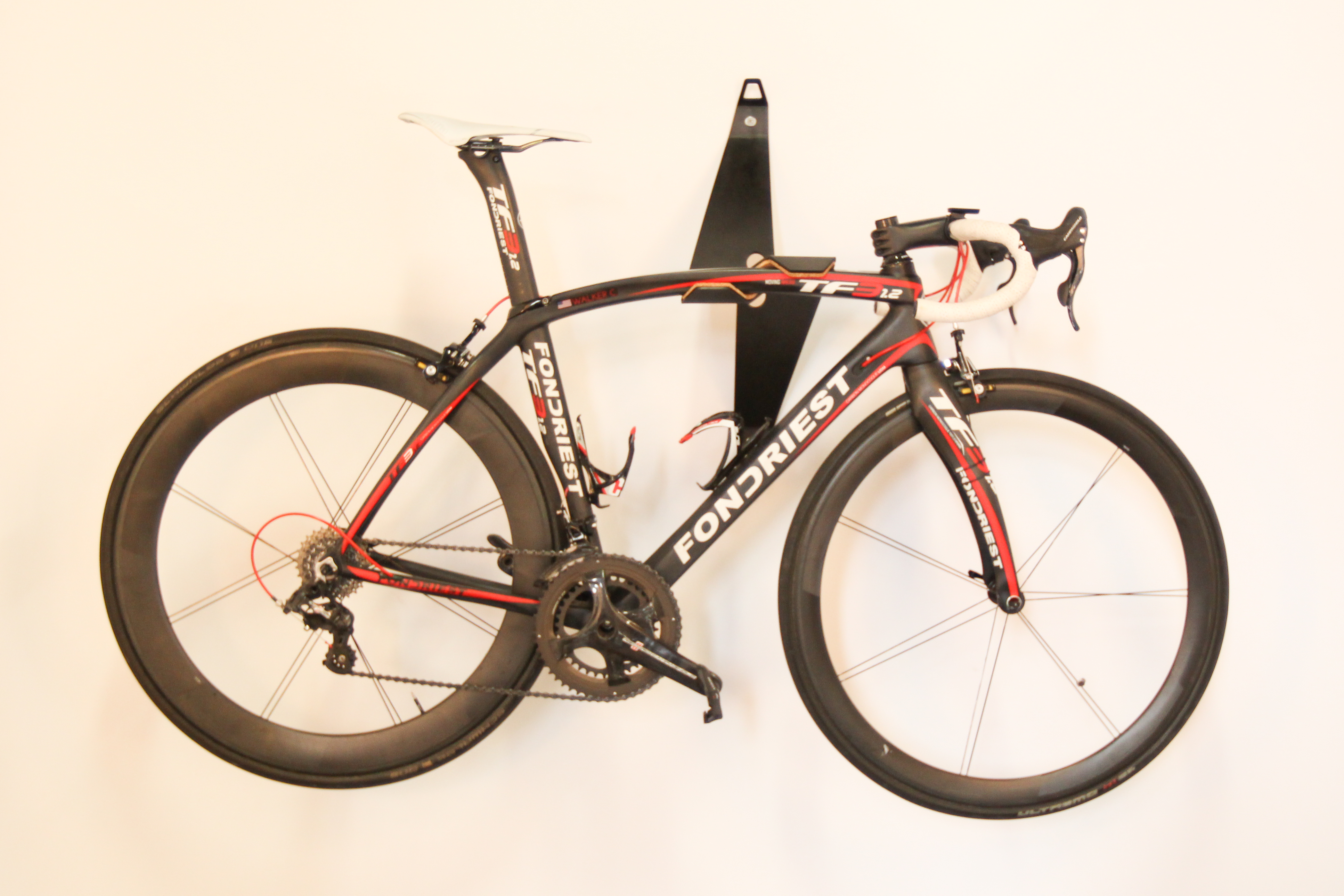 Cost: $98
Reclamation Art and Furniture combines art, airplane-wing form, and function to bring you a graceful wall-mounted "Bike Valet" bike rack that's as stunning as it is utilitarian. It even has an upper gear hook and lower carabiner ring where you can hang your helmet, bags, and accessories.
6. Bike Hooks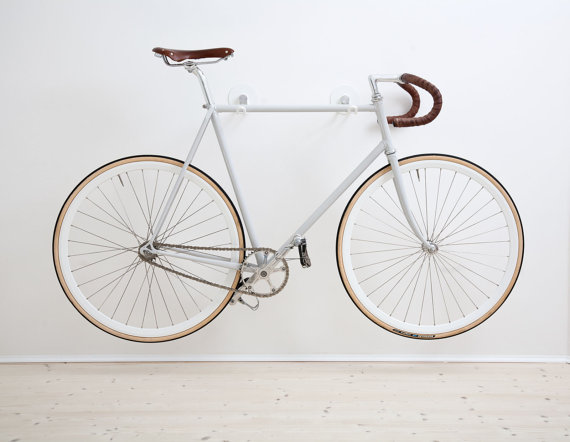 Cost: $100.78+
Ok so maybe you prefer a bicycle storage rack that leaves little in its tracks for you and your guests to knock your heads into. In that case, pick up a pair of Bike Hooks that when removed from their mounts, leave nothing but these tiny knobs that practically blend into your wall: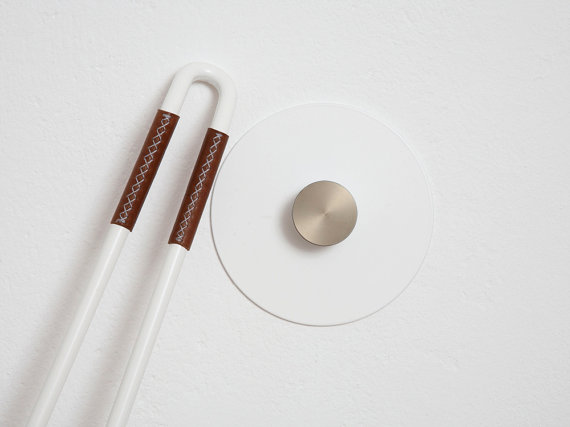 7. Quad Bike Rack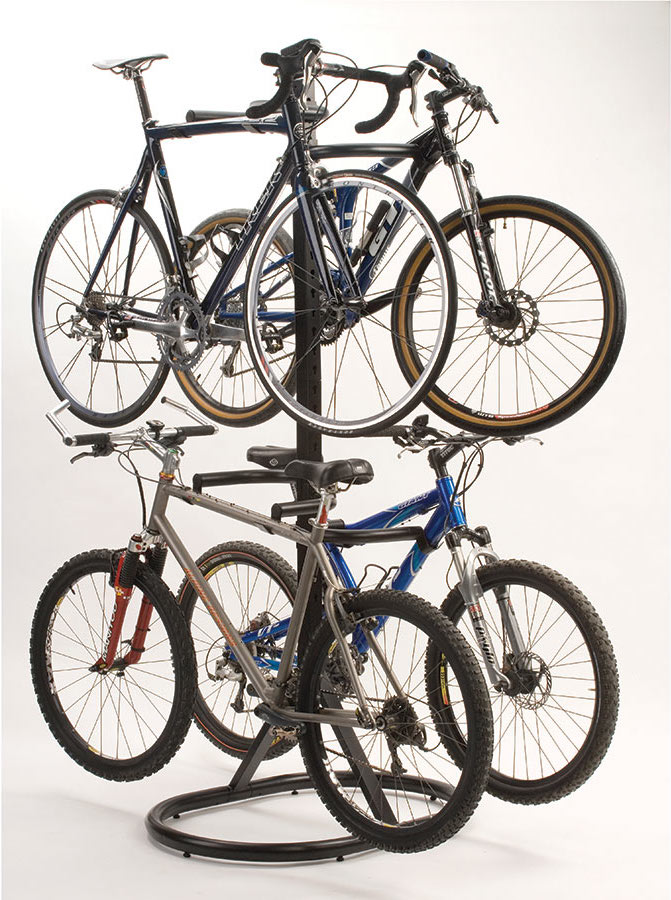 Cost: $110.99
You ride a bike. Your significant other rides a bike. Your roommate rides a bike. Your best friend rides a bike. And your apartment doesn't ride a bike, but with a Quad Bike Rack, it can finally store all four bikes at the same time without clogging your entryway.
8. RACK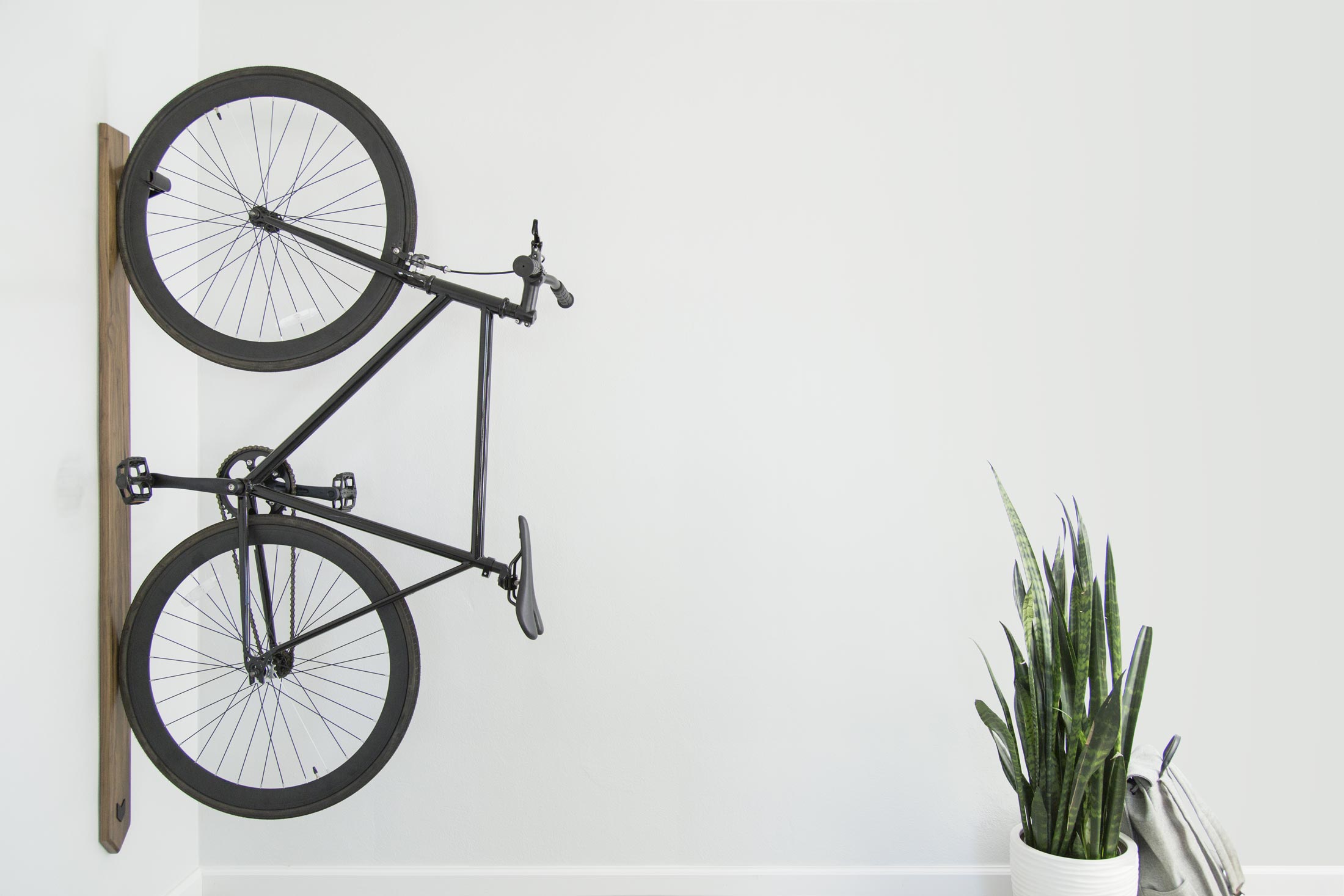 Cost: $250
ARTIFOX makes some seriously sleek and useful furniture. Their desk with storage has a built-in dry erase board, their desk organizer doubles as a bookend, and their RACK effortlessly lifts your bicycle in the air with one hand like a professional ice skater.
When not in use, the solid hardwood and powder coated steel RACK serves as sleek wall art that obviously points to all the floor space you just saved: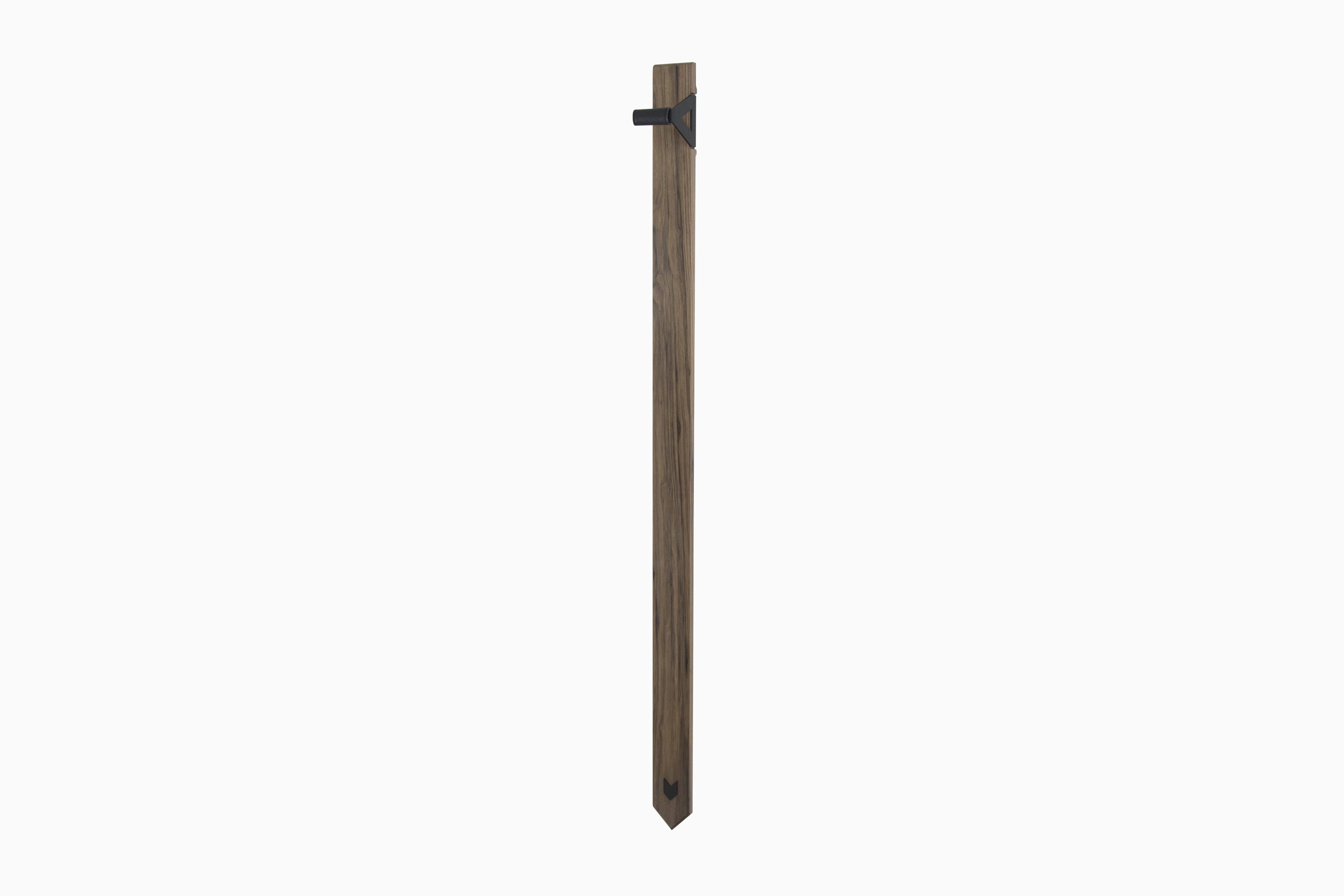 9. DE5K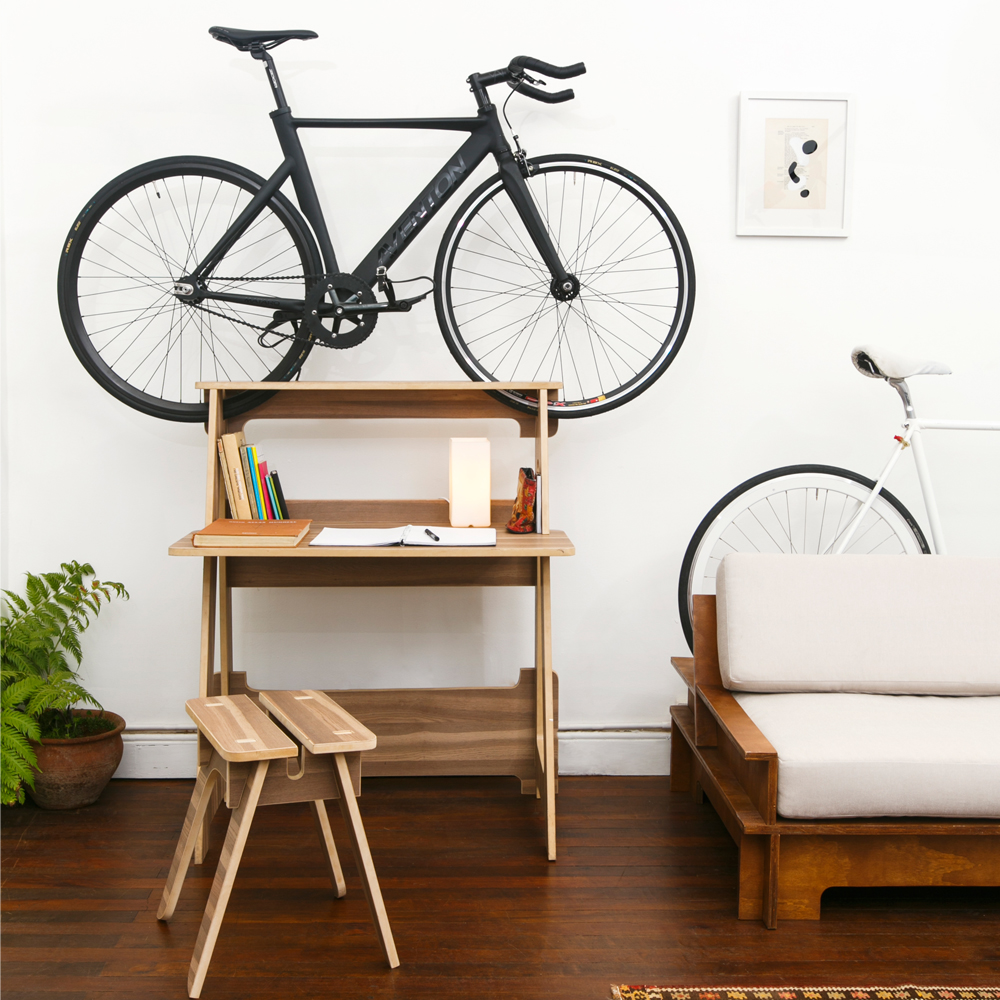 Cost: $269
Having a bike is excellent. But letting it sprawl in your already-snug living room for everyone to trip over? An eyesore. With DE5K, you can do work and carefully store your bike at the same time. Two birds. One stone. What's not to love?
10. KAPPÔ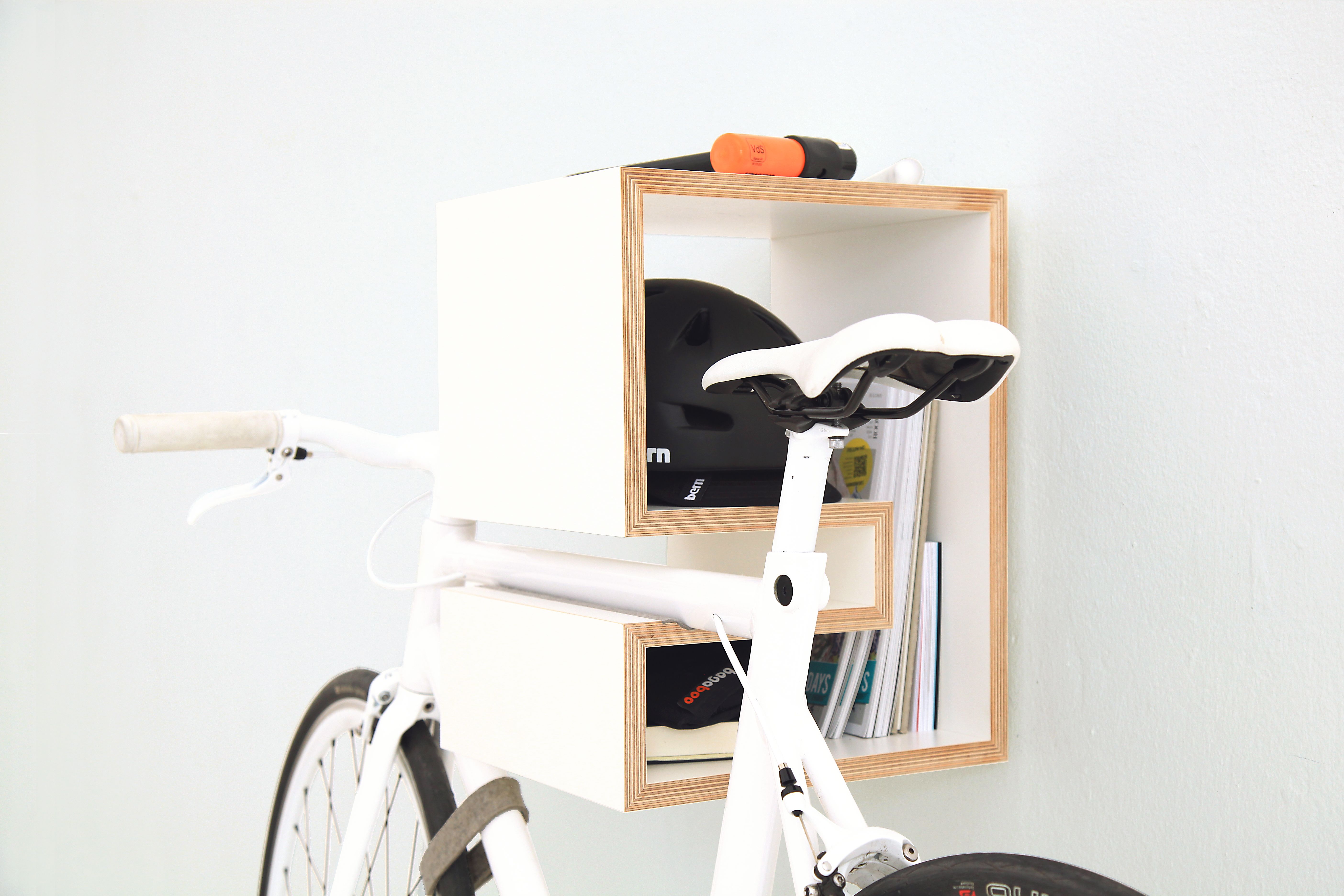 Cost: $290.35
Doubling as a bike rack and extra storage for all your biking gear, the KAPPÔ safely hangs your bike in the air by its waist. And leaves it there until you take it down along with your U-Lock, cycling gloves, bike light, reflective jacket, and helmet because safety first, guys.
11. The Bike Shelf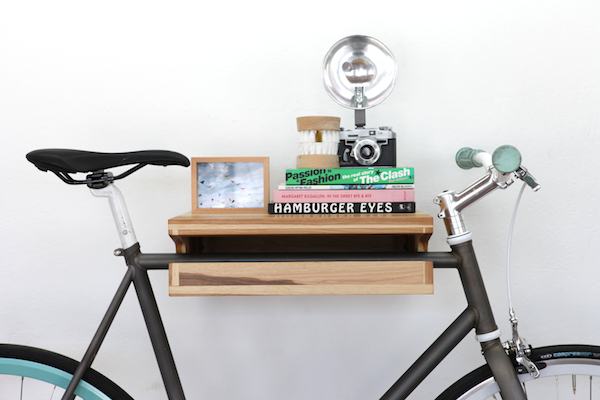 Cost: $299
The often imitated, never duplicated (Original) Bike Shelf is basically the Elvis of bicycle racks. It rocks your bike's world by gently levitating it in the air with its strong oak (or walnut) mouth. Right before it seals the deal by offering ample storage space on top for your cycling accessories, books, tiny plant, framed photo, keys, sunglasses, scarf, winter hat, gloves, and more.
12. Pedal Pod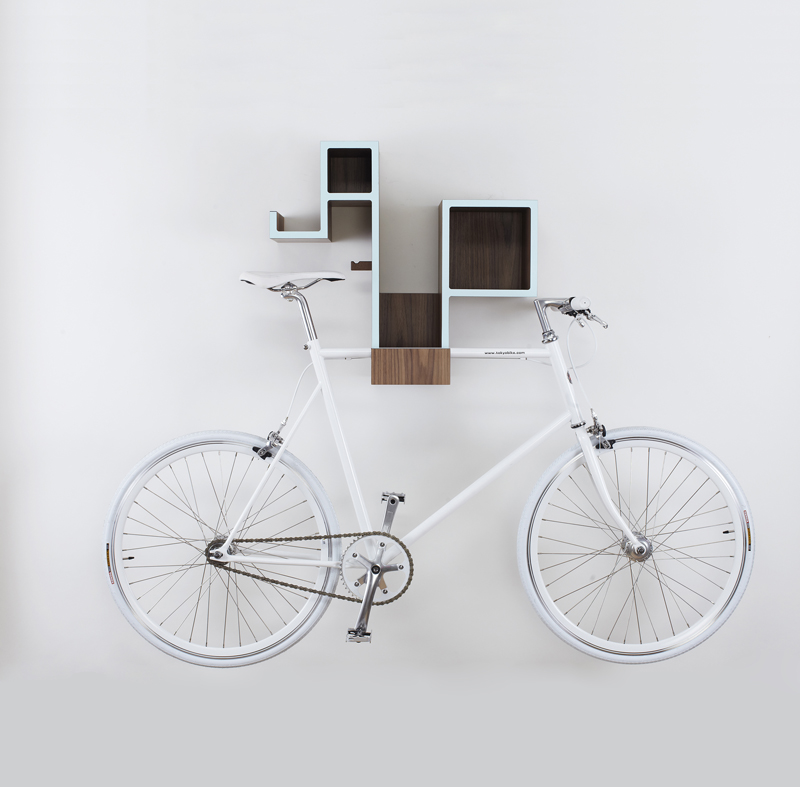 Cost: $545+
Available in walnut, oak, or veneer, Pedal Pod is your stairway to bike storage heaven. Stash your purse, wallet, keys, glasses, winter hat, gloves, scarf, and glass of eggnog in any of Pedal Pod's convenient storage cubbies and you'll never leave home without your winter essentials again.
13. Shoes, Books and a Bike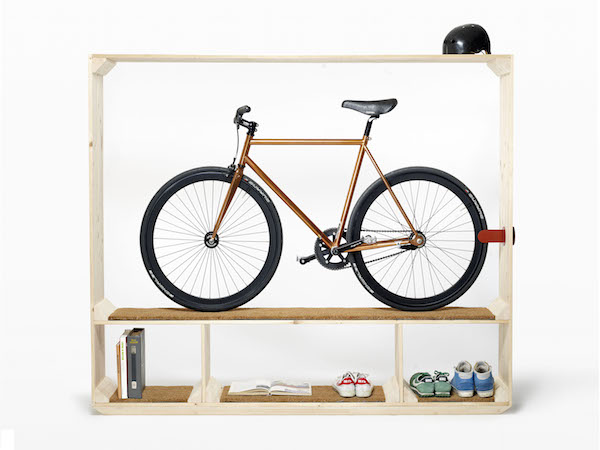 Cost: $1,204.61
Got shoes, books, and a bike? Of course you do. Store all of that and more in, you guessed it, Shoes, Books and a Bike.
Built from fir, coconut fiber, and steel, this Swiss-made durable storage shelf is like an entertainment center/trophy case for your trusty bike. Your trusty bike that deserves to be put on a pedestal for always giving you the gift of getting you home in one piece without asking for anything in return. And isn't that what the season of giving is all about?