It's easy to look at a pile of wood pallets on the curb and dismiss it as nothing more than trash. Many people do.
But you're not many people. Where others see garbage, you see great DIY opportunity.
You loved the wooden pallet coffee table, wine storage rack, and shipping pallet swing so much that we decided to bring you some more.
From book storage and shoe storage, to a simple bike rack and art, here are eight cheap and easy wood pallet projects that will revitalize your home and class-up your life:
1. Wood Pallet Walkway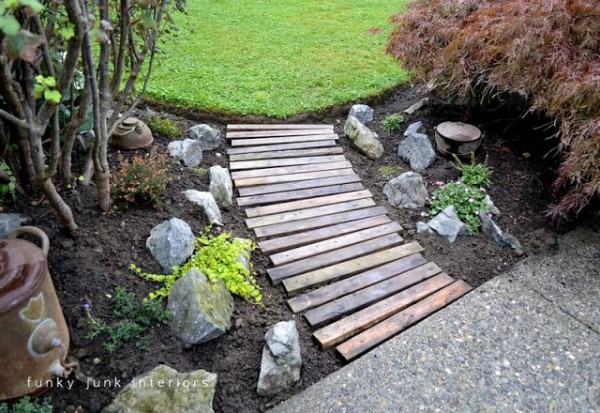 A wood pallet walkway almost seems too obvious and requires very little work. This project involves a whole lot of dirt and an enormous vehicle to move said dirt, but building the walkway is actually dead simple.
Step 1: Pour the dirt on the ground.
Step 2: Remove the pallet's boards and place them on top of the dirt.
Step 3: File this one under "I wish I thought of that one."
2. Wood Pallet Couch Arm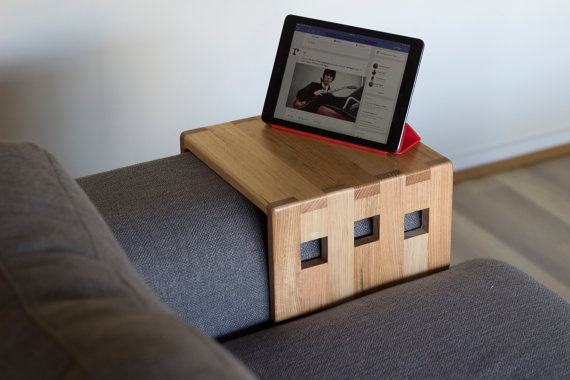 Whoever invented the couch must've had it out for the person who invented coffee.
How so?
Well, it's difficult to balance a mug full of coffee on the arm of your couch without the threat of the mug falling and burning some very important parts of your body.
Unless of course, you build a couch arm like the one pictured above. It's made from reclaimed wood and fastened via box joints and square cut outs for a minimalistic feel.
3. Wood Pallet Bookshelf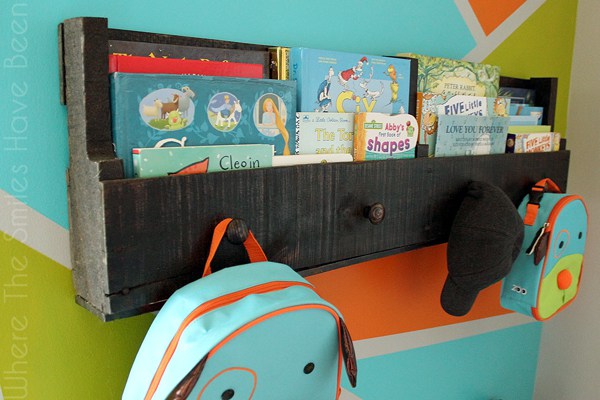 This wood pallet project requires a little elbow grease, but we're human and have an unlimited supply of the stuff.
After a bit of deconstruction, which involves sawing the wooden pallet, sanding it down, staining it, and attaching knobs, you'll have a bookshelf that you can hang anywhere in your home.
It's perfect for that rustic look. Or for anyone who eventually wants to live in a cabin in the middle of Maine.
4. Wood Pallet Bike Rack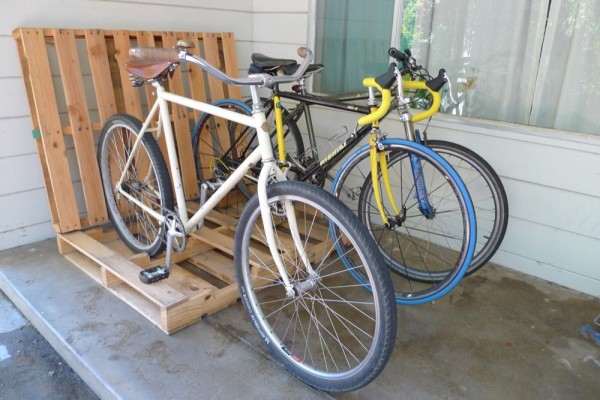 This is hands down the laziest, albeit totally brilliant, way to make something new with two old wooden pallets. Instructables member maudlin didn't even do any actual building to create this bike rack.
All he did was literally lean one wooden pallet against another. Boom. Just like that, a bike rack was made.
Just make sure that the pallet with thinner boards is the upright pallet, as the narrower slots will firmly grip your bike's wheels.
5. Wood Pallet Cat House
Cats have it too good these days, so we're really doing them a favor by providing them with another piece of property they can assert their ownership over.
Here's what you need:
1 wooden pallet
Plywood
Carpet
5-gallon bucket,
Nails
Screws
Sisal ropeDrill
Hammer
Jig saw
Sanders
Sandpaper
Planer
Staple gun
Sharp knife
Here's what you don't need:
Any guesswork because the video below explains how to easily make a house for your cute and cuddly kitty.
6. Wood Pallet American Flag Art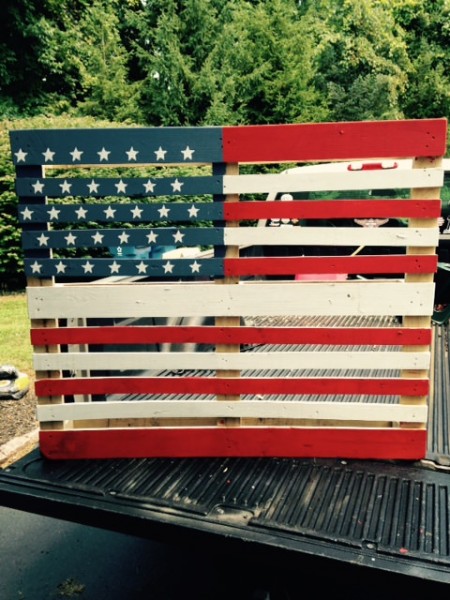 Like the pallet bike rack, the wood pallet American flag requires no building, hammering, cutting, or screwing of any kind — just some paint.
Find a pallet that won't overwhelm your apartment with its size — after some sanding and cleaning, you can paint anything you'd like. Then … well, that's kind of it.
1001 Pallets suggests going for the patriotic vibe with an American flag, but there's no pressure. Trying to paint 50 perfect stars that do our beautiful country justice is no easy feat.
7. Wood Pallet Shoe Rack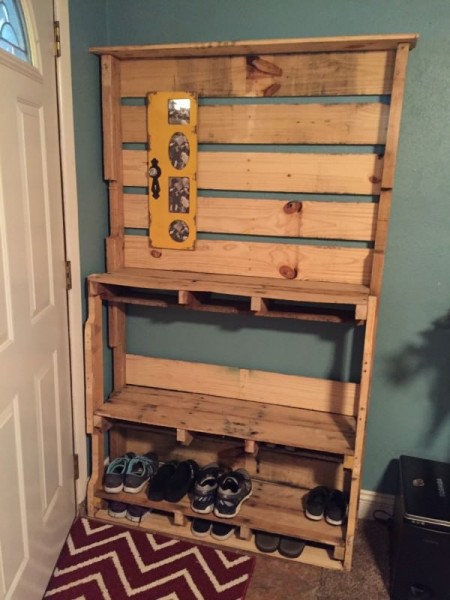 Brilliant, right? This wood pallet shoe rack gives you something to do while calming all the anxiety you feel when your brand new rug gets tracked with mud.
This project only requires two and a half wooden pallets. And it'll even fit in that tiny space between your front door's hinges and your wall. Which is really the place it should be to inspire the removal of shoes.
Is the above shoe rack a bit too big for your entryway?
Here's a smaller option that has three levels for organizing nine pairs of shoes, slippers, and boots: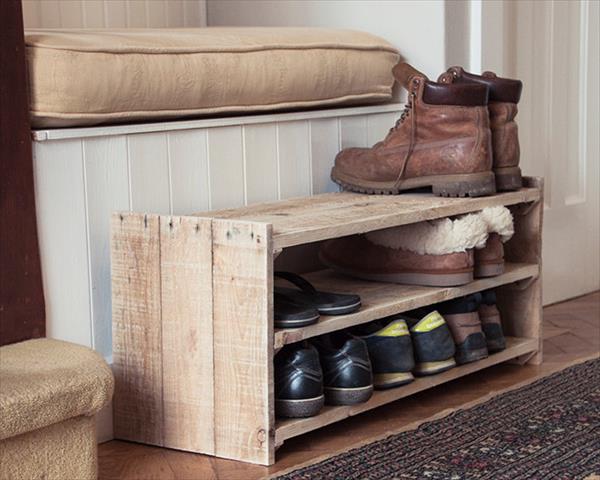 8. Wood Pallet Bathroom Cabinet

This wood pallet cabinet might not keep people from snooping through your things while they use your decluttered bathroom, but it'll at least give them something to be impressed with in the event Instagram is down. Which happens never.
It almost looks like the door to a tiny barn. Except this barn sports a mirror and houses gels and cotton balls instead of goats and cows.
As for the magnificent industrial coffee table with storage space and hairpin legs that resemble SNAPs, hop over to Homedit for the full instructions.
This article was written by Charles Adams, a Connecticut-born writer who currently resides in Brooklyn and has written for a multitude of men's interests sites under a number of pseudonyms.