What do you do when you have a blank corner of your apartment, sitting unused?
Most people might settle with finding the perfect sectional, storage bed, or space-saving billiards game to fill the space, but not Donnie and Nicki Wang.
They wanted to maximize every square inch of their 500-square-foot San Francisco condo, so they hired architects to design a Domino Loft system that would transform their one empty corner into five functional living spaces.
The result, created by Peter Suen from FIFTH ARCH and Charles Irby at ICOSA Design, is stunning. So stunning that we just had to find the Domino Loft's owners and creators to learn more about the loft's birth, features, materials, and of course, the answer to the million dollar question:
How do we get our hands on this spectacular space-saving loft?!
Keep reading to find out, and try not to ogle too hard.
The birth of the Domino Loft system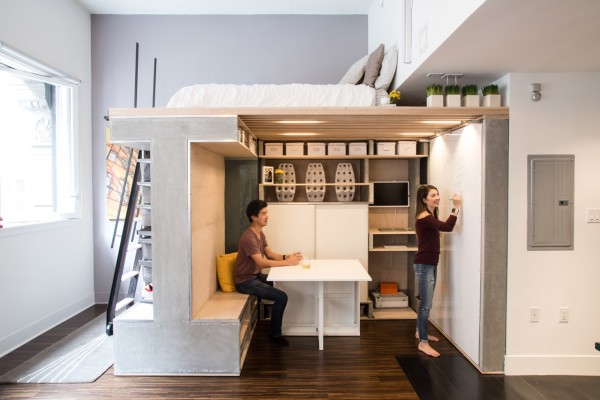 When the couple first reached out to Peter and Charles, Donnie told us they had a clear idea of what they wanted:
"Five functional spaces depending on the time of day or occasion: bedroom, office, dining room, guest room, and walk-in closet."
Working collaboratively, the designers started from scratch and went through months of content exploration before settling on the ultimate solution. Peter said he and Charles "spent more time than typical on the initial schematic and conceptual phases," testing at least eight ideas, but the planning paid off.
"We focused," Peter told us, "on how a static spatial configuration can still produce dynamic, multifunctional spaces."
Like the Gramercy Park micro-apartment with a sliding storage wall and the tricked-out YO! Home, the Domino Loft feels dynamic even when it's not in use. Its energy is partly due to its growing out of (and into) the Wangs' condo.
Fabricated piece-by-piece in Charles' Oakland shop, the loft system fits seamlessly in the Wangs' home where it was assembled on site.
The Domino Loft system as a workspace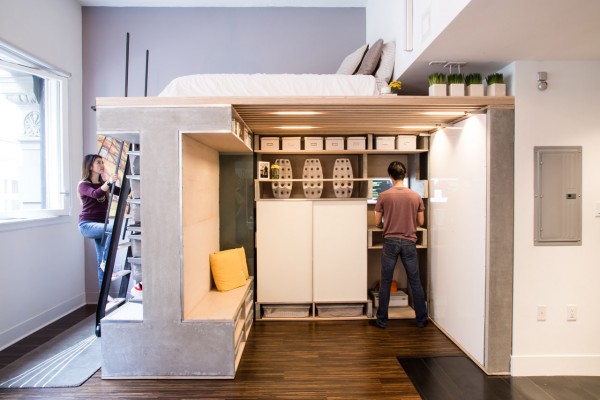 In addition to eating, sleeping, and watching movies in their loft, Donnie and Nicki run treadfast — a business that designs and sells premium tall socks with grips — from home.
As a result, the couple needed a designated workstation and more storage space for their inventory. The Domino Loft provides both.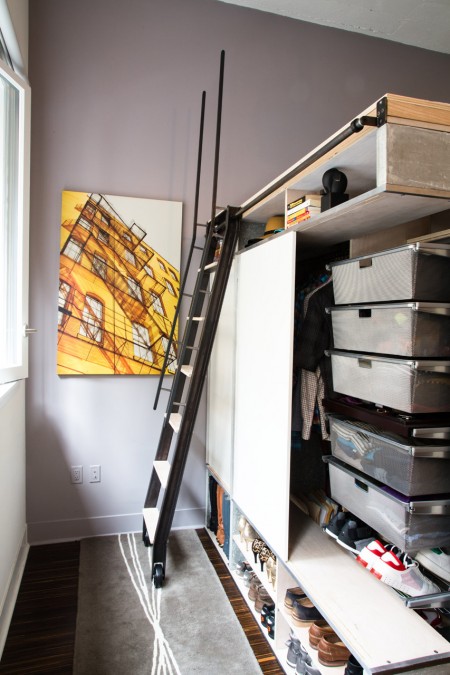 With a built-in standing desk in the interior, a full-wall whiteboard, and storage shelves and drawers just about everywhere else, the Domino Loft system gives the Wangs the workspace they need while saving them from having to stack unsightly boxes in a corner.
Donnie told us they store "thousands of socks in, on, and around the loft, though you could never tell just by looking." He's right. We can't.
The loft's two tiers allow Donnie and Nicki to work or rest separately, which is one of the keys to successfully sharing an apartment with your significant other.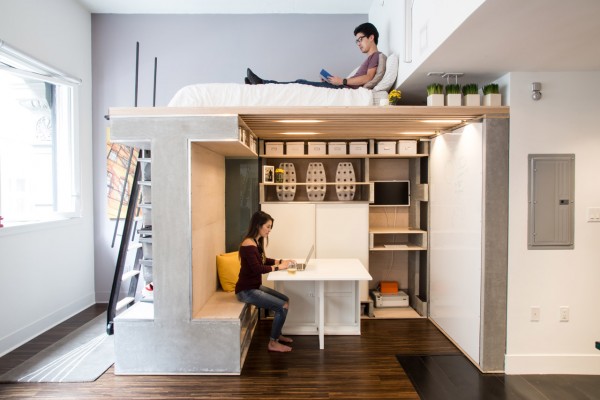 The Domino Loft system as a guest bedroom
Living in Downtown San Francisco often means you attract friends and family from all over the country. Which is great if you have a spare bedroom, but it's tougher when you're already two people living in a 500-square-foot condo.
So does that mean the Wangs have their guests sleep on an air mattress that deflates throughout the night?
Nope. The Domino Loft's whiteboard folds down into a Murphy bed that sleeps two.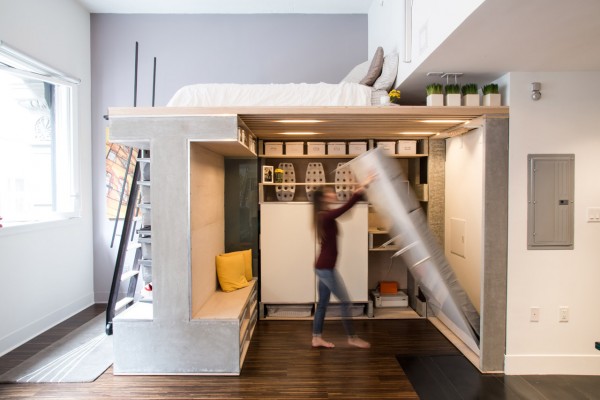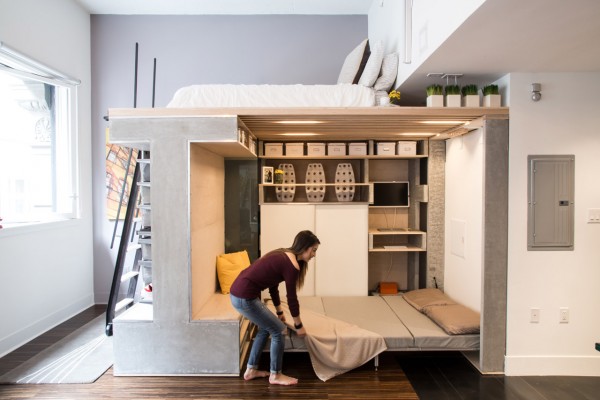 What's the Domino Loft system made of?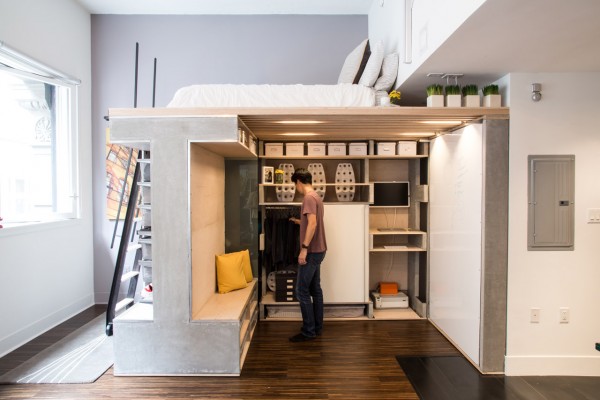 The Domino Loft is primarily made of concrete, steel, and a gorgeous maple plywood with a white lye and natural soap finish. This follows the industrial, urban aesthetic Donnie and Nicki wanted to create in their home.
"The loft platform," Peter told us, "is formed from a series of solid wood joists that allow lighting to tuck into the member spacing.
The loft's concrete and steel live up to their sturdy reputations, and because of its sleek and multifunctional design, it doesn't create a heavy or bulky presence. Details like the sliding library ladder contribute to the energy of this system. It shifts and adapts while standing perfectly still.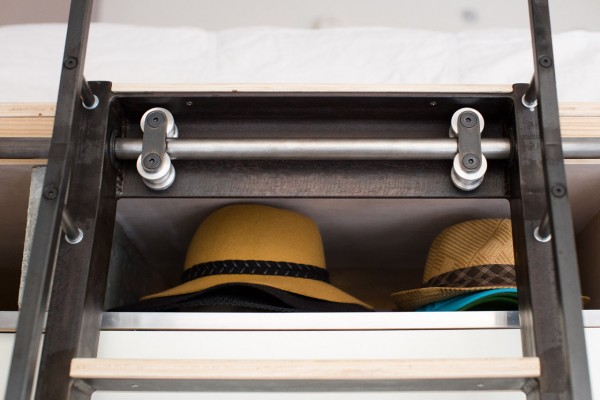 Want a Domino Loft system of your own?
We do too. But we'll have to wait for an indefinite amount of time.
"We would like to develop a kit-based system based on this concept that owners could potentially configure on their own," Peter told us. He also couldn't say what the Domino Loft's price range might be, since the cost of the loft built in the costs of construction and demolition of the Wangs' condo.
All hope isn't lost, though. ICOSA Design specializes in computational architecture, meaning they're experts at turning concepts and data into physical structures.
The Domino Loft is the first living space project that ICOSA Design has built, and it hopefully won't be their last.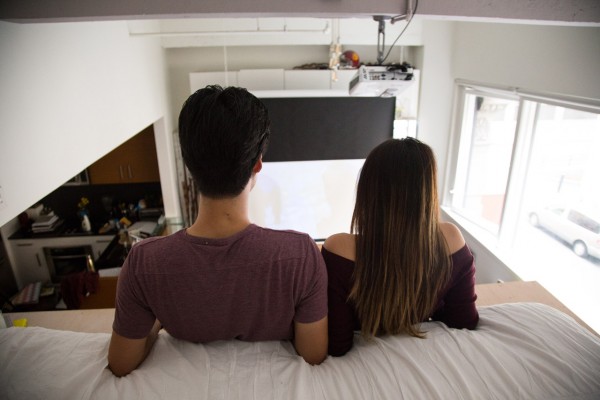 This article was written by David Michael McFarlane, a writer from Texas and Oregon who lives in New York and loves smart design and organization.