Our top shoe storage ideas are here to help. If you're storing shoes over the door, under the bed, in your entryway or closet, we've got you covered.
Whether living in a small, medium, or large space, one thing unites us all: an abundance of shoes. With some extra time at home these days, it's a good idea to declutter your space when it comes to footwear. 
Over the Door Shoe Racks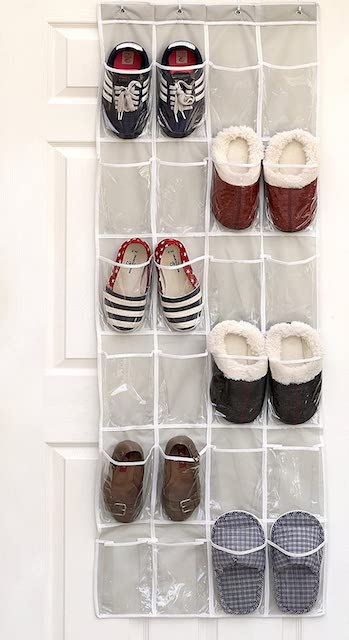 SOURCE: AMAZON
It's an inexpensive, quick, and easy solution. This shoe organizer will hold up to 12 pairs and is a breeze to install. The 19" width allows for installation over any standard or closet door.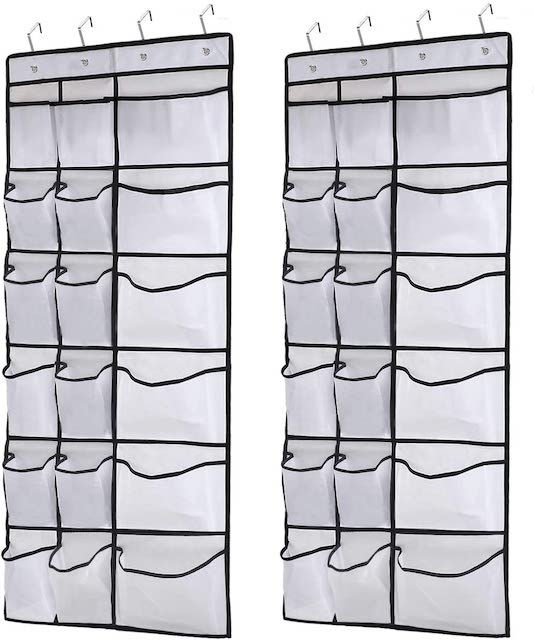 SOURCE: AMAZON
A good value if you need 2 shoe organizers. There are 12 small pockets in each (6 pairs) but also includes 6 larger pockets if you'd like to store other miscellaneous items (or more shoes).
(Pro Tip: Place your heaviest shoes at the bottom to prevent the rack from moving around when you open and close your door)
Under the Bed Shoe Storage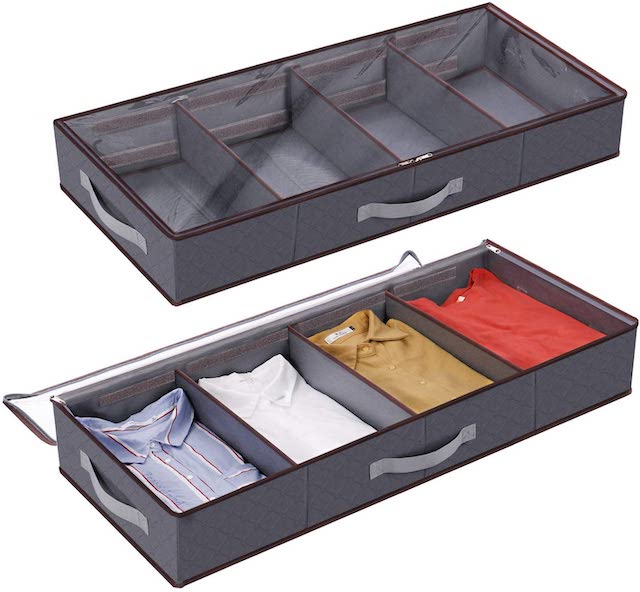 SOURCE: AMAZON
Even if the title suggests clothes, this product is great for storing shoes under the bed. It fits around 12 pairs of sneakers/flats but also has adjustable dividers to fit boots or heels. It's sturdy and has a clear top so you can easily see what you've stored. 

SOURCE: AMAZON
If you've got a higher raised bed, this rolling shelf for under the bed shoe storage is perfect. You can keep shoes upright, as opposed to shoe organizers that cause an unwanted "dent" when you try to fit them into sleeves or lay them on their sides.
The assembly is easy and can fit around 12 pairs. It's also nice that the wheels lock if you're working with hardwood floors underneath your bed frame.
Entryway Shoe Storage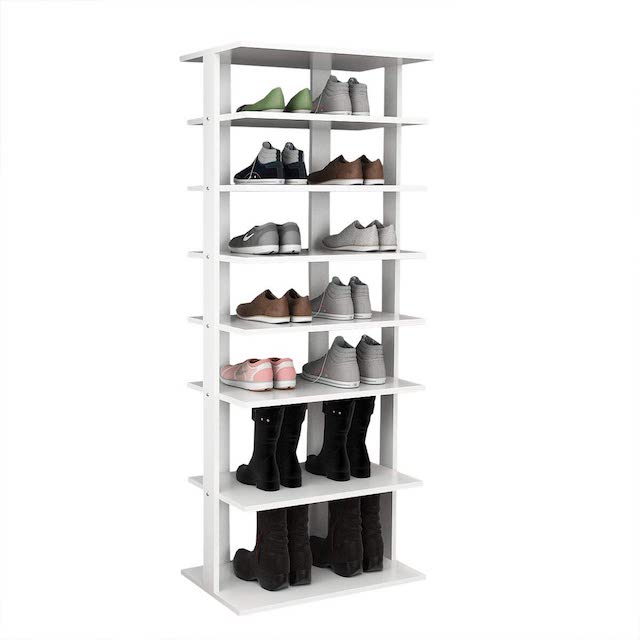 This entryway piece is tall and slender, ideal for small spaces. It can fit up to 14 pairs, with differing shelf heights for those of us with a variety of shoes. Installation is a bit more involved than under the bed or over the door, however, if you own a screwdriver and don't mind a bit of elbow grease, then this is a great fit.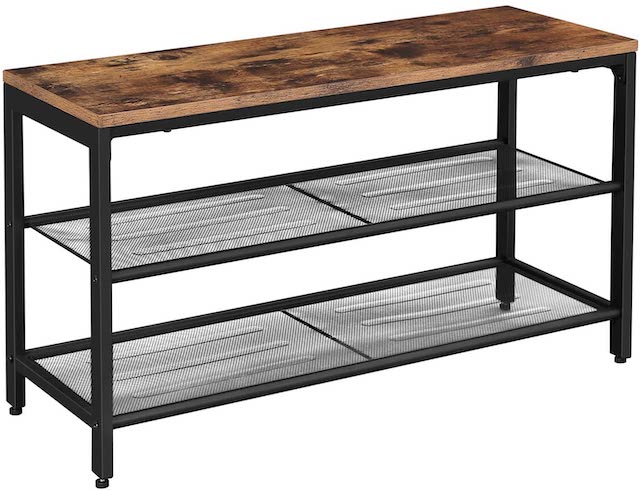 SOURCE: AMAZON
If you have fewer shoes that require easy access, this bench can hold up to 8 pairs. With a simple 4 step assembly process, you'll have stylish entryway storage in minutes. It's not a large bench, but is wider than the Tangkula piece, making this the ideal option if you have a little more space to work with.
Closet Shoe Storage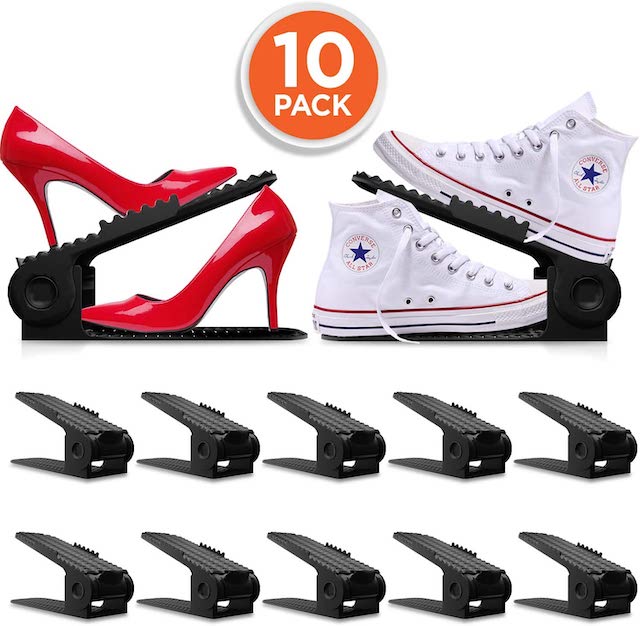 SOURCE: AMAZON
If you already have a section in your closet dedicated to shoes, the Homely Center Shoe Slots will help you maximize space. This design is new and the Homely brand is higher quality. These slots can store 10 pairs of sneakers/heels/low cut boots and save room in your highly prized closet space.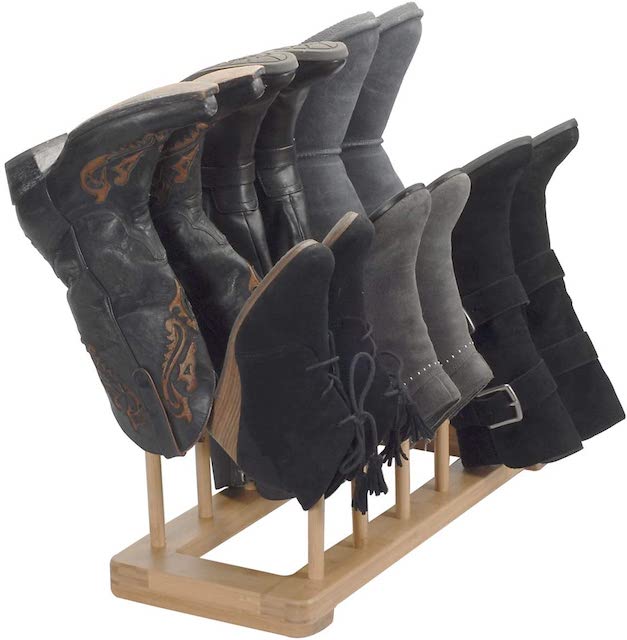 SOURCE: AMAZON
If you've got lots of taller boots or heels (it also works with sneakers), this Bamboo boot rack is great for organizing. It'll prevent creasing as well by not cramming your boots into some small storage compartment tucked away in your closet. It's incredibly easy to assemble and is made of high-quality bamboo that won't break.