In the definitive ranking of bathroom storage solutions, a set of deep drawers tops the list, followed closely by a discrete medicine cabinet or under-the-sink cupboard.
But what if your bathroom has none of these options? What if all you have is a toilet, a pedestal sink, and a heavy heart?
Before you give up and resort to piling your bathroom products in a plastic bin on the floor, know this:
There are a surprising number of unexpected storage possibilities in even the tiniest of bathrooms.
With a few unconventional tools and strategies, you can easily organize and store everything from toothpaste and toilet paper to hairbrushes and makeup.
Keep reading to discover 17 alluring ways to organize a bathroom without drawers and cabinets.
1. Mount baskets to the wall to organize your bathroom products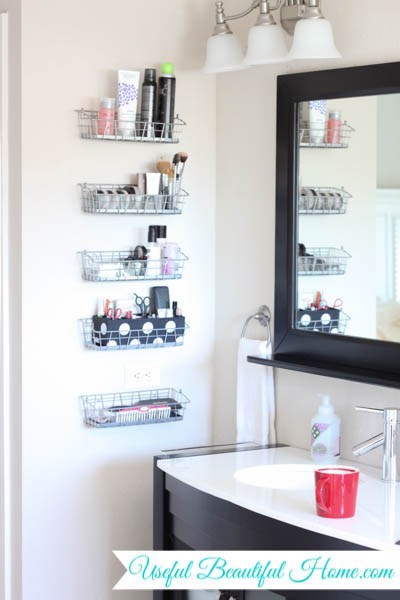 Take advantage of your empty wall space. Hang a set of wire baskets to keep the clutter off your bathroom counter. They also make it super easy to find and grab what you need when you're getting ready in the morning.
Free Bonus: 42 Bathroom Storage Hacks And Solutions That'll Help You Get Ready Faster
2. Hang a medicine cabinet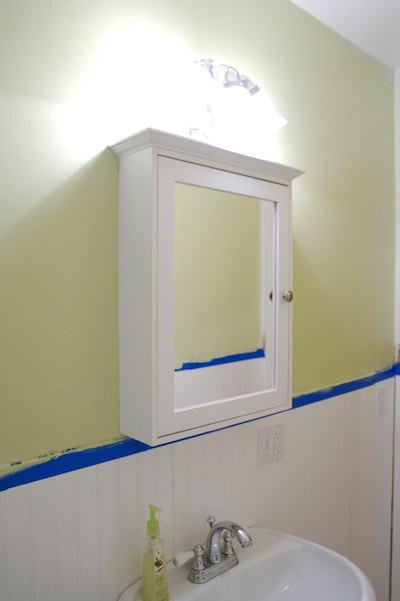 Medicine cabinets are ideal for the bathroom because they hide your most embarrassing products and keep them within easy reach.
If your bathroom doesn't have a built-in medicine cabinet, you can install your own. Head to your local hardware store and look for a medicine cabinet with a towel bar or an extra shelf.
3. Store bathroom supplies in a rolling cart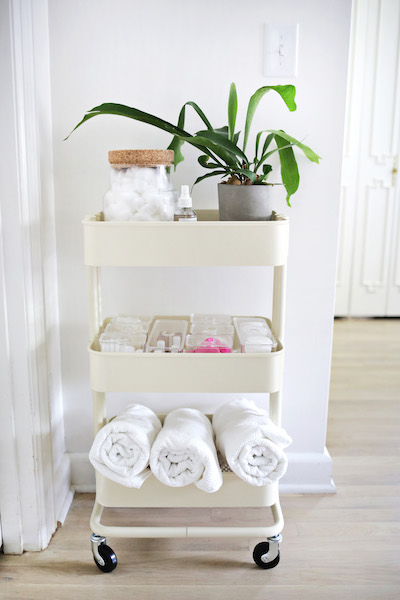 When you don't have an under-the-sink cabinet to store your bathroom necessities, get help.
Enter: The ever-versatile IKEA Raskog cart. Take a cue from the women behind A Beautiful Mess and use it to organize towels, toiletries, and extra supplies.
Free Bonus: 12 Best IKEA Hacks And Ideas For Every Room In Your Home
4. Add a side table to your bathroom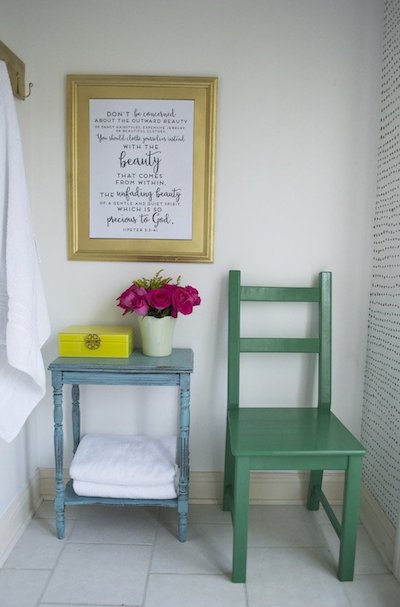 A small side table adds a punch of much-needed personality to a sterile bathroom. That, and it's an excellent way to organize some of your necessities.
Use it to store a stack of towels, a basket full of toilet paper, or your perfumes or colognes. If your side table has a drawer, even better. Stock it with extra soap and toothpaste.
5. Store bathroom essentials in cutlery caddies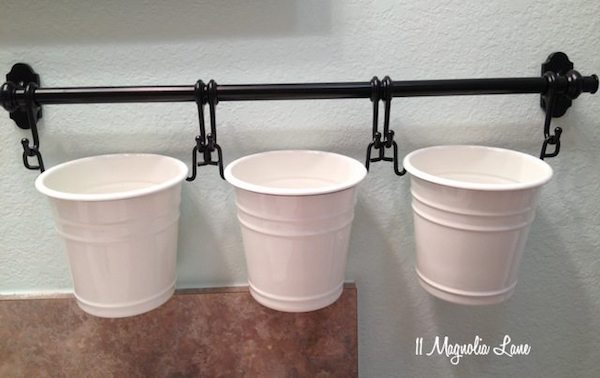 Much like kitchen counter space, the bathroom counter is prime real estate. This smart storage hack from 11 Magnolia Lane saves precious counter space by using a wall-mounted IKEA Fintorp rail with hooks and utensil holders to store bathroom essentials like toothbrushes and combs.
6. Install floating shelves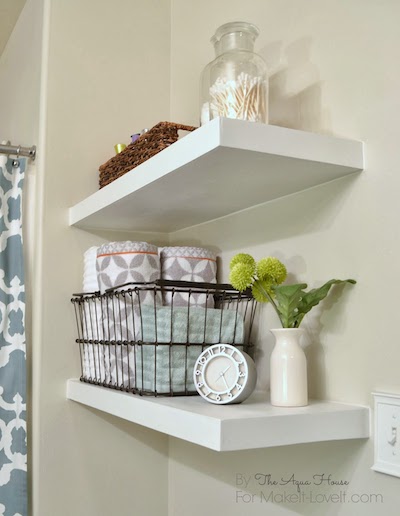 When you're running out of storage space, go vertical. Floating shelves add dimension and height to your bathroom, while also offering space to store beauty products and supplies.
Just make sure to use baskets, bins, or trays to corral your stuff and keep it organized.
Free Bonus: 15 Breathtaking Floating Shelves That You Don't Have To DIY
7. Display nail polishes in an acrylic rack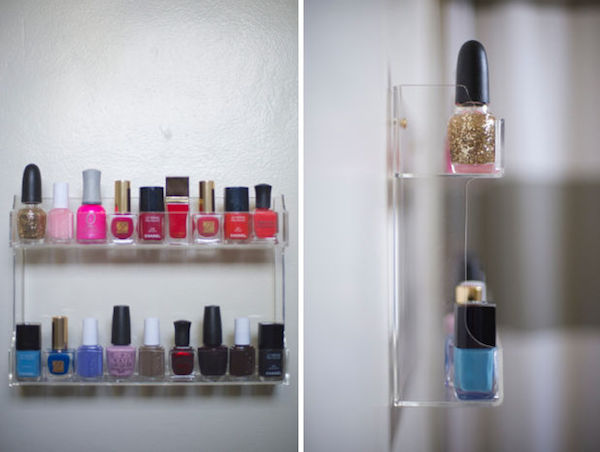 Save your hidden storage space for pimple creams and extra shampoo. Your collection of colorful nail polishes is instant vibrant decor, so put it on display.
Mount a sleek double acrylic spice rack on the wall à la Cupcakes and Cashmere. Or steal a spice rack from your kitchen.
8. Organize toiletries in a wire basket on your counter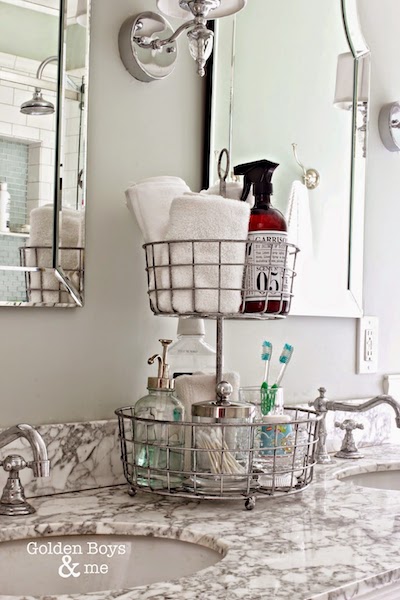 What's even better than a basic tray to show off your bathroom products?
An elegant two-tiered organizer. Golden Boys & Me knows that a two-tier wire stand takes up little counter space yet offers double the storage.
Just remember the secret weapon of stylish organization:
Use small glass jars and containers so each item has its own place.
9. Use a narrow shelving unit to hold supplies.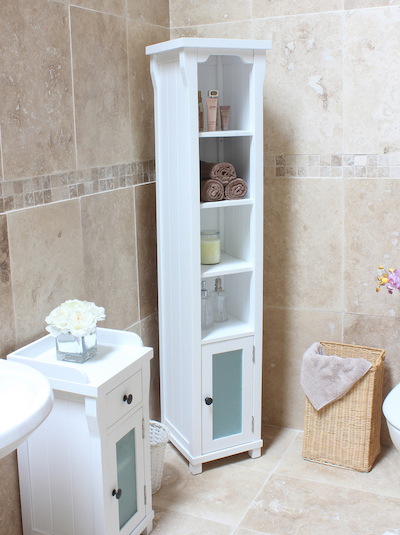 When it comes to storage space in your bathroom, less is definitely not more.
Have an extra few feet of space?
Add a narrow shelving unit to your bathroom to compensate for the lack of cabinets and drawers.
Free Bonus: Easily Clutter-Proof Your Bathroom In Only 5 Steps
10. Let your beauty products double as decor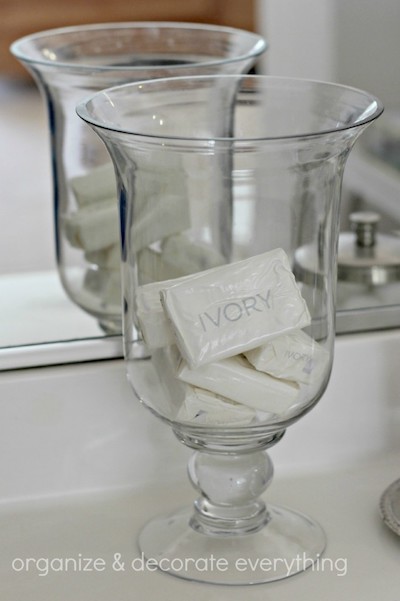 Some things are just too pretty to hide behind closed doors or inside an opaque basket. Fill a glass hurricane or vase with your most aesthetically pleasing products. Think: cotton balls, soap bars, lipstick, or nail polish.
Want more fun storage hacks for your beauty products?
Here are 16 amazing beauty product storage ideas you'll love.
11. Repurpose an old ladder as rustic towel storage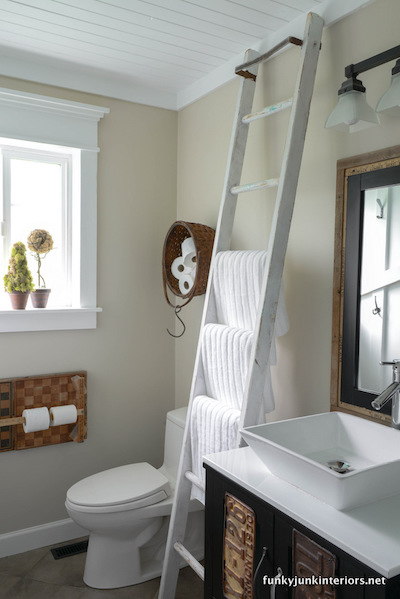 Who needs cabinets and wall hooks for your bathroom towels when you can use a rustic ladder instead?
Lean an old ladder (sand it down so you don't get splinters) against your bathroom wall and hang towels off its rungs.
It's simple, functional, and ridiculously charming. All your guests will be jealous.
12. DIY a Mason jar organizer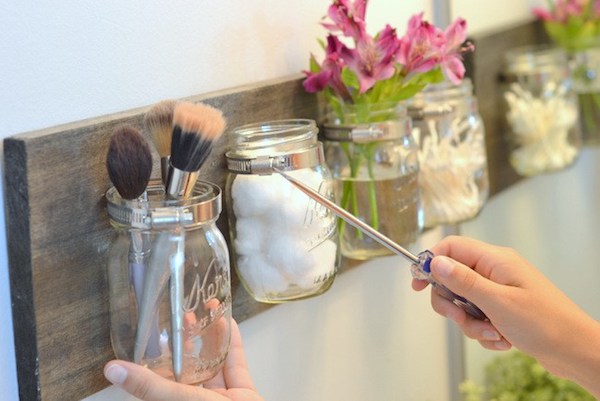 Everything looks cuter inside a Mason jar, even Q-Tips. If you need proof, look no further than this adorable Mason jar organizer project from The DIY Playbook:
It's pretty, and it can store everything from makeup brushes to hand creams.
Two birds, one stone, zero disappointment.
Free Bonus: 10 Brilliant Mason Jar DIY Ideas For Your Tiny Apartment
13. Store hair tools in a hanging file box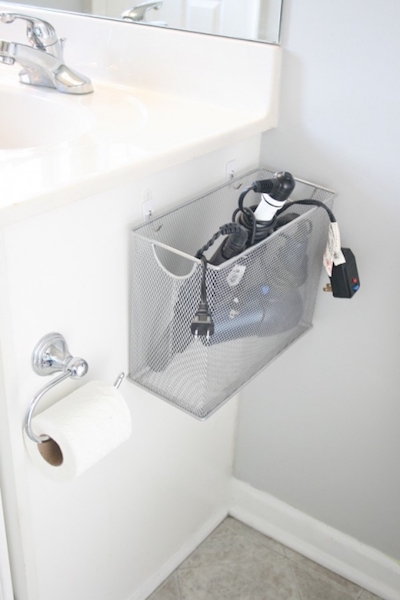 Hair tools are tricky to organize for three reasons:
They're bulky.
They have long cords that get easily tangled.
They're dangerous to store next to other products when they're still hot from use.
That's why this DIY file box holder from Dream Green DIY is the perfect solution. The project takes less than five minutes to do, occupies minimal space on the side of your sink, and is heat-safe.
Want more awesome DIY project ideas?
These 13 easy DIY storage ideas and solutions will help you organize your entire home.
14. Display your scents on a DIY perfume stand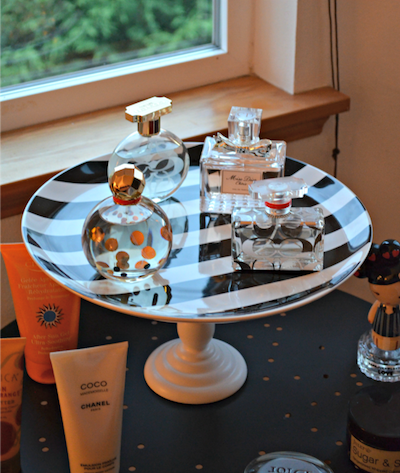 This beautiful DIY perfume stand made by Simply Darrling couldn't be any, well, simpler. Just glue a cool plate to a pillar candleholder and voilà! You have an elevated perfume holder that rivals any vintage cake stand.
15. Store towels and toilet paper in hanging baskets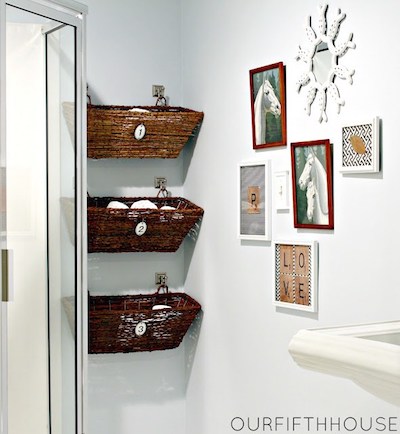 If shelves bore you, mix up your vertical storage with a set of matching hanging baskets. This rustic DIY storage project from Our Fifth House uses wicker window boxes and sturdy metal hooks to easily organize supplies like towels and toilet paper — without eating any floor space.
16. Organize your makeup using a decorative magnet board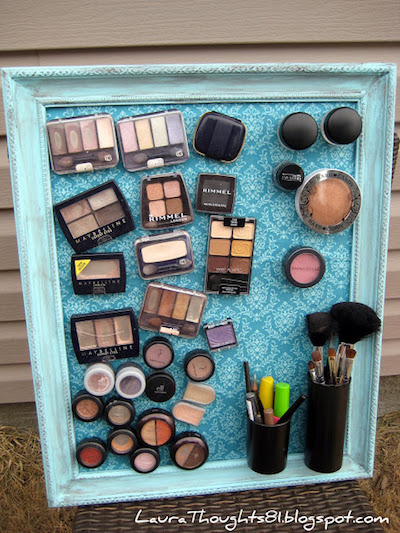 When you don't have space to hide your stuff, make it look good enough to put on display.
This brilliant DIY makeup magnet board from Laura Thoughts fits the bill. It looks like art and keeps your products within arm's reach.
Free Bonus: 11 Beautifully Easy Makeup Storage And Organizing Ideas
17. Organize supplies in an over-the-toilet cabinet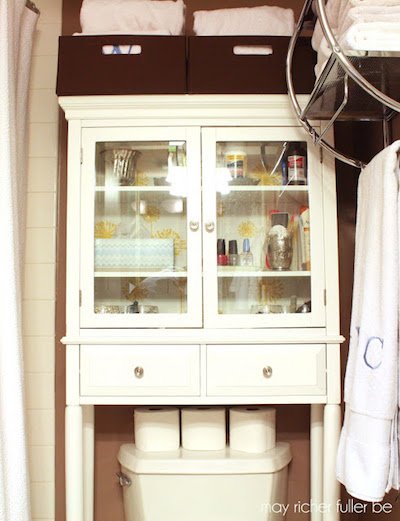 The area above your toilet has major storage potential. Unlock it by installing an attractive over-the-toilet cabinet.
From there, you can organize toilet paper rolls, hand towels, toiletries, shower supplies, candles, or whatever makes you happy.
18. Effortlessly store your extra stuff in Clutter
After you organize your bathroom, start decluttering the rest of your home.
Still have stuff you need to store?
Use Clutter. We'll store whatever you love but don't have room for, like your window A/C unit, surfboard, CD and DVD collection, luggage, and more.
All you have to do is schedule a pickup and pack your stuff. We'll pick up everything from your home, transport it to our secure temperature-controlled storage facility, and create an online photo catalog of your stuff.
When you need something back from storage, simply browse your online photo catalog, click the item's photo, and we'll deliver it to you.
You can create bathroom storage from baskets, plates, and ladders. But when your bathroom-without-cabinets-and-drawers can store no more, use Clutter.
This article was written by Paige Smith, a freelance writer from Orange County, California who specializes in lifestyle, wellness, and travel topics.