If you're a dog owner, you probably feel the urge to give your best friend the best you possibly can. That means all your attention, only the best food, and plenty of exciting toys.
But that also means, at some point, you might get your dog too many toys, and it might feel like those toys are taking over your space if they don't have anywhere to go.
The solution?
Personalized and custom dog toy storage boxes, bins, and buckets that look much better than a plain ol' plastic bin, or worse — slobbery dog toys strewn everywhere.
We've got 10 pawdorable dog toy storage ideas to make your life easier, your dog happier, and your home less cluttered.
1. Dog bone storage bin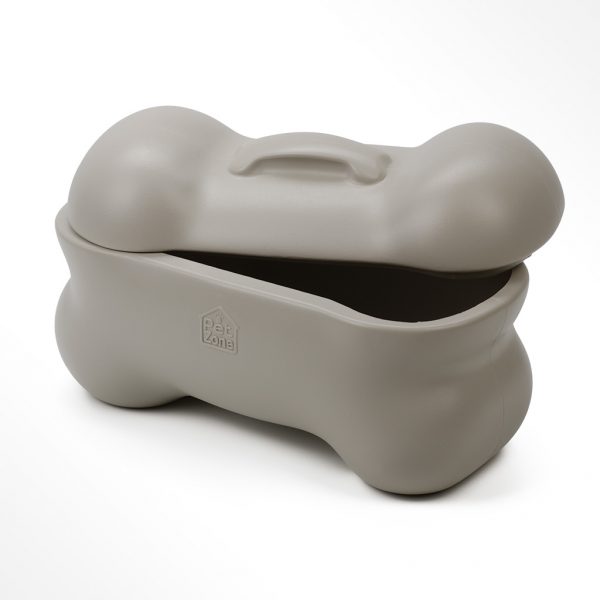 This bone-shaped dog toy storage bin from OurPet's is great because no one will get confused about the contents of the box.
It's made with dogs in mind; the plastic is food-grade, so don't worry if your puppy happens to gnaw on it. Plus, it comes in two different sizes. The small is 18" long and 10" high and can hold up to 10 lb. of food. The large is 23.5" long and 13" high and can hold up to 30 lb. of food, but you can store really anything you need in there.
The top of the container features a handle, so it's easy to transport or carry around the house in case your dog threw his/her toys *literally* everywhere.
2. Custom natural wood dog toy box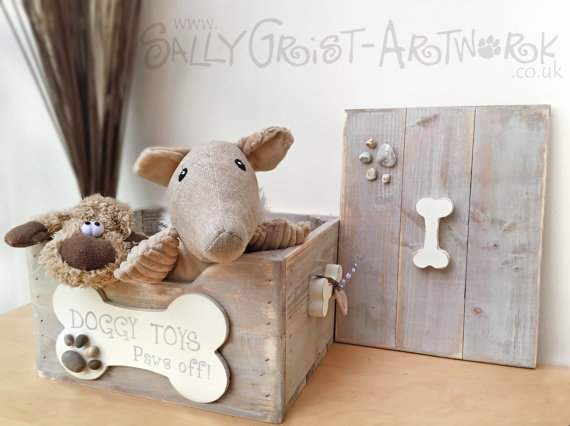 If you're searching the internet for dog toy storage ideas, you'll soon find that some of the best stuff is on Etsy. That's because mostly everything is handmade and customizable, like this natural wood dog toy bin made by SallyGristArtwork.
It's a little pricey at $70.61 (if you want custom lettering), but it's worth it. If your home has a rustic vibe going on, this dog toy bin will blend in perfectly. It comes in two different colors and features bone-shaped handles on the side for easy handling, and a cover to hide your dog's toys from sight (but there's still a tiny crack so they can still sniff out his/her stuff).
3. Metal dog toy bucket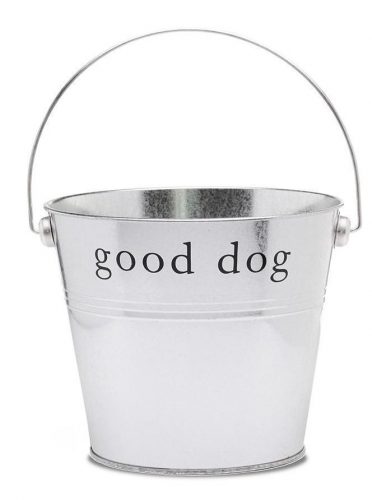 This bucket from Harry Barker is simple, goes with pretty much any decor you have going on, and because it's made from galvanized recycled steel, it's slobber-proof. And at $14, it's one of the cheapest dog toy storage bins you'll find.
4. Personalized wicker basket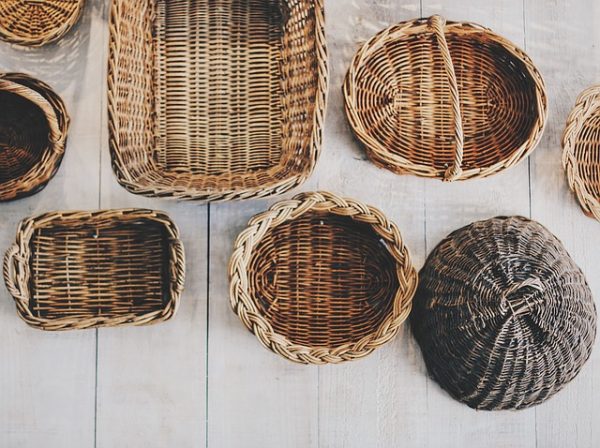 Bucket not your cup of tea? Try this personalized cotton cover and dog toy wicker basket. Even though, yeah, your dog can't read, they'll still be able to sense the thought and love that went into getting them a special toy basket that's just for them.
The best thing about this wicker basket/cotton liner combo is that if your basket starts to get dirty, and it's bound to become, you can just take the liner off and throw it in the wash. The pair sells for $31.90 at PersonalizationMall.com.
5. Small bone-shaped boxes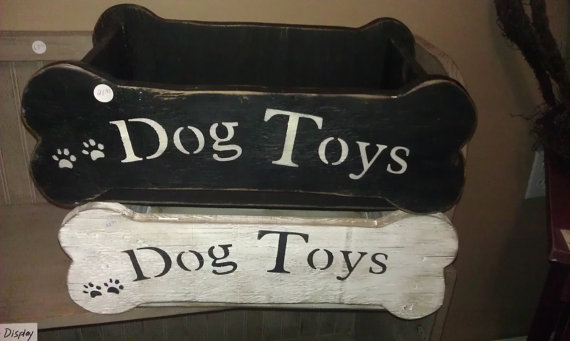 Here's another bone-shaped dog toy box. It's around the same size as the first one we looked at (size small), but this one's custom made. It comes in two different colors and features an open bin construction. That makes it easy to just drop toys in as you accidentally step on them.
6. Personalized wooden dog toy box, available in six different colors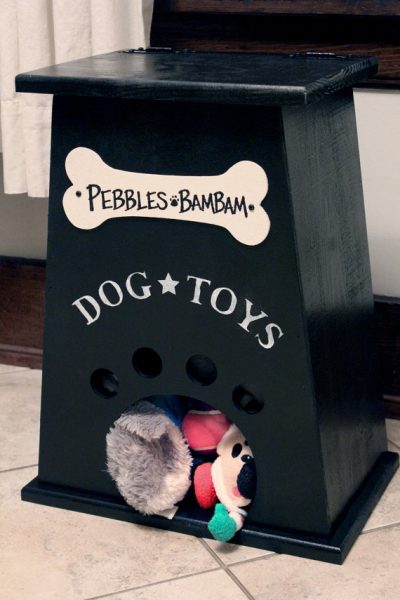 This adorable and inventively designed dog toy box is where it's at. It comes in six different colors, and the store even throws in free personalization.
It's unique because your dog can easily pull toys out of the pawprint-shaped bottom, and you can easily lift up the hinged top when it's time to put everything away. It's 21" tall too, so it's got plenty of room to store every toy.
7. Felt dog toy storage basket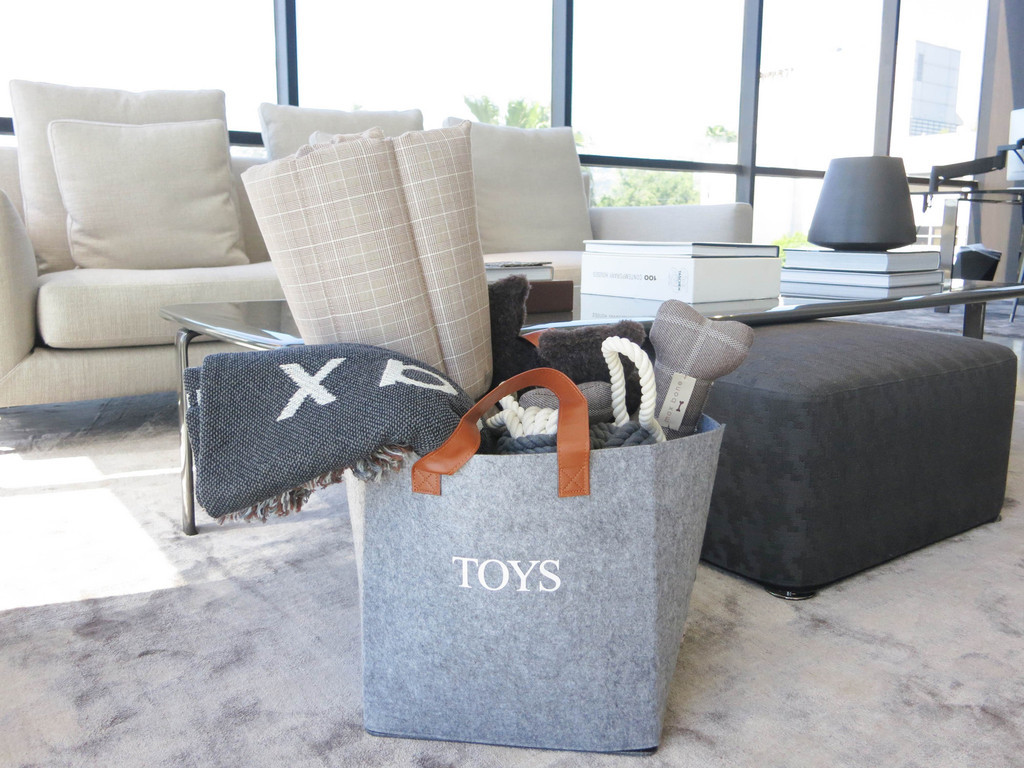 This is what you want to buy if you've got a hip and minimalist look going on in your living room and don't want anything to ruin that.
It's made of gray felt in a perfect 12" x 12" square and comes with *animal-friendly* faux leather. No one will notice it's filled with squeaky fake ducks and long purple ropes.
8. Recycled nylon dog toy bucket
Here's another great dog toy storage solution from Harry Barker. They made a dog toy bucket out of recycled nylon. It's 9.5" high and 14" wide, comes in three different colors, and it comes with handles. Handles make everything easier. We love handles.
And once again, Harry Barker offers personalization (for an extra $12).
9. Custom dog toy box in 32 different colors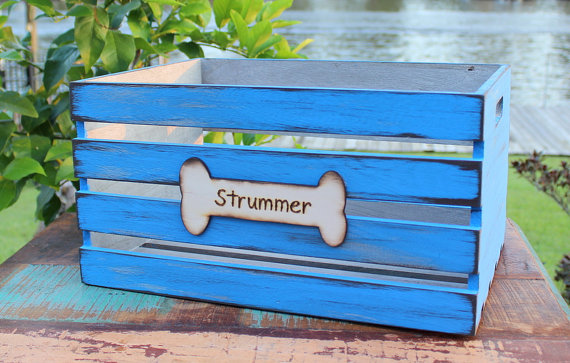 Here's the ultimate customized and personalized dog toy storage crate. It comes in 32 different colors, so you can match it to whatever color scheme your home rocks. This Etsy user even says they "love custom orders," so don't be shy about offering up additional customization requests. Plus, they have a bunch (67?!) of other dog toy storage items in their shop.
10. DIY version of the same crate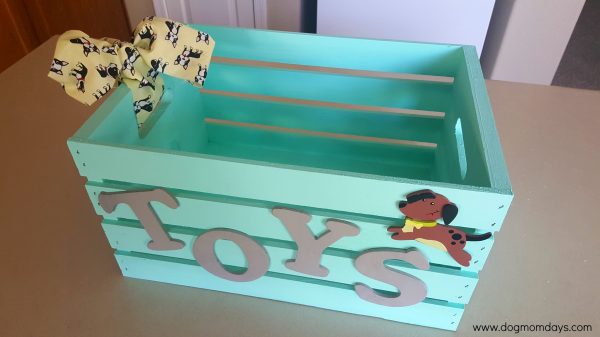 Lastly, if you're feeling particularly crafty, try your hand at this DIY dog toy box tutorial. DogMomDays shows you how to build your own. She sanded down a wooden crate to get all the splinters off, then painted it with the color of her choice. Next, she took some wooden shapes, painted those, and fixed them to the crate with wood glue once everything dried.
But feel free to get creative here. You can use multiple different colors, add handles, paint your dog's name on the side, whatever. Let your imagination go wild on this dog toy crate. The only thing holding you back is however long your dog will let you focus before demanding attention and belly rubs.
Organizing and storing your cute dog's toys in almost-equally-as-cute storage solutions is great and all, but sometimes, too much stuff is just too much stuff. No matter how many paw or bone-shaped bins and boxes you have.
Here's an idea: Ditch the furniture, books, and shoes you're not in love with anymore, and MakeSpace for puppy love.
This article was written by Hannah Van Arsdale, a freelance writer and dog person based in Portland, OR.