So you've decided to kiss office life goodbye and work full-time from home. Or maybe you set up a home office to pursue your new side hustle. Good for you!
Working from home gives you complete control of your schedule. And if you play your cards right, you can skip out early anytime.
But you can't just flop onto your couch with your laptop and expect to be productive. It's important to establish an office or workspace within your home. Without it, you're bound to get distracted, fall behind, and pretty soon, your home won't feel so comfortable anymore.
The good news is setting up and organizing a home office is easy. Simply follow the tips below and you'll have an efficient, organized home office setup in no time.
Click any of the links below to jump to a specific section:
How To Find Space For A Home Office
How To Set Up A Home Office
How To Organize A Home Office
How To Find Space For A Home Office
1. Ask yourself these important questions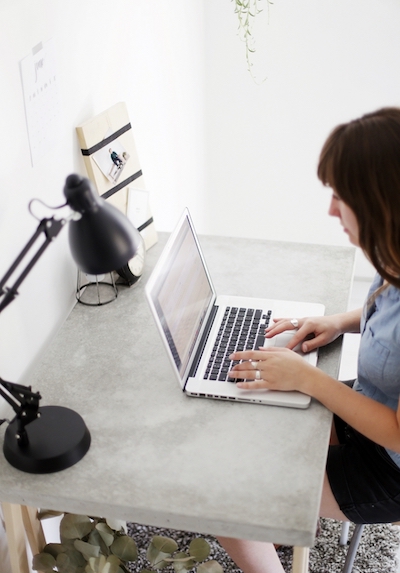 Before you dive into any sort of redecorating, pause and consider a couple of things.
Jo Heinz, president of the Dallas design firm Staffelbach, offers a great checklist in Entrepreneur. It all boils down to asking yourself these nine questions:
What will you be doing in the space?
What type of work needs to be done?
Will clients ever visit the space?
Will colleagues visit for work?
What type of materials will you store?
What kind of equipment do you need?
When will you be doing most of your work?
Will you make conference calls?
Will you ever video conference?
All of these questions will help you determine and visualize what kind of setup you require.
2. Look for windows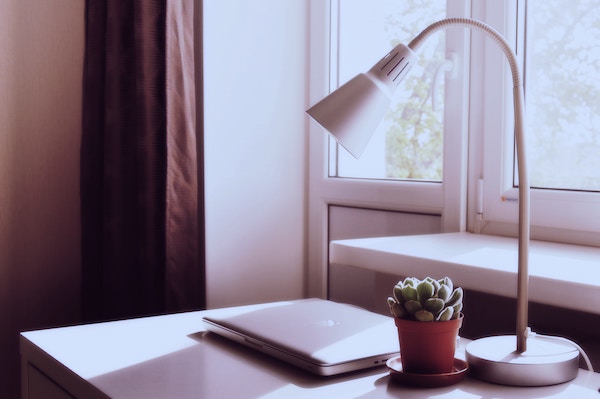 Having a window in your home office is key for two reasons:
It lets in a lot of light, which you'll need to illuminate your files, phone, or keyboard.
Natural lighting is crucial.
Think about the last time you did any work in a windowless room. It was unpleasant, right?
Having a window will keep you in a healthy, productive headspace. Just as long as you don't spend all day staring out of it.
Free Bonus: 7 Easy Ways To Fill Your Apartment With Natural Light
3. Assess the noise level inside and outside your home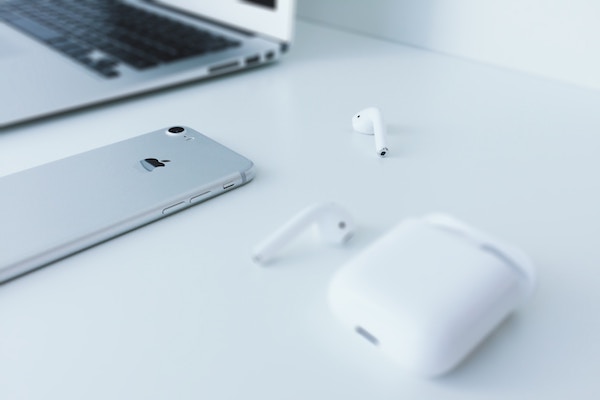 Obviously, you want to work in a relaxed environment where you can focus. So avoid the loudest part of your home.
Pick a space where your neighbors' music, the construction down the block, or the birds chirping outside are the dullest.
And if you still need to muffle some ambient noise, take advice from Amanda Thomas, AKA the Domestic CEO, and cue up some calming background music on Spotify.
4. Carve out corners in your home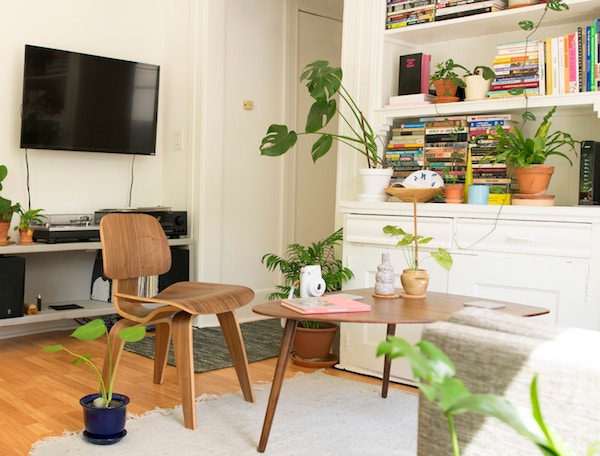 Have a spare room in your home?
Then your new office location is probably a no-brainer.
But if you have a less spacious apartment or house, you'll need to get creative. Camp out in the corner of your living room or dining room, for example.
As home office expert Lisa Kanarek tells Mashable, rooms that you use infrequently are your best bets. Just try to make your space feel as separate and distinct as possible.
And avoid your bedroom if you can. Harvard sleep medicine experts say that working in your bedroom weakens "the mental association between your bedroom and sleep." So unless you want mild bouts of insomnia, keep your laptop off the bed.
How To Set Up A Home Office
1. Pick a paint color that makes you feel calm and focused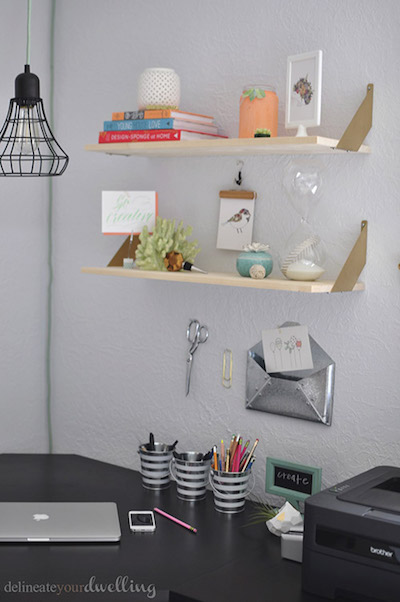 You're about to spend a lot of time in your new home office, so it should be a place that you like walking into every day.
Pick colors that suit your taste and make you feel serene. Blue and green are naturally calming colors.
Christa O'Leary, founder of Home in Harmony Lifestyle, suggests adding an accent of red if you're a salesperson or negotiator since that color stimulates appetite and increases heart rate. A splash of yellow amidst a sea of blue can also increase your ability to focus.
Not sure where to start?
Check out this paint 101 guide from House & Garden. Choose a scheme that works for you and then decorate the rest of the space in a matching, aesthetically pleasing way.
2. Get an ergonomic office chair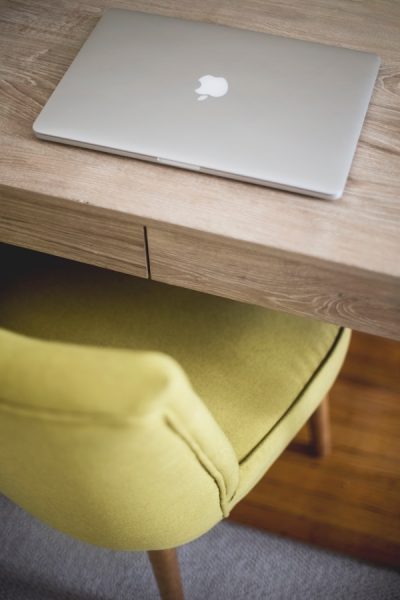 It's tempting to just use your kitchen stool or couch, but we recommend investing in a dedicated ergonomic desk chair. You're going to be sitting in it most of the day. The last thing you want is to develop back pain or poor posture from your home office.
Don't want to spring for a brand-new chair?
Copy Amanda Thomas and upgrade a chair you already own with paint, fabric, and extra cushioning.
3. Or consider a standing desk
The health benefits of standing desks may be inconclusive, but there's one thing science can agree on:
Sitting for too long is bad for you.
If you're worried about chaining yourself to a desk chair all day, or if you want to save a little space, look into standing desks. Lifehacker and Wirecutter have several recommendations from Fully, UpDesk, Varidesk, and others.
4. Don't forget an office lamp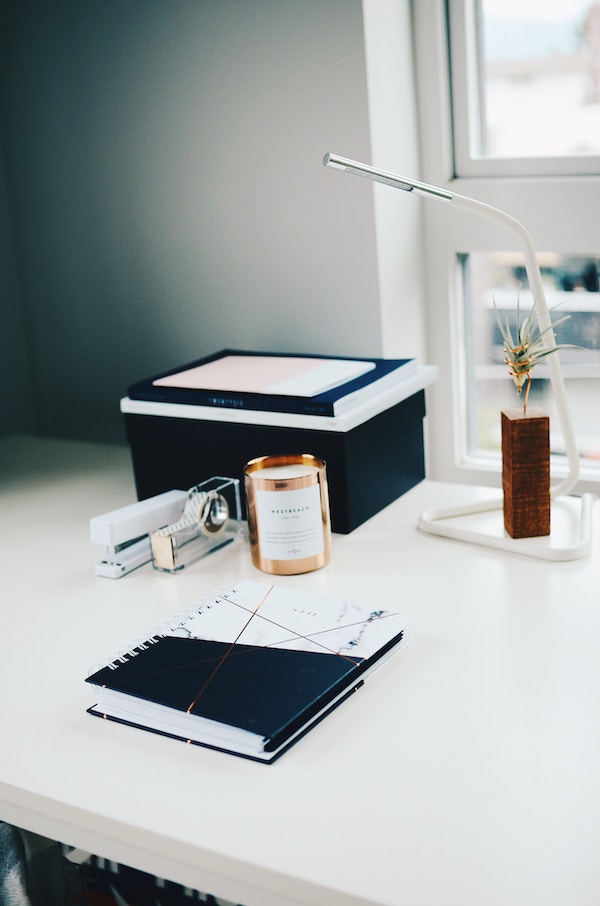 When it comes to home offices, task lighting is king.
Task lighting refers to illuminating a specific area in a way that makes it easier for you to accomplish tasks. In this case, it means lighting that best suits your workload.
Ideally, you have some natural light already streaming through your window(s). Regardless, set up additional lamps or overhead lights near your desk so you aren't straining your eyes.
Just don't situate the lamps too close. You don't want a glare bouncing off your computer screen, either.
5. Position your computer properly
There is a right way and a wrong way to stare at your computer screen for eight hours.
As Fast Company notes, the top of your computer screen should be set at eye level or a bit below that.  That way, as you scan down text, your eyelids will naturally close a little and moisten. This prevents your eyes from tiring, which keeps you at a good work pace.
Here are a few other important tips you'll want to follow:
Keep your feet resting on the floor, or another surface, as you work. And place your keyboard so your forearms are parallel to the floor.
6. Figure out your other hardware needs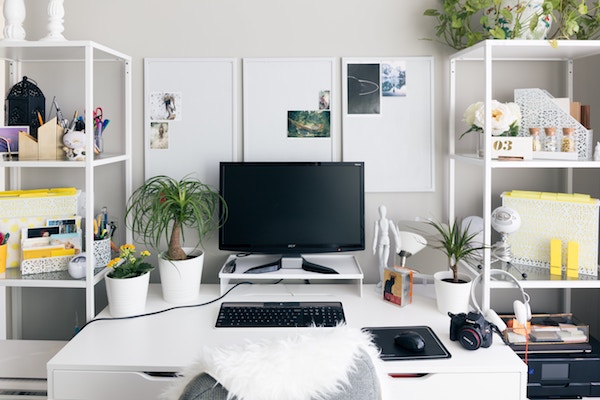 Every home office needs a computer. But depending on your line of work, you might need a lot more hardware than a simple laptop.
Sit down and take stock. Do you need a separate mouse or monitor? How about a printer? Maybe one that also scans and faxes? Or use Scanbot to scan and fax documents from your phone. Think hard about what tools you need to accomplish daily tasks.
Once you've narrowed it down to the essentials, go to an electronics store or shop online for your office equipment.
7. Then figure out your software needs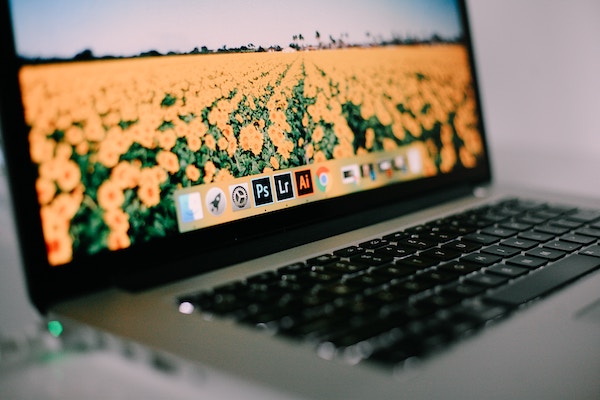 You may have found the perfect computer, printer, and keyboard, but you're not done yet.
There are certain programs you'll probably need to purchase and load onto your shiny new hardware.
If you do a lot of spreadsheet work and writing, you might need Microsoft Office.  Or you could opt for the cloud-based G Suite.
If you're a graphic designer, Adobe Photoshop and Illustrator could be key. Make sure to look into any applicable discounts before you buy. Your company may even cover the cost.
8. Designate "work zones"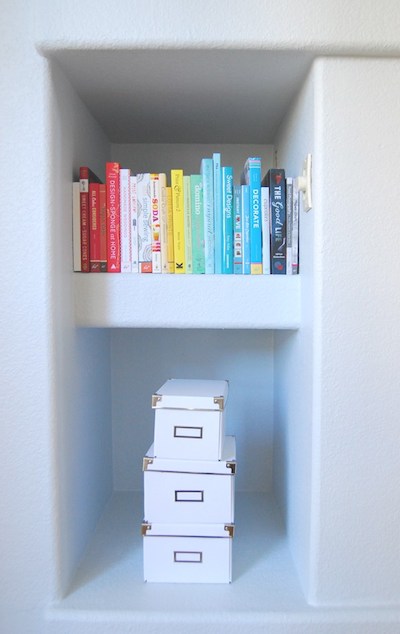 To give your office an organized flow, Lifehack recommends establishing separate "work zones" depending on the type of activity.
There's your "main hub," AKA the desk with your computer and phone.
There should also be a "reference area," dedicated to your filing cabinet, binders, folders, and any shelving units.
A closet or set of drawers for your Post-It notes, stamps, stapler, and other office supplies can serve as your "supply area."
If you have a printer, designate one corner as the "copy area."
9. Buy an office plant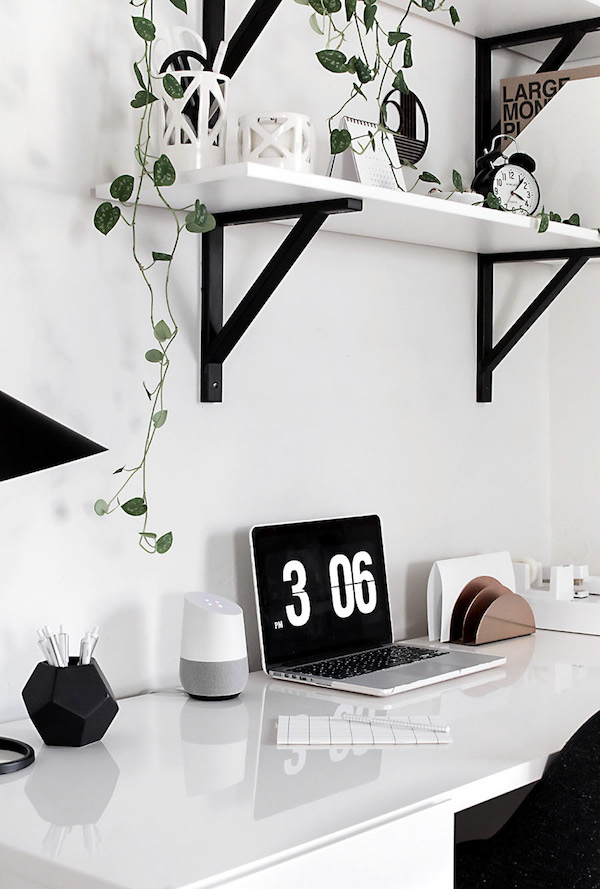 Greenery can do a lot of good. Plants have a soothing effect on people, which is great for a potentially-stressful work environment.
But that's not all. The Denver Post points out that a houseplant can decrease drowsiness, headaches, congestion, and even common cold-related illness.
Want something low-commitment?
Find a simple fern or peace lily. Neither plant requires a ton of care, and both will brighten your office.
Free Bonus: 

7 Gorgeous Houseplants That Will Purify The Air And Make You Happier
10. Set some boundaries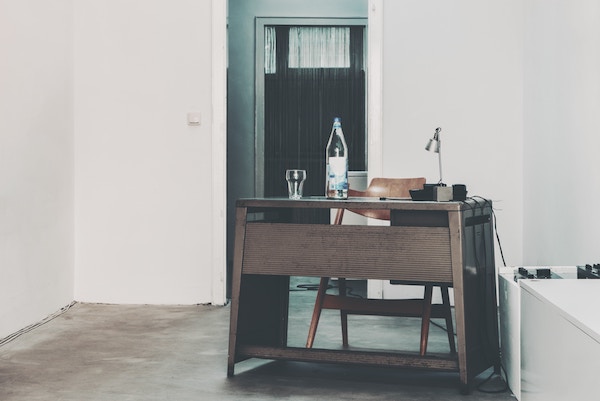 Your home office should be a sanctuary, so it's important to set some ground rules for the rest of the household.
If pets are going to be too much of a distraction, keep them out of the office. Spouses or roommates shouldn't be allowed to drop in any time of day, and neither should friends who live down the block (unless it's absolutely necessary, of course).
You may not have a boss behind you breathing down your neck, but you still have to work.
With that in mind, if you managed to block off a whole room for your office, shut the door when you leave at the end of a workday. This will further associate the space with a place you work, and it will help keep you focused while you're in it.
How To Organize A Home Office
1. Categorize your work supplies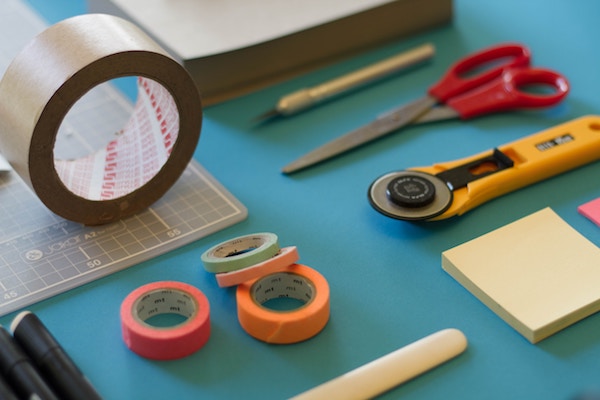 Clutter happens when you don't have a clear organizational scheme. The simplest plan is to group similar items together.
HGTV lists some common categories and examples of items in each one:
Stickies — Post-it packs, tabs, and stickers
Tools — Stapler, hole puncher, and straight cutter
Budget — Checkbook, calculator, and billing calendar
Writing tools — Pens, markers, and highlighters
Mail — Envelopes and stamps
Labeling — Labeler and label tape
Bundle the groups, and store them in separate drawers or boxes so they're easy to locate.
2. Manage your files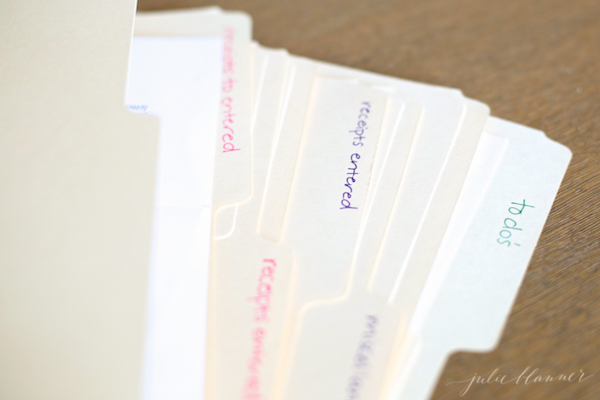 There's a good chance you don't need a filing cabinet full of color-coded folders. Many jobs are virtually paperless at this point. But that doesn't mean you can let your digital files get disorganized.
Create appropriate folders on your desktop. Archive old or unnecessary stuff. And be sure to back up everything regularly on a hard drive and/or in the cloud.
Still need paper files?
Check out Good Housekeeping's guide on how to organize your paperwork.
3. Sort through piles of paper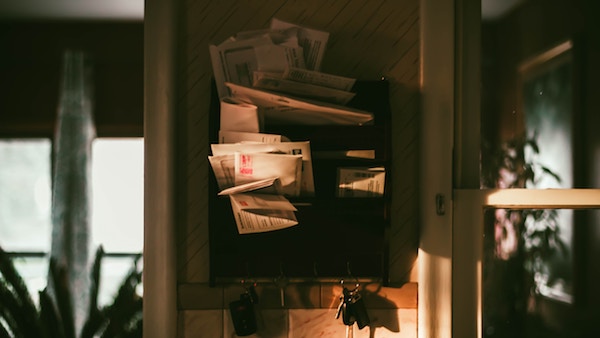 Offices accumulate piles of memos, mail, bills, and more on a daily basis. To stop those piles from turning into mountains, make a point at the end of each week to sort through them.
Throw out or shred anything you obviously don't need. File stuff you need to keep. If anything requires immediate, or close to immediate action, set it aside and handle the task now.
4. Declutter your desk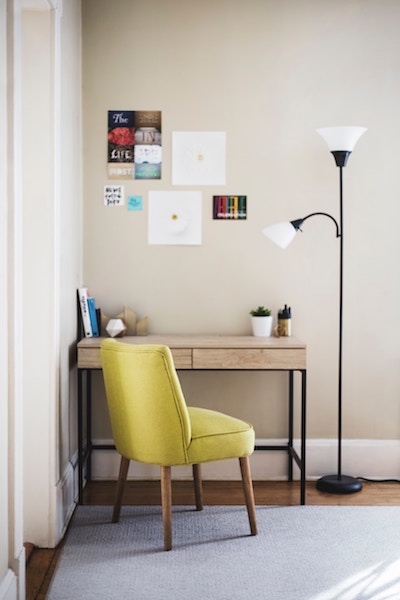 Papers probably aren't the only thing clogging your desk. Take a glance and clear off anything that doesn't belong: the books that go in your bedroom, the dog toy that somehow wound up next to your phone, the remnants of your lunch.
It only takes a few minutes, and it removes so many distractions.
5. Label your wires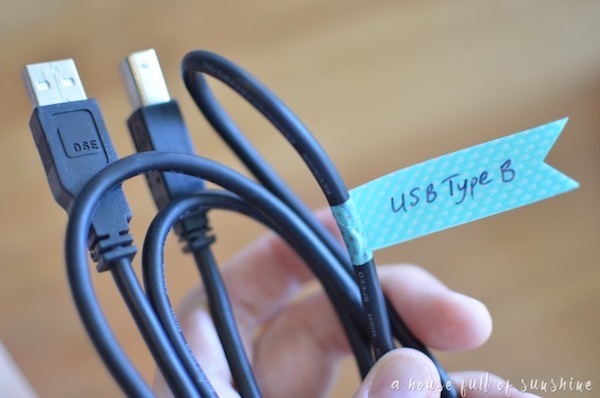 Even a basic workstation attracts its fair share of wires: chargers, printer cables, modems, and more.
To keep the tangled web straight, Martha Stewart recommends attaching tiny labels to the ends of each cord. It'll save you the agony of following each wire back to its source. And, as Stewart's example proves, it doesn't have to look ugly.
6. Stay stocked on office supplies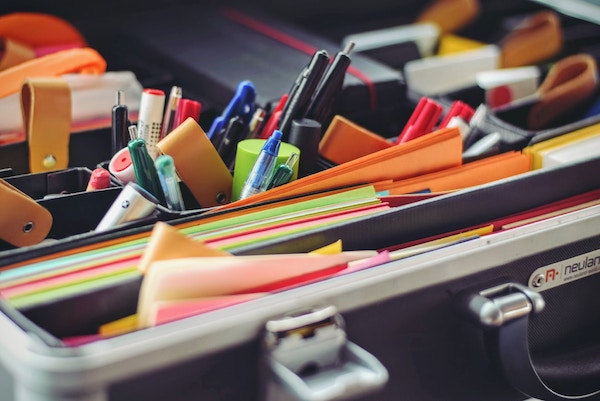 You don't have an office manager to restock your supplies anymore. The last thing you want is to run out of paper mid print job.
Do a quick scan of your cabinets and drawers at least once a week. How are you looking on pens? What about ink cartridges? Notepads?
Once something is running low, make a note and buy replacements over the weekend.
7. Let MakeSpace pick up and store your extra stuff
Have some old files you're hesitant to toss, or extra computer accessories that are crowding your new home office?
Let MakeSpace pick up and store everything for you.
All you need to do is schedule a pickup (your first pickup is free!), pack your stuff, and leave the rest to us.
We'll pick up your stuff and transport it to our secure, temperature-controlled storage facility. We'll also create an online photo catalog of your stuff (only if you want us to), so you always remember what you have in storage.
Need something back for your client meeting?
No problem.
Simply log into your MakeSpace account, select the item's photo, and we'll deliver it to you. That's one less reason for you to leave home. And one less headache to handle in the middle of your busy work week.