The sun is out and winter coats are snuggled away. Spring has finally sprung!
The change of season, of course, has us thinking about spring cleaning. Namely, how to get out of it so we can ride our bikes instead.
Now, what if you could go cruising and have a sparkling home?
Welcome to 2017, where anything is possible … at least with some help.
These 15 apps and services do your dirty work for you, whether it's hacking IKEA furniture or nixing junk mail for good.
For those of you who like doing the cleaning yourself, don't worry, we didn't forget about you. As in, there's a service on this list that will send someone to your favorite brunch spot to wait in line for you. Please save us a waffle?
1. Outsource your chores to TaskRabbit.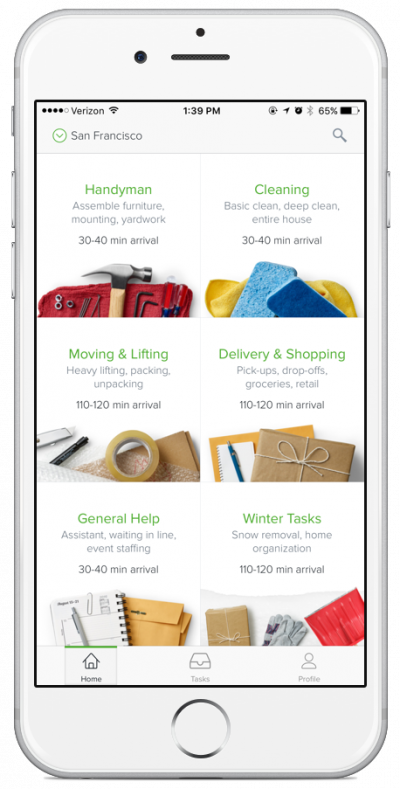 Like your own personal Oddjob minus the evilness, TaskRabbit is your reliable, one-stop shop for outsourcing any errand. Such as assembling your furniture. Which is still sleeping soundly in an unopened box. In the middle of your living room. On wine-stained carpet.
Taskers, who are fully vetted by TaskRabbit and reviewed by other customers, obliterate your spring cleaning to-do list by taking care of pretty much anything you can imagine.
Things like cleaning your carpet, helping you move into a new place, mounting floating shelves and TVs, getting groceries, cooking those groceries, delivering potted plants to liven up your abode, performing puppet shows, packing your MakeSpace bins, and organizing your closet on a Saturday morning.
You know, so you can wait in line at your favorite brunch spot for 90 minutes. No wait, a Tasker can also wait in line for you, so you can sweep in last minute like a G.
2. Get your apartment masterfully cleaned by Merry Maids.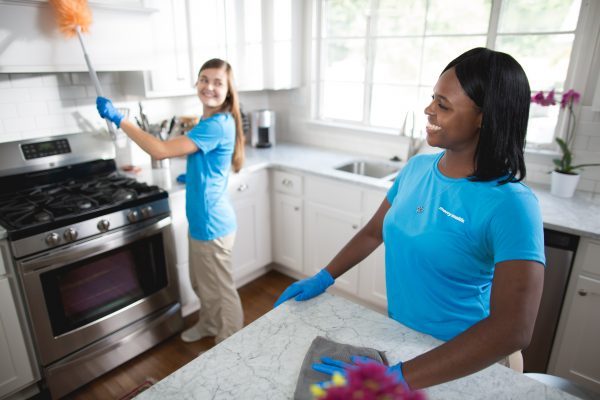 Your apartment's been through quite a bit this past winter. Give it a deep clean with zero labor on your part by enlisting the help of Merry Maids. Certified, background-checked pros will come to your home and clean every room better than the imaginary grime-fighting quartet of Rosie the Robot, Mr. Clean, Scrubby, and Brawny Man.
Merry Maids uses the brand's own eco-friendly products, and will wash your dishes, do your laundry, fold your clothes, make your bed, and take out your trash and recyclables. Merry Maids … will you marry us?
3. Get butler-esque service from Alfred.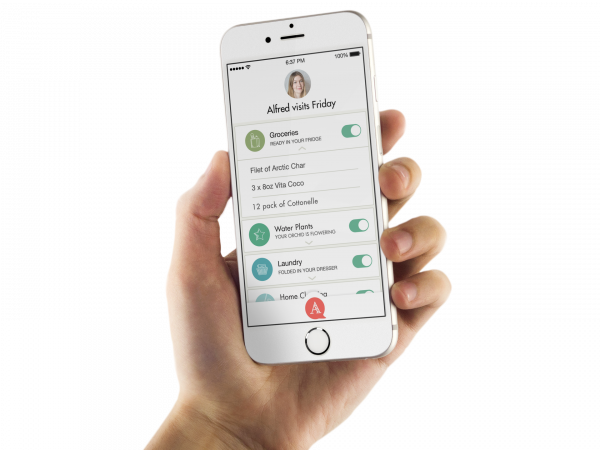 For the 1%, there's a live-in butler. For the 99%, and Batman, there's Alfred. Up to twice a week, a carefully-vetted Alfred will swing by your Batcave and complete your chores and errands while you save Gotham.
Alfred will sort your mail, tidy up your apartment, do your grocery shopping, stock your fridge, and pick up and drop off your dry cleaning, laundry, and pharmacy items.
Have a top secret request, such as "Bring me a green smoothie. Go heavy on the power pellets"?
Alfred can take care of that too, so you return to your Batcave unharmed and with an awkward smile, Master Wayne.
4. Sell almost anything using OfferUp.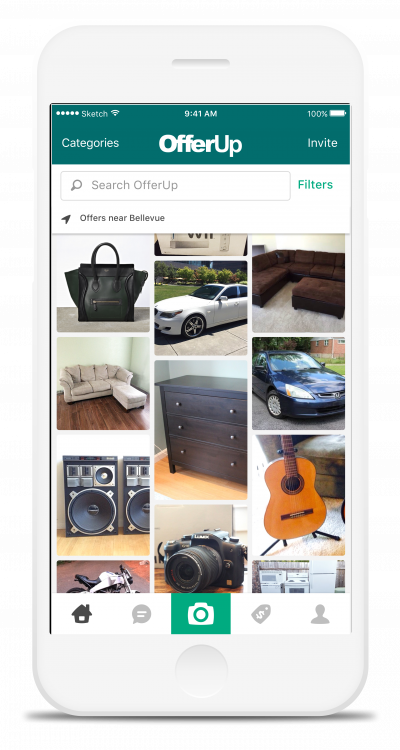 The only thing that untouched set of dumbbells hiding in plain sight gives you is dust. Make it give you dough instead. Use OfferUp to easily sell just about anything (except for these forbidden items) to people in your neighborhood.
All you need is the app, your phone's camera, and 30 seconds to list any item for sale. Just be sure to double check the buyer's reviews so you can get your cash with confidence.
5. Sell your stacks of books and tech using Decluttr.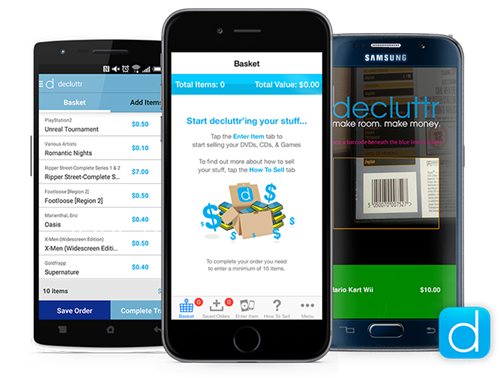 Textbooks taking up precious shelf space? Unwanted video games, Blu-rays, CDs, or DVDs collecting dust ever since you discovered, well, the internet?
You could use them as coasters and collect nothing. Or you could send them to Decluttr and collect dollars.
The app turns your camera phone into a barcode scanner so you can get an instant value for your discs. You then ship your discs to Decluttr, using a box and their free shipping label.
The best part:
You'll get paid immediately after Decluttr finishes processing your collection of Alanis Morissette albums and Adam Sandler movies.
But don't stop there. Recycle one more thing – karma – by donating the proceeds to charity directly through the app.
6. Ship your stuff anywhere in the world using Shyp.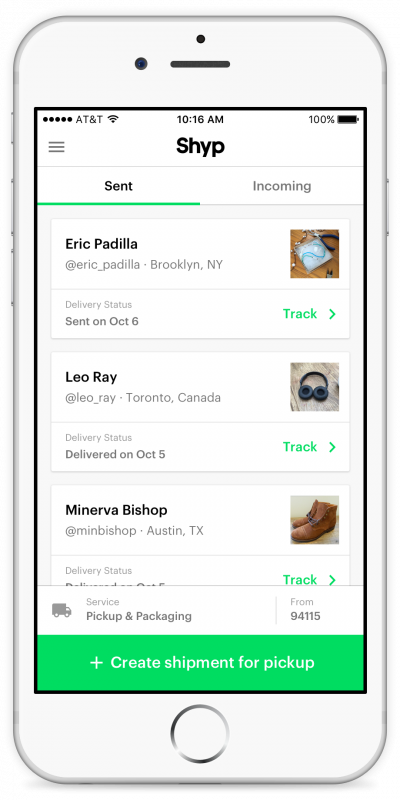 While purging your closet, a Tasker found a camera you no longer use. You're thinking about giving it to your newbie photographer cousin who lives across the country. Or maybe you have to return a pile of online purchases that you trip over every time you pass through your entryway.
In either of these cases, how would you ship the items without, you know, actually doing it yourself?
Use Shyp. All you have to do is take a photo of the item and enter its destination. Shyp picks up the item, securely packs it, and sends it anywhere in the world using the most efficient option. Long lines at the post office and shipping stores during your lunch hour, begone.
7. Go paperless with Scanbot.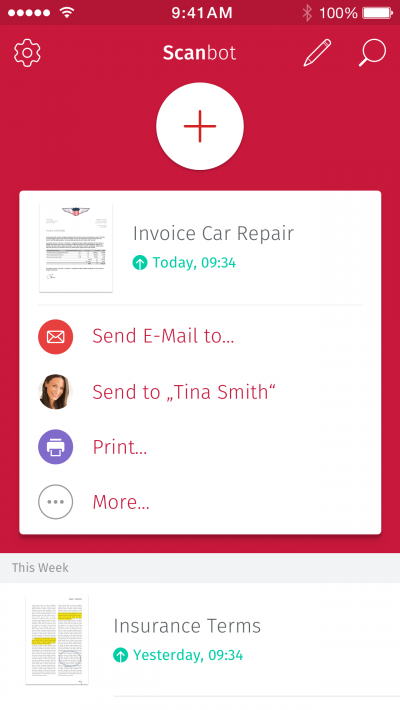 Take that pile of paper on your desk, yep the one that resembles the Leaning Tower of Pisa, and recycle it at long last. But only after you download and use Scanbot to hi-res scan and upload any paper that's invaded your fortress.
Got some important info lurking in that stash of reincarnated trees?
Scanbot will convert all writing to searchable text in the uploaded images, so you can easily reference the papers later.
8. Stop receiving junk mail with Catalog Choice.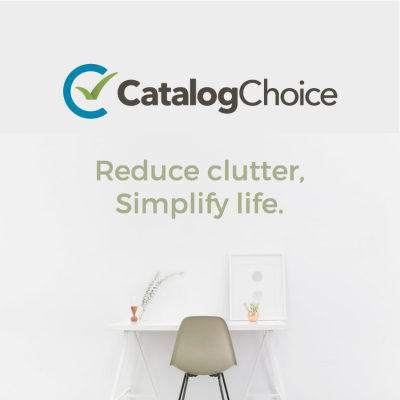 If you have five seconds and Catalog Choice, you can stop junk mail from ever touching your mailbox's lips again.
Just search their database for any company that's sending unwanted mail, enter your name and address, and Catalog Choice will contact the sender to remove you from their distribution list. The trees will thank you.
9. Teleport your kids' artwork from the floor to your pocket with Keepy.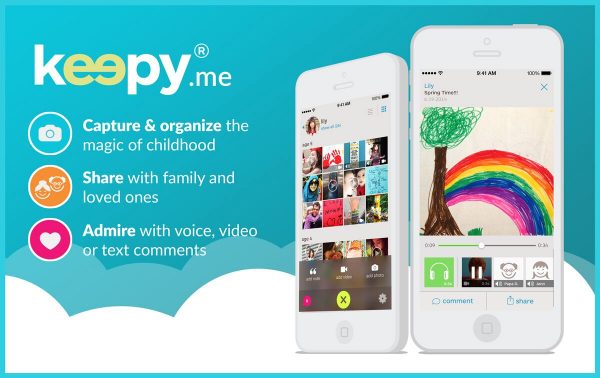 So you managed to get your own paper chaos under control, but now you're faced with the glitter-gun abyss that is your kids' homemade art collection. Clear out Picasso Jr.'s masterpieces — without any guilt — using Keepy.
Simply snap a photo,  save it, and then share it with adoring "fans"… also known as grandparents. You can even enrich each photo with voice or video recordings.
10. Mass unsubscribe from junk email with Unroll.Me.
Your apartment isn't the only thing that packed on some extra pounds this past winter. Your inbox needs a detox, too. Sign up for Unroll.Me, see all your subscription emails in one place, and unsubscribe from the junk you don't want in just one click.
For the subscriptions you do want, Unroll.Me lets you combine them into one email called the "Rollup."  Sup Inbox Zero?
11. Declutter like the most organized person on the planet with the KonMari app.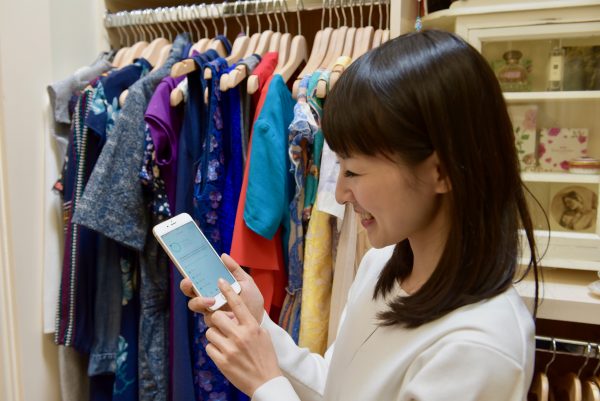 Konverts, rejoice! You can now spark joy from your pocket with the KonMari app.
As you tidy up, keep tabs with a checklist that adheres to the five categories outlined by the demigod of decluttering, Marie Kondo:
Clothes
Books
Papers
Miscellaneous items
You can also upload photos and share your progress with other users. Of course, if you'd rather hire someone to thank your socks for you, you'll soon be able to hire KonMari consultants directly via the app.
12. Convert your closet clutter into cash with Poshmark.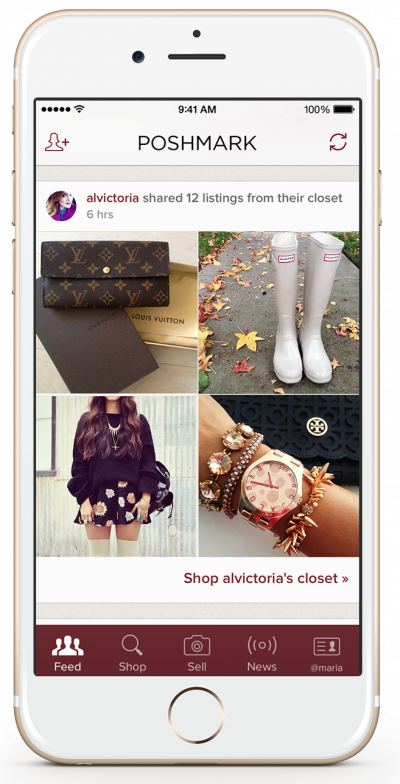 Bid adieu to your Jimmy Choos, while making a pretty penny to boot. Better yet, do it from the comfort of your own couch. PoshMark connects you to thousands of shoppers based on your brand, style, and size preferences.
Once you've snapped a pic of your gently-worn jeans or too-small blouse, upload the item to the fashion cloud to make it rain. Then share your listing on Facebook and Pinterest because why not. And if you're looking to revamp your wardrobe, browse the boutique-worthy pieces uploaded by your fellow hustlers.
13. Pawn or sell valuable items on PawnGuru.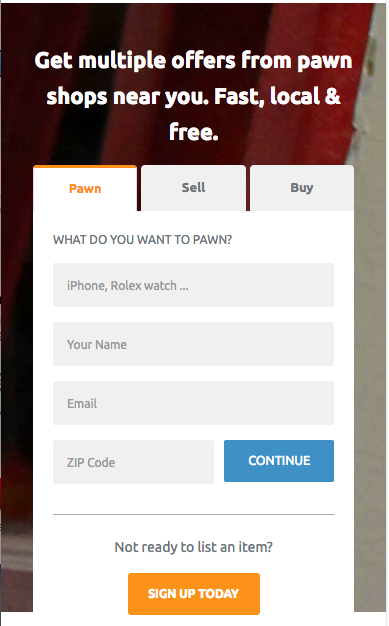 Gone are the days of frustrating encounters with uninterested brokers at the pawn shop. Thanks to PawnGuru, you can upload a photo of whatever goods you'd like to pawn or sell, then negotiate directly with a number of interested shops to get the best deal.
If you're cleaning out your jewelry collection, take note: Bids can vary massively according to each pawn shop's specialty, margins, and capital, so this is a great platform to use if you're listing valuable items.
14. List, don't lift, your furniture with AptDeco.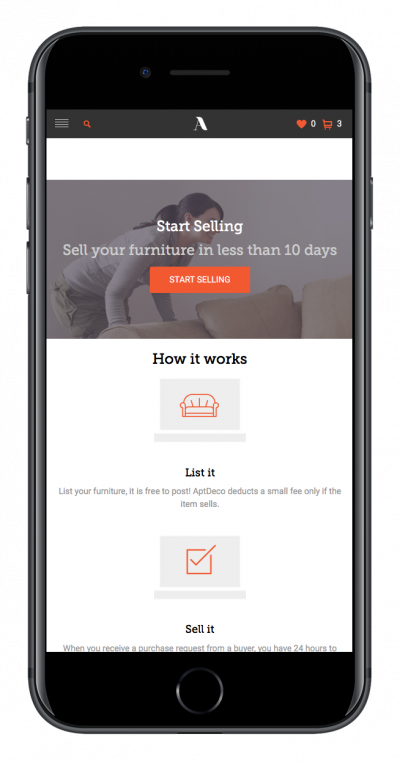 So you've decided your couch really doesn't spark joy. But then again, neither would hauling it down three flights of stairs for a sketchy Craigslist buyer. Enter AptDeco.
For a minor percentage of the final selling price (which they'll even help calculate!), they'll pick up that extra coffee table for you, unassemble it if necessary, and then deliver it to the buyer. The only finger you'll lift is when you give the movers a big thumbs up.
15. Effortlessly store the stuff you love, but don't need right now, in Clutter.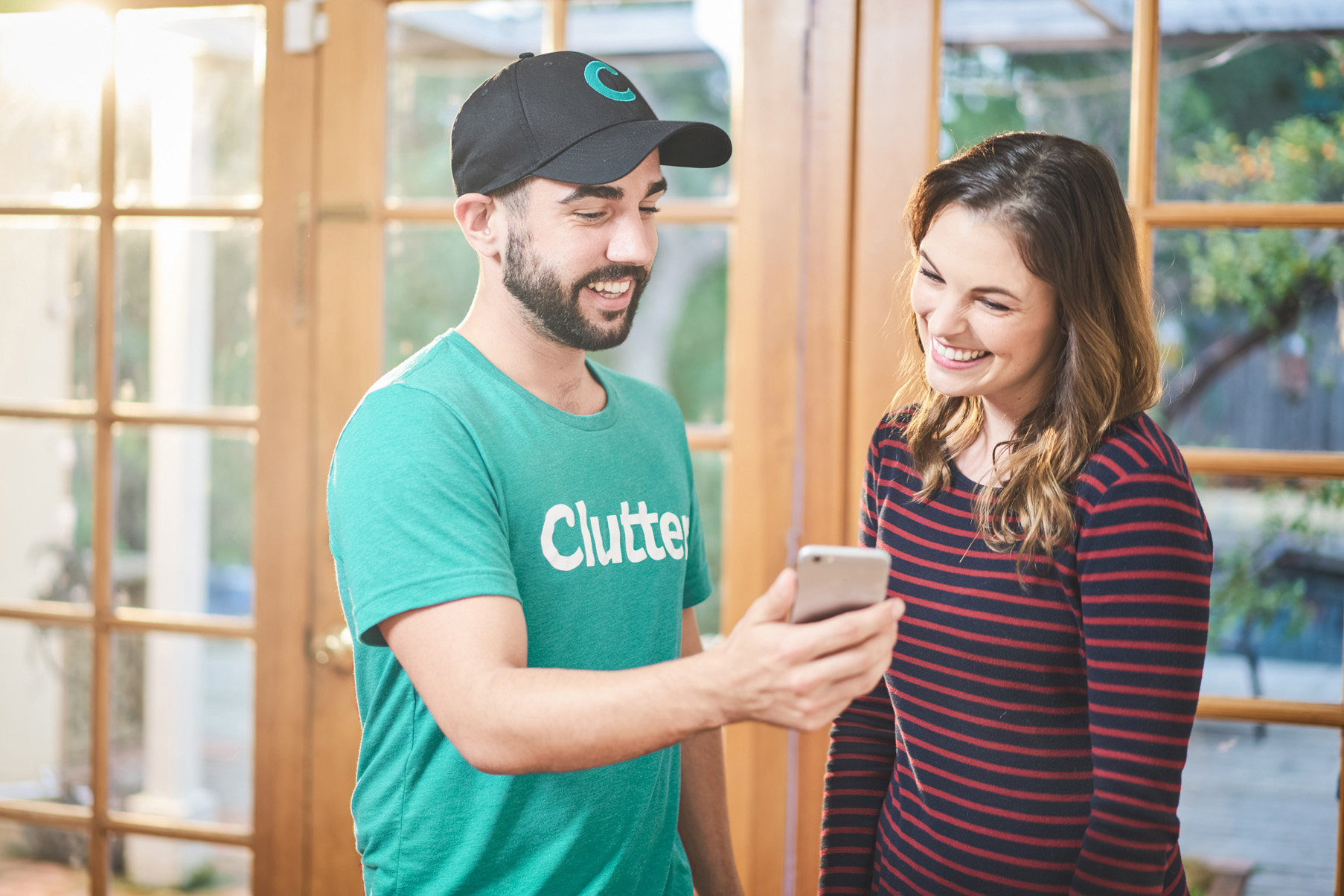 Now that your apartment is almost in tip-top shape, what should you do with the stragglers that are overstaying their welcome and eating your space, rent-free? As in all your sweaters, snow boots, gloves, knitted hats, scarves, snowboards, skis, bulky coats, and other winter gear that you love but don't need at the moment.
For those items, schedule a Clutter pickup, pack your stuff (a Tasker can do this for you too), and do your thing.
We'll pick up everything, except for the Tasker, store it in our secure storage facility, and create an online photo inventory of your stuff, so when you need something delivered, it's just a few clicks away.
Welcome to your newly-pristine sanctuary. And more time to enjoy spring, which gets shorter by 30 seconds every year.