Hand-picking a laundry list of new items for your wedding registry can be exciting—until you realize you need a place to store it all. If you live in a small apartment, it can feel daunting to build a registry if you can't imagine where to put all those gifts.
The good news is that with just a bit more planning, you can create a useful and meaningful gift list that you, your future spouse, and your guests will love. Here are seven of our top tips for creating a registry perfectly suited for your space.
1. Take a moment to take stock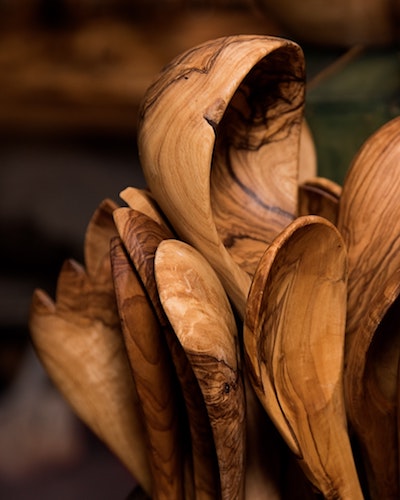 Whether you're already living together or will be moving in after the wedding, it's essential to take some time to figure out what you both already own. Schedule some time together and go room by room, listing any must-haves you currently lack. Then, you can identify any duplicate items that can be sold, donated, or thrown away to make more space.
2. Don't be afraid to upgrade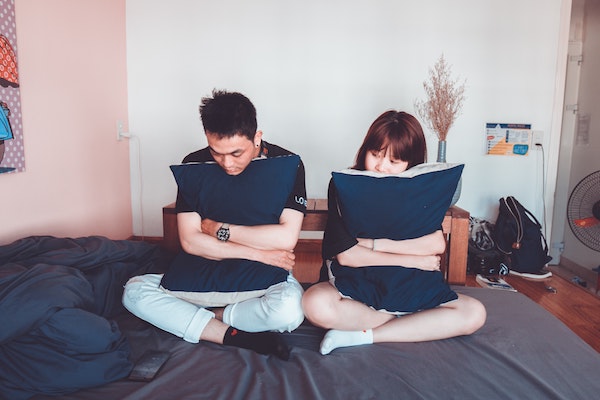 Now that you've gotten a clear picture of your belongings, it's time to think about upgrading. You may find it hard to replace an item that still works, even if it's out of style, part of a mismatched collection, or if your future spouse is not a fan.
Now is the perfect time to upgrade to a piece that you both love and that reflects your combined tastes as a couple. Plus, swapping out an older item for a newer one won't take up more of that precious space in your apartment. You have the added benefit of donating the older item to someone who needs it.
3. Ensure that you have the essentials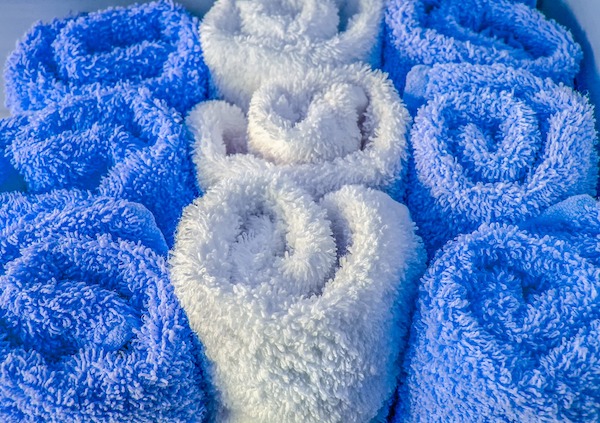 Think carefully about your list of core, everyday items before deciding what to keep and what to upgrade. Even in the coziest of apartments, most people will need:
dinnerware and flatware sets
drinkware, including water glasses, mugs and wine glasses
bedding, including sheets, blankets and a duvet or comforter
bath towels and bath mats
cookware sets, including a frypan, a saucepan and a stock pot
cutlery
furniture
4. Understand your entertaining priorities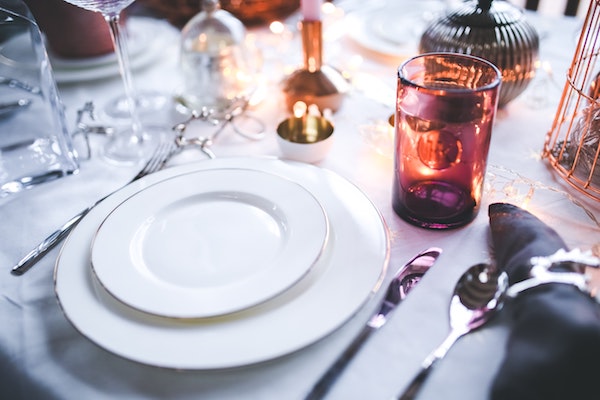 Traditionally, couples are advised to register for both everyday dinnerware and fine china for special occasions. Small apartment dwellers, though, are less likely to host a sit-down meal for 10 additional people. You may not even have enough cabinet space to store 12 place settings, let alone a separate collection of china.
Consider two options: Register for more than you'll need now and store extras separately, or register for only what fits in your current home. If you know you love to entertain and you don't mind stowing a box or two of belongings in a storage unit (or a friend's spare room), go ahead and register for a separate collection of fine china in addition to your everyday plates. However, if you don't anticipate hosting a large group of guests, consider skipping the china and opting for a basic set that can transition effortlessly from formal to casual.
Instead of registering for 12 complete place settings, consider sticking to eight sets and expanding your collection when and if you move into a larger apartment, condo, or house. Your best bet is to choose a pattern that will stand the test of time. Ask a store associate what their customer favorites are for a collection will likely still be around for years to come. Otherwise, you can select a classic white dinnerware set and add to it over time. Classic white will easily complement other dish patterns and colors. You can also swap pieces in and out as seasons change—simply sign into your MakeSpace account and have them scheduled for delivery.
5. Choose kitchen multi-taskers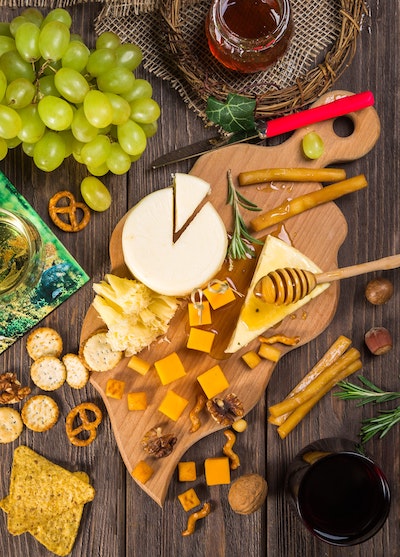 Before you step foot into any store or create an online list, it's a good idea to do some research and look for pieces that serve more than just one function. In any small space, choosing furniture, housewares, and decor that multi-task is the key to creating a home that is both stylish, functional, and scaled to your square footage. My favorite kitchen multi-taskers include:
coffee makers with integrated bean grinders
toaster ovens that can bake, broil, and roast
tools and accessories that are pretty enough to store in the open, including marble storage canisters, a matching set of cooking utensils in a decorative container, and a brightly-colored stand mixer or Dutch oven
nesting mixing bowls that double as serving bowls
durable, stylish cutting boards that you can use as serving platters
blenders that have food processing attachments and motors powerful enough to tackle a wide variety of cooking tasks
6. Find dual-purpose furniture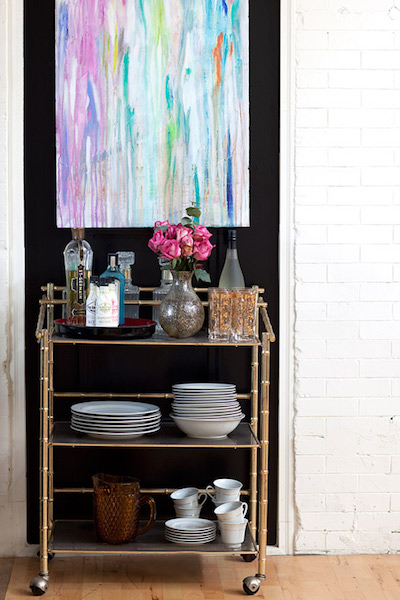 Just like in the kitchen, pieces in your living area work best when they serve more than one function. Stools and poufs are the perfect apartment accessory, since they can act as seating for guests, side tables or coffee tables, and even plant stands by sunny windows. Nesting coffee and side tables can expand or collapse depending on your needs. Ottomans that turn into a single bed for overnight guests can also serve as oversized coffee tables for impromptu meals in front of the TV.
Another great choice?
These on-trend pieces are once again all the rage. Apart from providing a chic way to serve cocktails and snacks during parties, they can store anything from wine bottles to books to decor, including plants, candles, and picture frames. Extra points if you find one on wheels for easy room rearranging.
Even storage pieces can serve a decorative function. Woven rattan baskets can hold throw blankets and pillows, magazines and books, pet toys, or even extra phone chargers and TV remotes. The nice thing about a pretty basket is that it can also be used for other purposes as your storage needs change—as a planter (just keep a plastic tray in the bottom to contain any water), a laundry hamper, or even a carryall for trips up and down the stairs. Wall-mounted or leaning shelving units are another great option, as they not only provide essential storage and have a small footprint, but they also add an architectural element to the room. Look for customizable shelving units that you can mix and match to fit your needs.
7. You CAN think big in a small space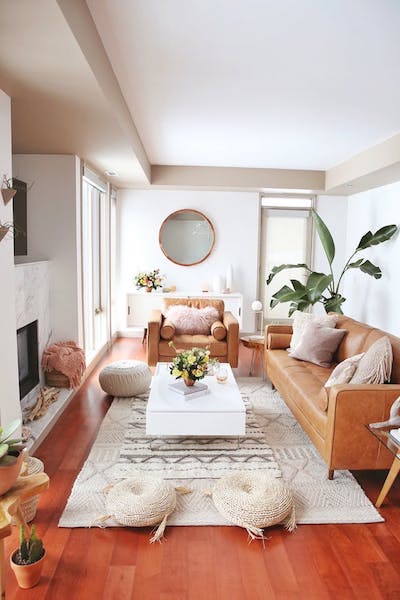 Group gifting is growing in popularity, and living in a small space doesn't necessarily mean you shouldn't register for a bigger purchase. Your wedding is a great excuse to pick out a few larger items that both work in your current space and could also fit seamlessly into any future homes.
A storage bed is a great option. A bed frames that incorporates drawers underneath the mattress makes the most of bedroom space. Many storage beds don't require a box spring.
If you already have a bed you love but need something for your living area, consider an apartment-sized sleeper sofa. This is the perfect upgrade for those who enjoy hosting visitors but lack a spare bedroom. Another smart choice is an area rug that can pull any space together to create a finished, curated look. For smaller rooms, choose either a monochrome rug or one sporting a subtle pattern, so you don't overwhelm the space.
Laura Love Bardell writes for Crate and Barrel, where she creates design-savvy content on the latest home-furnishing trends. Laura enjoys providing inspirational and practical guidance for couples who are creating a registry.