Whether you're a liquor connoisseur, self-proclaimed mixologist, or just a lover of fresh cocktails, you probably have at least a small collection of hard alcohol at home.
But if you're low on kitchen cabinet space (who isn't?), where do you store your bottles of tequila and gin?
Here's a hint: A well-styled bar cart, though aesthetically appealing, isn't always the answer.
Here are 10 creative ways to store and display your liquor, plus three quick tips about how to do it safely.
Free Bonus: Take a look at these 13 easy DIY storage ideas to organize your entire home
3 Safety Tips For Storing Liquor at Home
1. Keep liquor out of direct sunlight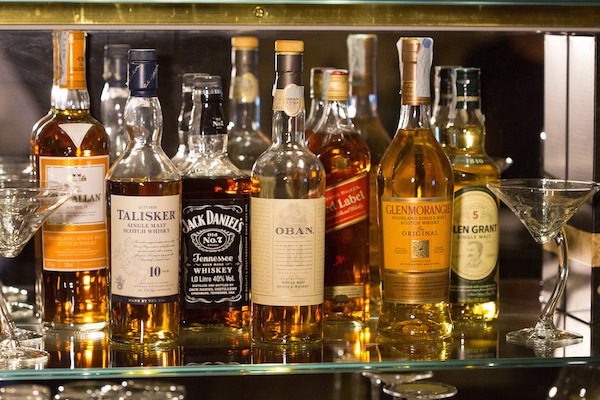 Harsh UV rays can damage your liquor over time (and might even change its color), so it's best to store your bottles away from streaming sunlight.
2. Store liquor at room-temperature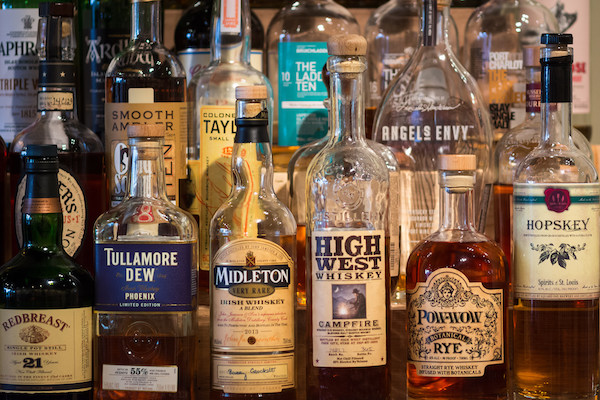 Unlike white wines and champagne, hard liquor can and should be stored at room temperature (yes, even vodka).
It's perfectly fine to chill your gin or tequila in the freezer before you drink it, but the cold temperature won't extend the alcohol's shelf life.
Another thing to keep in mind: while liquor generally stays good for years, once it's opened the alcohol will begin to oxidize, which can significantly lessen the flavors over time.
3. Store liquor in a secure spot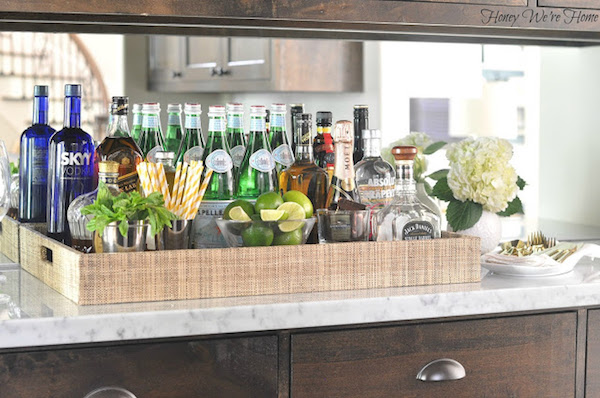 You can't exactly glue your glass bottles to your kitchen shelves for maximum stability, but you can be smart about where you choose to store them.
Here's the basic rule: Don't store liquor in a place where it could come crashing down on someone's head in the event of an earthquake or crazy accident.
And if you have children or pets, be extra careful: opt for high shelves with rails or utility carts with protective sides.
Free Bonus: Check out our list of the 12 best IKEA hacks and ideas for every room in your home
8 Fun Ways to Store Your Liquor at Home
1. Display liquor in a chic tray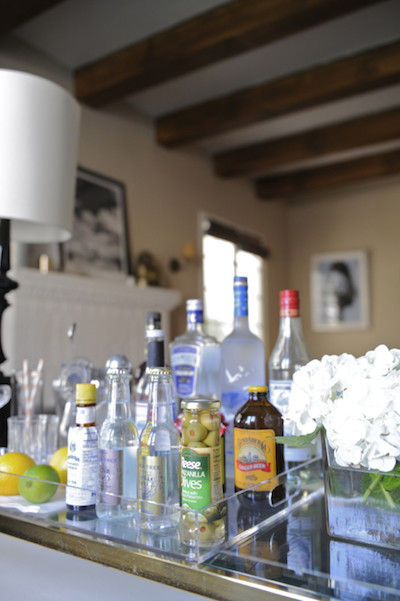 This method is simple, classic, and elegant, to boot. All you have to do is find a tray that matches your style (snakeskin, lucite, metallic, leather — the options are endless) and load your liquor into it.
You can display the tray on a side table, vanity, or kitchen counter.
2. Turn a console into a bar cart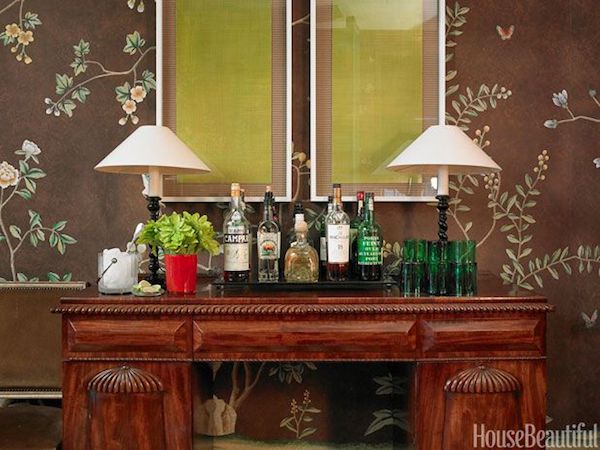 Liven up a console table by using it as a makeshift bar cart. You can dedicate the entire surface to your liquor display, or mix your bottles with other decorative elements like a vase, sculpture, or stack of books.
Free Bonus: Here are 10 DIY storage and furniture projects you can make in less than one hour
3. Store liquor on open kitchen shelves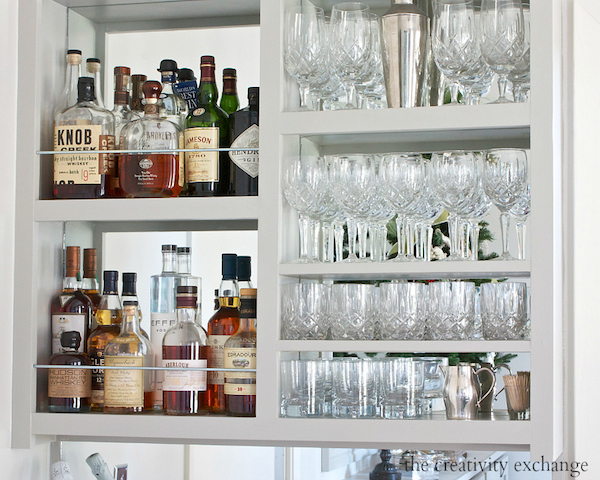 Open shelves in a kitchen or dining room are usually reserved for glassware and china, but why not add your fancy alcohol to the mix.
It's no-brainer storage, plus it adds a fun stylistic element to what could easily be a very plain shelf set-up.
Pro Tip: Learn how to organize your entire kitchen with these 11 clever tips.
4. Turn a sewing machine cabinet into a liquor cabinet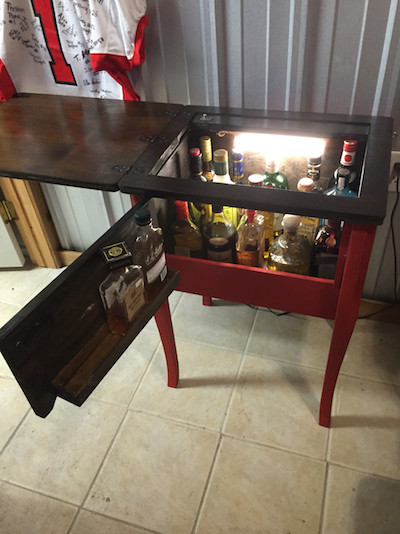 If you have an old sewing table you're no longer using, transform it into a one-of-a-kind storage space. The table's small side cabinet is just big enough to hold all your favorite booze.
And if you don't have a vintage sewing table on hand (who does, really?), don't stress. You could easily repurpose a side table, nightstand, or secretary desk to hold your liquor collection.
Pro Tip: Declutter your cabinets first using these 15 actionable tips from certified professional organizers.
5. Use a wine rack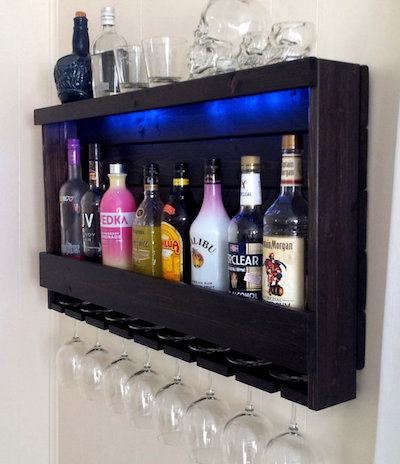 Who says a beautiful wine rack can't be repurposed as a cool liquor display?
Nix the reds and whites and use the shelf solely for the hard stuff.
Free Bonus: How To Properly Store Wine At Home
6. Display liquor among your books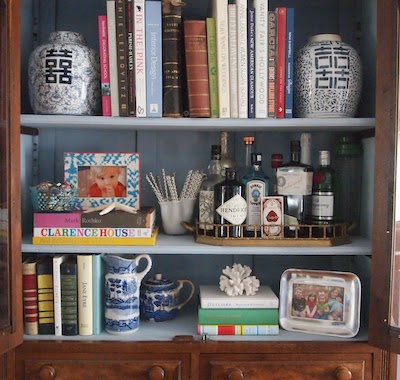 Showcase your prettiest liquor bottles alongside your book collection. Not only does liquor make a unique decorative addition to a bookcase (or China cabinet, like in the photo above), but it's also a surprisingly convenient storage spot.
After all, who doesn't love to sip a glass of whiskey while curling up with a good book? Hemingway would approve.
7. Build a DIY liquor cabinet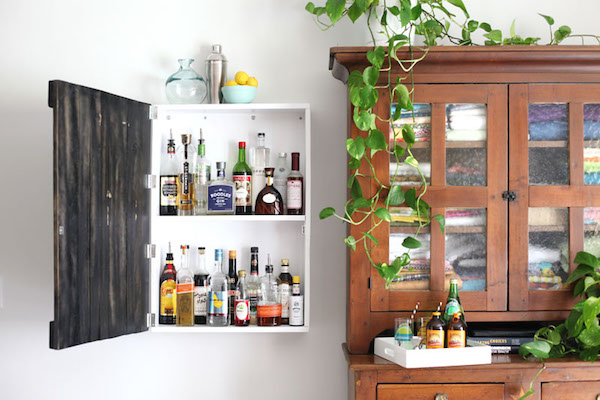 Sometimes you just want a designated storage space for your liquor, one that's unique, crafty, and functional. We get it.
This charming DIY project from A Beautiful Mess hits all those points. Not only does this liquor cabinet safely store all your alcohol, it doubles as stylish wall decor wherever you hang it.
Free Bonus: Check out these 11 DIY wood pallet ideas that'll increase the space in your tiny apartment
8. Display liquor in a mini bookcase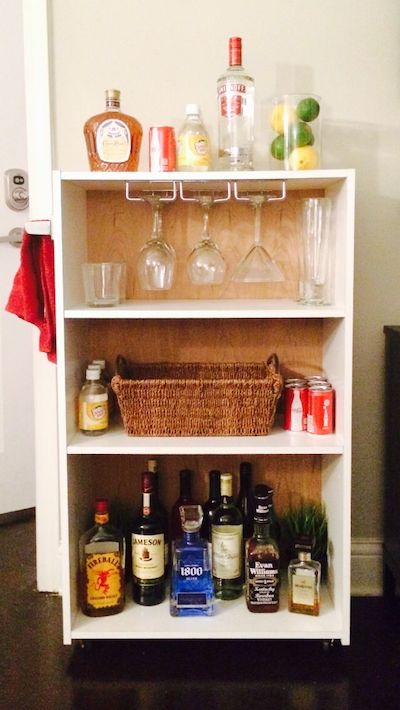 Turn a small, unused shelving unit into a cute stationary bar set-up. Just clear the shelves and add bottles of liquor, glasses, napkins, and cocktail mixers.
The bookcase's petite size makes it easy to tuck into a kitchen nook or living room corner.
9. Store liquor in an IKEA cart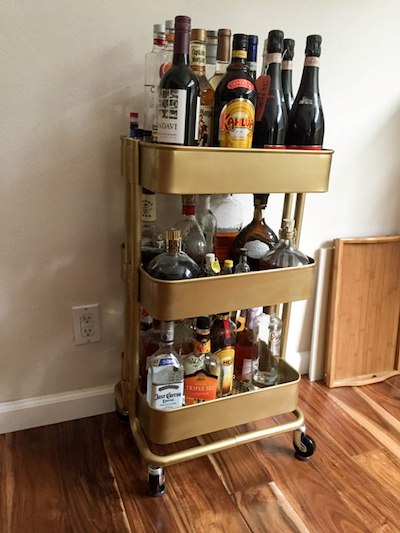 IKEA's Raskog utility cart makes the perfect liquor storage solution. It's attractive, sturdy, and big enough to accommodate your liquor collection without taking up too much space.
The best part? You can easily wheel it between your kitchen and dining room whenever you need to mix a fresh cocktail.
Want more IKEA hacks? These seven ideas will upgrade your entire home.
10. Let Clutter store everything else
For everything you can't fit in your home (like the collection of vinyl records and shoes you moved to make room for your liquor display, #priorities), use Clutter.
Simply schedule a pickup and pack your stuff. We'll grab everything from your home and transport it to our secure, temperature-controlled storage facility.
And when you need something back, just browse your convenient online photo catalog of your stuff, click the item's photo, and we'll deliver it back to you.
Cheers to that.