Having an organized, clutter-free kitchen makes everything from cooking dinner to making coffee a thousand times easier. But what if your kitchen doesn't have cabinets? Where are you supposed to put your plates, mugs, and snacks?
The answer: Wherever they can fit.
When there's no obvious place to store dishes, food, and appliances, you have to think outside the cabinet. Here are 13 genius ways to arrange and organize a kitchen without cabinets:
1. Store kitchen tools on a pegboard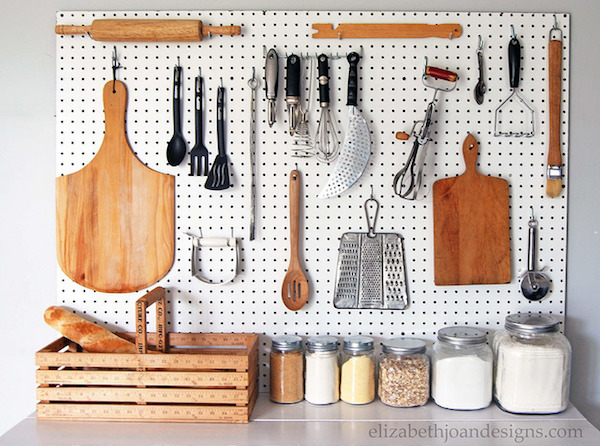 A well-designed pegboard isn't just beautiful to look at, it's also the key to maintaining your sanity in the kitchen — cabinets or not.
Why?
Because a pegboard organizes your cooking tools in a functional and aesthetically-pleasing way. Which saves you from having to rummage through multiple drawers just to find your whisk.
Pro Tip: You can also use a pegboard to organize your hats, ties, and scarves.
2. Install floating shelves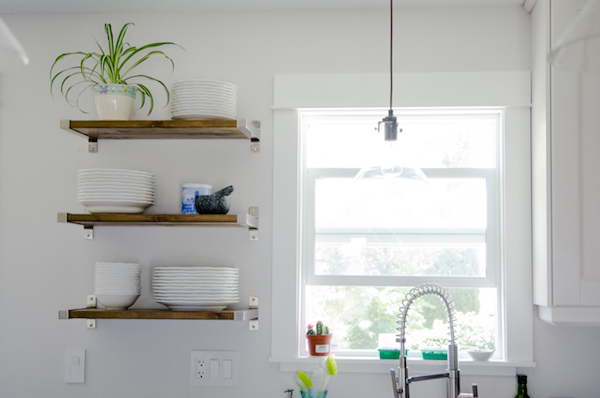 Floating shelves add style and personality to your kitchen while also housing your favorite dishes.
The best part:
They don't take up any of your precious floor space.
Go minimalist with your shelves. Or jazz them up with potted plants, cookbooks, and framed photos.
3. Use a rolling kitchen cart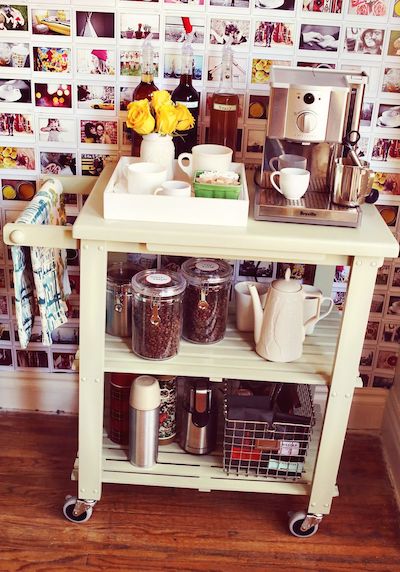 Even the smallest of kitchens can accommodate a rolling cart. They're surprisingly stylish and can provide tons of storage in a small space. If you need more space, simply roll the cart to your living room or dining nook.
Take a cue from the ladies behind A Beautiful Mess and give your cart a theme: Espresso Cart, Baking Cart, Snack Cart — you get the idea.
Or just put your extra dishes and cooking essentials on the kitchen cart and call it day.
Free Bonus: 7 Smart Ways To Save A Ton Of Space In A Small Kitchen
4. Hang coffee mugs on a rack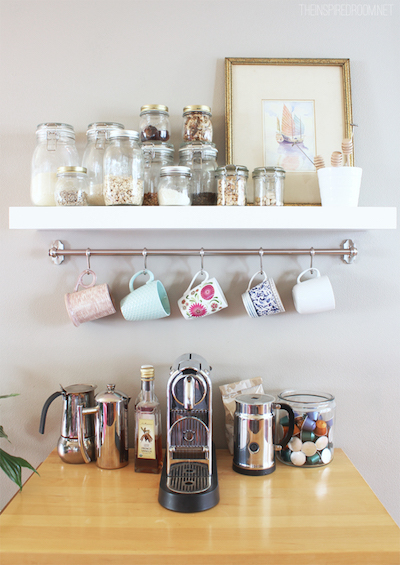 No room to stack your mugs?
Hang 'em on a pretty rack instead. If you don't have a coffee mug rack, repurpose a wooden coat rack or sleek towel rod with sturdy hooks.
Bonus points if you can create enough space for a coffee station below your mug display.
Free Bonus: 11 Clever And Easy Kitchen Organization Ideas You'll Love
5. Add storage to your kitchen island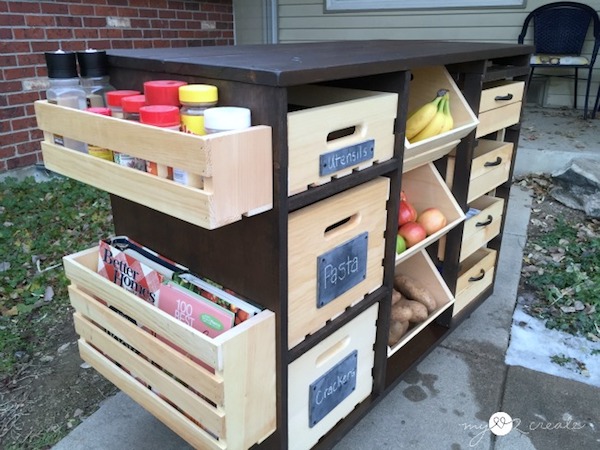 This kitchen island with pantry storage from My Love 2 Create is a serious game changer.
The bad news: You'll have to block out a Saturday afternoon to get your materials and build the kitchen island.
The good news: You'll be thrilled to have a portable kitchen island with plenty of storage space for food, silverware, dish towels, cutting boards, and more.
So worth the hands-on work.
Want more awesome DIY ideas that won't hog your Saturday?
Check out these 10 DIY storage and furniture projects you can make in less than one hour.
6. Store dishes on a bookcase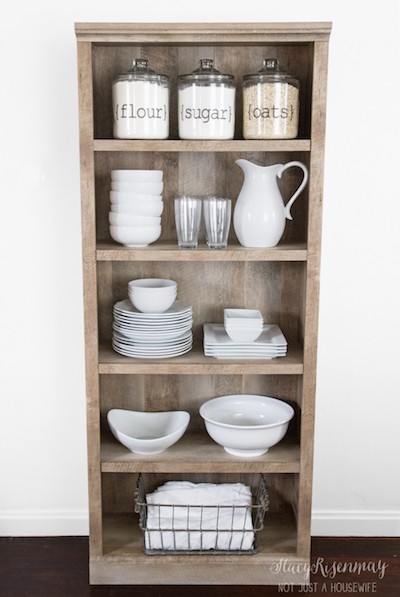 Bookcases are the casual cousin to a fancy glass-paneled china cabinet.
A multi-shelf bookcase can easily hold an entire collection of dinnerware, plus extra items like cookbooks, jars of cooking ingredients, and a cutting board.
7. Maximize your drawer space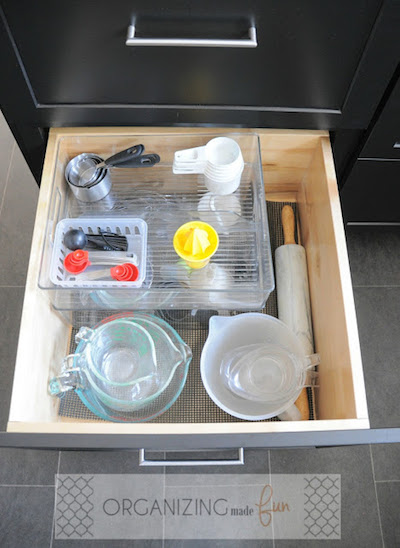 In a kitchen without cabinets, drawers are your saving grace. They hide your unsightly but necessary kitchen tools (like citrus squeezers and meat tenderizers) and make everything easy to reach.
The trick to a well-organized drawer is to take advantage of every inch of available space.
How?
Go crazy with drawer dividers and stacking bins.
Free Bonus: 12 Next-Level Ways To Organize Your Kitchen Cabinets, Drawers, And Pantry
8. Turn your cooking necessities into countertop decor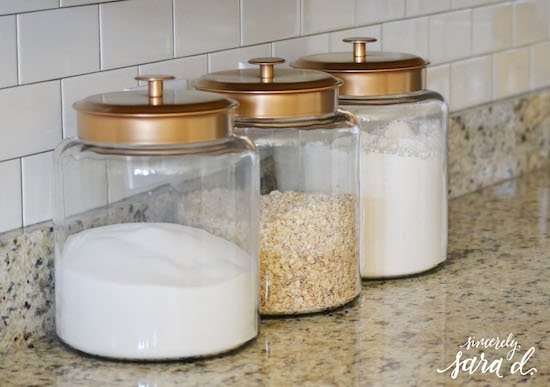 Don't have space to hide your baking and cooking ingredients?
Put them on display: Buy a set of matching jars and fill them with grains, flours, seeds, nuts, sugar, and dried pasta.
Free Bonus: 48 Kitchen Storage Hacks And Solutions That Will Instantly Upgrade Your Life
9. DIY a wood pallet spice rack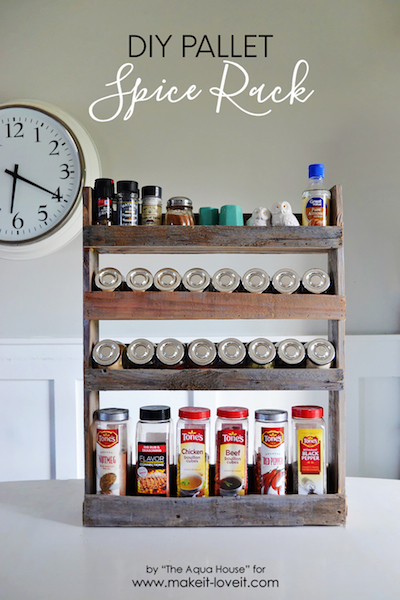 Don't give your spices the drawer treatment, where they're bound to roll around and spill.
This clever DIY pallet spice rack from Make It & Love It saves space and keeps everything organized and easily accessible.
Hungry for more space-saving DIY wood pallet ideas?
Take a look at these eight cheap and easy wood pallet projects that will revitalize your home in no time.
10. Store food in baskets on the counter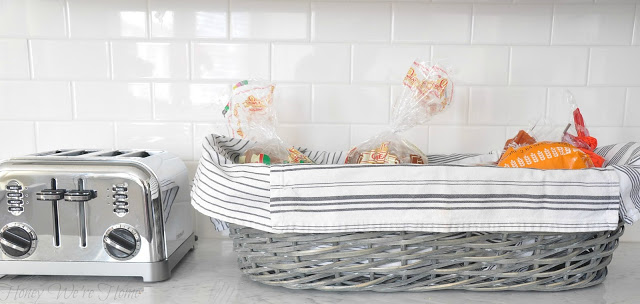 Rather than hiding everyday staples like bread and fruit, store them front and center on your kitchen counter.
Get a stylish wire or wicker basket, cover the interior in cloth, and fill it up with your go-to foods.
Want more smart kitchen tips?
Learn how to cook in a small kitchen with ease.
11. Use a wall-mounted pot rack
Hang a sturdy pot rack above your sink, stove, or kitchen island. It's an easy and artistic way to store your collection of pots and pans.
12. Store silverware in Mason jars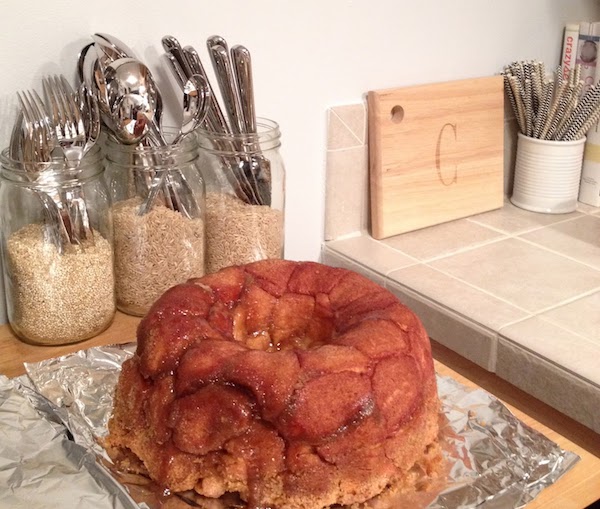 If your drawers are filled to the brim with spatulas and rolling pins, store your silverware in Mason jars on the kitchen counter.
To limit the scrape of metal against glass, fill your jars with rice. Doing so will keep your forks and spoons stable and scratch-free.
Free Bonus: 10 Brilliant Mason Jar DIY Ideas For Your Tiny Apartment
13. Let MakeSpace pick up and store your extra stuff
Let go of the stuff you don't need. Then pack your extra kitchen stuff and schedule a MakeSpace pickup (your first pickup is free!).
We'll pick up everything from your home, transport it to our secure temperature-controlled storage facility, and create an online photo catalog of your stuff.
Need something back from storage?
Browse the convenient online photo catalog of your stuff, click the item's photo, and we'll deliver it to you.
This article was written by Paige Smith, a freelance writer from Orange County, California who specializes in lifestyle, wellness, and travel topics.